When should I put my Christmas tree up? An expert guide
If you still find yourself wondering aloud, 'When should I put my Christmas tree up?', this guide is for you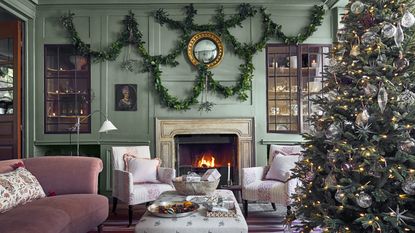 (Image credit: Simon Bevan)
If you find yourself asking 'When should I put my Christmas tree up?' year after year, then let the experts decide for you in 2021.
Knowing exactly when to start getting in the holiday spirit and bringing the house along with you is a difficult balance to get right – implement your Christmas decor ideas too early and your festive feeling might lose its fizz, while too late you potentially miss out on weeks of Christmassy fun.
It is largely a personal choice, but there are some practical elements to consider too. To work out the seasonal sweet spot, we asked the experts for their advice on when you should put your Christmas tree up, as well as your other decorations.
When should I put my Christmas tree up?
While the likes of your Christmas mantel decor ideas are important, what you really need to time the most precisely is your tree. 'The day you buy your Christmas tree is one of the most important decisions if you want to make sure it's still intact throughout the festive season,' says Liam Lapping of Flowercard (opens in new tab). 'Typically, real Christmas trees last 5-6 weeks if they are looked after properly, so it's important you buy your Christmas tree at the right time to avoid a sad-looking, needleless tree for Father Christmas to leave the presents under.'
'If you take your Christmas tree down straight after New Years Eve then you should buy your tree on the 28th November. However, if you take your Christmas tree down on the Twelfth Night, then you should buy your tree on the 2nd December,' Lapping says, sharing his practical Christmas tree ideas. 'Obviously if you're planning on having an artificial tree you can put that up whenever you like.'
When should I put my Christmas decorations up?
'Arguably there is no right or wrong time to decorate for the holidays, but it appears that the anticipation of Christmas is getting earlier and earlier each year!' says Ash Read, Founder of Living Cozy (opens in new tab).
Lovers of traditional or farmhouse Christmas decor ideas might want to hark back to holidays past with an old school approach – if that's not leaving it too late.'Traditionally, festive decorations were put up on the afternoon of Christmas Eve, however, in recent years many have embraced the excitement of Christmas, decorating as soon as Halloween ends on 31st October, or after Thanksgiving which falls on the fourth Thursday of November.'
'Personally I like to put our decorations up two weeks before Christmas, so I'll be decorating the weekend of the 11th December,' Juliette Thomas, Founder of Juliette's Interiors (opens in new tab). 'The tree can, however, be put up whenever you fancy.'
How early is too early to put up Christmas decorations?
Even if you have your Christmas wall decor ideas prepped and ready to go, Is November too early to start decorating the house? The experts we asked were divided.
'Decorating the home for Christmas is a personal choice,' says Thomas. 'There have been lots of early posts on Instagram of influencers and celebrities putting their Christmas decorations up in November – perhaps people are in the mood to celebrate given that Christmas for so many was cancelled last year.'
'Having said this, I like to wait until the middle of December to put my decorations up. I always opt for a real tree and don't like to let this get too dry and have needles scattered around the home, but of course, the choice is up to you.'
'It's never too early to decorate your home for Christmas,' says Paul Deckland, Buying Director at The Cotswold Company (opens in new tab). Starting subtly in areas such as Christmas fireplace decor is a great way to gradually introduce festivities. 'We recommend starting with a few festive touches for a warm and seasonal feel. Sprigs of foliage over mantelpieces or in our glass vases on hallway console tables works beautifully.'
'We should not hold back people's excitement on decorating their homes, what you choose to do with your Christmas decorations is up to you!' adds Read. 'Whether you want to follow time honoured traditions, or transform your home into a seasonal wonderland on November 1st, as long as you are happy and enjoying the holiday period that is all that matters.'
Can I put my Christmas tree up before Thanksgiving?
'Thanksgiving is a time to give thanks, not a time to celebrate Christmas, which is a completely different occasion, so I advise people to wait until December to decorate the home for Christmas,' says Thomas.
'If you don't celebrate Thanksgiving, then the tree can technically go up whenever you like! With many keen to spread joy and hope a little earlier this year, perhaps 2021 will be an exception.'
When should I put my outdoor wreath up?
'Traditionally Christmas wreaths are hung at the start of advent, which falls upon the fourth Sunday before Christmas,' says Lapping. 'However, as with all things Christmas, it's about personal preference and the traditions in your own family.
'If you're using an all-natural wreath, you will want to ensure that it sees you all the way through the festive season, so many opt to hang their fresh wreaths closer to December 25th,' he adds. 'To keep your natural wreath looking as good as the day you made it for the festive season, get an old spray bottle and fill it with water. Every few days, give your wreath a spray and it will stay fresh.'
Ailis started out at British GQ, where a month of work experience turned into 18 months of working on all sorts of projects, writing about everything from motorsport to interiors, and helping to put together the GQ Food & Drink Awards. She then spent three years at the London Evening Standard, covering restaurants and bars. After a period of freelancing, writing about food, drink and homes for publications including Conde Nast Traveller, Luxury London and Departures, she started at Homes & Gardens as a Digital Writer, allowing her to fully indulge her love of good interior design. She is now a fully fledged food PR but still writes for Homes & Gardens as a contributing editor.