Cheapest Dysons 2023 - prestigious vacuums without the premium price tag
These are the cheapest Dysons - the only way to get a Dyson without breaking the bank.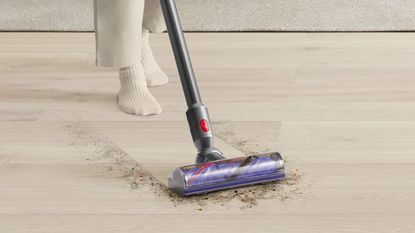 (Image credit: Dyson)
Cheapest Dysons 2023: Jump Menu
Dyson vacuums have dominated the vacuum market for decades. Their innovative design, sleek features and exceptional suction power make them more than worthy of the top spot. However, the price tag on their latest and greatest models won't give you much change out of $700.
Our team of vacuum experts have tested plenty of Dysons over the years to get the inside information. Some of Dyson's older and more unusual models can do more than they'll advertise. Opting for a older choice could halve how much money you spend and you'll still have one of the best vacuums on the market in your home.
As well as being among the best cordless vacuums or the best upright, these are the cheapest Dysons on the market. They've been tested for style and suction and given the seal of approval by our experts.
So, if you want the 'I own a Dyson' feeling without the 'I own a Dyson' hole in your wallet, you're in the right place. These are the cheapest Dysons on the market.
Cheapest Dyson deals
You can trust Homes & Gardens. Our expert reviewers spend hours testing and comparing the latest products, helping you choose the best for you. Find out more about how we test.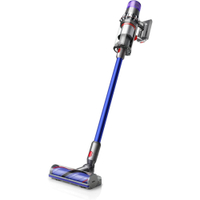 Dyson V11 | Was $569.99, now $399.99 at Walmart
The V11 is the sweet spot between Dyson's latest technology and lowest price. I was vacuuming with one of these at the weekend and didn't miss any of the newer lasers and sensors. It's a brilliant vacuum.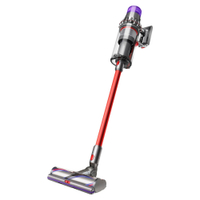 Dyson Outsize | Was $599.99, now $449.99 at Walmart
We love the Dyson Outsize and I'm very surprised at this deal. This vacuum used to cost well above $700 but has seen lots of discounts in recent years. It looks like this deal is slightly mislabelled; a true Outsize + has a laser cleaning head. This is just the Outsize (no plus). That said, this is still a great deal on a big cordless vacuum that excelled in our tests.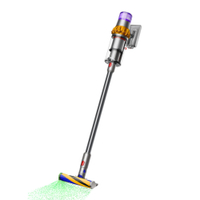 Dyson V15 | Was $749.99, now $499.99 at Walmart
If these cheaper Dysons aren't cutting it, the Dyson V15 is not only the best Dyson we've ever tested, but the best vacuum full stop. The green laser highlights dust that the naked eye can't see and it will give you numerical data on how well you've vacuumed. It's still expensive, but $175 off takes it below the $600 mark, which is rare.
The quick list
All the Dysons that we've included are very different from each other. If you're in a hurry and you just want the headlines, here's a quick guide to the cheapest Dysons. There's more detailed information below.
The cheapest Dysons 2023
The best value Dyson overall
Image 1 of 1
An older model, which still performs perfectly
Specifications
Dimensions: 9.8" x 49" x 8.8"
Weight: 5.63 lb
Dust container: Bagless
Battery run time: 40 minutes max
Charge time: 5 hours
Reasons to buy
+
Strong suction power
+
User-friendly design
+
Good value for Dyson
Reasons to avoid
-
Short battery life
-
Missing some extras
-
Not strong with hair
Buy it if
✅ You want a Dyson vacuum without the price: this is the best balance of price and performance
✅ You need suction power: this passed all our tests
✅ You have a range of floor types: this is brilliant on all of them
Don't buy it if:
❌ You need long battery life: this will run for a maximum of 40 minutes
❌ You want the latest features: there's no LED screen or dust sensors
❌ You have pets: hair wraps around the brushroll
The bottom line
🔎 Dyson V8 Animal: as an older model, Dyson's V8 less than $400 and it still boasts exceptional suction power across a range of floortypes.
The V8 was launched in 2016 and, whilst it lacks the LED screen and smart sensor's of Dyson's latest models, it also doesn't have their price tags. As it stands, the V8 is less than $400 and the latest Dysons cost more than $700. During sales periods, you can find these for under $300.
Our experts used the V8 in their homes, testing it on the toughest dirt, dust, and debris. After rigorous tests, this was still close to faultless. The suction power across hard wood, linoleum, and carpet floors was incredible. Satisfyingly (and horrifyingly) we filled the dustbin cleaning a single carpet.
Newer models might feel more powerful and deliver more smart information about your cleaning, but if you don't care about that, you won't notice the difference. It's also lightweight, easy to hold, and can be used to clean the car, sofa, and ceiling. Even better, when sales periods roll around, this is often discounted.
Before leaping into this vacuum deal, it's worth knowing that this has a 40 minute run time and that's a maximum. The runtime is especially poor on max, lasting up to 7 minutes. That's not enough to clean an apartment, let alone a house. If you live in a large home, you might be better with a corded option.
Read more: Dyson V8 Animal review.
Swipe to scroll horizontally
Test results

| Attributes | Notes | Rating |
| --- | --- | --- |
| Versatility | Excellent on all floor types | ★★★★★ |
| Thoroughness | Only struggled with lots of hair | ★★★★ |
| Ease of use | Lightweight and easy to use | ★★★★ |
| Value | Great value for a Dyson | ★★★★ |
The cheapest Dyson for upfront cost
Image 1 of 1
Petite perfection, especially on hard floors
Specifications
Dust bin capacity: 0.05 gal
Weight: 4.18 lbs
Power: 18 V
Noise : 71 dBA
Battery life: Up to 20 minutes
Reasons to buy
+
Lightweight
+
Moves in any direction
+
Easy to store
+
Range of accessories
Reasons to avoid
-
Very small dustbin
-
Short battery life
Buy it if
✅ You have hard floors: this is designed for wood and vinyl floors
✅ You want a quick mess cleaner: this is perfect for having in hand moments
✅ You're short on storage: this could fit in a drawer; it's tiny
Don't buy it if:
❌ You'll vacuum a lot: the dustbin is small and will need emotying
❌ You're tall: this wand is quite short, so you'll have to crouch
❌ You'll vacuum for a long time: this has a short battery life
The bottom line
🔎 Dyson Omni-glide this would make an excellent supplement to a large vacuum. It's a petite powerhouse which is brilliant on a range of floor types
The Omni-glide is one of Dyson's best kept secrets. We hardly considered it a vacuum until we tested it. This tiny model is unlike all other vacuums: it's petite, but powerful and designed for quick clean-ups around the home. Used wisely, it's the cheapest way to own a Dyson without spending Dyson money.
The Omni-glide is so small it feels like a toy. Dyson gifted the Omni-glide their best features - the look, the suction power, the tidy bin - and omitted more frustrating quirks, such as the trigger, when designing this. At the press of a button, this will clear dirt, dust, and debris from any surface. The range of attachments can be used across a range of surfaces, even though this is marketed as a hard-floor option. I still use it on my carpets at home and it's brilliant, even if hair gets a little caught in the rollers.
However, the drawbacks of the Omni-glide could be deal-breakers for lots of people. As a tiny vacuum, this requires you to bend or crouch the whole time that you are using it, which becomes painful after extended periods of vacuuming. The battery life will enforce a rest after twenty minutes, because it can't last any longer than that. Even if it could, the dustbin will have filled up. The dust bin, battery, and size of the Omni-glide are all significant limiting factors in how effective your cleaning sessions will be.
Read more: Dyson Omni-Glide review
Swipe to scroll horizontally
Test results

| Attributes | Notes | Rating |
| --- | --- | --- |
| Versatility | Only useful in small rooms | ★★★ |
| Thoroughness | Really thorough considering size | ★★★★★ |
| Ease of use | Easy to use, but needs to charge often | ★★★ |
| Value | Great price | ★★★★★ |