A minimalist city garden of outdoor rooms with modern topiary
Garden designer Matt Keightley has created this minimalist urban garden with spacious outdoor rooms and innovative use of topiary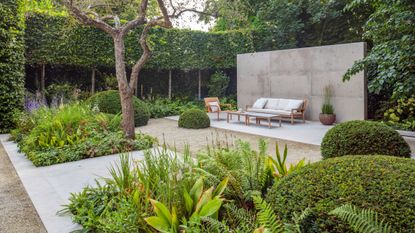 (Image credit: Clive Nichols)
On paper, the design of this city garden looks simple, almost spartan, but the executed result is a masterpiece in craftsmanship and planting, maximizing the use of space without overcrowding, and filled with details to inspire your own garden ideas.
Contemporary yet natural materials have been used decisively to create a statement garden, while a series of spacious and contemporary 'garden rooms', where clean lines and simplicity dominate, offer serene and calming environments. The expert use of garden zoning offers multiple destinations for friends and family to gather.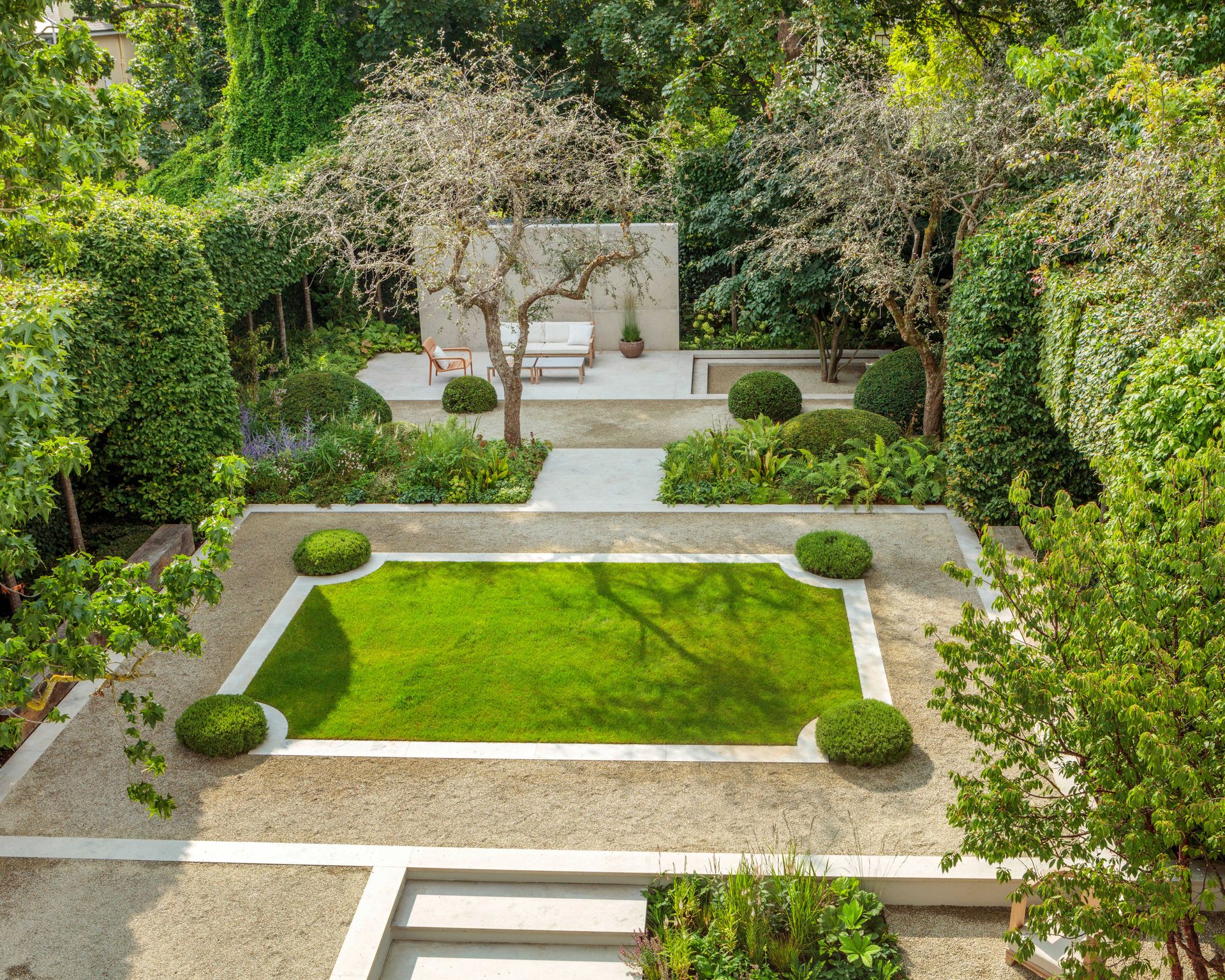 Garden designer Matt Keightley of Rosebank Landscaping is renowned for bold, minimalist design, obsessively focused on the intricacies of design detail – and this garden is no exception.
He was briefed to 'create a classic, contemporary space that provides structure and privacy first and foremost.'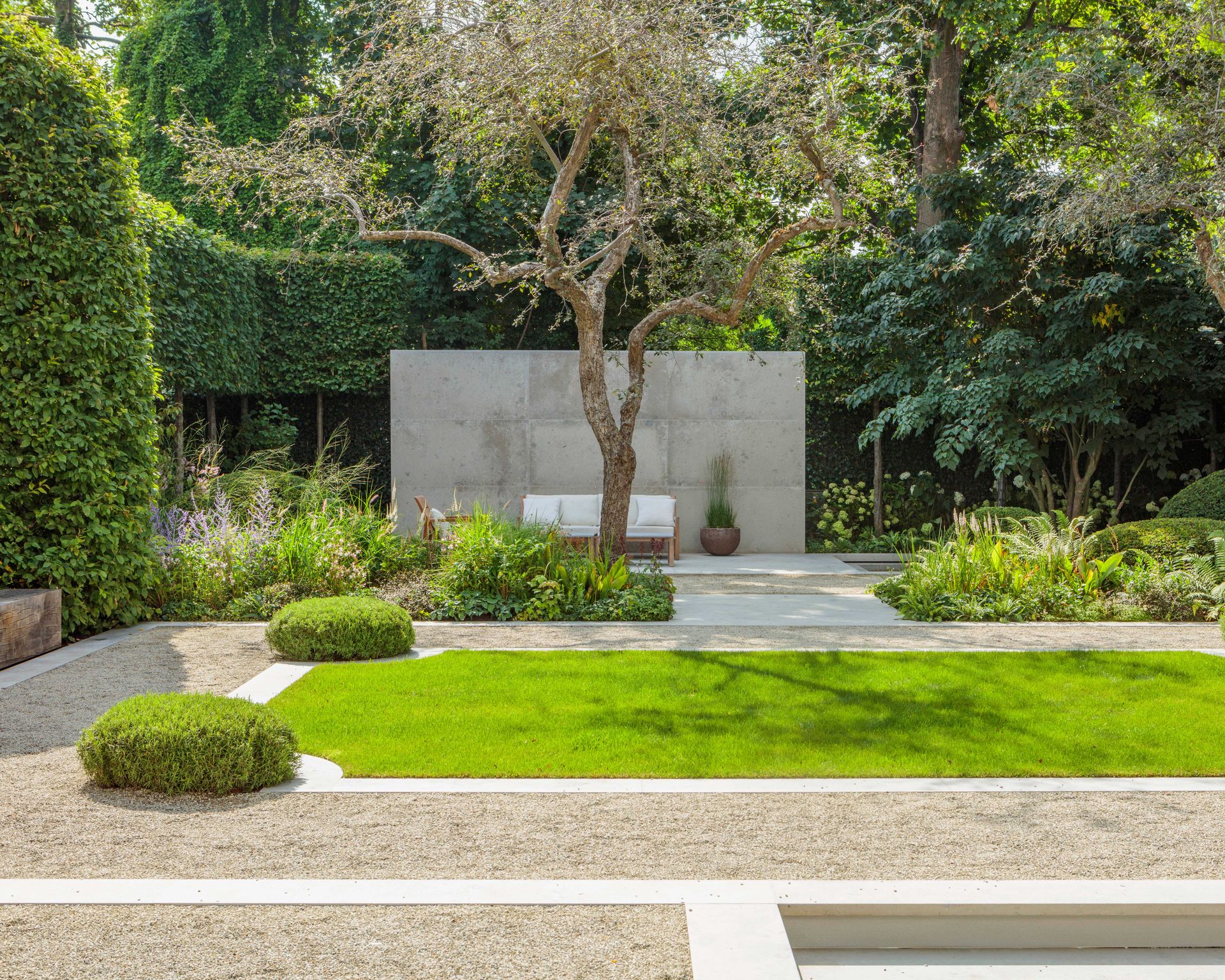 Keightley harnesses the height, weight and depth of the surrounding architecture of evergreen shrubs both as a backdrop and privacy buttress. 'We were fortunate to be backed by some beautiful mature trees in the wider landscape and so the ultimate connection is strong, extending outward vistas beyond the boundary,' he explains.
However internally the former garden space offered little, and was cleared entirely, with the exception of two mature malus, among the best trees for small gardens and also best trees for fall color, which add grace to the overall new design space.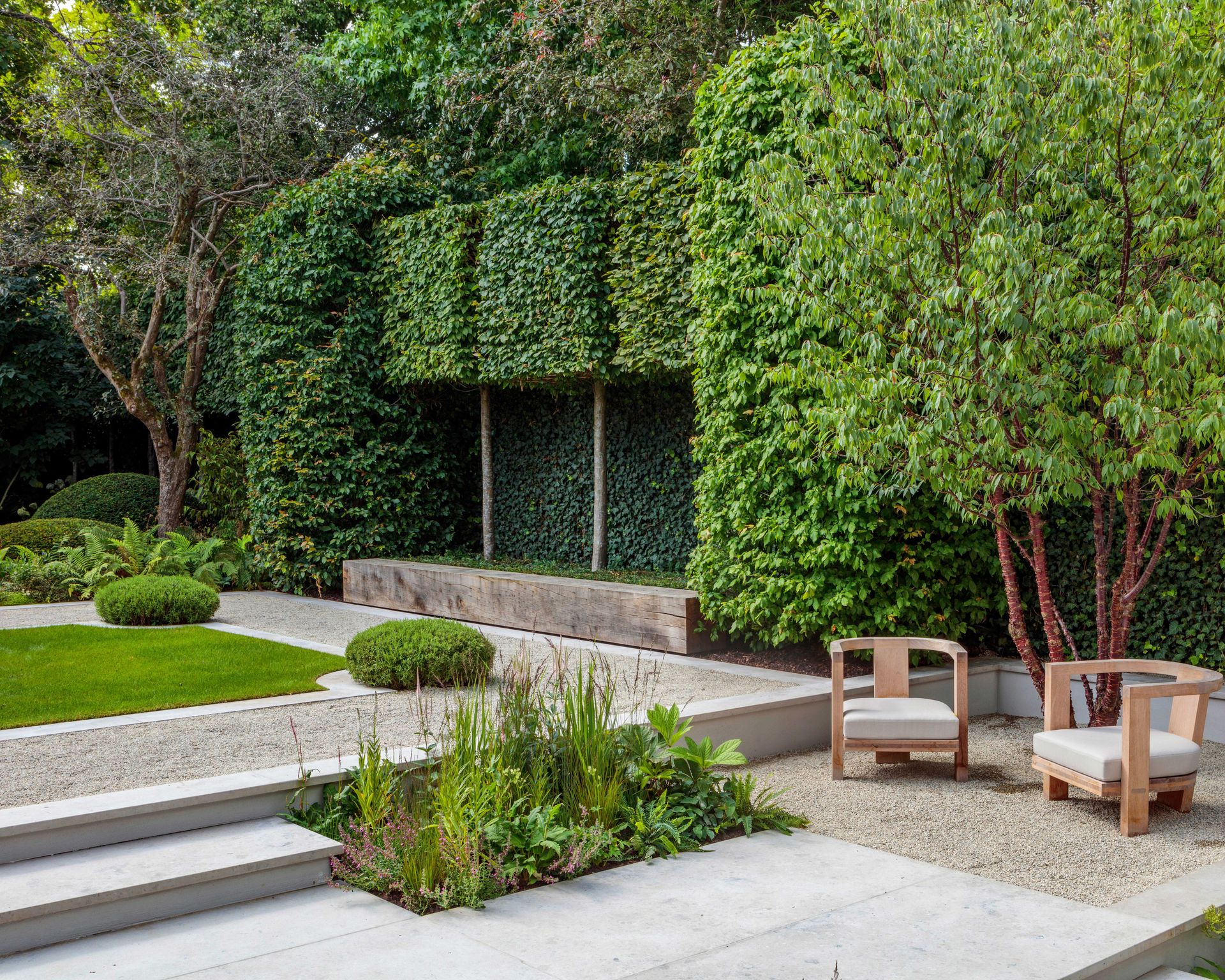 Employing various small garden ideas, the resultant internal space was divided geometrically, but not symmetrically, into a series of interconnecting, largely open rooms – dedicated outdoor seating spaces for intimate or more sociable gatherings.
Subtle changes in levels, and garden screening ideas, like the magnificent stone tablet, or different use of materials, help signal and define change of use and tempo.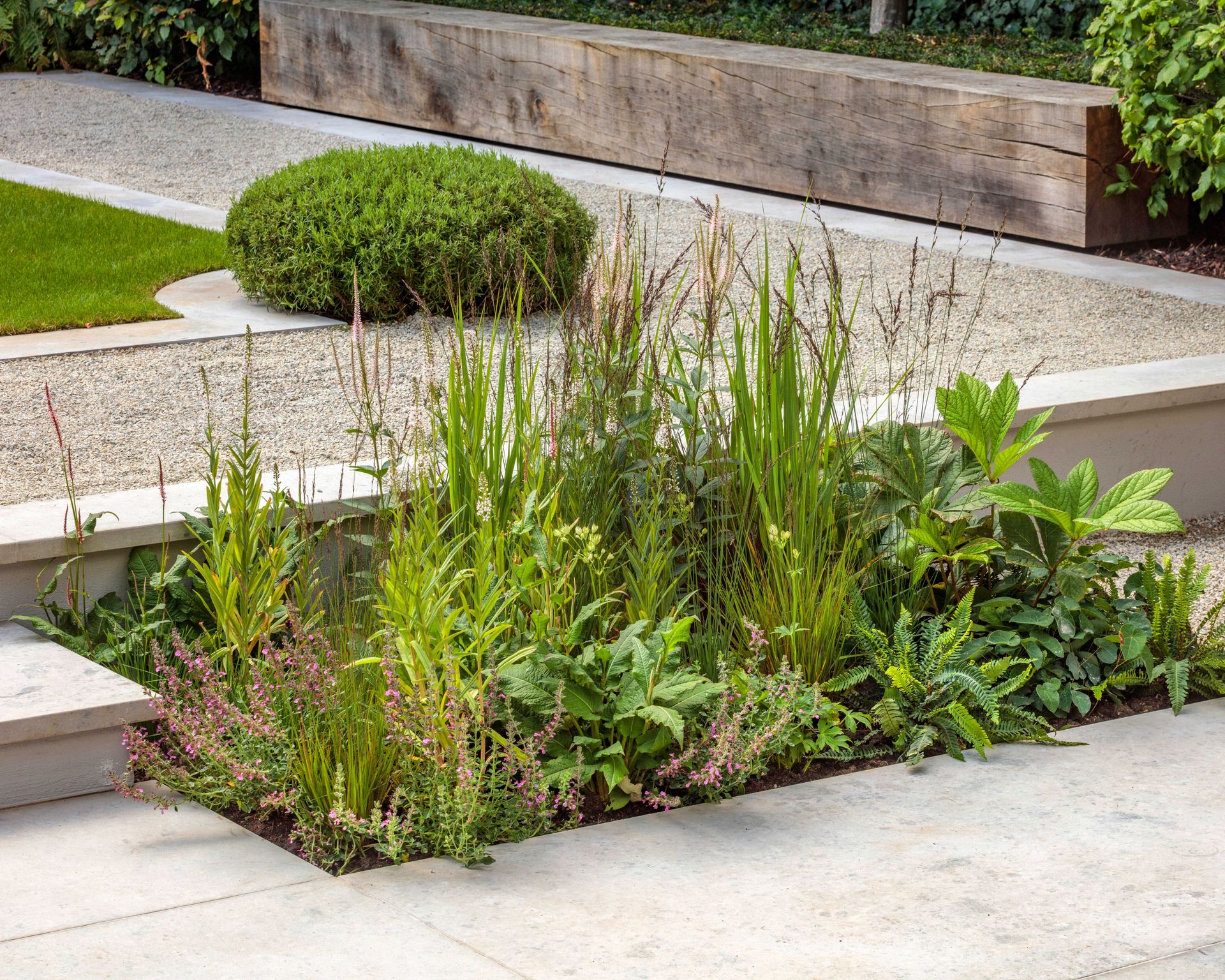 The predominant hard landscaping material, limestone, 'chosen for its beautiful tone, depth and movement created by the wonderful prehistoric creatures fossilized within,' explains Keightley, is both natural yet refined. The elegant stone terraces, low-lying patio step ideas, and paved borders are framed by fine crushed gravel, presenting a spacious, composed and cohesive 'interior' – offering a wealth of patio ideas.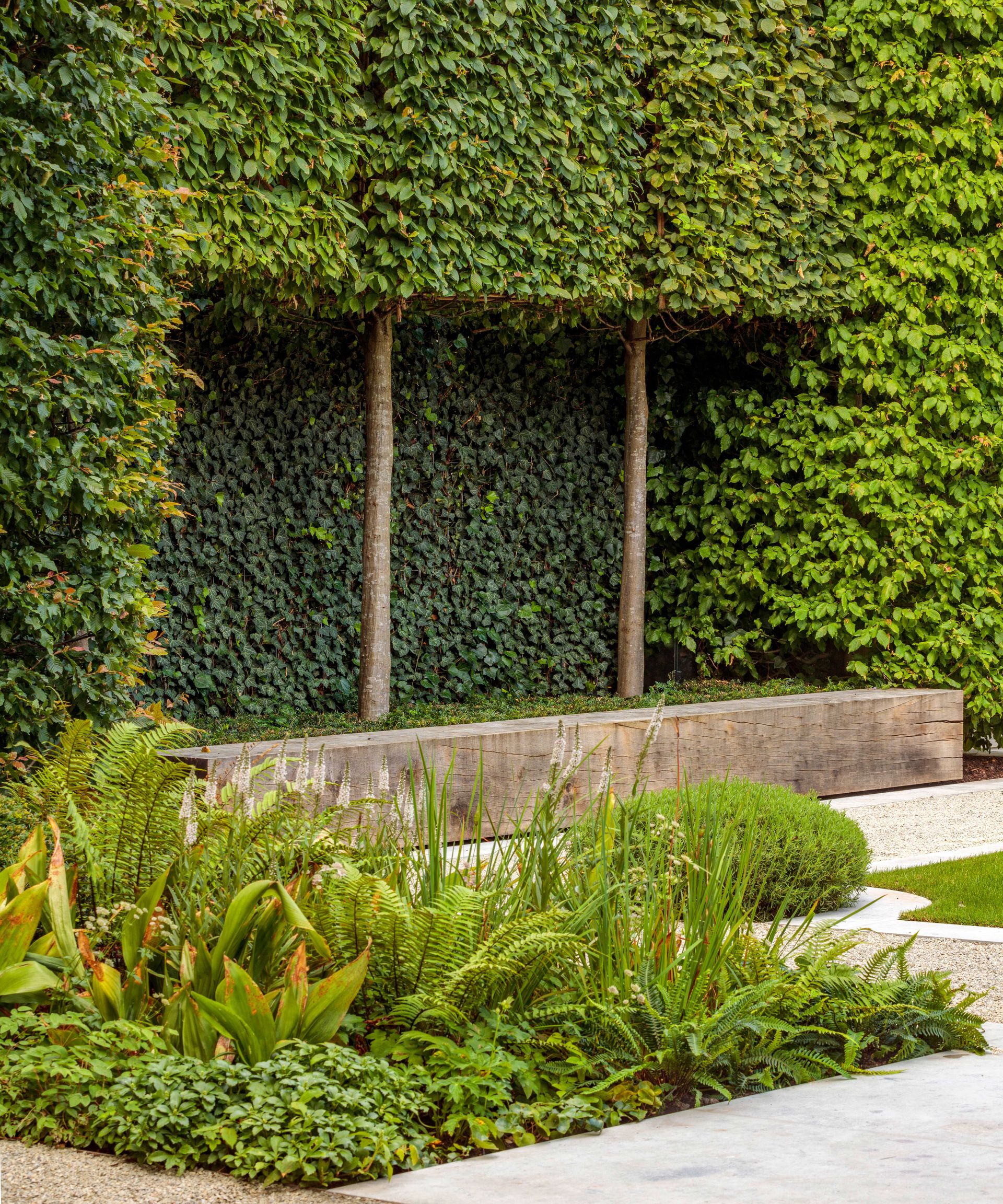 'The garden sits, almost in its entirety, on one level and so subtle hard landscaping ideas, refinements and detailing provide elegant changes to the perceived depth in the space,' explains Keightley.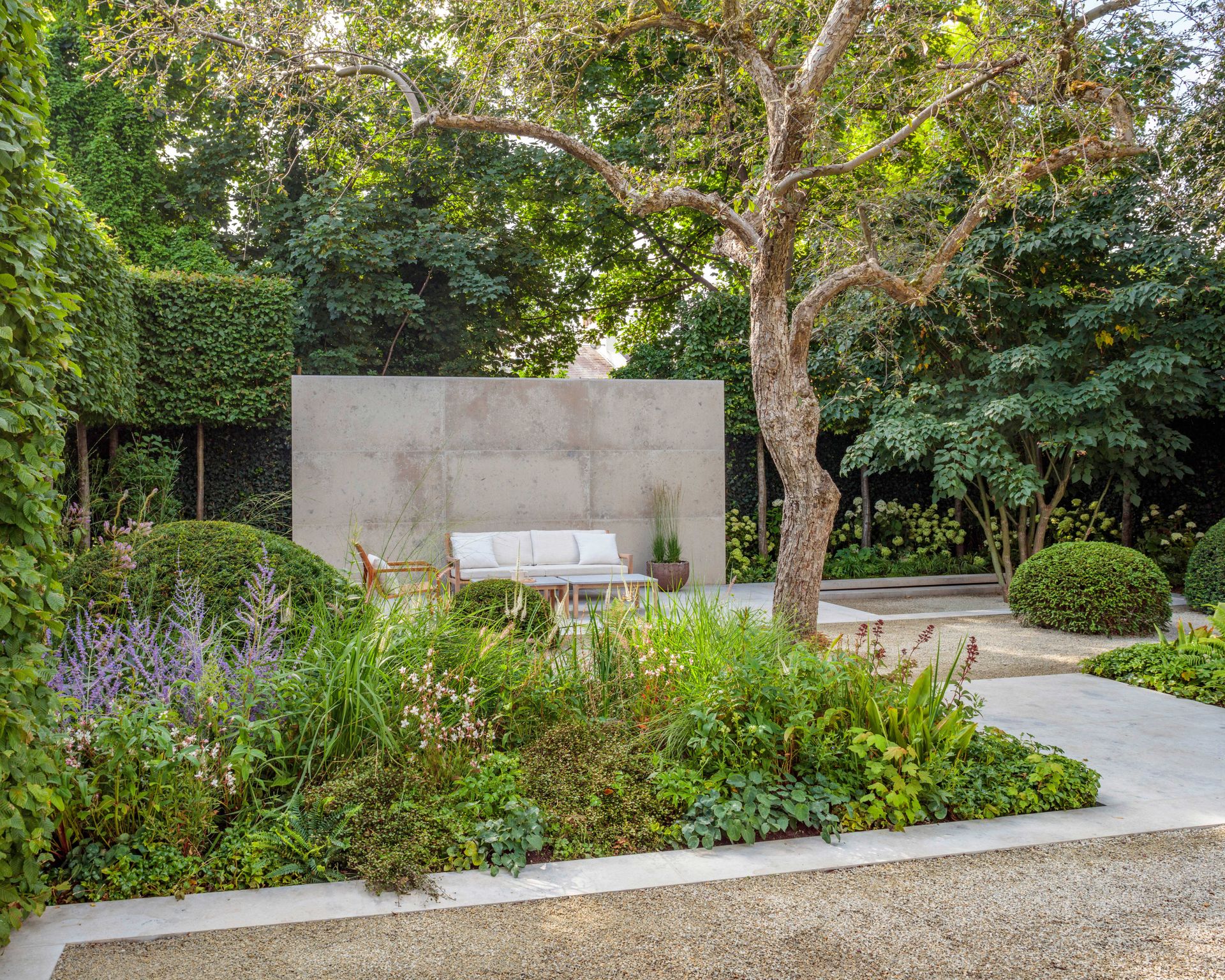 Inspired by Dutch designer, Jacques Wirtz's innovative use of 'topiary', Keightley transports classical design English garden design elements into contemporary settings, introducing new heights, proportions, dimensions and materials.
The scale of the topiary was really important and in planning for enormous pieces both at ground level and as vertical garden ideas, 'has resulted in a hugely impactful city garden that feels serene and almost cathedral-like as you meander through.'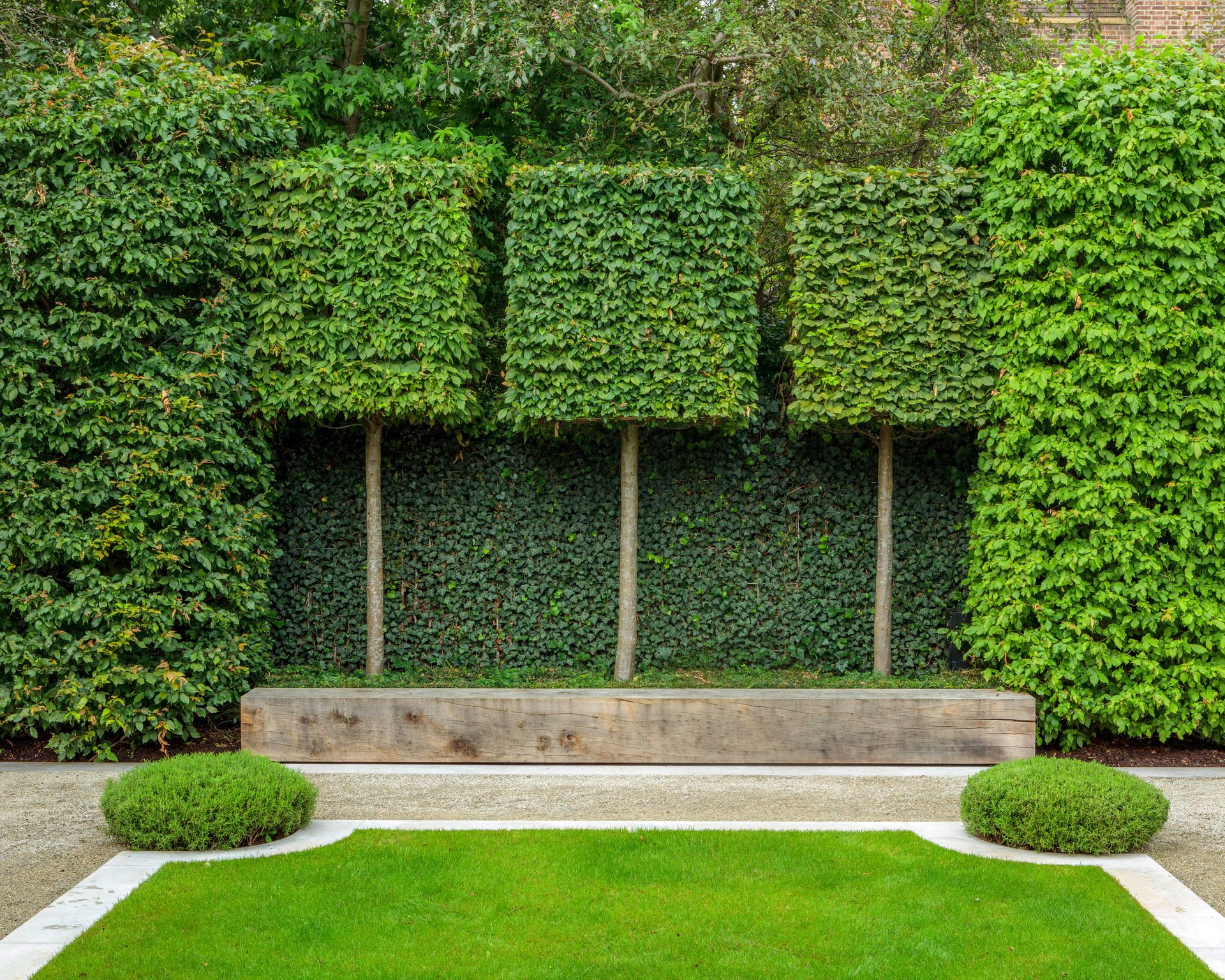 Keightley refers to the repeated towering trios of immaculately clipped, bare-stem pleached hornbeams, Carpinus betula, which line the garden perimeter as a garden wall idea, buttressed by equally clean-shaven, twin giant hornbeam 'beehives', each exactly 13 feet (4m) tall and 6.6 feet (2m) in diameter.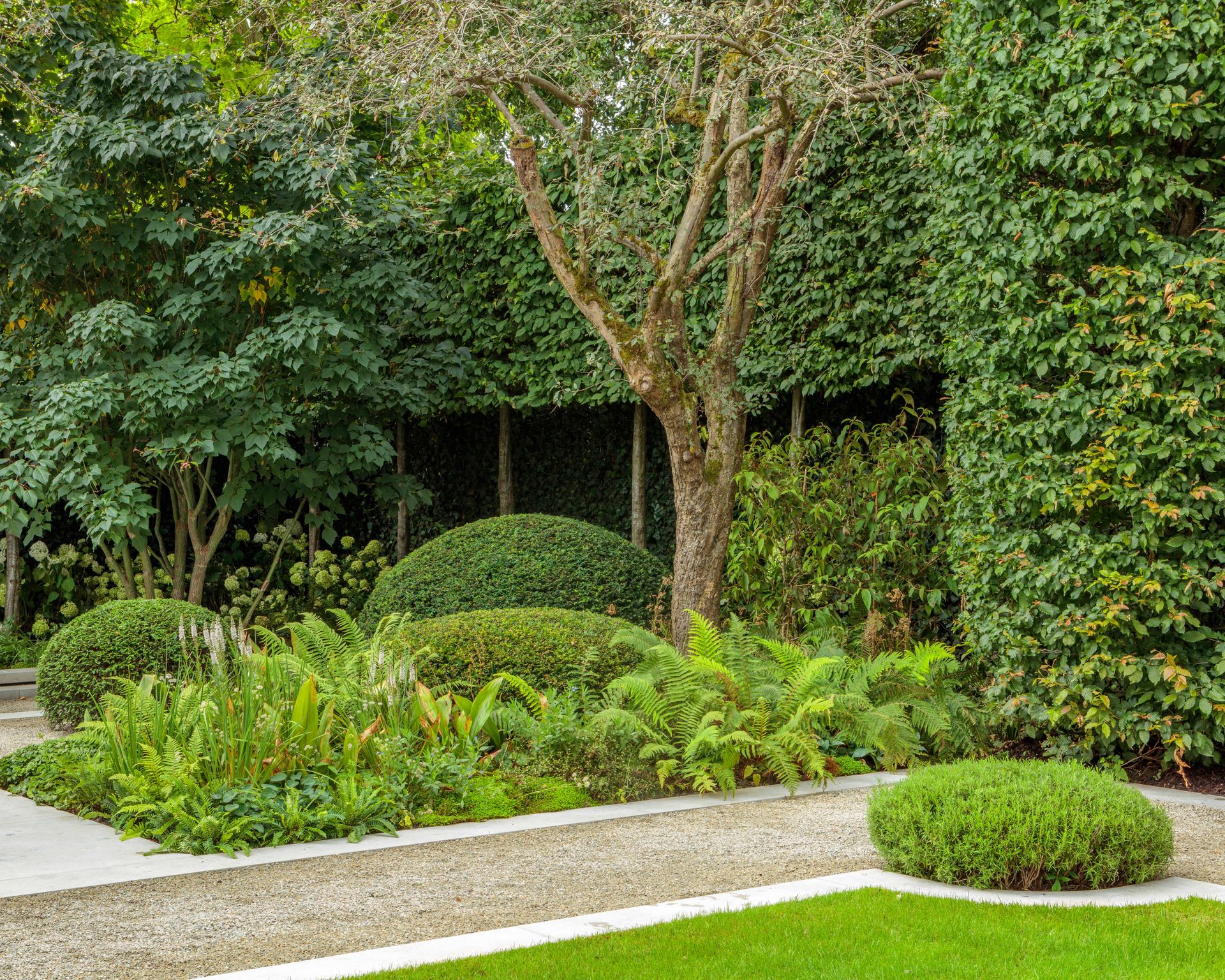 At ground level, muscular yew domes, among the prettiest evergreen plants, grace the far terrace. Unable to find exactly the texture and proportion required to 'button down the lawn', perfectionist Keightley, spent 18 months in the studio yard, creating four bespoke, 4 foot (1.2 m diameter), rosemary 'pincushions', each precisely clipped to fit his hand-cut wooden template.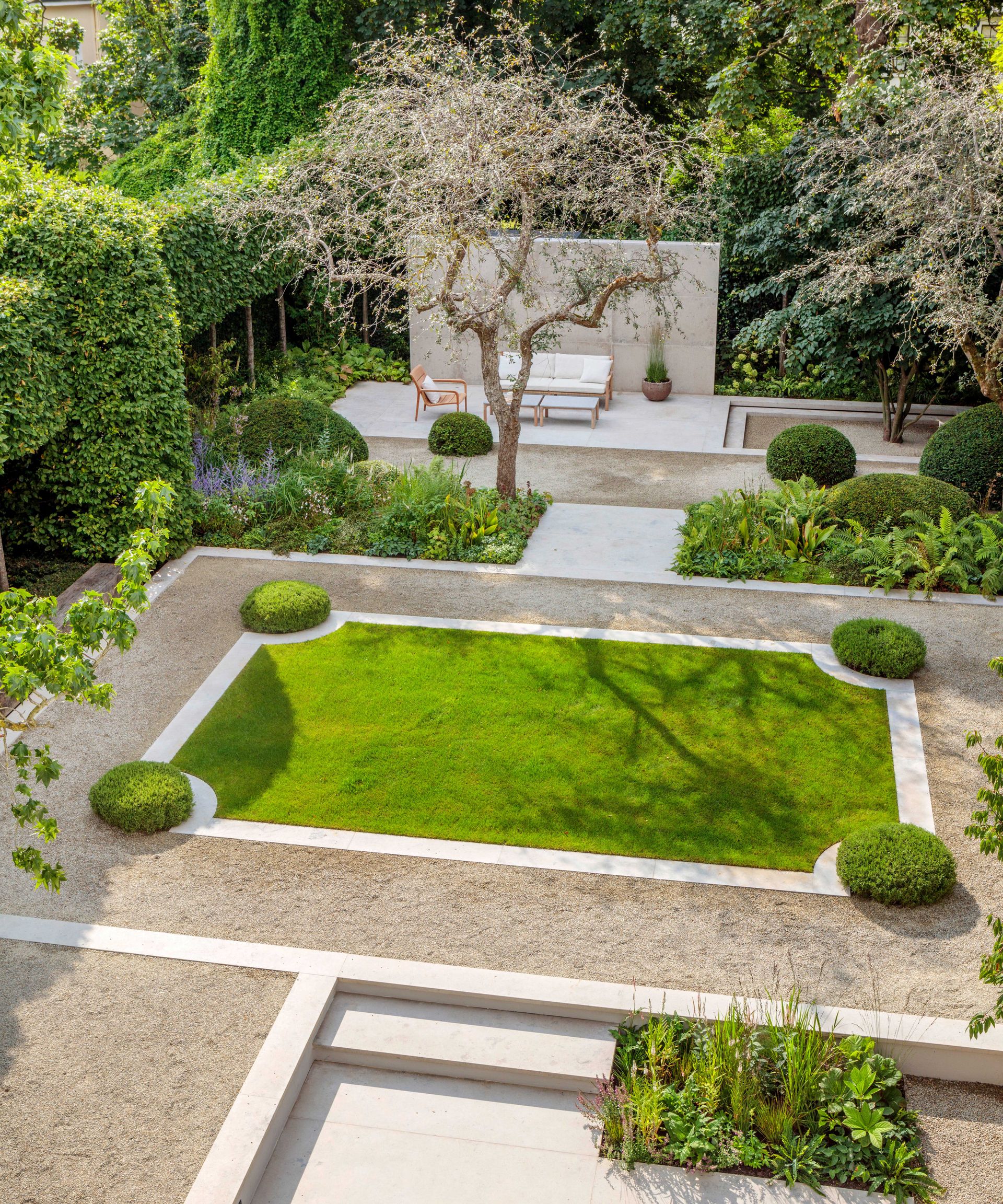 The rug-like lawn, a contemporary interpretation of a classical grass parterre garden, and a stolen interior feature, 'is flanked with a gravel garden path, the crunch of which is pleasing underfoot and softens, yet adds a discreet texture to the hard landscape,' says Keightley. He made a deliberate decision to push users left and right, to meander around the space, saunter in their own time, relax and enjoy each and every element and composition.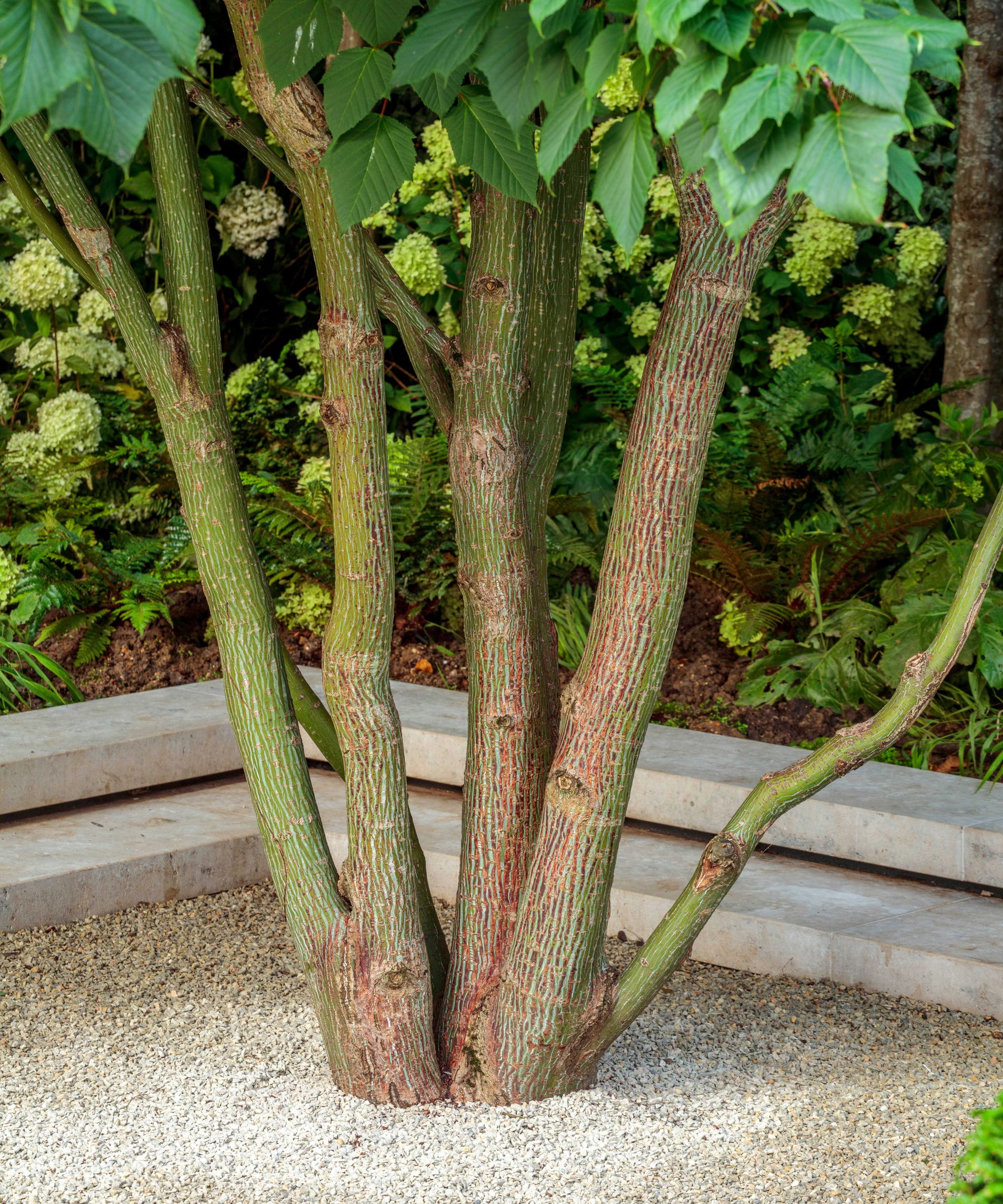 Multi-stem specimen trees, Prunus serrula and Acer rufinerve , among the best fast growing trees, are placed individually in 'gravel galleries,' unrestrained, living objets of art, with painterly, textured bark in contrast to the more regimented hornbeam plantings.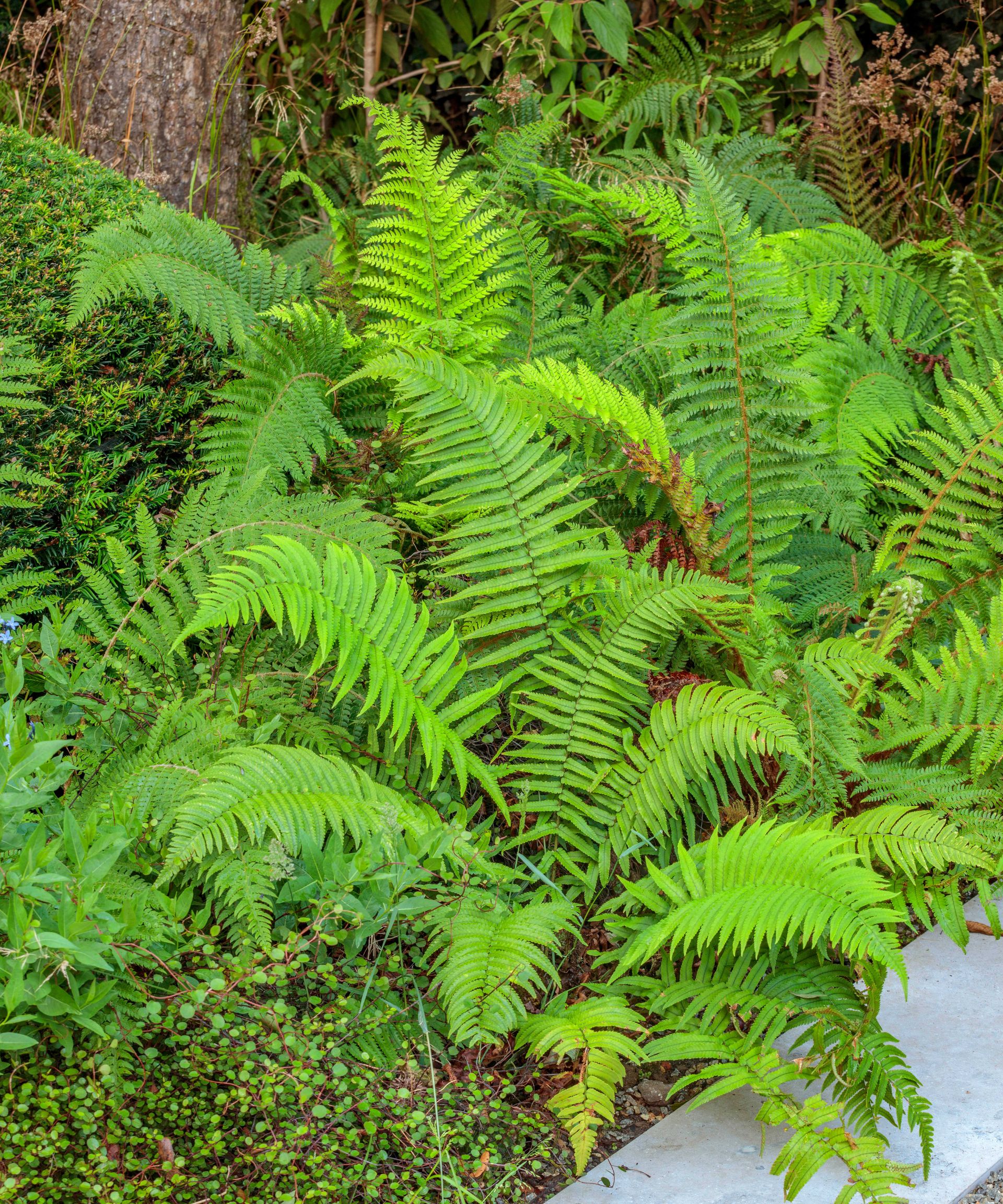 While not masses of space is dedicated to herbaceous arrangements, after all the topiary is positioned, with a light touch and a curated palette, Keightley introduces a scattering of ornamental grasses, ferns with other woodland plants, and a fleck of color from perennials in flower bed ideas. 'All that was required to lift the space further and give it the energy it needed to become an immersive urban garden that envelops you as you enter.'
Sign up to the Homes & Gardens newsletter
Decor Ideas. Project Inspiration. Expert Advice. Delivered to your inbox.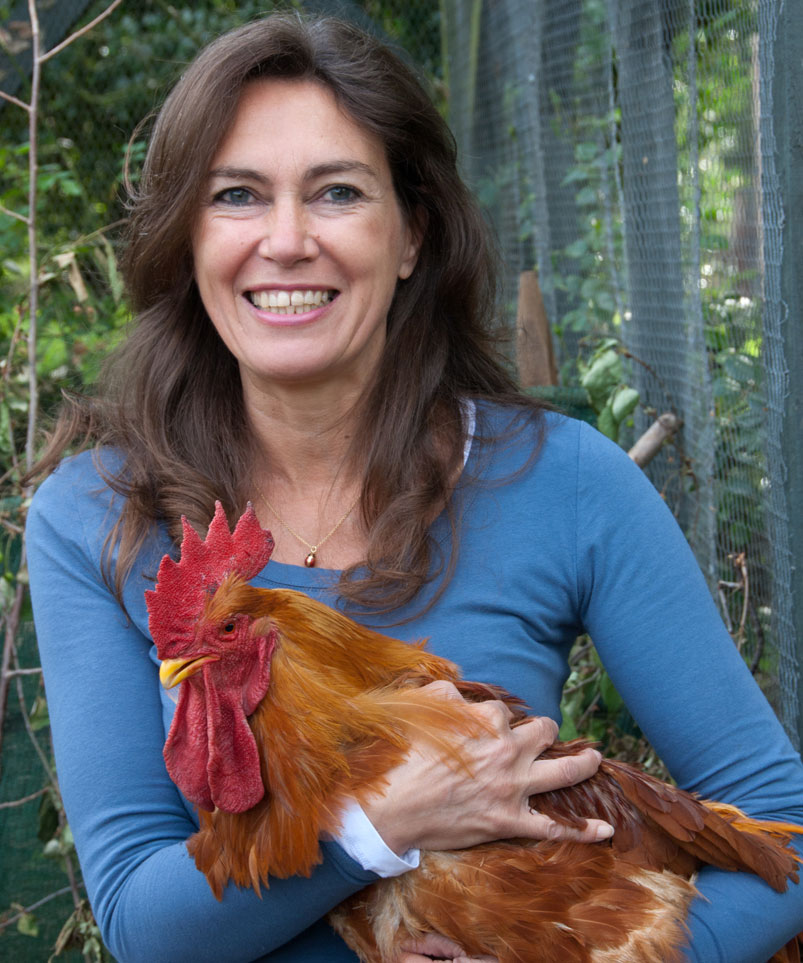 A creative freelance writer, stylist and photographer, Jacky Hobbs has created home and garden features for prestigious lifestyle magazines for over two decades.
An earlier career travelling the world as a fashion and homeware buyer developed her passion for lifestyle, interiors, vintage, travel and later gardens.