Living room accent wall color ideas – 16 ways to create a stylish focal point
Be inspired by living room accent wall color ideas that are super chic and easy to achieve

(Image credit: Carpetright / Ligne Roset / Little Greene)
Living room accent wall color ideas have an impact on the room that's out of all proportion to the simplicity of realizing them.
A new paint color on just one wall takes little time or effort to achieve, yet it can change the mood of the room, and create a fabulous focal point. And the color doesn't need to be a bold one to pull off this feat. Subtle hues can work just as well as dramatic choices in transforming the room.
There are a whole range of living room accent wall ideas to pick from to boost the style of a space including using wallpaper or paneling, but a change of color can be all it takes as these ideas show.
Our top living room accent wall color ideas
There are lots of ways to create a living room accent wall with paint. You can keep accent wall ideas simple and paint an entire wall a single shade, or get creative with half-walls, trim, and color-blocking. This is a wonderful way to bring accent colors together, too. Try the looks we love.
1. Create a talking point with zesty lime
If you're confident with color, why not opt for living room accent wall color ideas that bring zest and vitality to it?
'This space was really created for living, gathering with the family and celebrating life's milestones. Since green is often associated with life in literature, this vibrant hue provided the perfect foundation,' says New York based interior designer Phillip Thomas. 'It looks beautiful at all times of day, brightening up a weekend brunch and glowing from within at night.'
In addition to the color of your accent wall, it's also worth thinking about the paint finishes, as they can impact the look and feel of the room. 'I always love a high gloss lacquer finish in a living room, as it adds lightness and luxury to the space,' says Phillip.
2. Embrace versatile teal
Decorating with teal is a great way to create all sorts of looks in a living room. Sitting between blue and green on the color spectrum, it works well combined with many other shades and can be used to evoke all sorts of looks.
'Teal is a beautiful and versatile color that can bring peace and relaxation to the home or – when combined with other colors – create a really vibrant living space,' says Justyna Korczynska, senior designer at Crown. 'It is bold enough to be used to create retro schemes in combination with other vibrant shades, or used as an accent color to produce a bold look.'
Darker shades of teal can also make great accent colors for zoning a living room. Try 'painting just a section of a wall to create a zone within a room,' Justyna suggests.
'This could work very well in modern properties with an open-plan living space. It's perfect for a home office corner, a reading nook or a dining area. And, by painting just a smaller section of the room you, can go really brave or dark with your chosen color.'
3. Choose colors to complement a wallpaper
Wallpaper is an easy way to bring pattern and personality to a living room, but it doesn't have to be used over all four walls. Hanging it in a limited area and introducing accent paint colors to sit alongside it is a great way to create an individual look.
Here accent colors of Little Greene's Chocolate Colour and Light Bronze have been used in the alcoves and on the fire surround to help balance a wallpapered chimney.
There are different approaches possible when it comes to choosing accent colors to go with living room wallpaper – you could either use it as a starting point and pick out complementary tones from it, or be playful and opt for contrasting tones.
'We are seeing people embracing bolder, more colorful designs and pairing these with both co-ordinating highlight colors on walls and woodwork, such as Brodsworth wallpaper with Marine Blue paint, as well as bolder schemes which use contrasting woodwork colors,' says Ruth Mottershead, creative director of Little Greene.
'A bright yellow can work fantastically well with deep blue or indigo tone wallpapers, transforming what might feel like a traditional wallpaper into a more contemporary design statement.'
4. Create wow with hot pink
As spaces where we entertain guests, it's important that living rooms reflect our personality, so if you love bold color, don't be afraid to embrace it. But if all round is too much for you, living room accent wall color ideas can still make an impact.
'If you're looking for a contemporary and dynamic atmosphere, but don't want to paint all four walls in a bold color, create an accent wall with a vibrant tone such as the hot pink Leather and pair with a warm neutral shade such as China Clay Dark or versatile grey Arquerite on your other walls to create an impactful design feature that creates wow factor without feeling overwhelming,' says Ruth Mottershead, creative director at Little Greene.
To keep pink living room ideas feeling fresh and contemporary, add in sculptural pieces of black furniture with striking silhouettes.
5. Choose a pastel accent wall
If you're looking to decorate with bold artworks, fabrics and accessories, choose a softer shade for your living room accent wall such as a delicate pink. Offering color and personality without being overwhelming, pastel tones are a great base for layering statement pieces while keeping spaces feeling light filled and tranquil.
'Pastel tones exude feelings of relaxation whilst having a light-hearted edge,' says says Ruth Mottershead. 'They can be used in multiple spaces because they are warm enough to make us feel cozy, safe enough to be used without worry and playful enough to not be taken too seriously.'
Pink also works well paired with multiple other shades. 'Pair with deep grays or terracotta for an elegant feel or shades of green for a natural, contrasting interior,' she adds.
6. Introduce an accent color on shelving
To bring just a hint of color to your living room try painting or wallpapering the back of a fitted bookshelf in a contrasting color to the joinery. Not not only will this add personality and depth, it is a great backdrop for showcasing shapely ornaments.
'We had the built-in shelving papered with a faux grasscloth by Thibaut, which helped bring some color and depth into the room. Our clients had lots of great pieces to work with already which helped to stage all the decor on the shelves. Using some pieces you have already is a great way to stretch your budget,' says Mary Maloney, owner of interior design studio Bees Knees , designer of the project.
7. Team warming ochre and fresh white
Your living room accent wall color can remedy design challenges, whether you're looking for small living room ideas, or on the contrary, have an overabundance of space.
'High ceilings are always a bonus, of course, but if the room is north facing as well, it can feel like a big space to 'fill' and be a touch cold. Ochre is a great choice for combating this, it's warming and goes well with many colors – like this electric blue couch. Use it as an accent instead of all over for more of an impactful look,' says Jennifer Ebert, digital editor, Homes & Gardens.
Consider this your official permission to have fun with your living room paint ideas.
8. Eggplant is a perfect anchoring color
Looking for living room accent wall color ideas that provide an unexpected alternative to neutrals? Try eggplant.
'Eggplant is a rich color that will ground a room visually. It will also warm up a north facing living room and by only featuring it on the lower half of the wall it won't make the space feel too dark. It's a versatile yet under-used shade that goes with blush and oh-so-pale green, as well as turmeric and black,' says Lucy Searle, global editor in chief, Homes & Gardens.
9. Use gray to add depth in an otherwise white room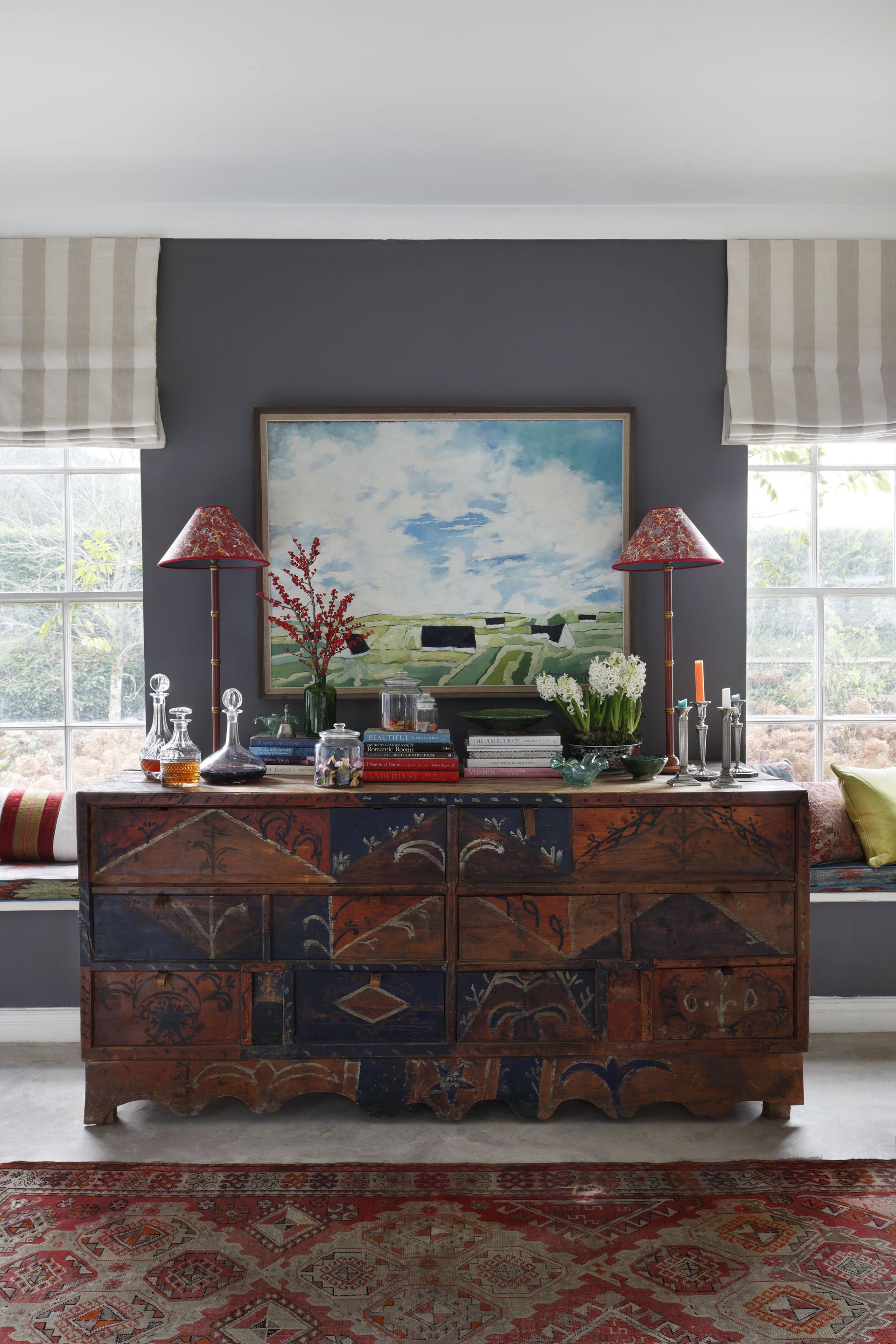 Create dimension in a bright, airy space with a dark-hued accent wall.
'As this room benefits from plenty of light, I felt I could opt for a bold gray accent wall,' says Henriette von Stockhausen, creative director at VSP Interiors. 'The color is Dark Lead Intelligent Matte Emulsion by Little Greene. Treasured paintings and antiques soften the industrial nature of the scheme to create a harmonious mix of old and new that I was determined to achieve.'
There are so many accent colors for gray that this is an easy shade to use as a living room accent wall color idea.
10. If you're a trend follower, opt for sage green
Green is the it-color of the moment. If you want to try out one of the top living room trends without risk of getting in over your head, opt for sage green, painted below a chair or picture rail.
'Sage green is a calming shade that sits midway between light and dark greens. Reminiscent of the plants it's inspired by – woody stems and culinary herbs, it represents harmony and nature. It goes well with cream and look how fabulously it works with rose,' says Jennifer Ebert, digital editor, Homes & Gardens.
11. An inky blue adds a new dimension
Planning a little living room feng shui? An accent wall can help set a new ambience.
'For me, the purpose of an accent color is to lift a scheme, inject some personality, and bring some joy,' says Annie Sloan, color and paint expert at Annie Sloan. 'They can be used to tie a room together – especially if you pick a color from a well-loved artwork or fabric which you already own and replicate that shade on furniture or walls. It gives fresh perspective to a room, contrasts existing shades to bring out the best in them, and most importantly should make you smile!'
For a color that sparks joy and creates contrast go for a deep blue that's a few shades shy of navy. It'll add depth and a touch of drama to your space without veering into moody territory.
12. Add a brilliant zing with acid lemon
If you've been looking for an opportunity to make a daring color decision, the accent wall is it. Since you're painting a smaller area, almost anything goes, color-wise.
'Yes, this is uber bright, but if you use it sparingly it can look amazing – to add balance choose a crisp white for the rest of the walls, woodwork and ceiling and pick wooden flooring that has warming tones and texture,' says Melanie Griffiths, editor, Period Living.
13. Go bold below and light above
If your living room ceilings are on the low side, keep the upper portion of the room a single, pale neutral color, ceiling included. This is one of our favorite bedroom accent wall color ideas, too. Warm spice shades make for wonderful living room accent wall color ideas, and are obvious choices for accent colors for beige.
'Keep darker or bolder colors on the bottom and lighter shades on top,' says George Miller, home designer at Neptune. 'In doing so, you'll create the illusion of more ceiling height and ground your scheme. If you want to go the extra mile, a central border, painted in a third contrasting shade, will define the transition of your two color blocks and add an extra flourish to the design.'
If your home has a chair rail, paint it the darker color for a more contemporary look, instead of leaving it white.
14. Spin the accent on its head and use it high up
To break up an expanse of wall in a high-ceilinged room, add an accent color to the top 25 per cent of the wall, or above a picture rail. A pop of color high up plays into the height of room, but the two-tone effect will also make the room feel cozier and less imposing that a single shade.
'We tend to think accent colors should be low down, on an alcove or chimney breast, but how about above the picture rail or ceiling? You can paint wherever you like, so be brave and break the 'rules', especially if the end result is like this living room,' says Lucy Searle, global editor in chief, Homes & Gardens.
15. Select vibrant orange for a color boost
For a playful, yet sophisticated take on the living room accent wall, pick one side of the color spectrum and incorporate a variety of warm or cool tones.
'I absolutely adore vivid, juicy, vitamin C-packed orange with a soft pastel pink – it's such a rewarding contrast. Both colors are playful and beautiful, so they work fabulously in a social space such as a living room,' says Annie Sloan.
16. Go all out with an accent wall
The most popular living room accent wall color idea is to paint an entire wall a single shade, but you can up the drama by including the trim.
'For a pure statement, paint one side of the living room in a single color – woodwork and all, from top to tail so to speak. It's dramatic yes, but doesn't it look fabulous? The other walls can be softer shades, blush pink would work well as you can see from the teapot on the side table,' says Lucy Searle, global editor in chief, Homes & Gardens.
What colors are good for a living room accent wall?
The best colors for a living room accent wall are the ones that will complement your decor scheme.
To narrow down your options, look at the accent colors that are already in your room. Pulling a color from your existing decor will tie your whole room together, and is a failsafe way to make the right choice. If you want an exact match, take an item you already own, like a throw pillow, vase, or area rug, to the paint store and have it color-matched. Or, if color-matching isn't an option, use the in-store paint cards to find the closest shade.
Should a living room accent wall color be darker or lighter?
Most often, an accent wall is a darker tone then the surrounding walls, because it's used as a way to liven up an otherwise monochromatic space.
But, that doesn't mean your accent wall can't be lighter. The key is to choose colors that complement one another, and to make your choice feel intentional. Painting three walls a sage green and leaving one wall white can look like you gave up before the job was finished. But, if you paint that fourth wall a rich cream color or a pale blush, you restore the intentionality, and the whole space works.
Sign up to the Homes & Gardens newsletter
Decor Ideas. Project Inspiration. Expert Advice. Delivered to your inbox.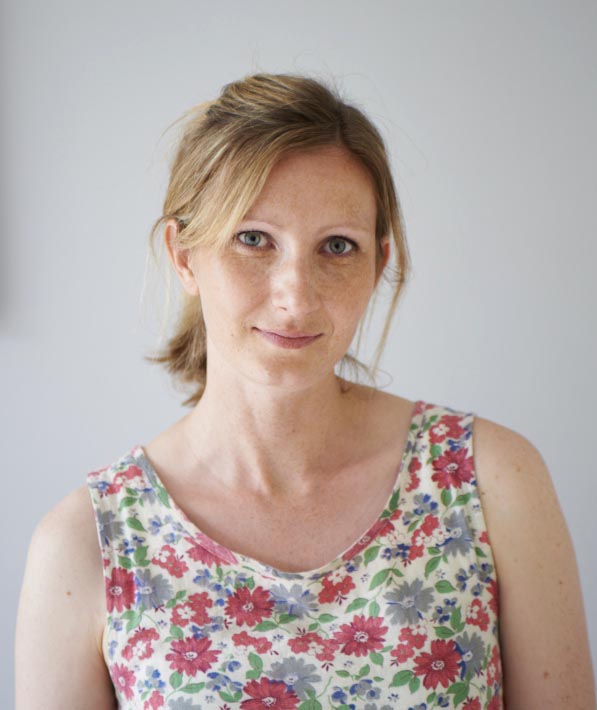 Sophie has been an interior stylist and journalist for over 20 years and has worked for many of the main interior magazines during that time, both in-house and as a freelancer. On the side, as well as being the News Editor for indie magazine, 91, she trained to be a florist in 2019 and launched The Prettiest Posy where she curates beautiful flowers for modern weddings and events. For H&G, she writes features about interior design – and is known for having an eye for a beautiful room.
With contributions from