What colors go with black? 5 accent colors favored by the experts
Striking, grounding and wonderfully versatile, we ask designers for their favorite colors to pair with black, and how best to use these color combinations in the home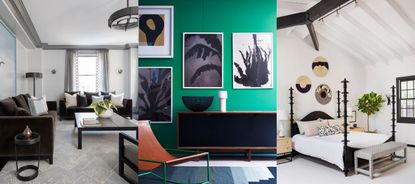 (Image credit: Ginny MacDonald Design | Pearson Lyle Management Ltd | Heather K. Bernstein Interior DesignK/Thomas Kuoh)
The beauty of black is that it can be paired with pretty much any other shade, making it a highly adaptable, enduring and popular color choice to embrace in homes both classic and contemporary.
However, our design experts have revealed the top accent colors that stand above the rest when decorating with black; helping to enhance your black room ideas with beautiful and colorful decoration.
From a timeless black and white scheme to a more modern design rich with bold, bright accents, we explore the best colors to use with black.
The 5 best accent colors for black
Of course, black is a commanding and powerful color to decorate with, but there are actually many different shades to choose from, some with cool undertones, others with warm, and the right accent color can completely change the overall mood and feel of a black scheme.
Here are our five favorite colors to use with black.
1. White – for a classic and sophisticated look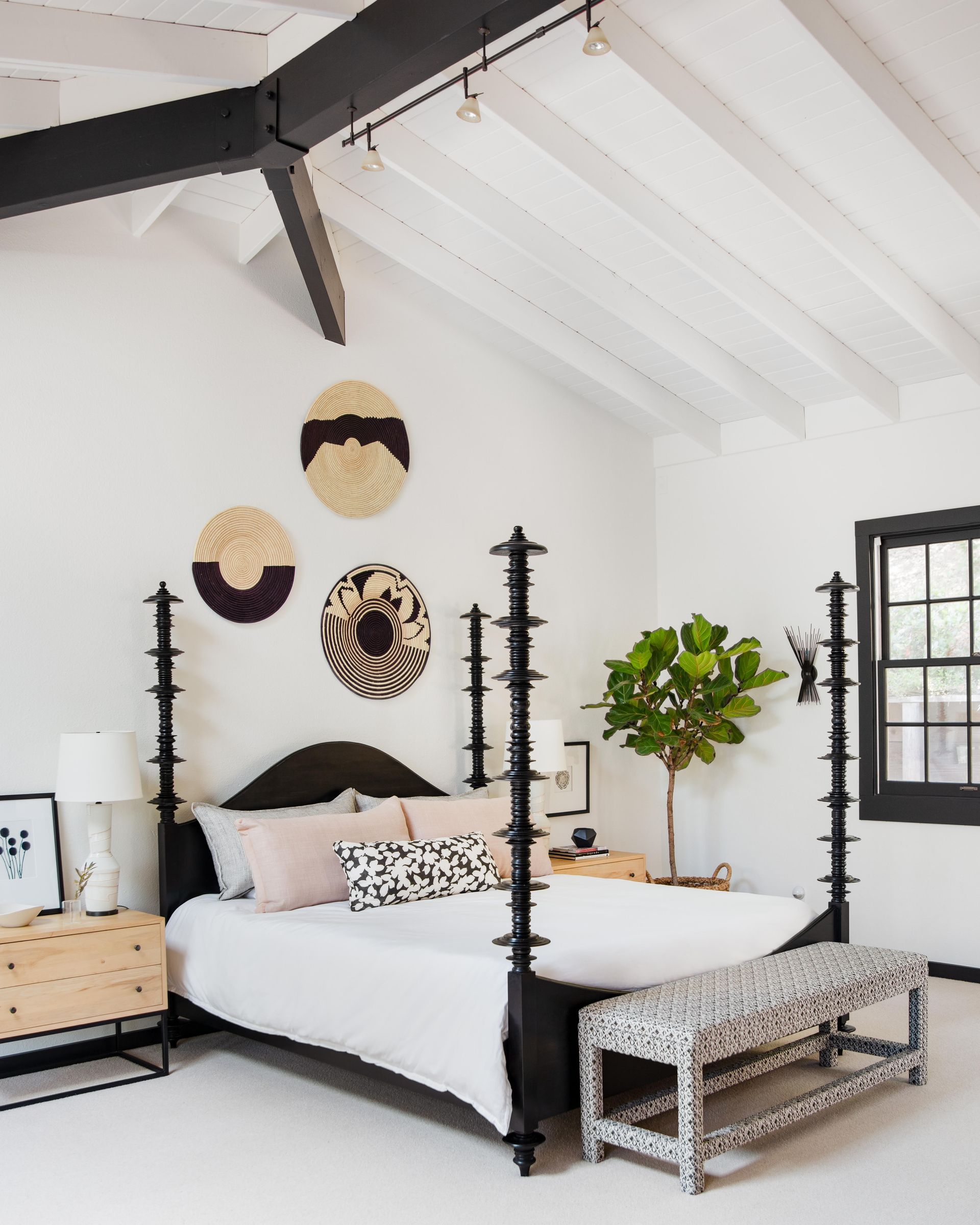 Where better place to start than with the timeless color combination of black and white? A beautiful union of light and dark, these colors can work in perfect harmony to establish a harmonious and balanced design.
'When decorating with black, it is important to make sure there is a contrasting complementary color against the black to keep the space from feeling dismal or too dark. A shade of white is the most natural pairing with black and it yields an easy contrast. It keeps the space feeling bright,' advises interior designer, Nicole Lanteri.
From white paint ideas united with sleek black furniture, to using black and white when decorating with patterns, this iconic, monochrome color combination can effortlessly complement interiors both old and new.
Valspar paint and interior expert, Sarah Lloyd, also adds, 'mixing black and white is about as classic and timeless as it gets. It's a two-color combination perfect for a bedroom that will never go out of fashion, and gives a real five-star hotel feel.'
As shown above, the black and white bedroom ideas in this space, designed by Heather K. Bernstein Interior Design, establish a simple yet striking design that feels wonderfully calming, with the warming wooden and beige tones tying the whole scheme together as one.
Nicole Lanteri founded her Washington, D.C.-based interior design firm in 2009. Nicole Lanteri Design engages in projects in the surrounding D.C., Virginia, and Maryland areas, as well as further afield, including New York City, the Hudson Valley, and Southern California.
Color and paint expert, Sarah Lloyd, is the paint and interior expert at the UK division of Valspar, and has worked for the paint brand over the last 3 years.
2. Earthy neutral – to add warmth and comfort
Fellow neutrals, such as cream, brown and beige, can be great at balancing out a black scheme by adding inviting, earthy warmth; perfect for neutral room ideas.
As shown in this modern kitchen, designed by Lucie Ayres of 22 interiors, the black kitchen cabinets and coordinating kitchen island make a striking, stylish statement in the space; working as the main focal point that draws you into the room. The cream-painted walls and white countertops offer an elegant contrast, with the brown and cream palette used across the seating and accessories adding beautiful tactile texture in a coordinating neutral palette.
An elegant blend of neutral shades, this calming kitchen strikes the perfect balance between warm and cool tones.
We explore the top accent colors for beige in our separate feature.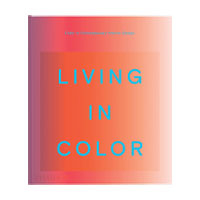 Living In Color – published by Phaidon | $39.95 at Design Within Reach
From the purest white to the deepest black, explore 200 interiors from 130 designers organized by color.
3. Gray – for a modern look
For a more contemporary neutral pairing, a black and gray color scheme can establish a truly sophisticated space.
Many of us are moving away from solely decorating with gray in favor of designs with more color and depth. Black may be a fellow darker neutral, but it can elegantly uplift a gray scheme with a striking, stylish edge.
Interior designer, Nicole Lanteri says, 'when decorating with black, lean into the dark color. Sure, it can feel scary to be so bold – but using a medium or dark gray with black has this crispness and modernity to it, with an allure that brings that "wow" factor to a space.'
As shown in this modern living room, designed by Ginny MacDonald Design, a black and gray color palette has been used to establish a coordinated contemporary space. The light gray painted walls provide the perfect backdrop for the black living room furniture, with design details such as the gray ceiling trim, curtains and rug working to establish a sleek and cohesive design.
We explore the best accent colors for gray in our dedicated piece.
4. Vivid brights – for an uplifting space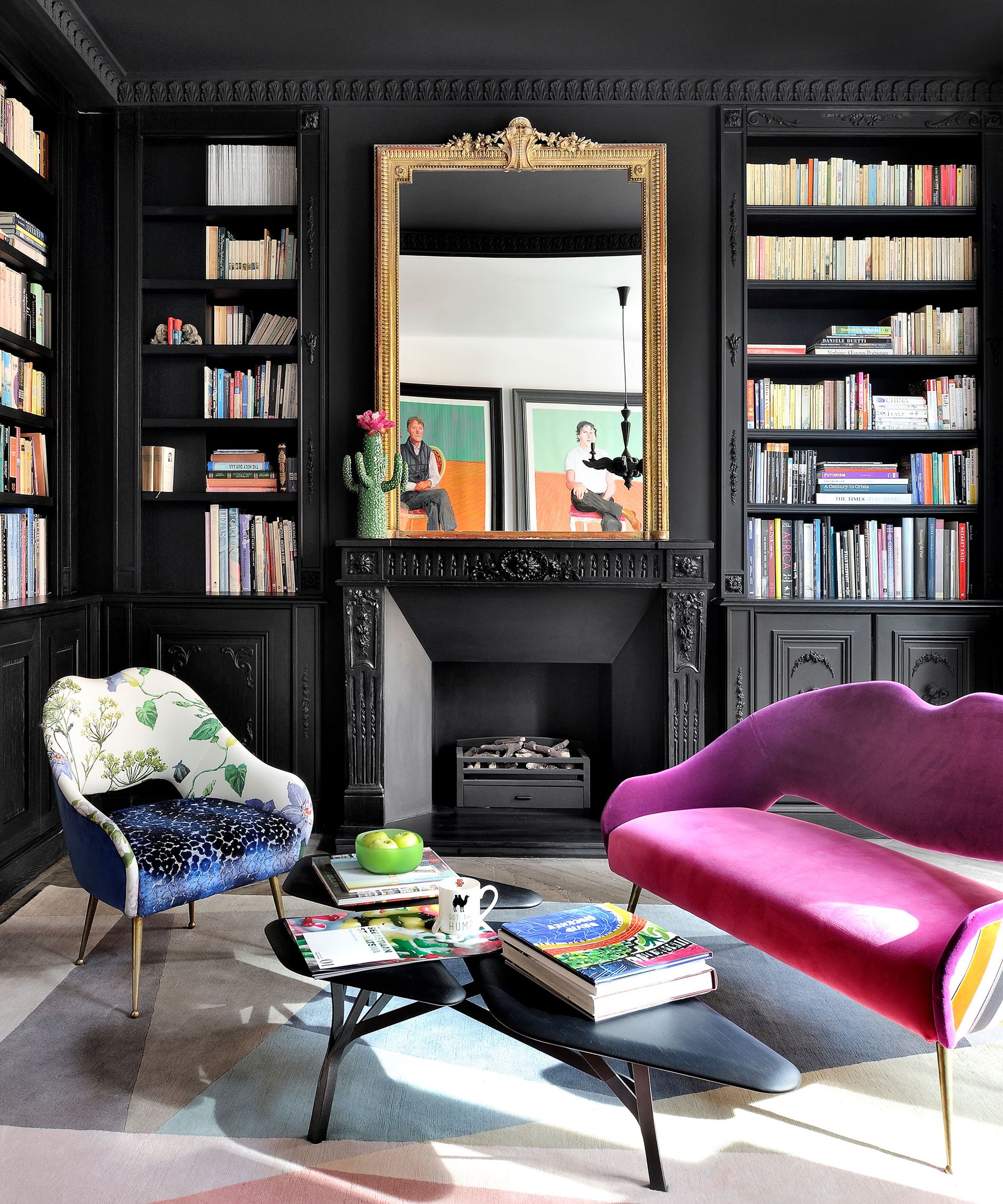 'Whilst we often associate the pairing of black with a classic white, it also plays a brilliant role by neutralizing hot or bright clean colors. From the bubble-gum vibrancy of our exotic pink Rangwali or spice notes of Bamboozle, to the grounding of brighter, cleaner blues, turquoises and sunshine yellows,' says Patrick O'Donnell, color expert and international brand ambassador at Farrow & Ball.
The black-painted walls and alcove shelving in this black living room allow for the stand-out, sculptural pink sofa to truly take center stage, with the patterned accent chair working in unison to create an eye-catching seating space and stylish element of bold contrast.
Interior designer, Kristin Marino, also supports this and says, 'high contrast color combinations with black can be a powerful tool in interiors. Black paired with bright saturated colors like orange, yellow, or red can help those colors stand out even more; helping to draw attention to a certain element within the space by naturally creating a focal point.'
Patrick O'Donnell is Farrow & Ball's color consultant & brand ambassador and has been with the brand since 2012. Patrick works with designers in the UK and North America, helping to bring their projects alive with the iconic, F&B color palette.
Interior designer and founder of Texas-based, Kozy Kasa Design, Kristin Marino, has a degree in Interior Design from the Fashion Institute of Design & Merchandising in Los Angeles, and began working for a number of top LA based design firms shortly after graduating.
5. Jewel tones – as an elegant contrast that sings
For a more muted, colorful contrast, pair black with rich jewel tones inspired by precious gemstones, such as deep greens, blues and purples.
Interior designer, Artem Kropovinsky advises, 'a revitalizing and organic shade, green pairs impeccably with black. This enduring color of nature can stylishly ground the presence of black, and help to create an inviting and hospitable atmosphere, perfect for a living room or dining room,' – we explore what colors go with green in our dedicated feature.
Just like black, a jewel color palette can add real drama to a room, uplifting space with a heightened atmosphere of elegance and grandeur.
Founder of NYC-based interior design firm, Arsight, Artem Kropovinsky has a decade of extensive global design experience, connecting a cohesive, collaborative team of passionate professionals, who work on interior projects in the U.S. and worldwide.
FAQs
What colors go with a black accent wall?
A black accent wall can really make a statement in a room, and if you're thinking of decorating with black but are unsure about painting the whole room, starting out with an accent wall can be a great way to test the color in your space.
As we have explored in this piece, black can seamlessly coordinate with a whole host of other colors, and your chosen accent shades all depend on the overall look and style you are wanting to create.
For a more calming and grounding design, unite your black accent wall with a brighter, lighter shade such as white or beige. Perfect for neutral room ideas, these warming shades will work as one to establish both a timeless and relaxed design, and prevent a room from feeling too dark – to complete the look, enhance the design with plenty of natural materials, such as wood.
Or, for a more adventurous and colorful design, bright colors can really be brought to life when paired with black. Black can provide a note of balance, and prevent colorful room ideas from feeling too intense or overwhelming. Whether you use a bright color on the remaining walls, or through stylish accessories, black and brights will always work harmoniously together as one.
---
When using black interior design, Nicole Lanteri concludes, 'decorating with black can make any space feel very fresh and clean, and add an inviting, elegant edge.
Black can easily make an outdated space feel more current – simply painting the walls black against a set of wood cabinets can make the space feel more updated – without doing anything else to the space – and black can be used to make a small space look bigger, by making the corners of the room imperceptible – a truly versatile choice for room color ideas.'
Black should not be seen as a somber or oppressive color to use in interior design, as we have explored, it can work with a truly varied palette of accent colors, and with the right knowledge and decorating ideas, can transform spaces of all styles to feel inviting, glamorous and perfectly timeless.
Sign up to the Homes & Gardens newsletter
Decor Ideas. Project Inspiration. Expert Advice. Delivered to your inbox.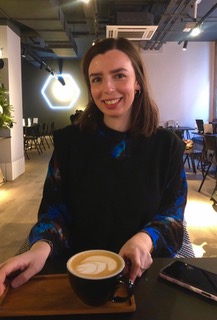 Zara joined Homes & Gardens in February 2022 as a Content Editor. After studying English Literature at University, she worked as an Ecommerce Website Editor, Content Writer and Buying Intern at multiple independent businesses within the luxury retail and lifestyle sectors. Her role at Homes & Gardens unites her love, experience and passion for the world of design and desire to create inspiring written content. She enjoys nothing more than discovering new trends, brands and products, whether that be in fashion, interior design or lifestyle.