5 kitchen paint tips – from Farrow & Ball's color expert
From picking the right shades to using them effectively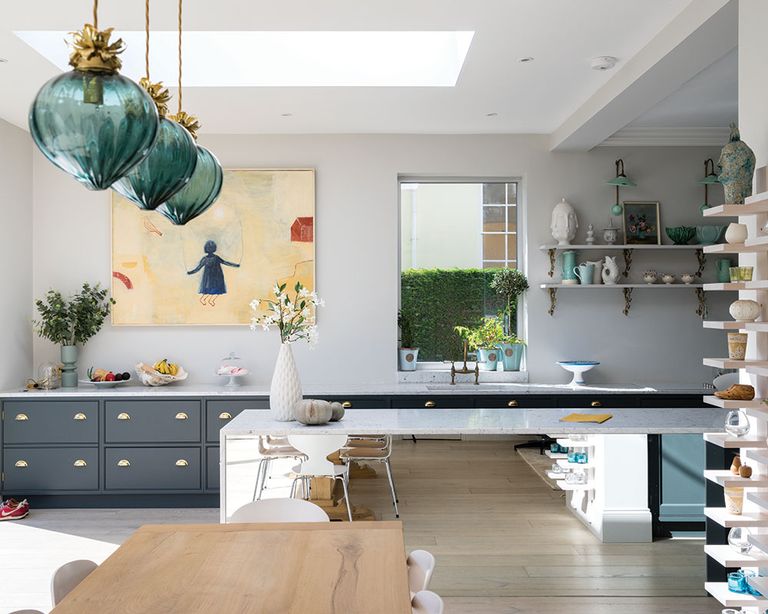 Looking for kitchen ideas? The way that we use the kitchen has changed dramatically over the past couple of decades. No longer is it just a place for preparing food for our families, it is somewhere to nurture them too. 
It's a place to entertain our friends and often is seen as a reflection of our decorative choices. It is an area where you can indulge in huge spending, but there are other much less costly ways of changing your kitchen.
Tips for painting a kitchen
We talk to Farrow & Ball's Color Curator, Joa Studholme. These are Joa's favourite kitchen paint tips using only the power of colour to help you to transform your kitchen.
1. Make your kitchen the brightest space
When it comes to the walls make your kitchen the lightest, brightest room in the house – it is probably where you will end up spending the most of your time during the day and will be the perfect contrast to more dramatic colors used in cozier living areas.
In order to trick the eye into making the kitchen feel super light you could consider using a much stronger color in the hall or room that precedes it. Passing from a darker color to a lighter one will make your kitchen feel even bigger and lighter. 
A light filled room does not have to be white though, soft greys and pinks like Ammonite and Peignoir work just as well and will add extra character – it is however important not to contrast these colors with a white ceiling which will make the walls look darker. 
Using the same color on the walls and ceiling will not only create a calmer atmosphere but make the room look bigger and higher as you can't tell where the two meets. Starting with a simple palette also gives you greater flexibility when you come to add color to kitchen units, dressers and islands.
It is best to use Modern Emulsion on kitchen walls and ceilings which is tailored to the busiest rooms in the home being washable and wipeable as well as being stain resistant.
2. Experiment with different ways to paint your units
Painting existing units feels like a formidable task, but you can refresh most kitchen cabinetry with the right tools and some patience, and it will save you a fortune compared to the cost of an all-new kitchen. There are three basic ways of choosing the color for your units.
Paint the units a lighter tone of the wall color or even a simple white like All White. Top favourites are Strong White units against Cornforth White walls or School House White units against Shaded White walls.
The use of dark tones like Worsted or Green Smoke on floor-standing units creates a modern look with a nod to tradition, but it pays to be wary of using strong color on wall-hung units which can make the kitchen feel claustrophobic, so I tend to paint them the same colour as the walls. Darker units against lighter walls is the easiest way to add instant impact and be right on trend.
Because we spend so much time in our kitchens many of us want them to feel less like rooms just to cook in and more like rooms to live in. This has led to a huge fashion for using the same color on both the units and the walls – a scary thought, but incredibly effective in not only making a really special space, but one that feels bigger than it actually is as the units 'melt' into the walls.
3. Add extra color on your island or in cupboards
Little bits of unexpected color can make you smile, and we can enhance our kitchens with the use of strong color even if only in the smallest of spaces. If you open your mug cupboard to discover some unexpected colour or pattern it can't fail to make you smile – and don't forget that you don't have to look at it all the time – most of the time the door will probably be firmly shut. 
You can be as bold as you dare – vibrant Rangwali is upbeat and joyful in any cupboard with a solid door. These colors should be painted on all three vertical surfaces as well as the ceiling but not on the shelves.
One of the most popular ways of adding some extra colors is by using it on a kitchen island, often a darker tone of the other kitchen units – for example an Inchyra Blue island sits perfectly with Oval Room Blue units or Preference Red with Dead Salmon units. 
Rooms that feel grounded give us a feeling of security so painting a strong color centrally and low down can benefit a space hugely. Strong colors feel much easier to live with when they are used below the eyeline.
See: Kitchen island ideas – clever ways make a statement
4. Use a full gloss
Craving light is part of human nature and kitchens, where we tend to be on our feet working, benefit from any extra light we can create. The very best way to add light into a room is by using a super chic high gloss finish on either walls or ceilings. 
There is huge historic precedent for this – many a kitchen or pantry in a historic house would be painted totally in a gloss finish because of both its robust and reflective qualities. Now gloss finishes are becoming increasingly popular in super contemporary kitchens or in the kitchens of the seriously design conscious.
See: Kitchen cabinet ideas – the materials, styles, colors and trends to know
Full Gloss can be used on walls but is even more effective if used on ceilings where it will reflect any natural daylight and create a dramatic look at night. Use the same color as the walls on the ceiling, but in a Full Gloss finish to create an extraordinary seamless look even in the strongest of tones. Deep shades like olive green Bancha or super chic Hague Blue work particularly well, as do very light colors like the slightly industrial looking Blackened (the perfect color to use with stainless steel kitchens) or delicate Wevet.