8 mirror ideas – for brighter, bigger-looking rooms, instantly
For bigger-looking, brighter-feeling rooms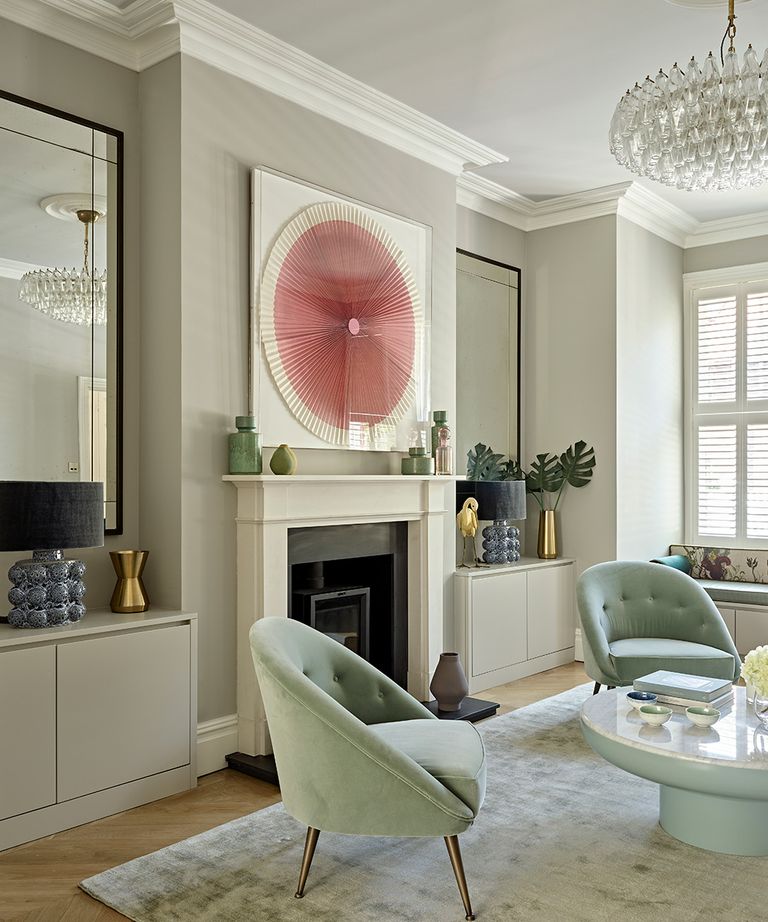 (Image credit: Nick Smith)
These mirror ideas will equip you with the ultimate design tricks to add wow factor and additional space to any room of your home.
By reflecting natural light back into the room, a mirror is a wonderful way to create the illusion of extra space and help make your room feel both bigger and brighter.
Although introducing a mirror or two is ideal for opening up smaller spaces, an oversized mirror is also a must-have addition for larger rooms looking to achieve statement style and grandeur with ease.
As a result, mirrors are a superpower style secret that should be celebrated throughout the home, from the walls of your kitchen to luxe lounge spaces, the hallway and even your garden outside.
Use these ideas as your inspiration. For more practical tips, such as positioning and frame choice, don't miss our feature on decorating with mirrors.
Mirror ideas – for your home and garden
These mirror ideas are designed to help you make every single room in your home feel bright and spacious, despite poor natural light or tiny proportions.
1. Pick a beautiful overmantel mirror to reflect a view
The overmantel mirror has long been favoured as a way to create a focal point. It is a wonderful way to reflect the items on the mantlepiece and other items in the room, such as a beautiful light fitting.
If you are choosing a mirror for a mantlepiece, its proportions are important – too small and it will look misplaced, so ensure it fills out at least two-thirds of the width of the mantelpiece.
'By reflecting all the beautiful design details around you, mirrors work perfectly with lighting to set the tone in your scheme. From the subtle ambiance of side lights to the shadows that bounce off the walls, a show-stopping mirror enhances natural light and projects glowing reflections all around the room.
'With so many styles and sizes available, there are myriad of options for introducing the magic of mirrors to your home,' says Lucy St George of Rockett St George.
2. Create a feeling of space with alcove mirrors
Alcove mirrors are less traditional than overmantel mirrors but they have a distinct advantage – or two. First, they offer double the wall space for mirrors, so a small, dark living room will feel twice as bright as with a single mirror – and particularly the corner furthest from the window.
Secondly, they offer the opportunity for table lamps to sit in front the mirrors on console tables, which means that when lit, artificial light has more of a brightening, space-enhancing effect, too.
3. Use mirror panelling on walls
Artwork or even an ornate mirror looks fantastic on a mirrored wall. It's important to consider the weight of the piece – contacting your glazier for advice or help on drilling through glass is a wise option.
4. Try the alcove mirror trick – but add a display too
This small living room is maxing out the effects of mirrors. Not only is there one over the mantelpiece, there are alcove mirrors, too. But to tone down the potential for overkill, shelves fitted in front of the alcove mirrors break up the mirrored wall, and allow for display of pretty objets in front.
5. Swap traditional backsplashes for antiqued mirror glass
Mirrored splash backs are an attractive, modern choice. In this kitchen, an antique mirror complements mixed materials in light hues and brightens an alcove.
6. Make a low ceiling feel higher and a small room larger
A mirrored finish on storage pieces, such as a fitted wardrobe, minimizes its impact on the look and feel of a scheme. It helps to create the illusion of spaciousness and is a great way to cheat the narrowing effect
7. Make a tiny bathroom feel larger with mirrored walls
This room is a superb example of how antiqued mirror glass can bring drama and atmosphere to a scheme, with panels featuring lightly foxed edges for further authenticity.
The wall also makes this relatively small, low-ceilinged room feel much more spacious. 'Heavily antiqued mirror is currently on trend. It will utterly transform a room and bring real drama to any space,' says Rupert Bevan, managing director, Rupert Bevan.
8. Use mirrors in the garden to cheat a small space
Introducing a mirror to your garden is also a wonderful way to embrace the beauty of nature. Through the reflection of your outdoor mirror, you can essentially double up your plants to create a gorgeous, outdoor oasis with a tropical feel that will whisk you far away.
'Vintage and Crittall-style mirrors are personal favourite for me,' says Lucy St George of Rockett St George. 'These beautiful designs add structure and character to any setting and blend in beautifully amongst the other textures of the garden. Whether nestled amongst foliage or displayed against a rustic brick wall, a fabulous mirror helps to create your very own secret garden for enjoying the long, lazy days of summer.'
'Mirrors are one of a few brilliant design tricks that we can steal from our interiors and introduce into the garden,' says Jane Rockett. 'In the same way as in the home, mirrors are perfect for creating additional space in smaller courtyards and patios by reflecting natural sunlight back into the garden.'
See: Small garden ideas – maximise a compact gardening space