The humble console table is often thought of as a handy surface for hallways and corridors or as additional storage space for a disused corner of a room.
When Kit Kemp was our guest editor in June 2020, she wanted to highlight how important a table can be within a space. Whether it's setting a tone in a dining room, becoming a focal point of a scheme or simply displaying beautiful flowers, surfaces are worth considering early on when planning your design.
See also… Kit Kemp's ideas for creativity at home – from flower pressing to collage
Using pairs of consoles, chests or over-sized side tables draws the eye into a space by creating a calming and satisfying sense of symmetry. The idea of doubling up on furniture in one space also amplifies the drama and grandeur. It's therefore the perfect treatment for fireplaces, hallways and bedsides.
By using matching tables, you combine their original purpose with a sort of beauty that adds interest.
Don't get us wrong, these tables don't have to be used in pairs. They could be perfect to sit behind a sofa in a large living room space, next to your armchair to hold your reading light, next to the bed as an oversized bedside table or even as a dressing table as a place to get ready in the morning.
The options really are endless and that's why we wanted to give the trusty console table some airtime.
See also… Kit Kemp on how to design a room – the secrets to a well-balanced interior
We have complied a list of our favourite styles that would work perfectly in pairs – or as stand-alone pieces. From the slim and sophisticated style of Andrew Martin's demi-moon design to the dramatic sculptured masterpiece from Porta Romana.
These designs will work in a number of spaces – all your have to do is pick your favourite!
CHATEAUNEUF TWO-DRAWER CHEST OF DRAWERS, £560, THE FRENCH BEDROOM COMPANY
Handmade from reclaimed pine, the Chateauneuf chest-of-drawers has a purposely-rustic finish, designed to reveal the organic knots, cracks and grain. Not only will this piece offer additional storage for your home, it'll also add a touch of French chic.
Buy it now
ELISE CONSOLE TABLE, £435, ANDREW MARTIN
With its delicate metallic frame and Art Deco inspired detailing, the Elise table oozes 1920s glamour. The half moon shape means it's perfect for smaller spaces, such as hallways. Available in two finishes – a luxe brass and a smart silver.
Buy it now
Best-console-tables-Anthropologie
If you're after something with a splash of colour, this beauty from Anthropologie is like all the colours of the sea. We love the irregular patches which give it an artisanal look along with the beautiful etching design on the front doors.
Buy it now
LYRE CABINET, £6240, BEATA HEUMAN
This cabinet is a wonderful piece, one that will create a focal point to a space. We wonder if Beata designed this piece with a lyre motif because the horsehair used on the front doors allows for speakers to play through.
Buy it now
SIDE TABLE IN PROVENCE BLUE, £1,055, CHELSEA TEXTILES
Hand carved and hand painted (available in a range of signature colours), this charming side table, with its curled feet would make an adorable addition to a traditionally styled interior. We particularly love the worn texture that gives the impression it's a family heirloom that's been passed down for generations.
CURVY CONSOLE TABLE, £1172.40, JULIAN CHICHESTER
Living up to its name, this shapely console table has curves in all the right places. The scalloped detailing along the front edge offers a feminine touch yet the wooden textured finish means it'll work in a variety of schemes.
Buy it now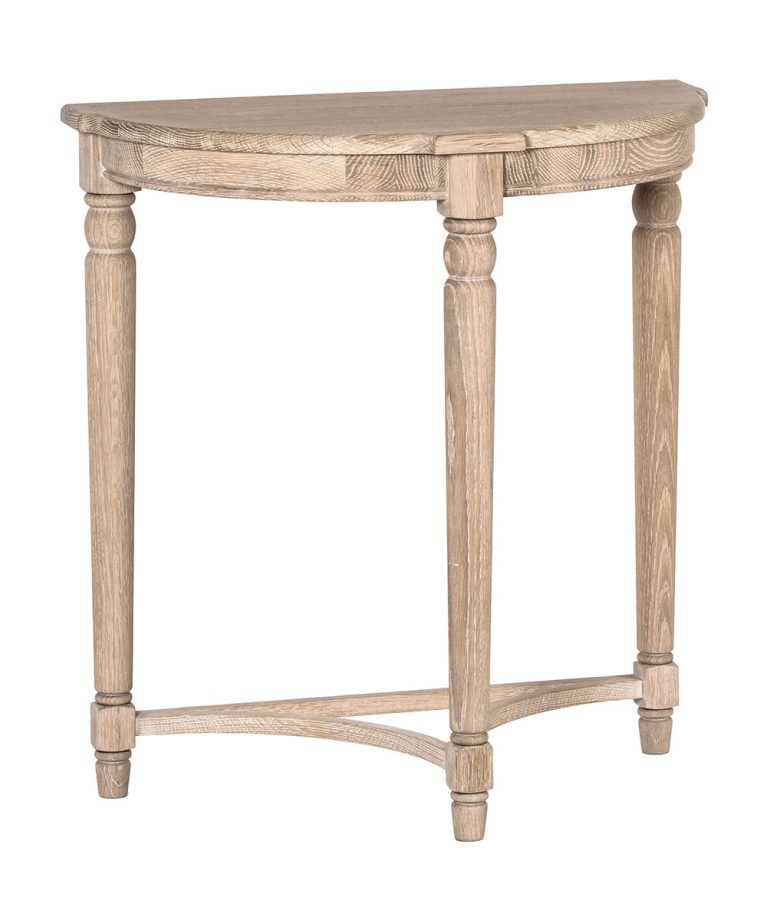 BLENHEIM CONSOLE TABLE, £345, NEPTUNE
This console may be small but the Blenheim is full of details, like the arcs at the base, the tapered legs and the beautiful angles on the tabletop. This slim design has the perfect proportions that would suit anything from a period property to a modern apartment.
Buy it now
ARGEAD SIDE TABLE, £495, OKA
The Argead side table takes it's name from an Ancient Grecian dynasty whose creste resembles the sun, hence the stunning geometric parquetry on the tabletop. It's also worth noting that this table is larger than most side tables, with a height of 76cm, making it a very versatile piece.
Buy it now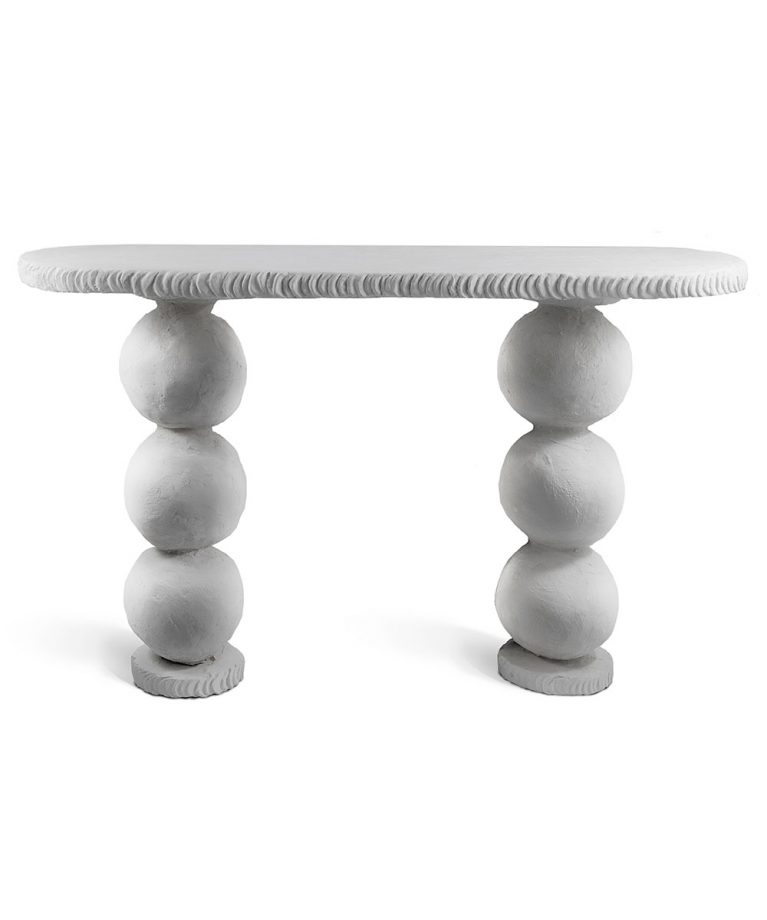 SELINA CONSOLE TABLE, £4920, VIOLA LANARI FOR PORTA ROMANA
Designer of the moment, Viola Lanari, has designed this console in her signature style; creating a sculpture-like piece using textured white plaster. The asymmetric top is finished with a stunning hand scalloped edge – this console is good enough to sit in an art gallery.
Buy it now