Painted kitchen ideas – versatile ways to add individuality to your kitchen
Our painted kitchen ideas for walls, cabinets and color schemes add longevity – the color can be altered in the future to reflect changing fashions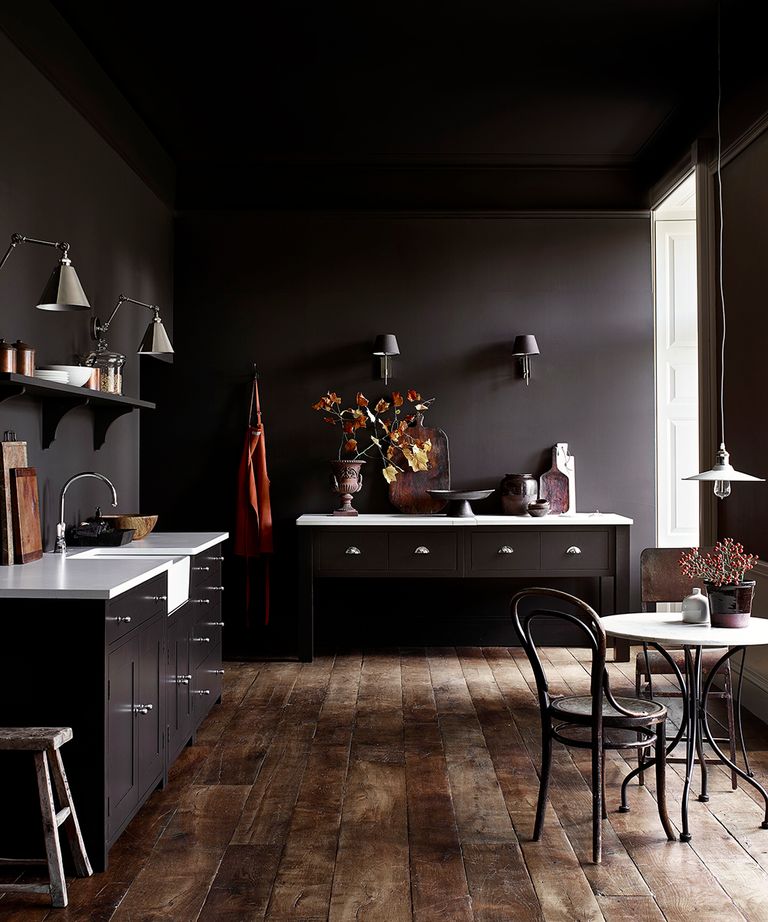 (Image credit: Neptune)
Painted kitchen ideas are versatile and enduringly popular. One of the most appealing and varied finishes for kitchen cabinetry, paint lends itself to both the classic looks of the traditional kitchen and to crisply modern linear designs. 
The advantage of paint is the almost limitless choice of kitchen color ideas, allowing you free rein to express yourself. Choose kitchen ideas to suit your style, whether your home is period or contemporary, country or urban. And you can always re-paint if you want a change or update in the future.
Color is important in all room schemes, and it's only too easy to forget about colour when it comes to kitchens, with the vast choice of timber and white schemes available. 
For a classic, timeless look, we sometimes err on the side of safety and choose a completely neutral or white kitchen scheme, forgetting that a little lift of color can cheer up a room immensely. Painted kitchen ideas work well for timeless schemes, and of course, can be updated at a later stage if you're confident enough with a paintbrush.
If you favor understated heritage shades, look at paint colors from Fired Earth, Little Greene, and Farrow & Ball. Walls can be contrasting in white or muted tones from a similar palette. 
Equally, a splash of color can be added by a backsplash in jewel-like colors, or concentrate on adding color with accessories such as bar stools or chairs.
Whether you opt for in-frame, Shaker-style or a modern handle-less kitchen design, paint adds a subtle reference to the past. 'When we commission furniture, we tend to look back at our history,' says kitchen designer Oliver Peake. 'Painted cabinetry has elements of tradition, even if you design it in a modern style, and most of us feel comfortable with that timeless quality.'
Painted kitchen ideas
When planning your painted kitchen color palette, start by considering the room's size and design and choice of flooring. Soft neutral shades are easy to live with in even the smallest spaces, while on-trend gray kitchens can look coolly architectural in a modern room, or warm and inviting when teamed with wood. Large rooms with lots of natural light can support a bolder paint colour choice.
Our collection of painted kitchen ideas will provide you with even more inspiration.
1. On trend
Black painted kitchens are the latest trend to take over in kitchen design. Often overlooked as purely an accent colour, black walls, cabinetry and work surfaces are having something of a moment. 
Black becomes liveable, luxe and inviting with textured woods adding rustic, homely charm.
2. Pick your shade
While white and cream kitchens are the most frequently chosen color schemes, gray and soft blues are rising in popularity. If you fancy something a bit bolder, though, then rich aubergines and graphites are a good choice. 
A good kitchen painting tip if you're not ready for a big hit of color is to limit brighter shades to key pieces, such as an island, and leave the rest of the room neutral.
3. Color in
Color is a powerful design tool – not only can it completely alter the mood of a kitchen, but how much or how little you add will affect which parts of the room you're drawn towards. 
The rule of thumb is to use color sparingly and in clearly defined areas: they should serve a purpose rather than be used at random. Go for a basic color and then use another to accent certain areas. 
Alternatively, try corresponding pairs, such as shades of green or blue. If you want to save on the cost to have kitchen cabinets painted, play with natural tones and add a more vibrant color to certain elements – for example a shelf, a sideboard or a bench.
4. Stand out
'Consider painting one element – a section of tall cupboards, perhaps – in a strong color, and then pick that up in your choice of kitchen lighting ideas, cushions or chairs,' says Scott Nicholson, MD of Chamber Furniture. 
'Painting all the other cabinets in a softer, more muted colour will provide balance, and works better than a whole room in a strong colour,' he adds.
5. Blue mood
Soft blues are a timeless choice for the kitchen, working just as well on classic cabinetry as more modern doors. Along with fresh greens, they echo hues of the natural world, making them perfect for a kitchen that looks out onto a garden or striking views. 
Try balancing a delicate, icy blue with a calming, stronger tone for warmth and wow, like in this blue kitchen where buttermilk yellow chairs provide a warm accent.
6. Dramatically different
Darker shades, such as mossy greens, indigo blues and graphite grays, will add drama to a design. 
Make deep shades work in almost any size of space by softening the effect. A scrubbed pine table or wall art helps to offset block color in a painted kitchen, while you can bring in extra warmth with industrial-style lighting and metal stools.
7. Serene green
Green kitchens are having a moment, and we can certainly see why. Fresh, cool green can create a relaxing atmosphere in any room. It is associated with nature, outdoors, growth and creativity and, as it is such an organic shade, it is very easy to live with. 
The important thing is to pair green painted kitchen ideas, whatever hue you choose, with the right accent colour to create a feeling of flow throughout a room.
8. Shades of gray
We have seen the revival of gray in interiors over the last seasons, but this time it's combined with wood tones and refined marble to instantly add modernity and warmth. 
Gray can give a calm and relaxed feel to the home; it is a fresh alternative to the classic neutral palette or colder black and white kitchens, and acts as a great backdrop to introduce splashes of other colors. Gray is a timeless hue that you will never tire of.