The best colors to paint your living room, according to the color experts
Color psychology tells us that these are the six paint colors you should be using in your living room.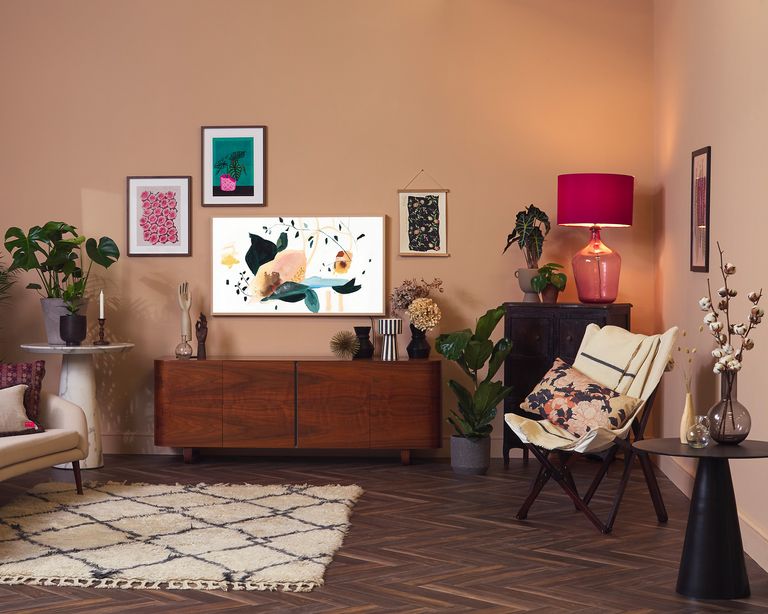 (Image credit: Samsung)
The living room is one of those spots in the home were we spend the most time, and so it's important to choose the best colors to paint your living room.
Color psychology tells us how we emotionally respond to different shades, and therefore which colors are most suitable for each room in the house. For example, you obviously want to feel calm and restful in a bedroom, so painting this space in a color that energizes wouldn't be a sensible choice. So, if you are looking for living room ideas, read on.
Color expert Karen Haller has teamed up with Samsung to create six paint colors for living rooms to complement the brand's three Lifestyle televisions – the Serif, the Sero and the Frame. Interiors writer Kate Watson-Smyth, artist Yinka Ilori, and designer Whinnie Williams then used these colors to design living room schemes.
This 'LivingColour' collection has been developed in order to design living rooms in colors which create a positive emotional response, while working in harmony with a TV; a traditionally distracting piece of equipment. In fact, one of the most Googled paint questions is actually: 'what colour should I paint the wall behind my TV?'
1. Serif Cotton Blue
For each of the three televisions, Karen looked to find an uplifting and positive color that perfectly matched the frames of the television. Then, she also chose a secondary color to complement the first, and showcase the innovative technological aesthetics, while also looking beautiful in the home.
This space, designed by Whinnie Williams showcases Serif Cotton Blue which is the direct match to the television color. This soft blue gray has a calming but definite effect which is restful on the psyche.
Founder of interiors brand Poodle and Blonde, Whinnie Williams created this look where the Serif television becomes a piece of crafted furniture, standing on an elegant easel.
The Serif's complementary color is then the pretty Champagne Bliss, a lovely soft pink hue. This feminine shade promotes a gentle energy which relaxes the mind, and helps you switch off after a long day.
Discover all about color psychology and how to choose paint for your home with our guide to the color wheel
2. Bright Spark
When selecting the paint colors, Karen took into consideration how people are using their spaces, and how they are feeling as a result. For example, many homes now have wedged-in office spaces, and making sure you have an uplifting retreat in the same building is key to staying positive.
The cool yellow shade of Bright Spark is bursting with this energy and optimism, and provoked a lively, can-do attitude; perfect for lifting up your spirits after yet another Zoom meeting.
The Bright Spark space was designed by London-based artist Yinka Ilori. This look is absolutely vibrant and bursting with liveliness, to reflect both his creative attitude and the Sero TV, which has a rotating screen for optimum mobile viewing.
This color was designed to complement the Sero television, which has Sero Navy Blue as its direct TV match color. The dark blue tone is said to aid focus and concentration, which is ideal is you are now working in your living room.
Take a look at the television that looks like a piece of art, with our break down of the Samsung Frame
3. Frame Beige
Perhaps the most well-known of these three Samsung televisions, The Frame is the TV that blends into your home by transforming into artwork when switched off. This look designed by interiors expert Kate Watson-Smyth really shows off how the device can becomes part of a gallery wall, or a statement piece in itself.
The primary paint color, used here, is Frame Beige, a light and airy tone which is said to offer reassurance, reliability and a sense of being grounded. For the complementary shade, Karen went for Restful Pine, a restorative and yet peaceful green color which enhances the harmony of a space.
The Samsung 'LivingColour' paints can be obtained free-of-charge from Monday 26th October 2020 by visiting the Samsung KX Space in Kings Cross, London. Visit Samsung for more information.