10 most wanted hallway colors – the experts share their favorite schemes
The best hall color tips from the interior design experts in the know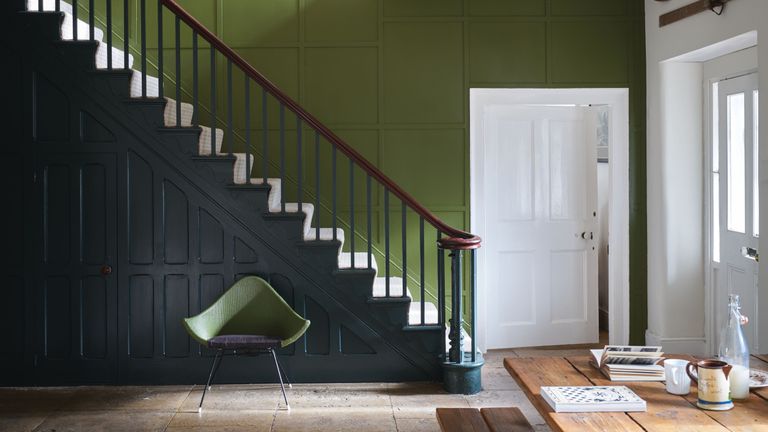 (Image credit: Farrow & Ball)
Your entrance is the first port of call and the first time guests get a feel for your style so it pays to invest a little time and effort into what kind of hallway color scheme you want – bold and bright? Elegant and refined? Or calming and neutral? 
There are many design features to choose from, so we've chosen our top 10 that includes ultra bright painted woodwork, the classic monochromatic look and sophisticated neutrals. Scroll down for inspiration.
See: Hallway ideas – stylish ways to create a welcoming first impression
1. Go for a maximalist wallpaper 
If your hallway is large enough, then embrace your love of wallpaper – if you have one of course. Illustrative designs are eye-catching and create a fabulous welcome for your visitors.
It can really frame an entrance to another room too which can look quite spectacular, it's worth using the same colors within the room you can see in this case so the look is cohesive, and consider using the same floor so there's flow from one space to the next.
2. Use symmetry as a design feature
'A hallway is the first part of your home that anyone will see when they enter, so it's important to make sure it's a true reflection of your personality and style,' explains Emma Deterding, Founder and Creative Director of Kelling Designs.
'To keep a brighter feel, opt for neutral tones on the walls as they'll keep the hall fresh and use a large mirror to help reflect light whilst giving the illusion of space. A console table will not only allow you to display personal touches and prized possessions, but will also be practical to drop bags, keys and mail as you go in and out of the house. 
Here, a pair of matching table lamps will help create symmetry and balance and opting for lampshades and upholstery in bright colors and bold patterns will allow you to bring your personality into the space, whilst setting the mood for the rest of your home.'
See: Hallway wallpaper ideas – smart statement wallpapers for your hall
3. Decorate with an accent color for impact
Entrance hall's needn't be dull, in fact, they can be quite the opposite. But that doesn't mean they need to be full of bright colors. We love the contrast between Little Greene's Dark Brunswick Green and the use of Portland Stone Light (walls) and Portland Stone on the dado rail, door and trim. The green is enough to create a statement but when balanced with the neutrals, including the terracotta tiles and coir runner, it works perfectly as a strong accent shade.
4. Introduce subtle pattern
Plain walls give you room to be creative, they're rather like a blank canvas on which you can stamp your mark. If you love white, or one single color then give your hallway a little extra interest with a spot of pattern, runners are excellent for this as Tasha Green, Director of Weaver Green explains:
'Runners allow you to instantly update and change the feel of a hallway. A statement runner can be the main design feature from which you compliment other interior elements in your entrance. For example, a simple herringbone helps to create a classic timeless look from which you can add vibrant or strong patterns and prints with other accessories.'
See: Cottage hallway ideas – style inspiration to create a welcoming space
5. Create a focal point with antiques
If your entrance is on the larger side, it's a good idea to create a design statement so the space doesn't feel too cavernous. A beautiful antique table will do the trick, round is always best so you glide around it rather than getting caught on corners. Use it to display fresh blooms and groups of trinkets. 
The color you choose is also important as Heni, Creative Director at VSP Interiors says:
'I love how this color, Worsted by Farrow & Ball, together with the warm tones of the antiques and the beautiful damask print by Pierre Frey makes this room cozy and welcoming.'
6. Go for a dazzling woodwork display
For sheer fun, match your skirtings to a color from your favorite wallpaper, and don't be afraid to go bright like this exquisite hallway from Little Greene. Featuring the striking Loriini Dorian wallpaper, the reasonably traditional design – albeit in bright colorways – contrasts against the ultra modern shade Trumpet (196).
It's not for the faint of heart admittedly, but if your hallway is light and bright it can take it. Keep the rest of the scheme lower key and let the walls and paintwork do the talking. 
7. Tone it down and opt for sophistication 
If you love idea of painting your woodwork in a color, just not bright yellow like above, you can opt for a darker shade like this navy, it still creates a bold design feature in your hall as Robert Walsh, Founder and Owner of Ted Todd Fine Wood Floors explains:
'Hallways should be just as beautiful as any other room and should take you on a journey through the home. To keep the hallway light and airy, choosing a paler wood floor will not only bring the great outdoors in, but will keep the space feeling bright. Introducing a pattern such as a chevron or herringbone will help to draw your eye through the space making it feel bigger, too. 
What's more, lighter floors offer a contemporary feel and will add a subtle statement allowing you to use bolder color elsewhere – why not opt for dark blue, gray or green for your doors, frames and other woodwork to add contrast and balance to the space?'
8. Use architectural details to you advantage
When faced with interesting curves and beautiful detailing, it seems a shame not to make a feature of them. We love the way this hallway has been decorated with a deep turmeric color on the inside that gives it a cocoon like feel. The dark wood flooring contrasts with the color scheme whilst at the same time creates a continuity from the hallway to the living room. 
9. For a bold entrance choose black and white
A classic that never dates, a monochromatic scheme is bold and beautiful. Irene Gunter, Founder of London based design studio, Gunter & Co explains her design choices with this hallway:
'In areas that tend to be dark, like a narrow hallway, a reflective floor combined with large wall mirrors will bounce the light around. A design in classic black and white marble is not only timeless but also makes the hallway feel less long and narrow. A patterned floor, when designed carefully, is the best way of making a room seem bigger, and a good patterned floor doesn't show where each tile starts or stops, which gives a very homogenous effect, tricking the eye into making the space feel bigger.'
10. For dramatic effect choose two dark shades
If your hallway is large enough, you can get away with choosing a couple of dark and vibrant shades together. Olive green is on a roll currently, and Farrow & Ball's version Bancha No.298 looks rather fabulous with fresh white woodwork and their Studio Green painted on the panelling of the stairs.
The neutral runner up the stairs creates a striking contrast right in the middle of the two shades, an intentional feature that's worth copying.