Save 52% on a KitchenAid mixer with this early Black Friday saving
Get over $200 off the KitchenAid Pro Plus with this brilliant early Black Friday KitchenAid deal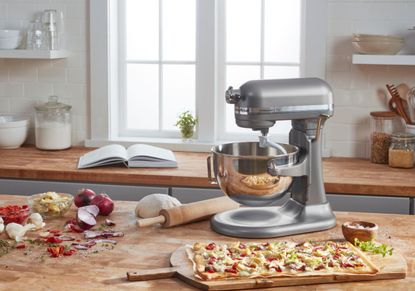 (Image credit: kitchenaid)
Any home chef will know that a KitchenAid mixer is an invaluable part of any kitchen. Not only are they enduringly stylish, but a KitchenAid will help you to stay on top of all your holiday baking, with attachments to make bread, cake, frosting, and a lot more.
With the shopping event of the year just days away, you may be looking for a KitchenAid Black Friday deal to amp up your home baking. If you are hoping to take the muscle work out of kneading bread and mixing cakes, and we've found a brilliant KitchenAid deal that's sure to be a sellout.
The KitchenAid Pro 5 Plus features in our guide to the best stand mixers thanks to its mighty design and bowl-lift feature, which makes it even sturdier than the KitchenAid Artisan. It's usually a fair bit more expensive, too, but thanks to a Black Friday saving at Best Buy, the KitchenAid Pro 5 Plus is just $219.99 (opens in new tab), down from $499.99. That's a saving of over 50%, making it cheaper than even KitchenAid's most entry-level mixer, the Classic.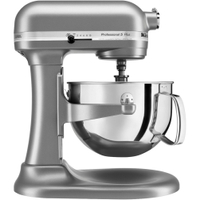 (opens in new tab)
KitchenAid Pro 5 Plus stand mixer: was $499, now $219 at Best Buy (save $280) (opens in new tab)
Save $280 on the KitchenAid Pro 5 Plus stand mixer in this early Black Friday saving. It's available in Red, Silver, Black, and a Best Buy exclusive Ink Blue.
A great choice for serious bakers, the KitchenAid Pro 5 Plus has a five-quart capacity that can fit up to nine batches of cookies in a single use. It has a bowl-lift design, meaning you won't need to rely on a tilt-head to keep adding your ingredients. Simply raise or lower the lever to get to the bowl and add chocolate chips or icing sugar mid-mix.
We particularly love the bowl lift design because it brings a lot more stability than a tilt-head stand mixer. If you read our KitchenAid Artisan stand mixer review, you'll know that that was our one main gripe with the staple KitchenAid. While it has the same capacity as the Artisan (meaning it won't be too large to make smaller batches and single-layer cakes) the KitchenAid Pro 5 Plus has ten speeds for any dish. It also has a planetary motion to prevent any ingredients from sticking to the side of the bowl, which is a game-changer for home chefs who know the importance of fully integrating their bakes.
There's also a dishwasher-safe stainless steel bowl for easy cleaning, and you can expand your baking horizons with a power hub that caters to over 10 additional attachments, from meat grinders to spiralizers. For just $219.99, we think this is a brilliant Black Friday small appliance deal.
Other great KitchenAid mixer savings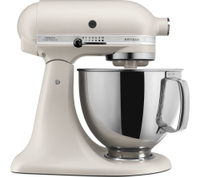 (opens in new tab)
KitchenAid Artisan Mixer: was $429, now $349 at Best Buy (save $80) (opens in new tab)
The KitchenAid Artisan is a favorite with home and celebrity chefs, and it's got the perfect size for making multi-layer cakes while still fitting neatly under kitchen counters.
The KitchenAid Pro 5 Plus may be the most reduced stand mixer we've seen so far, but it's not the only KitchenAid you can pick up with a great discount this Black Friday.
You can also buy the KitchenAid Artisan Series Tilt-Head Stand Mixer for $80 off when you shop today. This is KitchenAid's most coveted mixer, so it's tricky enough to find in-stock, let alone on sale. It makes a brilliant gift for those who want to work on their home baking this Christmas, and comes in four classic shades to suit a variety of kitchens.
You can choose from Empire Red, KitchenAid's most classic color, as well as a Onyx Black, or Best Buy exclusive Ink Blue shade that will pair perfectly with more contemporary kitchens.
Small Appliance and Cooking Editor
Millie Fender is the Small Appliance and Cooking Editor on the Homes and Gardens Ecommerce team. She specializes in cooking appliances and also reviews outdoor grills and pizza ovens. Millie loves to bake, so she will take any excuse to review stand mixers and other baking essentials. All of Millie's reviews are conducted at home, meaning she uses these products in her own kitchen, the way they're designed to be used. Millie is from Bath, England, and she grew up surrounded by classic Georgian architecture and interiors. She dreams of buying her own house and filling it with antiques, but for now, she lives in a sunny London flat with a very busy kitchen.