3 reasons why we're choosing traditional bedroom style for comfort right now
Thinking about a nostalgic look for your bedroom? Experts explain why looking to the past hits the style notes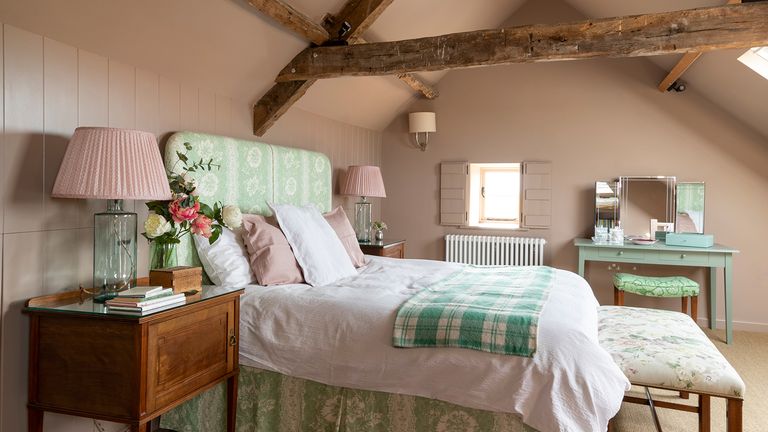 (Image credit: Jeremy Philips)
By Karen Darlow published
More time at home during the COVID pandemic has got many people rethinking their home decor, particularly for bedrooms. And some interesting trends are emerging as a result.
It seems our thoughts are turning to the past to gather inspiration for our latest bedroom looks. Whether it's because today's tough times are making us nostalgic for the good old days, or because we're craving a little traditional luxury and glamor, many of us are seeking out traditional bedroom ideas.
1. They remind us of childhood movie classics
Harry Thompson of Wrought Iron & Brass Bed Company says, 'Wrought iron and brass beds have been around for many years and resonate with so many of us, from classic movies such as Mary Poppins and Bedknobs and Broomsticks, through to snuggling down under multiple layers of bedding when staying over at a beloved great-grandparent's. Wrought iron and brass beds are part of our childhood, one way or another. Wonderfully timeless, a well-made iron or brass bed should last years, just like our fond childhood memories.'
2. The nostalgic decor offers a retreat from reality
Online luxury bedroom furniture retailer The French Bedroom Company has seen a 25% increase in sales of its ornate gold furniture ranges and four poster beds since the start of this year. In particular, the company's silk, velvet and gold beds have been really popular as customers look for an extra touch of glamor.
Is it possible to combine traditional styling with modern-day comforts and convenience? The firm's founder Georgia Metcalfe believes it is: 'It's important to enjoy tradition, and experience luxury and comfort at the same time. Traditional styling can work perfectly with modern comforts,' she says. 'The bedroom is often the nucleus of a family home: family cuddles, bedtime stories, Sunday morning chats and for comfort when unwell.'
And it's especially true at the moment she adds, 'In these modern times, particularly during the recent lockdowns, the bedroom offers modern comforts. Choose high thread count sheets, upholstered headboard ideas to lean on when reading in bed, and deep pile carpet or sheepskin rugs underfoot.'
3. All that layering = the comfort we crave
And if we're looking to the past for comfort, there are more lessons we can learn from our great-grandparents says Harry Thompson.
'One traditional styling trick we have lost over the years is layering our bedding,' he says. 'Not only do multiple layers offer a comforting and cosy sleep sanctuary, but layering your bed with natural fibers, such as wool and alpaca, helps to create a breathable, fresh sleep environment perfect for all seasons.'
For more on this, see our guide, How to dress a bed – a five-star hotel guide to layering.
I'm the homes editor of Period Living magazine and an experienced writer on interiors and gardens. I've also moved house quite a few times – totting up 10 homes in 12 years during a particularly nomadic time in my life. I like to think that makes me quite the homes expert, or at least very experienced and with a clear idea of what I like and don't like in a home.
I love visiting and writing about old houses for Homes & Gardens' sister magazine Period Living and working with photographers to capture all kinds of historic properties. It's inspiring to talk to people about their traditional homes and to hear the stories behind their furnishing and decorating choices. And by the time I've finished an interview with a homeowner I've always got a handful of new ideas to try in my own house, as well as plenty of good stories for the magazine. It's the perfect work-life balance.