Paint ideas for every room – how to choose the best paint colors every time
Being imaginative with color, a specialist finish or decorative effect is the perfect way to give your home individual style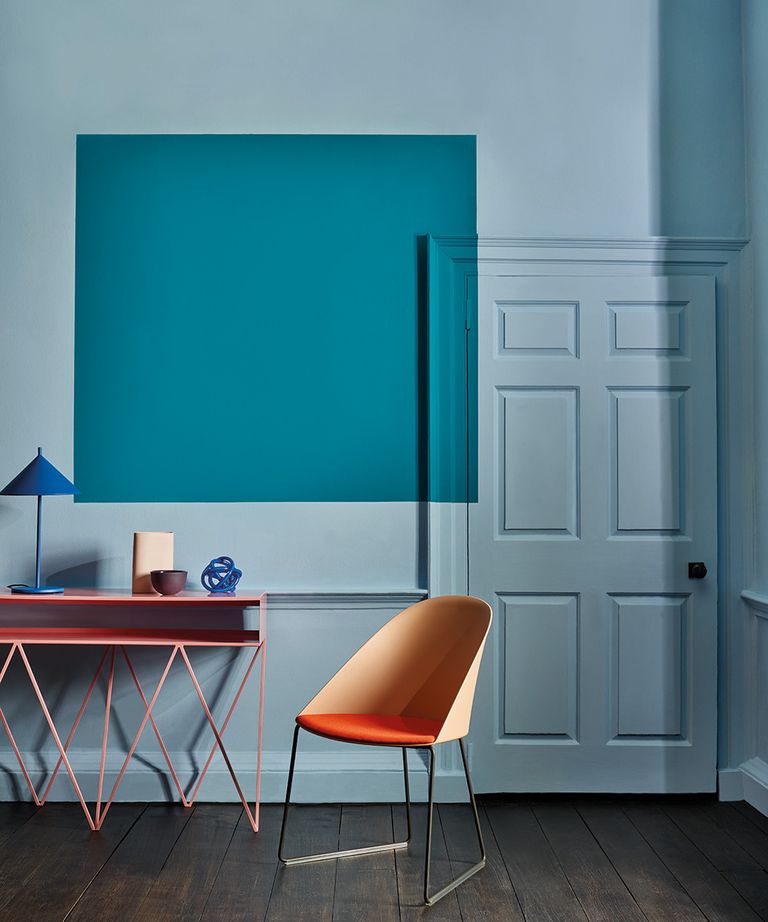 (Image credit: Crown)
Choosing the right paint color for every room will make all the difference to your interior design scheme. We have compiled all our best paint ideas and color advice in one place to make it even easier to digest.
How do I choose a paint color for every room in my house?
It is best to go for colors that make you happy and have longevity. If in doubt, it is often advised that you consult the color wheel.
The Color Wheel is an essential aid when choosing color schemes. Created by mathematician Sir Isaac Newton in 1666 to explain the relationships between colors, it gives you an instant visual for exactly which colors coordinate and contrast to create muted, tonal or dramatic combinations.
In her latest book, Recipes for Decorating, Farrow & Ball's color consultant Joa Studholme notes that we are embracing stronger shades when decorating our homes. These include a range of hues found on the warm half of the colour wheel, such as reds and pinks to oranges and yellows. Much research has been done into how colours affect our mood.
'Current trends show a real shift towards brighter colors with a clean-cut finish,' says Sue Kim, senior color designer at Valspar. 'When choosing a paint color, don't forget to look beyond the walls – consider the ceiling, skirting, window frames and mouldings and how they can be brought into the scheme.'
What are the new colors for 2021?
'In challenging times, we crave warm tones that will enrich our homes and create cosy sanctuaries away from the outside world. Luxurious colors like red can be added to the most neutral of palettes by using them in rooms we use at the end of the day, when we most want to relax and be comforted,' advises Joa Studholme.
'For 2021 we have moved away from dark charcoals and blues and towards the warmer tones of nature, like deep reddish browns and terracotta, which are strong and subdued but achingly fashionable. Incredibly chic by day and cozy by night, they bring a grounded but luxurious atmosphere that is thought-provoking as well as soothing, particularly when paired with other hues found in the natural world.'
See our: Paint trends – the colors you need for the ultimate wonder walls
What colors are best for each room?
As a general guide, rooms with a cool north-facing light benefit from warmer colors, but rooms with warm south-facing light can take most colors.'
'Traditionally, wisdom has been that rooms in bright tones of white or off-whites will give the best feeling space,' says Dominic Myland. 'However we're increasingly seeing customers take much bolder steps with bright colors, such yellow, which when paired with contrasting trims, mouldings and ceilings in lighter colors will trick the eye into thinking the walls are spaced further apart to make the room feel bigger.'
'The best color will always be a color that you simply love and want to look at all day, every day,' says Dominic Myland, CEO of Mylands.
Can I paint every room the same color?
There is no reason why you can't paint every room the same color. There is an understated beauty in minimalism, something that we are seeing more and more of in the world of design.
What is the most popular wall color?
Earlier this year, Dulux revealed that we should all be embracing neutrals. The chosen color for 2021 is Brave Ground – a warm neutral that feels both comforting and grounding. It's not a 'wow' shade, but that's the beauty of this neutral hue – it's the understated allure which we are being inspired to draw upon.
'We continue to live through uncertain times. In 2021, the warm and grounding tones of Brave Ground will allow us to find certainty in the strength from the very ground beneath our feet, emboldening us to go forward and begin to live again and giving us the flex to adapt to the ever changing circumstances we face,' explains Creative Director, Dulux UK, Marianne Shillingford.
On the other hand, a move to sustainability and eco-friendly living has meant a shift towards more earthy, nature-inspired colors. Highlighting the importance of connecting with nature in the home, the botanical trend is showing no signs of stopping. Offering an easy way to bring the outdoors in while satisfying the desire to go green, the nature-inspired look uses refreshing and revitalising shades to give any space a sense of depth and serenity. From fresh and soothing to deep and dramatic, the numerous shades of green can create a variety of moods while always looking perfectly organic.
'In our ever busy urban lives, green is the color that connects us the most to nature, which is why it is so lovely to incorporate into the home,' says Judy Smith, Crown Color Consultant. 'Adopting a palette of strong greens with neutrals and earth tones to balance is a fantastic way to bring a touch of the outside into our home.'
Paint ideas for every room
There are no hard and fast rules – it's your home and you must decorate it in colors you love and can live with. But, these are the best paint ideas for each room, in our opinion.
Grey: best for hallways and bedrooms
This beautiful grey is the answer when white is too clinical. Deeply pigmented, it's warm and welcoming and changes subtly with the direction of light. For a nuanced scheme, team it with other muted hues for Atelier Ellis' Shadow Collection. The range features 10 'shadows' – each one either an intensified or downplayed version of seven of the brand's favoured neutrals. Rooms can be layered, deepened or calmed by using the different strengths of these colors on walls, woodwork and floors.
Walls, Quiet Grey Matt Emulsion; objects, various hues from the Shadow Collection, all Atelier Ellis
See more: Grey bedroom ideas – classic schemes for busy spaces
Warm blue paint: best for bedrooms and living rooms
A warm blue with a hint of grey, this offering from Designers Guild brings in a touch of heritage while remaining modern and fresh. Reminiscent of summer skies, Oxford Gardens is uplifting yet equally soothing, quiet yet strong – the perfect balance needed in these unsettled times. It also has surprising decorating versatility. 
Its perfect partners are similarly warm tones – think burnt orange, deep reds, soft pinks and kicks of mustard. Marrying the shade with antique pieces also gives a contemporary spin to an otherwise traditional scheme.
Walls in Oxford Gardens No 181 perfect matt emulsion, Designers Guild
Terracotta: best for home offices
Lazy, far-flung holidays may not be a reality for many this summer but with Hari, one of 10 new colors from Atelier Ellis, you can still evoke the feeling of sun-drenched escapism. 
Warm, rich and earthy, this cross between terracotta and caramel, with its golden undertone, can be mixed with creams and off-whites for a classic look. Blues and dove grey create a clever contrast, or take a cue from nature by adding vibrant green accents in the form of soft furnishings and indoor plants. For a bolder, energising scheme, pair with soft pink to capture a true taste of the Med.
Walls in Hari matt emulsion, Atelier Ellis
Brown: best for kitchens and dining rooms
The nuances of brown are often underplayed, but one look at Little Greene's Chimney Brick shows how complex and interesting the shade can be. Part chocolate, part woodland and with a dash of purple grape, there is an unexpected richness that reveals itself in different ways. 
In north-facing rooms, it will create a cocooning feel and in brighter spaces it allows the opportunity to layer other shades of brown for more impact. Chimney Brick works with most colors – jewelled tones like emerald green add vibrance, while crisp white gives timeless appeal.
Walls in Chimney Brick Intelligent Matt Emulsion; sideboard in Chimney Brick Intelligent ASP and Intelligent Satinwood, all Little Greene
Green: best for living rooms and bedrooms
Green is a calming color that is perfect for bedrooms and living rooms, spaces where we go to relax and unwind. Which tone to choose? In a bright, sunny bedroom or living room, you can choose paler greens (see more on that below), but in cool rooms that face north or east, pick out a yellower tone, like this one, because it will help the room feel more welcoming both day and night.
Powder blue: best for children's rooms and home offices
A shade that's always been popular in the world of interiors, soft blue is set to be spring's color du jour. Powder Blue, the offering from Crown, has the quality of being both soothing and invigorating and offered plenty of design versatility. 
Used with a crisp white, it creates a calming coastal feel, while as one block of color it can be an enveloping breath of fresh air. Of course, its natural home is with other pastels, such as barely-there lemon and delicate pink, but for a more contemporary edge earthy shades like rust and terracotta will make this color sing.
Walls and woodwork in Powder Blue matt emulsion, Crown
Off white: best for north-facing rooms
It's the simplest of colors but, as anyone who has set off on the quest for the perfect white can attest, also one of the trickiest to get right. Zoffany's Architects White, however, is an impressive multi-tasker. Warmer than its somewhat austere name suggests and therefore sensitive to north-facing rooms, it is also cool enough to escape the dreaded tinge or beige in sunnier spaces. A clever, calming hue that creates a clean yet liveable look.
Walls in Architects White elite emulsion, Zoffany at Style Library
Black: best for south-facing rooms
A deceptive but delicious black, the blue undertones of this shade – from Paint & Paper Library's monochrome collection – give a pleasurable richness and depth. When used with white, it will dramatically change the interplay of light and space in your room. Striking enough to take centre stage yet subtle and confident enough to allow other hues to shine. It's a dream to work with.
Wall in Beyond Blue; ceiling in Flat Light; highlight stripe in Blue Vein, all pure flat emulsion, Paint & Paper Library
Pale green: best for any room in the house
This soft green is one of many muted heritage shades in Crown's Period Collection, reflecting a move away from bolder, traditional colors. Fresh, uplifting and light-enhancing, it lends elegance and calm to a living space.
Wall in Bandstand Flat Matt emulsion, Period Collection, Crown
Pale pink: best for bedrooms
A barely-there dusky pink, this irresistible shade is proof that our love for pale plaster hues endures. Masilla – Spanish for 'putty' – is a gentle neutral with red undertones for a hint of warmth. Such a delicate unabashedly feminine hue will happily envelop most rooms, but would undoubtedly feel perfect in a bedroom or bathroom.
Walls and peg board in Masilla Matt Emulsion, Fired Earth
Yellow: best for hallways, home offices and children's rooms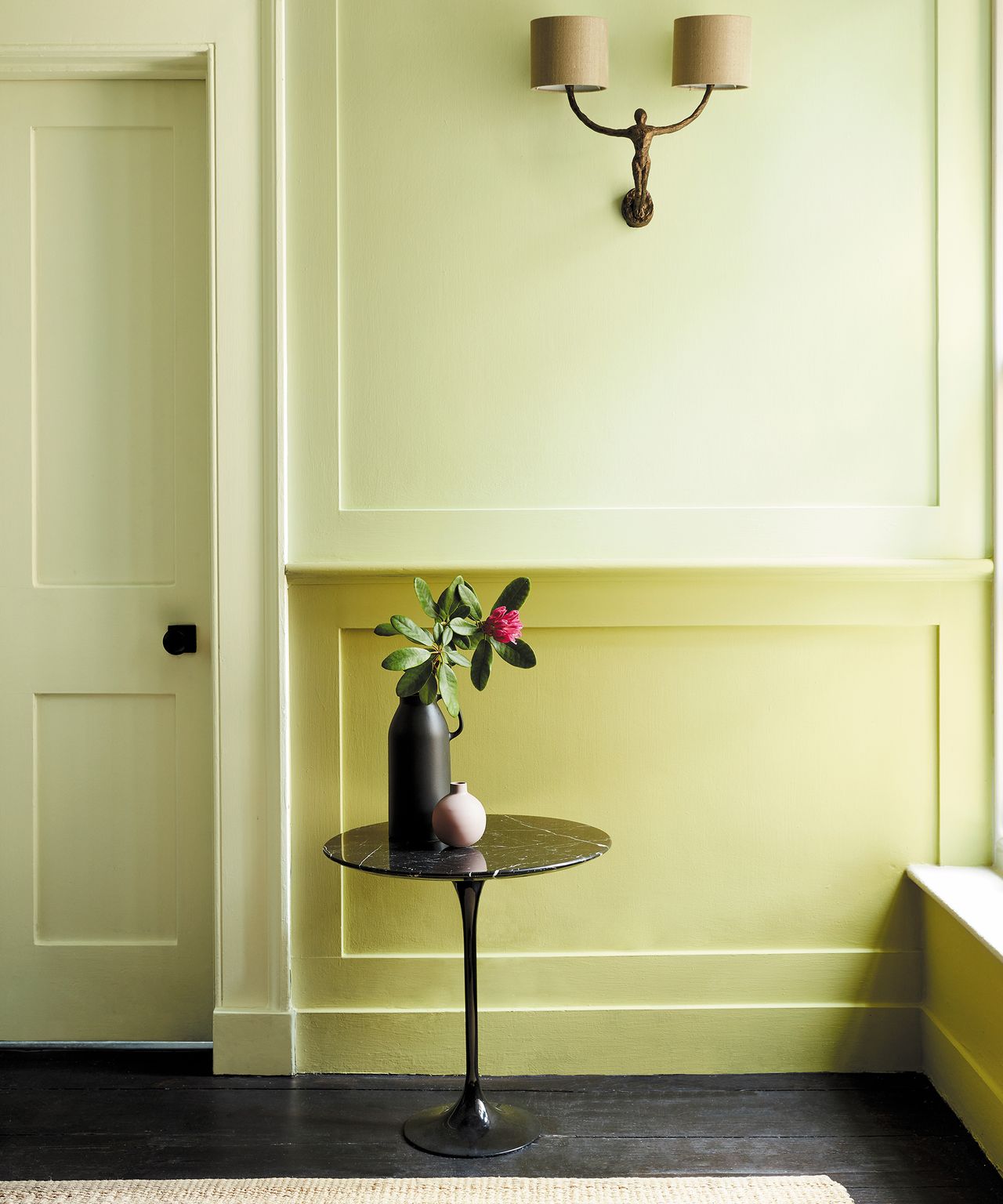 As we look forward to the year ahead, we're drawn to this gently zingy color palette, which is part of Little Green's collaboration with the National Trust. Both calming and uplifting, all of these yellow-green hues are perfect for brightening winter-weary spaces.
Dado, Edith's Eye 301, Absolute Matt Emulsion; upper wall, Wormwood 300 Absolute Matt Emulsion, 
Additional words/ Busola Evans