How to organize a kitchen according to the experts
Discover how to organize a kitchen so all the items in your cabinets are easy to find and accessible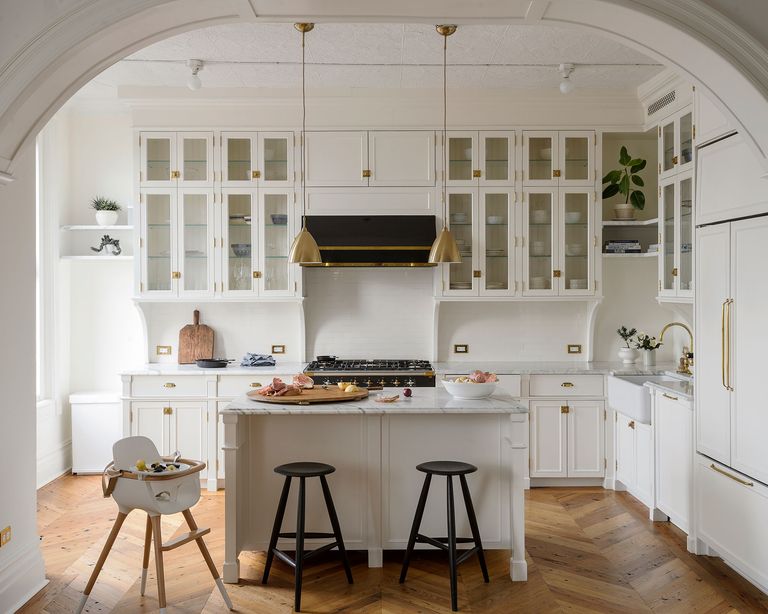 (Image credit: Future / Matthew Williams)
Wondering how to organize a kitchen for optimum convenience? This advice will help you plan what should go where in the room, and the arrangement of items within individual cabinets.
The benefits are plenty. The right kitchen storage ideas and a good organization system can save time, avoid unnecessary trips back and forth across the room, help ensure supplies don't run out, and perhaps even reduce the number of 'where's ...?' requests from family members.
These expert strategies for how to organize a kitchen will allow you to make the most of every inch of your space – all while complementing your kitchen ideas and decorating inspiration.
How to organize a kitchen
What you need to organize in a kitchen fall into some broad categories. For example:
Dry foods, canned goods and spices
Pots, pans, dishes and other cookware
Baking essentials (for frequent bakers)
Flatware
Plates and bowls
Glasses
Special occasion china and other items used infrequently
Dishtowels and cloths
Kids' plates, dishes and cups (if applicable)
Cleaning supplies (if these aren't stored elsewhere in your home)
To start your organization project, it's worth writing a list of categories the contents of your kitchen fall into, using our list as a starting point and adding any others that apply to your room to help you find a place in your kitchen open shelving, cabinets and drawers for everything.
Organizing kitchen cabinets – what goes where?
Create storage zones
To decide where to put things in your kitchen, mentally divide the room into zones. These will help you decide where the different categories of items should be located.
Which zones should your kitchen include?
'Food storage, cleaning, preparation, dishware storage, and cooking zones are the key five,' says Jake Colwill, sales and operations manager at Kutchenhaus. 'Cleaning is the easiest as a dishwasher or sink is a set place for this.
'To make it easier for the future, reorganize all cupboard and drawers into their set zones, so all food is together, near the fridge or freezer ideally. Make sure all pots and pans are near the oven/microwave and hob and use the remaining area for preparation of food with cutlery and dishes stored in that zone.'
Organizing by zones will make individual items easy to find – and not just by you, as organizer, but by every member of the household.
The other advantage of creating different zones? More than one person can be undertaking a task within the room without unnecessary crisscrossing of paths.
Devote one cupboard to items you access daily
While grouping items is a winning strategy, however, consider also this kitchen cupboard storage idea from Richard Davonport, managing director of Davonport Kitchen & Home.
'In reality, as homeowners use such a small amount of their kitchen paraphernalia, it can make sense to have an accessible cupboard of items that are used on a daily basis,' he says. 'For example, if you're a couple, having four plates, four mugs, two wine glasses etc in one cupboard right next to the dishwasher can make life really easy.'
How do I organize my kitchen like a pro?
Empty cupboards
Before you begin putting items into zones within the kitchen, make like an organization professional, and empty your cupboards out.
Discard out of date food
First of all, check dates on foods so you don't fall into the trap of putting back those that have passed their use-by dates.
Donate items you won't use again
For non-food items, consider whether you've been making room for something you'll never use again. Bear in mind that occasional use is different: there are some items that are there for the holidays and other special occasions.
But take a lead from Marie Kondo and discard what you won't use. It can go to a charity, if someone else could find a use for it, and will give you extra space if you are working with small kitchen storage ideas.
Clean before putting back
'With all the cupboards empty, this is the perfect time to get dust from the surfaces,' says Jake Colwill. 'A two-step cleaning process should be employed here by first using a detergent to lift dirt and grime and then using a disinfectant to kill any germs and bacteria. Don't forget to wipe the contents of what was inside the cupboards before, especially sticky jars.'
Where to put things in kitchen cabinets
Once you've established the zones and discarded what's out of date and what's no longer useful, it's important to think about how to organize the kitchen within zones for best accessibility and convenience.
Put regularly used items within easy reach
Consider height first. The items you need most frequently should be within your easiest reach. Don't forget weight, though. 'If it's heavy, store it low,' says Richard Davonport. 'It sounds simple, but you really don't want to be accessing heavy items overhead.'
Stash rarely used items out of the way
Meanwhile, the highest sections of cabinets should be reserved for those items that are used rarely. This is particularly the case if you need steps to access these areas as it's preferable to minimize their use.
Store breakables with care
But what items are made of should be taken into consideration, too. 'Try to avoid putting any delicate or glass objects higher up,' says interior designer Katharine Pooley. 'It's a recipe for disaster if you're reaching for something that can easily slip and break.'
Allow for young children
Meanwhile, if you have young kids, think about putting the items they use at a convenient height so they can access them when you ask them to. Conversely, be aware of what you want to put out of their reach within cabinets. For instance, cleaning supplies should be up high in homes with little ones, rather than below the sink.
How should I arrange my kitchen cabinets?
Are you left- or right-handed?
For maximum efficiency, factor access in when planning kitchen cabinet ideas, and arrange both cabinets and drawers according to your handedness.
'I recommend that you put tools for cooking very close to the stove,' says home organizing expert Katherine Lawrence of Space Matters. 'This can be in a drawer that is right next to the stove. If you are right-handed, place them in a drawer on the right and if you are left-handed, place them in a drawer to the left.'
It's worth taking the same approach with everyday cookware: keep pots and pans to the right of the stove if you're right handed and to the left if you're left-handed.
Give yourself convenient access to regularly used items
Don't pile items you use regularly too high. 'Try to give each item its own space,' advises Richard Davonport. 'Storage drawers or shelves can be designed to be super deep and therefore can hide away a lot of clutter but this doesn't necessarily make them more user-friendly. If your non-stick frying pan is always hiding underneath five other saucepans of various shapes and sizes, it will be frustrating every time you need to use it. Give important items their own space.'
Rework shelving to suit your needs
Consider the space between cabinet shelves, too. 'It's surprising that hardly anyone changes their shelves around from the settings they inherit from a home's previous owner or their kitchen installer,' says Richard. 'If you've got spare height in three or four shelves, that's a lot of wasted space. Moving a couple of shelves up or down might mean items are more snug, which could free up a double-height shelf elsewhere.'
How should I arrange food storage?
Organize food by use-by date
When you're organizing food storage, pay attention to use-by dates. 'Group foods or drinks in terms of how soon their expiration date is; that way it's easier to keep an eye out on when things are going off, and you can reduce waste,' says Katharine Pooley.
Store like with like, too
For example, put together cereals and other breakfast foods; canned goods; foods like pasta and rice; and baking ingredients.
Decant for ease
Some things are best put into containers rather than kept in their original packets. 'Get organized by decanting dry goods into glass storage jars and canisters, from pasta and rice to nuts and popcorn,' advise Jenna Choate and Mariana Ugarte, co-founders of Interior Fox.
That way, you can easily see when you need to add them to your grocery list, plus you won't run the risk of spills from packets. Don't forget to indicate what's inside. 'Give your glass containers an upgrade with customized labels,' the pair suggest.
As well as being practical, glass containers will also elevate your pantry organization ideas, like in the beautiful and well-ordered limed wood pantry above.
Make use of the counters
While you will want to keep most items in cabinets and drawers, there may be some things you keep out on the kitchen counters when deciding how to organize your kitchen. If you do, make sure sufficient preparation and serving space remains.
Keep much used appliances out
Assess any small appliances first: those that are used daily or very often (say the toaster and coffee machine) can stay out; those that aren't use as frequently (say the slow cooker) should go away into a cupboard (but don't forget the store low rule if an item you're tidying away is heavy). If you have a coffee machine on show, you might want to keep supplies along with it on the counter so you can brew up easily in the morning perhaps along with what you need for making tea.
Have much used utensils to hand
If you're short on drawer space, keep utensils such as spatulas and wooden spoons on the counter, too. Stash them in a purpose-made container or improvise with a tall jug, and follow the rule on handedness, positioning this to the right of the stove if you're right handed and the other side if you favor the left.
Group much used ingredients on countertops
What you always need when you're cooking might be stored there also, but don't locate these supplies directly on the surface. 'Use trays to gather oils, condiments etc,' says Kate Hatherell, founder of The Interior Designers Hub. 'Not only does this look visually better, but it is super important especially if you have porous worktops like stone.'
Sarah is a freelance journalist and editor writing for websites, national newspapers, and magazines. She's spent most of her journalistic career specialising in homes – long enough to see fridges become smart,
decorating fashions embrace both minimalism and maximalism, and interiors that blur the indoor/outdoor link become a must-have. She loves testing the latest home appliances, revealing the trends in
furnishings and fittings for every room, and investigating the benefits, costs and practicalities of home improvement. It's no big surprise that she likes to put what she writes about into practice, and is a serial house revamper. For Realhomes.com, Sarah reviews coffee machines and vacuum cleaners, taking them through their paces at home to give us an honest, real life review and comparison of every model.