Outdoor kitchen islands – how to get summer 2021's biggest outdoor trend just right
The outdoor kitchen island is one of THE key garden piece to invest in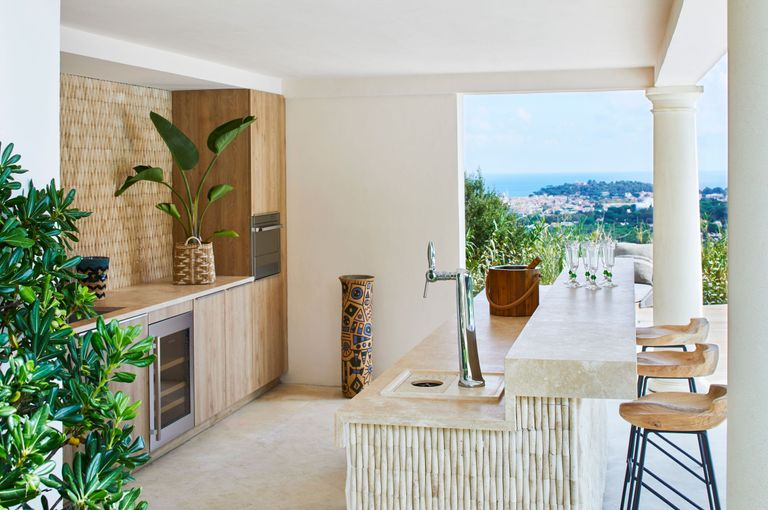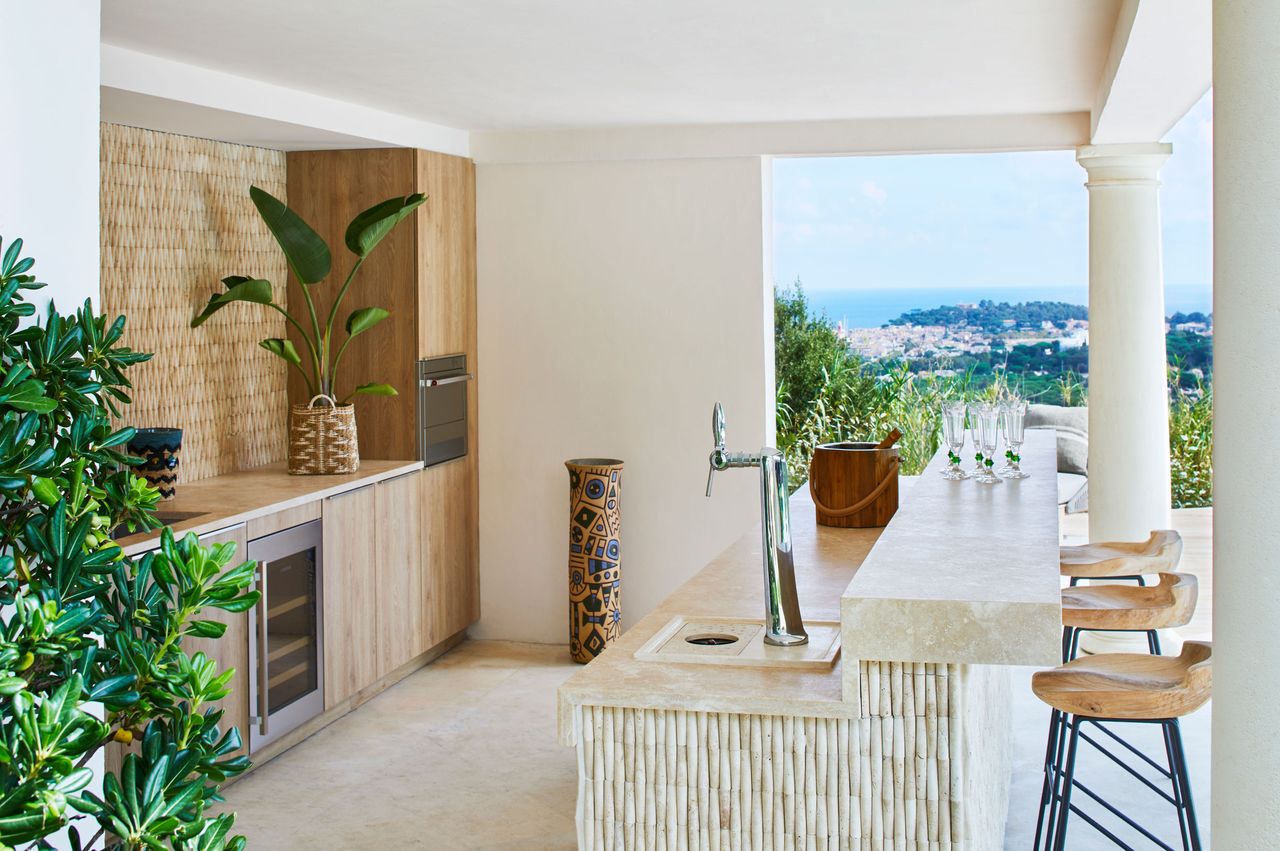 (Image credit: Stephanie Coutas)
We've been keeping a careful eye on outdoor kitchen islands – they have become more and more prevalent over the past year or so. A step up from a single run of cabinetry out in the backyard, outdoor kitchen islands are 2021's must-have.
See: Outdoor kitchen ideas – that welcome open-plan living into your home
Why? Well, they look fabulous, obviously, and they create a defined cooking zone in a garden layout, plus they're a home from home just a few meters away from the house, holding all of your essentials.
But there can be so much more to them – and their design success hinges on a few vital elements, all of which, we bring you below...
1. Outdoor kitchen islands work best when they blend with your yard's natural materials
Although this outdoor kitchen island is situated in a large space that includes the swimming pool, it could easily work in a smaller garden as it's compact – it could go in a patio garden, for example.
Whether your garden is large or small, it's important that your outdoor kitchen blends well with your overall look, as Eddie Maestri, architect and designer at Maestri Studio explains:
'This home was designed to balance a modern aesthetic with warm, natural materials, focusing on the connection between the interior and the outdoors. With a surface of honed absolute black granite and a face of Lueders limestone, the outdoor kitchen island is easy to care for and resilient, a perfect match for the outdoor elements.'
2. Outdoor kitchen islands can hold all your summer dining essentials
The kitchen island inside your home will more often than not be a storage savior, and probably houses your sink, if not the hob too. Well, so can your outdoor kitchen island. The GRILLSKÄR from Ikea has all the bells and whistles you'll need for impromptu gatherings in your garden this summer.
When you're looking for your perfect outdoor kitchen island then do look for the following: sink, hob or space for a BBQ, open shelving for those items that you want to use regularly and cupboards for tableware and utensils. A good sized countertop allows you to prep space too.
3. Outdoor kitchen islands are brilliant for zoning a space
This beautiful outdoor kitchen and dining space has its own area within the garden and it's perfectly zoned by the tile floor and glass roof. These elements are what marks it out from the rest of the garden and it really is an entertaining haven.
Outdoor kitchens with permanent islands are on the rise and it's that permanent element that ensures they zone the whole outdoor space, as Shai Elbaz, CEO of Green Advisor Inc says: 'Especially in sunny California, a lot of families are deciding to move their family experience to the outdoor area of their house and enjoy the benefits of the weather; this includes a large outdoor kitchen complete with island and incorporated sink, fire pit, and patio that specifies that this is an eating/entertaining space.'
Having a roof does offer you some protection from the elements too, so factor this in when planning your total outdoor kitchen cost – it is worth considering because even Californian weather can be unpredictable.
4. Outdoor kitchen islands can/should double as bars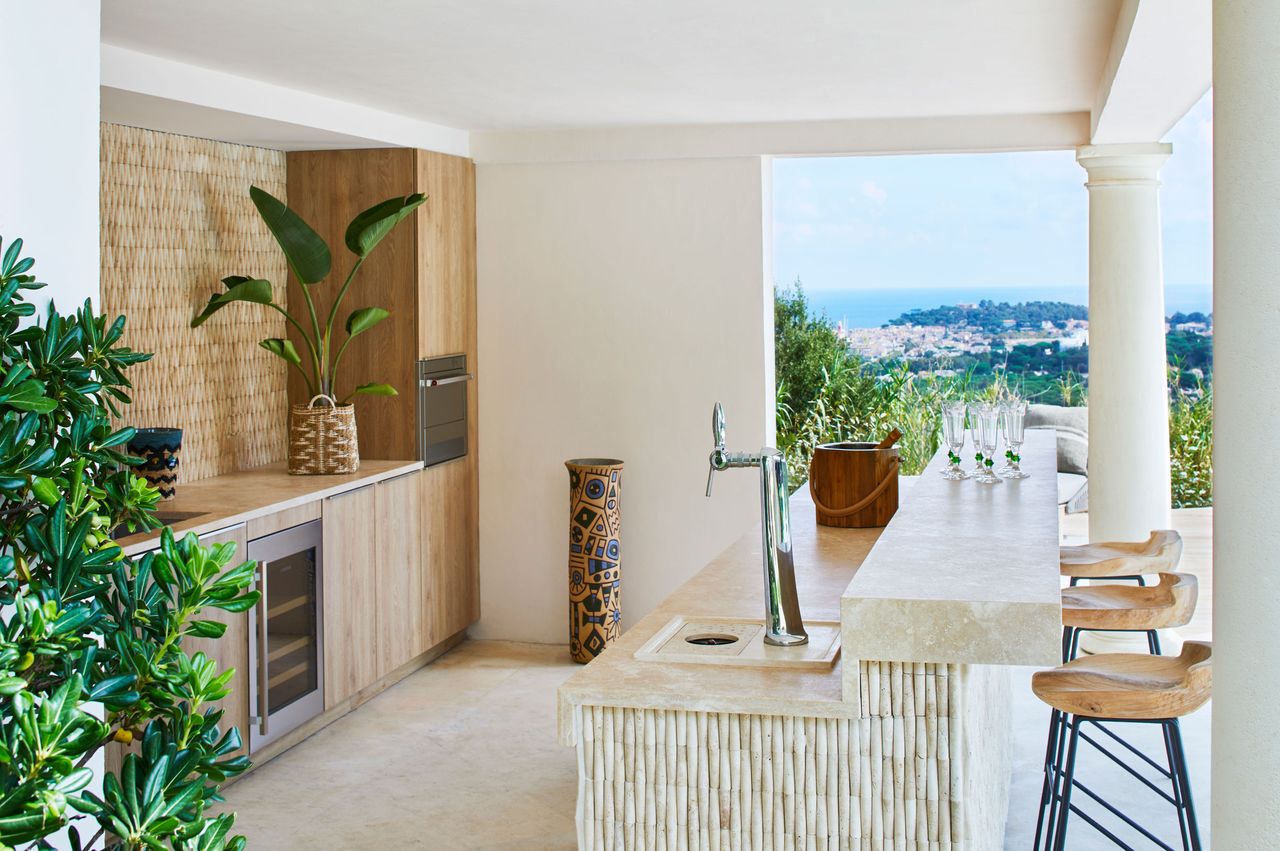 French Interior designer Stéphanie Coutas believes that having islands in her exterior designs is a crucial part of having a social space when hosting guests. She shares her thoughts below;
'Outdoor kitchen islands are the perfect design for open spaces. Especially today, when we find ourselves all stuck at home, it brings family and friends together, allowing some to sit with a glass of wine at the island and others to cook but still feel present in the conversation.'
5. Outdoor kitchen islands can be a moveable feast
Global company Lundhs Real Stone provides stunning natural stone from Norway that's made from Larvikite and Anorthosite. These stones are a great choice for a countertop that's used as a finishing touch on an outdoor kitchen island. Hege Lundh, Marketing Director at Lundhs believes the key ingredient for a successful design is that it comes on wheels, as she explains,
'A moveable outdoor kitchen island is the ideal food and drink preparation surface for al fresco entertaining. Thanks to its flexibility and design, you're able to move it from the shade to the sunshine when needed and of course move it undercover if needed if the weather turns.'