Modern kitchen island ideas — contemporary workstations and peninsulas
Boost your kitchen's functionality and style with these modern kitchen island ideas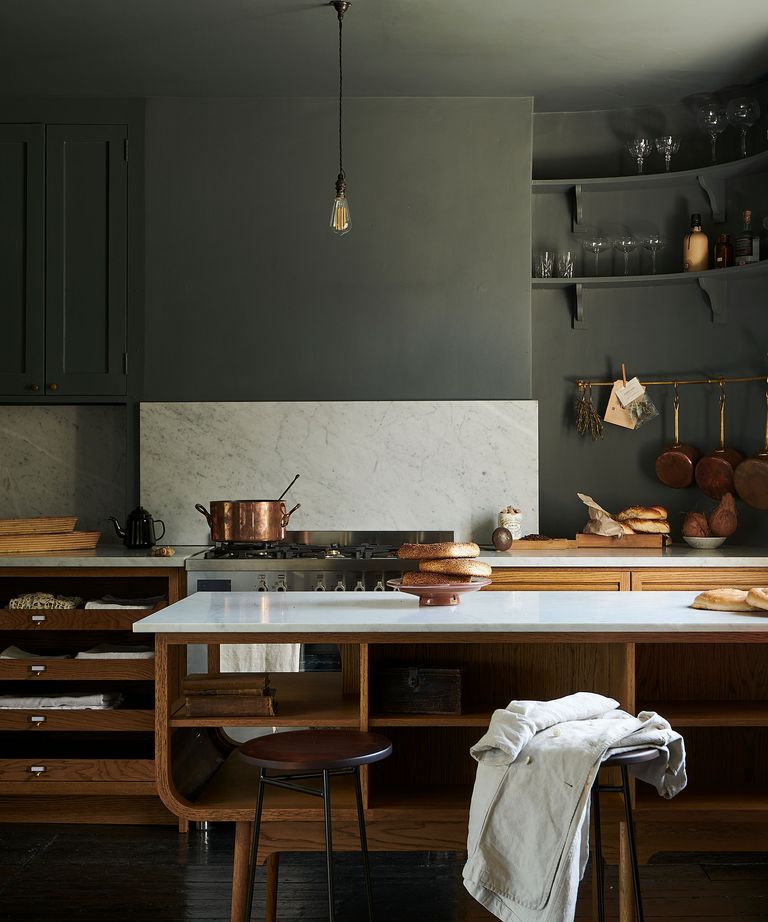 (Image credit: DeVol)
Our modern kitchen island ideas cover rooms of every size, and may make you think differently about how you work your design.
For starters, an island can put extra storage and prep just where you need it. With the trend for much of the kitchen to disappear behind tall pantry-style doors, a long island can become the main workstation, housing sink and hob, too.
And while double galley kitchens, with their two parallel rows of work space, are still the most ergonomic of kitchen ideas, an island can help create this set up in an open plan room.
It will be a more sociable space than an enclosed kitchen and the island will help mark out the boundary between the work zone and social area. Importantly, keeping guests and children from under your feet.
Finally, as a stand-alone feature, the island is just screaming out for some special treatment. A rich veneer, burnished metal or a pop of unexpected colour will seal its place as the focal point of all modern kitchens.
Modern kitchen island ideas
These modern kitchen island ideas embrace a range of styles, from contemporary country to sleek and streamlined.
1. Think outside the box
With so much of the kitchen constantly on show, the 'furniture aesthetic' is really taking hold. The look is less boxy with floating islands, cabinetry that looks like furniture and islands which mimic freestanding tables.
The Haberdasher's kitchen by DeVOL is based on vintage shop fittings. It works around drawer storage, display and soft shapes that recall the haberdasher's counter.
2. Create a sociable 'bar' appeal
Add smart kitchen island seating and good modern kitchen lighting and an island becomes a sociable space that works for family breakfast through the working day and all the way into evening entertaining.
The trend for dark woods and heavily-veined stone has a super-luxe feel that shines with good lighting. Flexibility is key: choose a layered kitchen island lighting scheme with ultimate controllability, making it easy to switch from task to mood lighting at the press of a button. This kitchen is by Charles Yorke.
3. Add a luxurious appeal with contrasting materials
Good interior schemes are built on layers of color, texture and tone, and designing a modern kitchen should be no different.
Consider the overall balance and how design features can guide the eye and the flow of the space. The stand-out feature on this Eggersmann modern kitchen island idea of Bianco Nuvola Quartzite is a brushed solid brass dining zone.
4. Insert the right angle
A perpendicular island in a stand-out tone puts all eyes on the cook in this design by Onestà. The generous 'floating' hob station claims the best view of the garden but, more importantly, allows the cook to interact with guests.
Early planning is essential when designing a kitchen island with power and services. It can be expensive to retrofit and is not always possible. Don't forget discreet extraction for hobs, and factor in power points and charging stations for tech and kitchen gadgets too.
5. Double up
Two modern kitchen islands connected by a linear bar-style seat creates a popular U-shaped kitchen layout, providing an enclosed cooking area big enough for two cooks.
'As a general rule, allow for 1m clearance space on all sides of an island to enable safe movement and clearance for opening drawers, cupboards and appliances,' advises Fabiana Scavolini, CEO Scavolini.
'You do need to reach the centre of the island too,' adds Matt Baker, Kitchen Designer at Harvey Jones. 'Aim for a maximum width of 1400mm.'
Kitchen by Schmidt.
6. Consider low-level dining
Breakfast bars with bar-stool seating are not for everyone or for all occasions, so a low-level table attached to the island ensures comfort. This alternative to classic breakfast bar ideas also keeps diners away from the heat and steam of an island hob.
The cantilevered table in this Day True modern kitchen island design is given a little extra support from a glass panel, maintaining its sense of lightness while still providing plenty of leg room.
7. Opt for pure simplicity
An island can house a multitude of kitchen workings, helping the overall kitchen scheme to look sleek and contained. Contemporary kitchens like to hide away as much as possible with internal drawers and kitchen storage solutions for great organization that disappears behind doors when the cooking is done.
A bespoke design, like this one from DesignSpaceLondon, will get the most from tricky spaces and provide stylish details, such as the console-style seating area here.
8. Create a peninsula island in an open-plan space
Islands attached to cabinetry at one end are referred to as peninsulas and they usually create U-shaped kitchens that neatly contain the cooking area. This set up provides plenty of work surface and the most flexibility over where to place your sink and hob.
'Quartz and granite used in their entirety work well to give a seamless finish as worktops,' explains Graeme Smith, Head of Retail and Commercial Design at Life Kitchens.
'Opting for a larger kitchen island size may require a join, which creates an opportunity to introduce a complementary material, colour or thickness. Something as simple as adding a chopping block can disguise a join and help divide an island into zones.'
9. Add color with a modern kitchen island
An island is a separate piece of furniture, so let it have its own identity. Often, with modern kitchen island ideas, there is a temptation to cling to the safety of neutrals for a big investment. But just a small splash of a bright color or a stand-out finish can enliven the whole scheme.
The color of this modern kitchen island by Martin Moore was picked out from a favorite painting that hangs in the room and which was also replicated as a striking glass backsplash.
10. Add a touch of glamor with your island's materials
Brushed brass and metals with a hint of patination look stunning on an island. As a social-facing feature, it is worth the extra expense and, away from workings of the kitchen, it won't suffer too much from knocks and splashes.
Warm-toned metals are the materials of the moment, choosing sinks, taps and handles to match. This one is by Sola Kitchens.