How do I make my kitchen look farmhouse? 12 elements experts always include
Bring classic farmhouse style to your cook space with these expert tips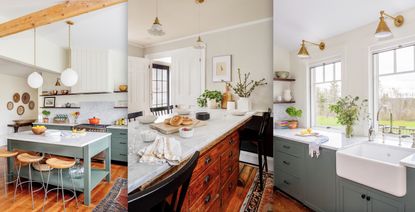 (Image credit: Sarah Szwajkos)
Wondering how to make your kitchen look farmhouse? You don't need to live on a farm, or even in the countryside, to adopt this ever-popular style, defined by its warmth, coziness and relaxed decor. It's a look that translates across all manner of properties and locations, making a timeless choice.
There are certain key elements that define how to achieve a farmhouse kitchen – and others that will throw it off – so we spoke to design experts to find out the simple decorating and styling choices, and the farmhouse kitchen ideas that will help you get the look just right, wherever you happen to live.
Andrea Childs is the Editor of Country Homes & Interiors magazine, a sister title to Homes & Gardens. She has, for many years, written about both farmhouse-style and kitchens, making her the perfect choice to interview interior designers and kitchen experts for this piece.
How do I make my kitchen look farmhouse?
When you're thinking about how to make your kitchen look farmhouse, remember it's about a mood and lifestyle as much as the decor.
'This inviting and comforting design style draws on country living, natural elements, and rustic or vintage accents,' explains designer Sarah Mandell, from Aspen & Ivy
'The cooking experience is highlighted with the range and hood creating a focal point, and even clean-up is celebrated with attention-grabbing apron-front sinks in white porcelain or copper.
'Reclaimed materials are incorporated, like wood, cement tile, and vintage light fixtures. Exposed wood beams are another focal point, whether they are structural or purely decorative.'
We've canvassed interior designers to discover their key takeaways on how to make a kitchen look farmhouse and outlined their expert tips below.
1. Start with the sink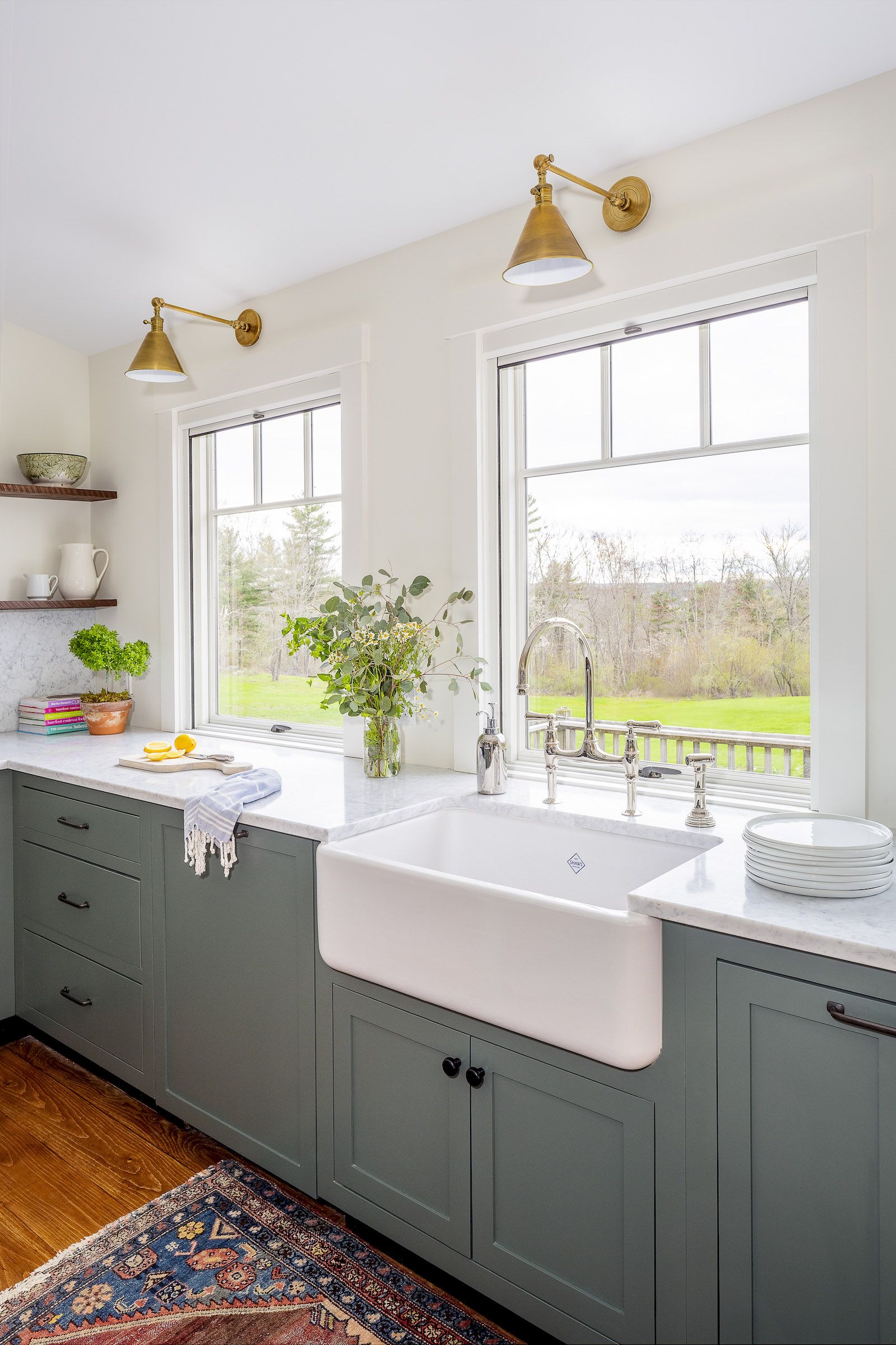 Nothing says 'farmhouse' quite like a vintage-style apron-front porcelain sink.
'From Belfast to butler sinks, single or double-basins, there's a wide range of kitchen sink ideas to choose from to create the old-world feel of the farmhouse style,' explains Anne Haimes, founder and design director at Anne Haimes Interiors. 'Not only are they a stylish addition to any kitchen, porcelain and ceramic sinks are durable, practical and easy to maintain.
'Just keep in mind you may need to alter your kitchen cabinetry come installation since farmhouse-style sinks are usually much larger and deeper than standard stainless-steel sinks.'
You could position your sink within a kitchen island, or as in this kitchen created by Jessie Tobias Design, beneath a window to make the most of the light and view outside.
2. Make the most of rustic materials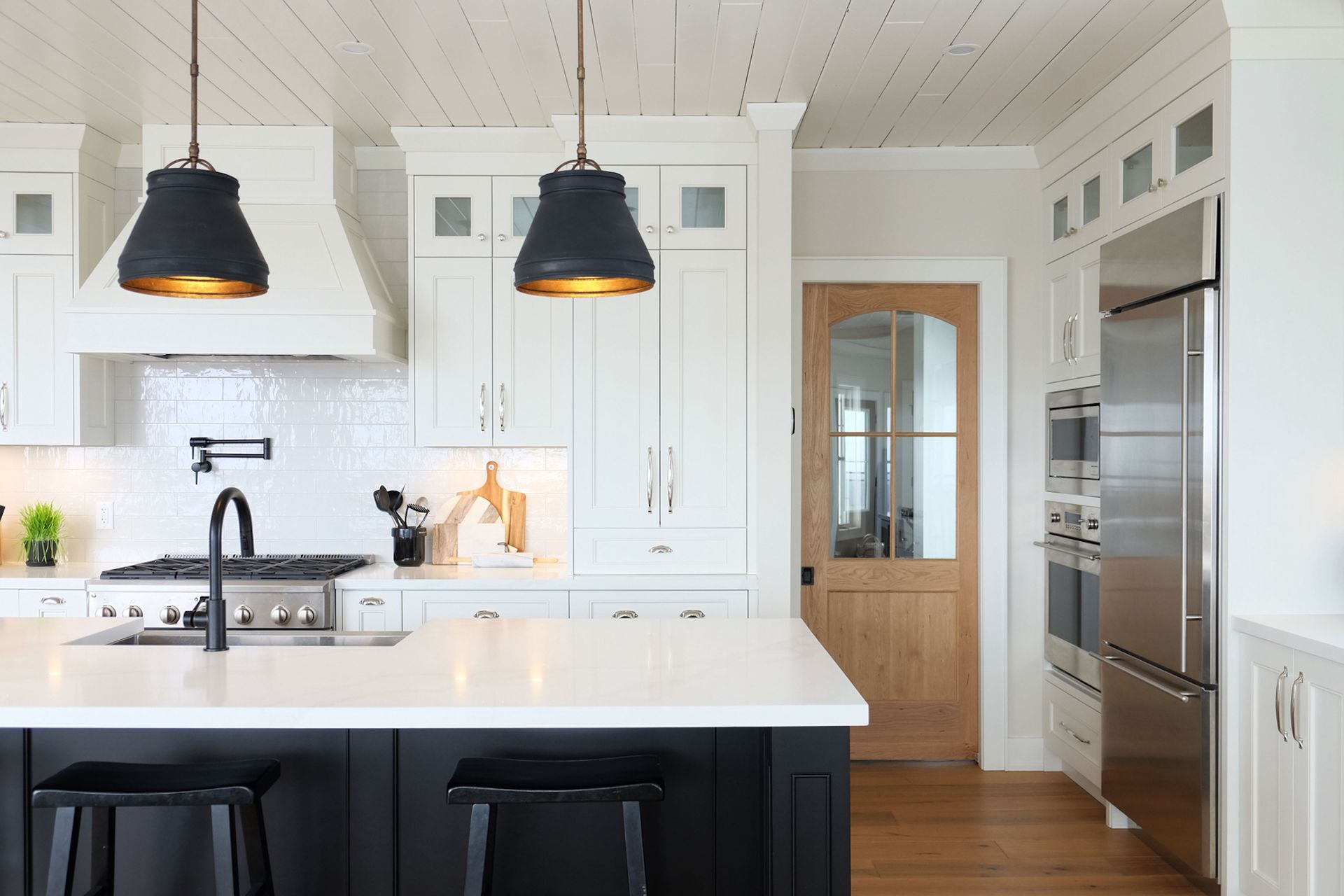 The glossy glamor of contemporary interiors doesn't sit well when you want your kitchen to look farmhouse. Instead, think about the soft tones and textural feel of natural materials.
'To get the farmhouse kitchen look, you'll want a combination of warm woods, Shaker-style painted cabinets, vintage-style tile, open shelving, and painted shiplap wall ideas. Butcher's block countertops, black or burnished brass fixtures, and hardware also contribute to the look,' explains designer Sarah Mandell from Aspen & Ivy.
3. Incorporate wooden elements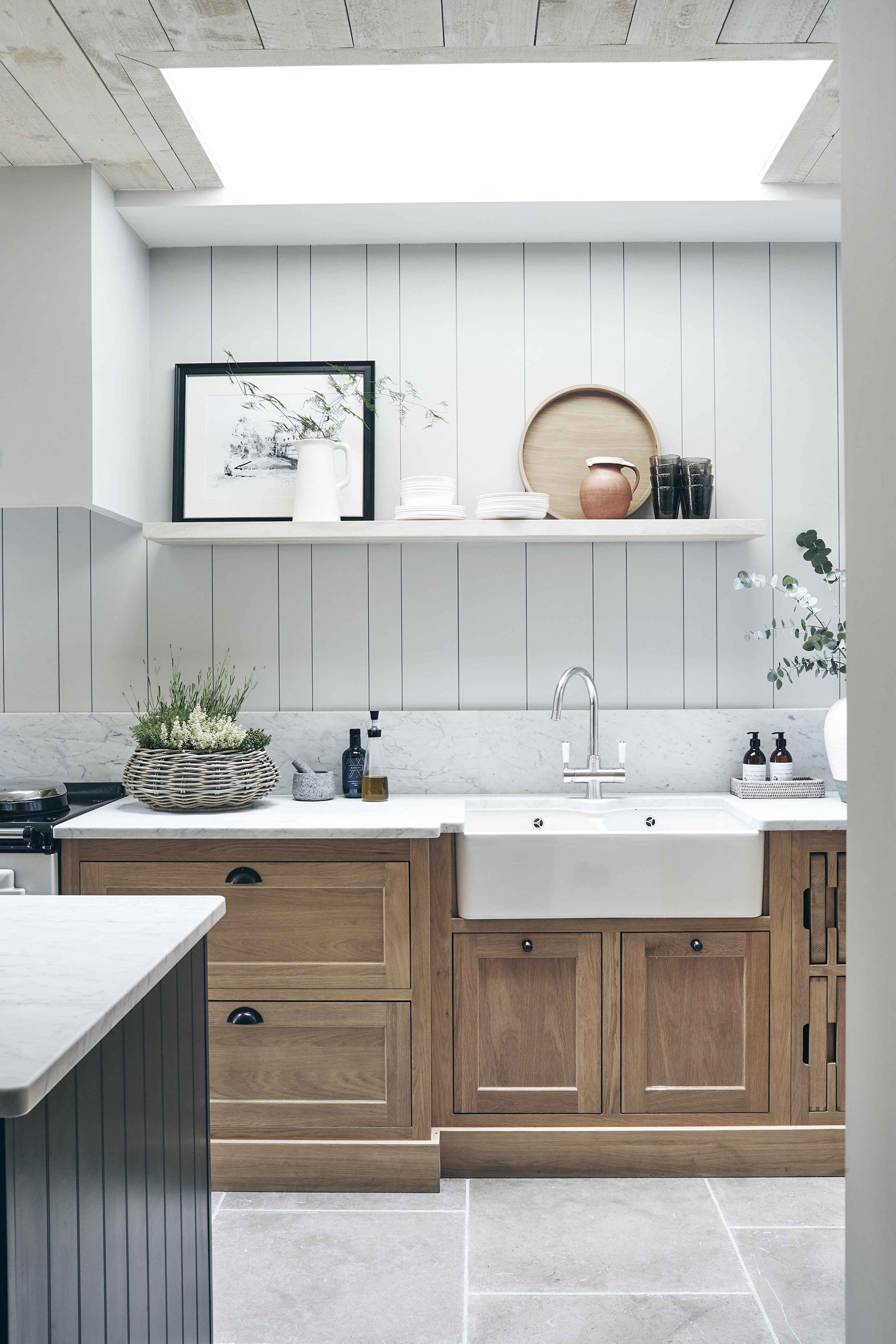 How to make your kitchen look farmhouse? The inclusion of wooden features is a must. Whether you opt for wood kitchen cabinet ideas, countertops or kitchen islands, introducing timber to your kitchen will make it appear instantly warmer and homier.
'Just be sure to balance wood tones with other colors to avoid a brown overload,' advises design director Anne Haimes. 'White, for example, is commonly used to complement wood in modern farmhouse kitchens. Alternatively, why not go bold with trendy sage or olive-green cabinets paired with wooden counters?
'If your kitchen doesn't already have wooden features, you can subtly introduce wood and other natural materials in decorative pieces such as chopping boards, placemats and even shelving to break up the colors of your kitchen and make it feel more rustic.'
4. Choose countertops carefully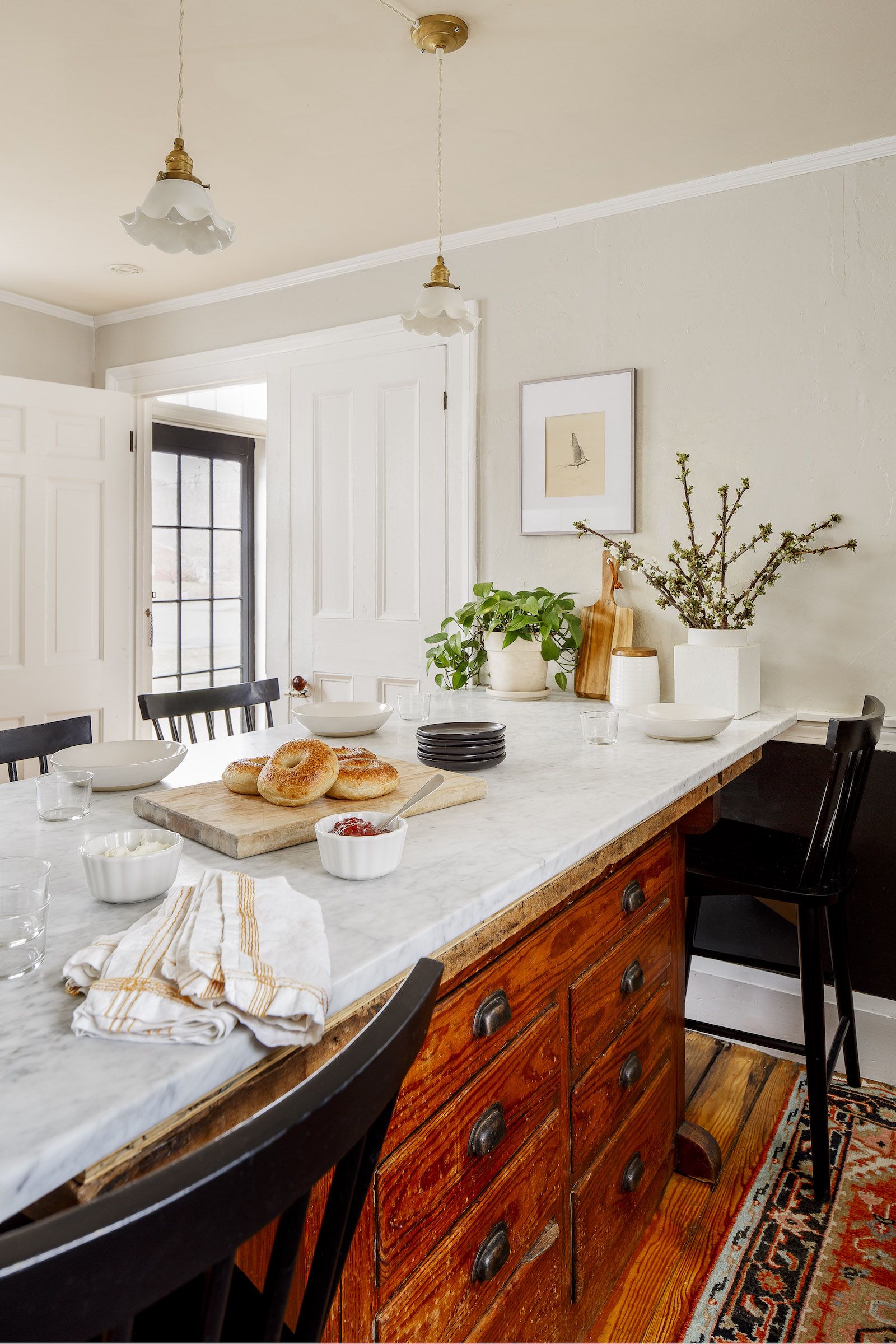 'The farmhouse aesthetic often embraces practicality, with kitchen spaces featuring sturdy and broad surfaces for rolling out dough, slicing vegetables, or for friends and family to gather in the kitchen,' says interior designer Sarah Barnard. 'Having counter stools for loved ones to chat, dine, or lend a hand in the kitchen can support a social atmosphere at the heart of most farmhouse kitchens.'
Wood, marble or soapstone all make for good kitchen countertop ideas when you're going for a farmhouse look. Or you could choose a mix of materials designed for different kitchen and cooking tasks – a marble slab for pastry-making, for example, or a wood top for a butcher's block vegetable prepping area.
5. Center the design around an island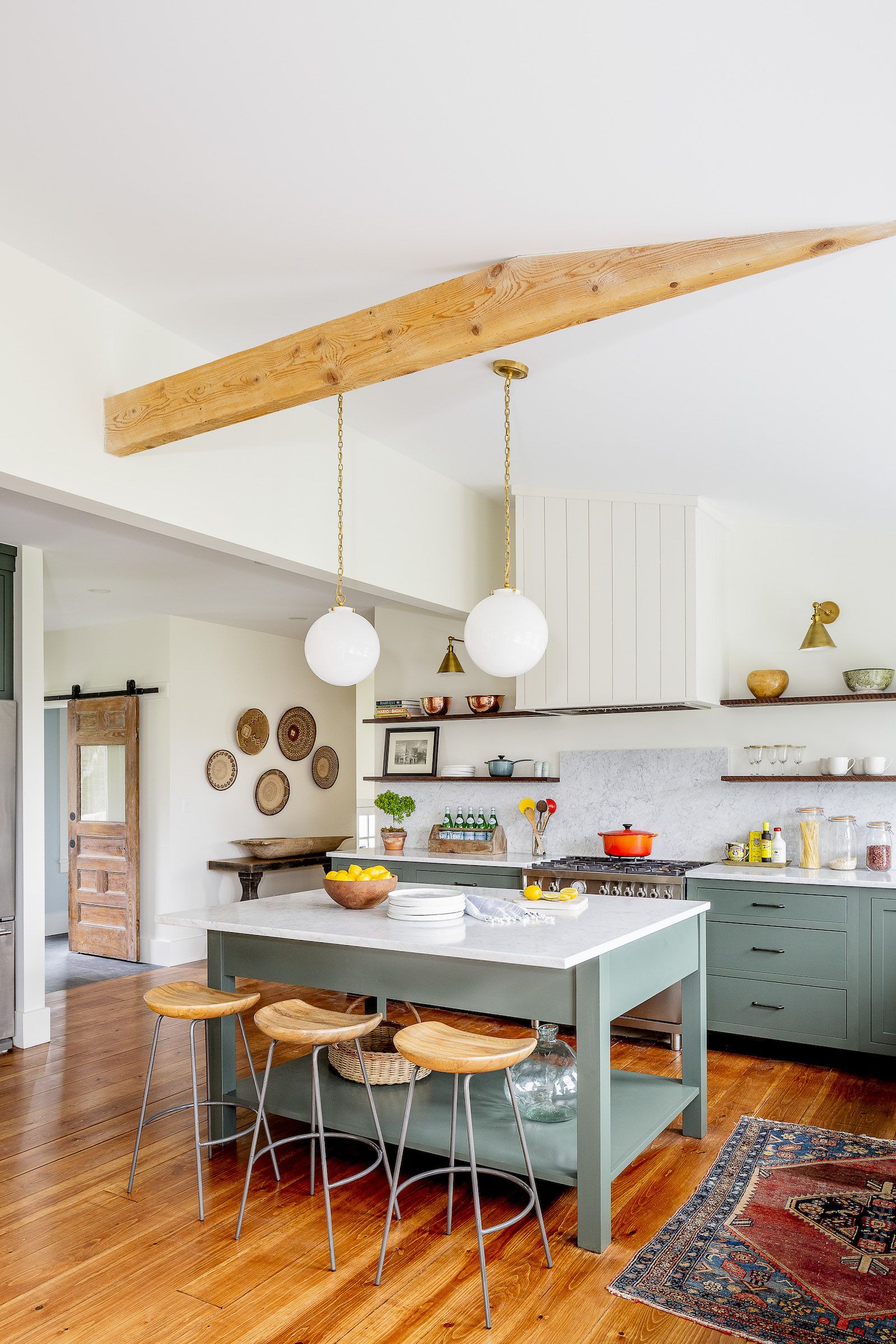 Farmhouse kitchens are very much the heart of the home, ideally with plenty of room for preparing meals, storing food, sharing meals and entertaining family and friends.
'They often have a central island or table, where the family can gather to eat and spend time together,' says Lucy Searle, global editor in chief of Homes & Gardens. 'Think hard about how you want this hub to function to suit your room and your lifestyle. Kitchen island ideas may include having a prep sink for washing vegetables, a stovetop so the cook can chat with people while cooking, or an extended countertop and bar stools for informal meals around the island.
'Farmhouse island ideas will have a more informal look, with natural or painted wood forming the base of the island, and often open shelving with baskets that add to the rustic aesthetic, like this scheme from Jessie Tobias Design.'
6. Opt for Shaker-style cabinets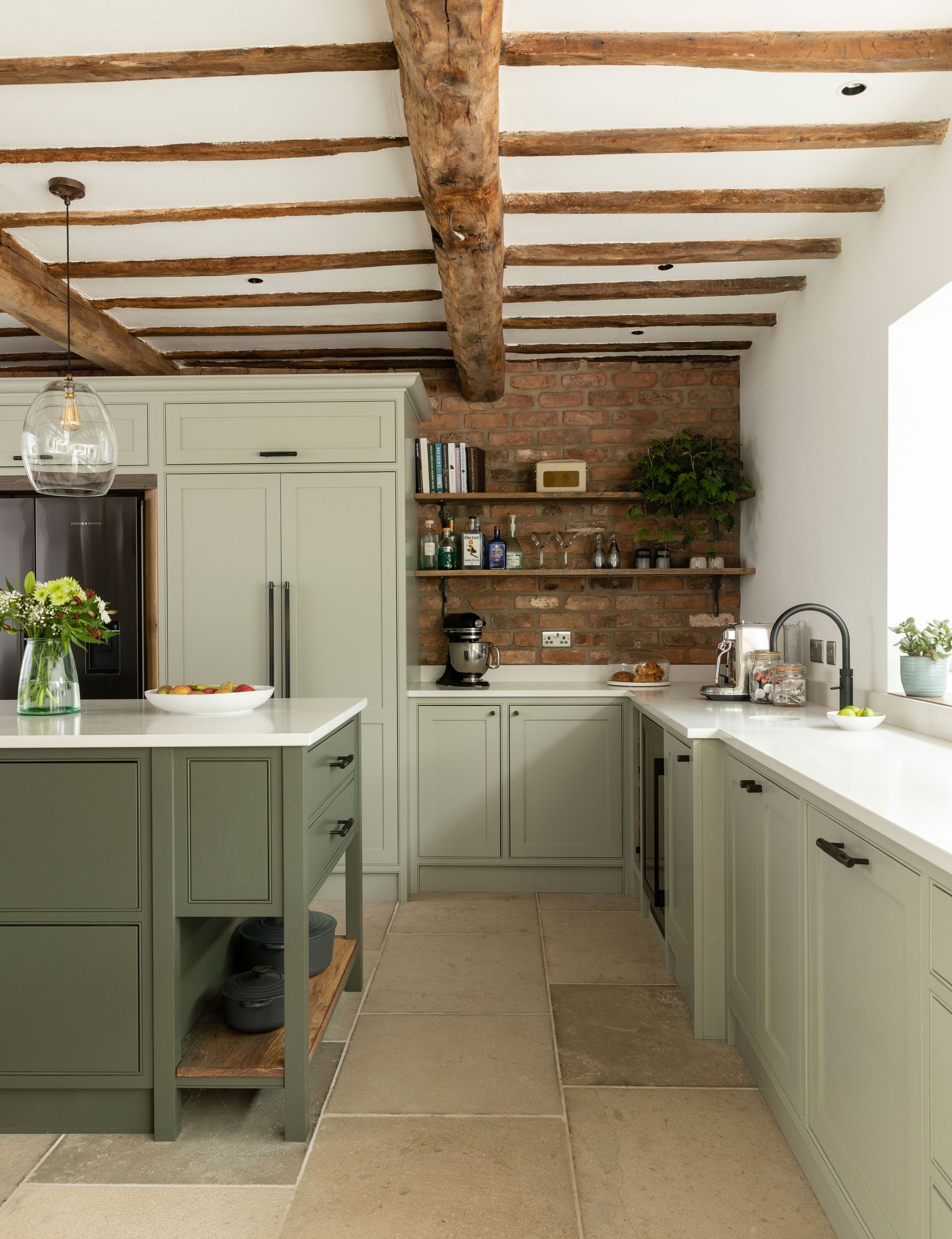 Wondering how do I make my kitchen look farmhosue when it comes to choosing timeless cabinetry? Shaker kitchen ideas are strongly associated with farmhouse design – their combination of simple design and robust, resilient materials make them perfect for this hardworking hub of the home.
'Versatile, practical and inexpensive, Shaker-style cabinets can transition to almost any style of kitchen and work perfectly for the farmhouse aesthetic,' agrees Anne Haimes, Founder and Design Director, Anne Haimes Interiors.
'The recessed panel doors add more interest than plain cabinets and are very in keeping with farmhouse features. Best of all, Shaker style isn't going anywhere any time soon, so even if you decide against your farmhouse kitchen after a few years, you won't need to replace your cabinet doors.
7. Don't forget the walls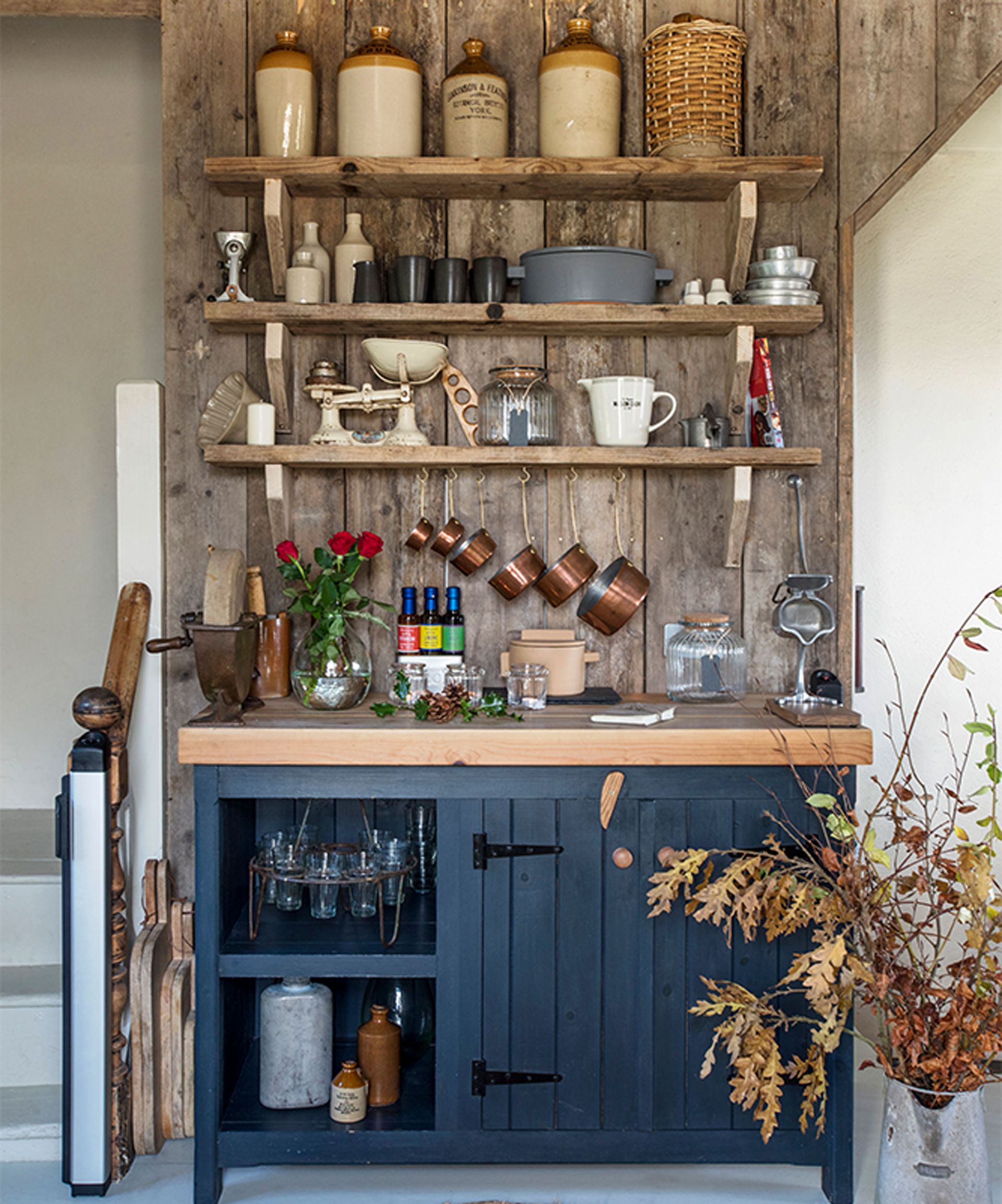 While cabinets may cover much of the wall in your kitchen, there should still be plenty of space to consider how to use farmhouse decor ideas can enhance this vertical space. Farmhouse kitchen wall decor might include tile, shelving and display areas, kitchen wallpaper ideas, and wall paneling.
And don't forget shiplap!
'Although design experts have been ruminating on whether shiplap cladding is officially out of style – and certainly it's true for coastal-themed rooms – I'd argue they make the perfect textural addition to farmhouse kitchens,' says interior designer Anne Haimes.
'Instead of positioning the shiplap in a horizontal formation, try placing the cladding vertically. This will create the optical illusion of taller ceilings and draw the eye upwards – perfect if you want to highlight any open shelving.
'You also can get more creative with the color of your shiplap. While white is still a great option for farmhouse kitchens, darker colors can work just as well and add more depth to a space.'
8. Decorate in country colors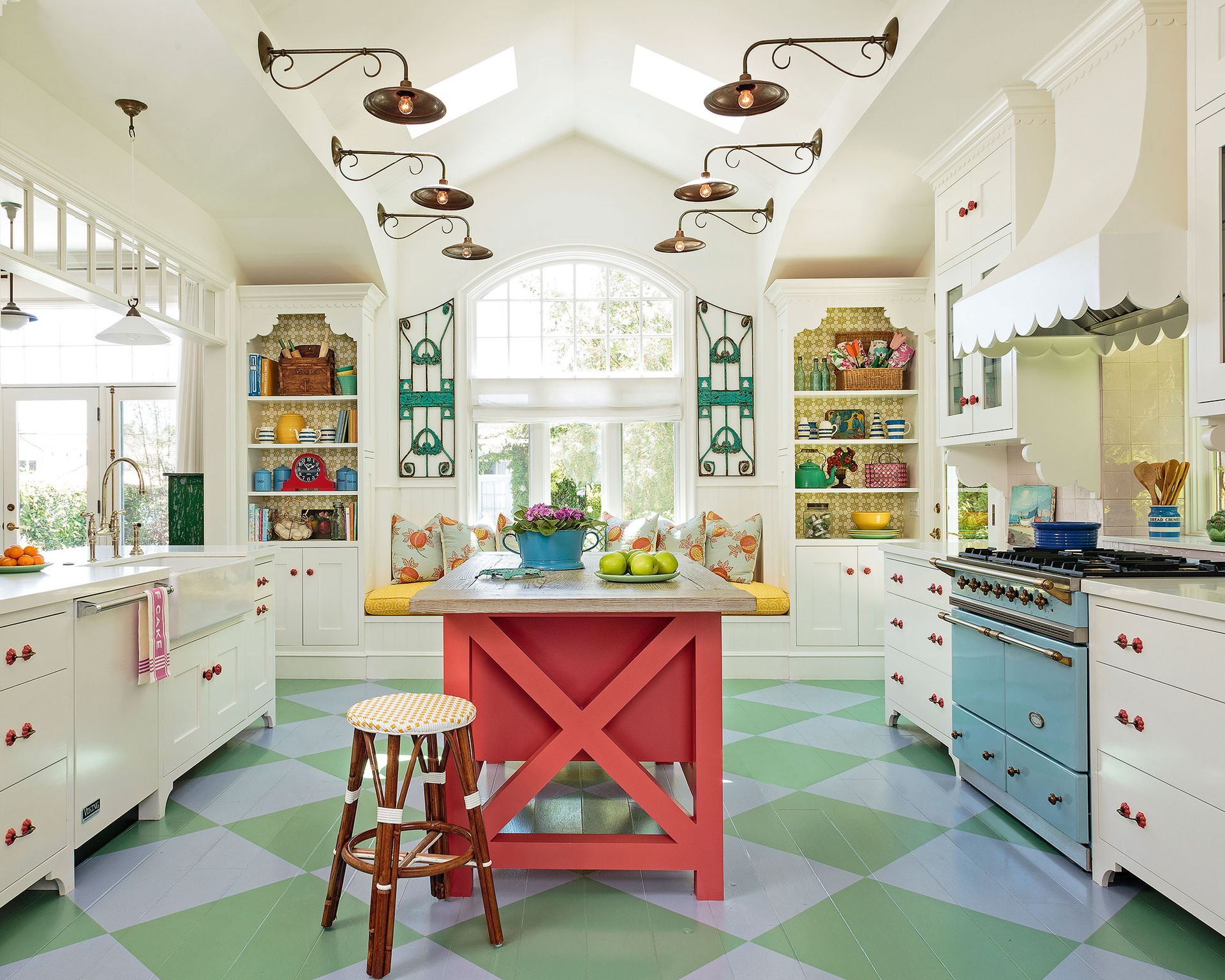 Although farmhouse and country kitchens are similar in style, brighter shades may fit best when you're thinking what color is good for a country kitchen while more pared-back tones may suit the farmhouse look better.
'In a farmhouse kitchen, the colors are usually cool neutrals like white, cream, beige and grey,' suggests Stephany Smith, home improvement expert at Fantastic Services. 'Warmer colors are usually only used for accent pieces. For textures, the emphasis is again on natural materials such as cotton, canvas, wool and chenille.
'If you're working on remodeling your kitchen into this style, choose or repaint your old cabinets white, creme or beige to give the space a bright feeling. Milk paint, a non-toxic and waterproof paint, produces a unique type of finish that looks great in farmhouse kitchens.'
9. Choose appropriate appliances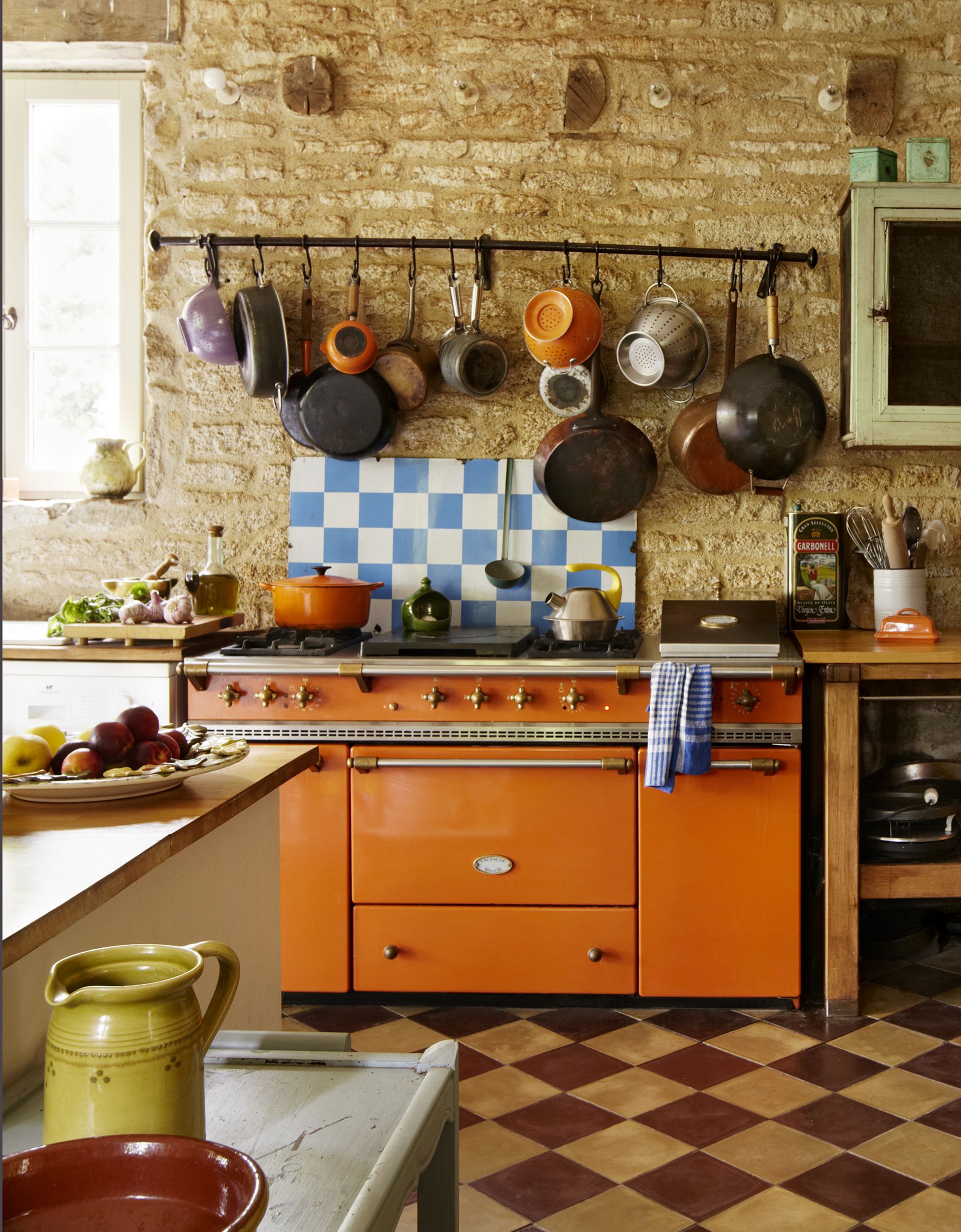 Asking how do I make my kitchen look farmhouse? Think: a combination of functionality and style, so any kitchen appliances should fit the look you want to create.
'To keep the comfortable and cozy aesthetic, your appliances need to be fully functional and high-tech without throwing off the farmhouse character. Typically, farmhouse kitchens feature appliances that blend in well with the color palette. Stainless-steel kitchen appliances work beautifully within any kitchen. Additionally, stainless steel is easy to clean and has long-term value,' says Stephany Smith, home improvement expert at Fantastic Services.
Stephany suggests disguising a built-in refrigerator with custom panelling that matches the rest of the cabinetry and gives an authentic feel. Similarly, a gas cooktop will look more traditional than an electric one.
'Since farmhouse kitchens are designed to accommodate large gatherings, a double-wall oven can serve all your guests,' says Stephany. Buying a range oven will be another authentic addition to a farmhouse kitchen.
Organizing kitchen countertops is key if you want to stop your relaxed farmhouse look tipping into messy and cluttered.
'Smaller appliances such as mixers, coffee makers, toaster ovens, etc, can clutter up countertops, making the space less inviting. Find a place to hide them in the bottom cabinets,' advises Stephany.
10. Bring in farmhouse furniture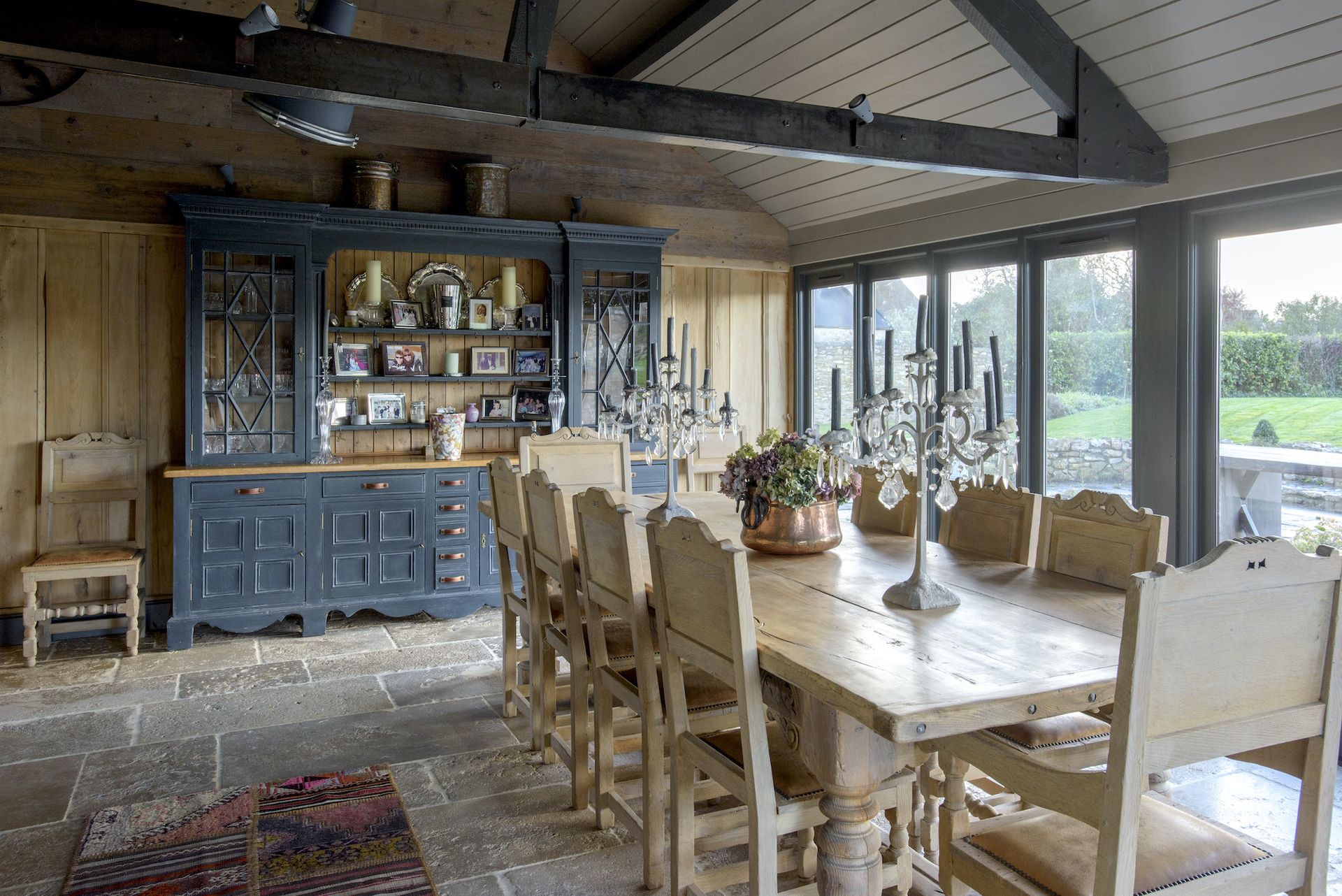 'Windsor back chairs or linen-upholstered chairs and a rustic harvest table are my farmhouse kitchen furniture tips,' says designer Sarah Mandell from Aspen & Ivy.
You could buy new, but Anne Haimes, founder of Anne Haimes Interiors, suggests including reclaimed pieces, too.
'Introducing well-loved furniture is an easy way to make your kitchen feel more rustic. Look to antique bar stools and tables in classic shapes for a more lived-in feel,' she says.
'Consider also looking beyond furniture to salvaged materials you can restore into something new, such as lighting fixtures, kitchen hardware and basic décor items. Patinated pieces are great for adding a lot of texture and visual interest without straying from the rustic sensibilities of the farmhouse style.
'Best of all, these pieces don't have to be expensive – you can often find the styles you love secondhand for a sustainable, authentic way to style your farmhouse kitchen.'
11. Use shelves for display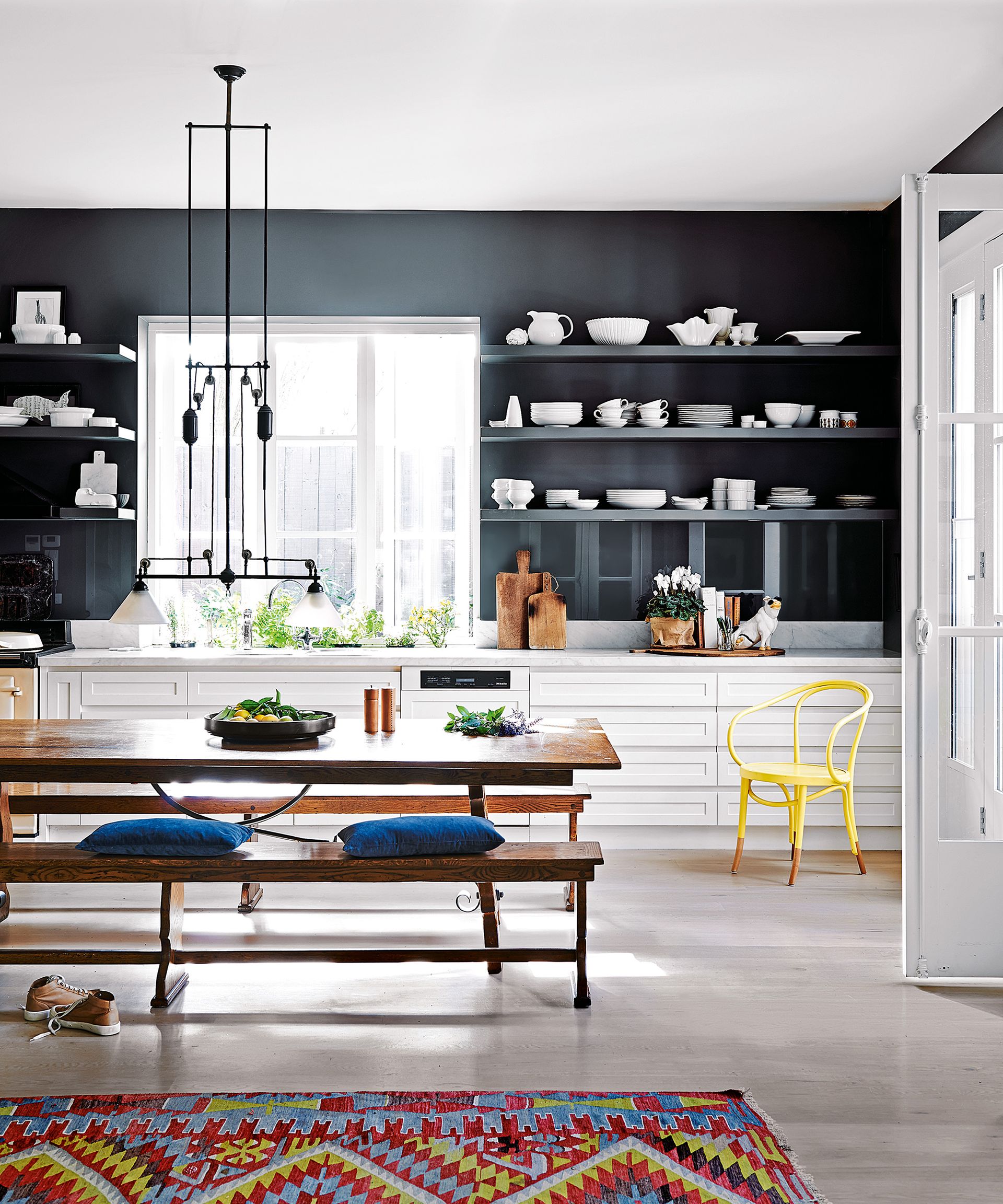 Character and personality are defining features of a farmhouse kitchen, and displaying collections, crockery, artworks is a simple way to enhance your space.
Kitchen shelving ideas might include open shelving or glass door cabinets. 'Adding open shelving, an exposed plate rack, or glass-front cabinetry is a modern approach to farmhouse kitchen interiors,' says home improvements expert Stephany Smith. 'For this style, it's important to show off your favorite dishes and kitchenware accents. Open shelving lets you display farmhouse-style decor, which adds charm to the space.
'Large elements are the foundation for this style, but what really brings it together are the smaller decorations. They can be Mason jar crafts, glass canisters, wire baskets, old teacups, vintage stools and chairs, fresh flowers, a pot rack, white dishes, wood utensils, china hutch, linen or cotton dishcloths.'
12. Get the lighting right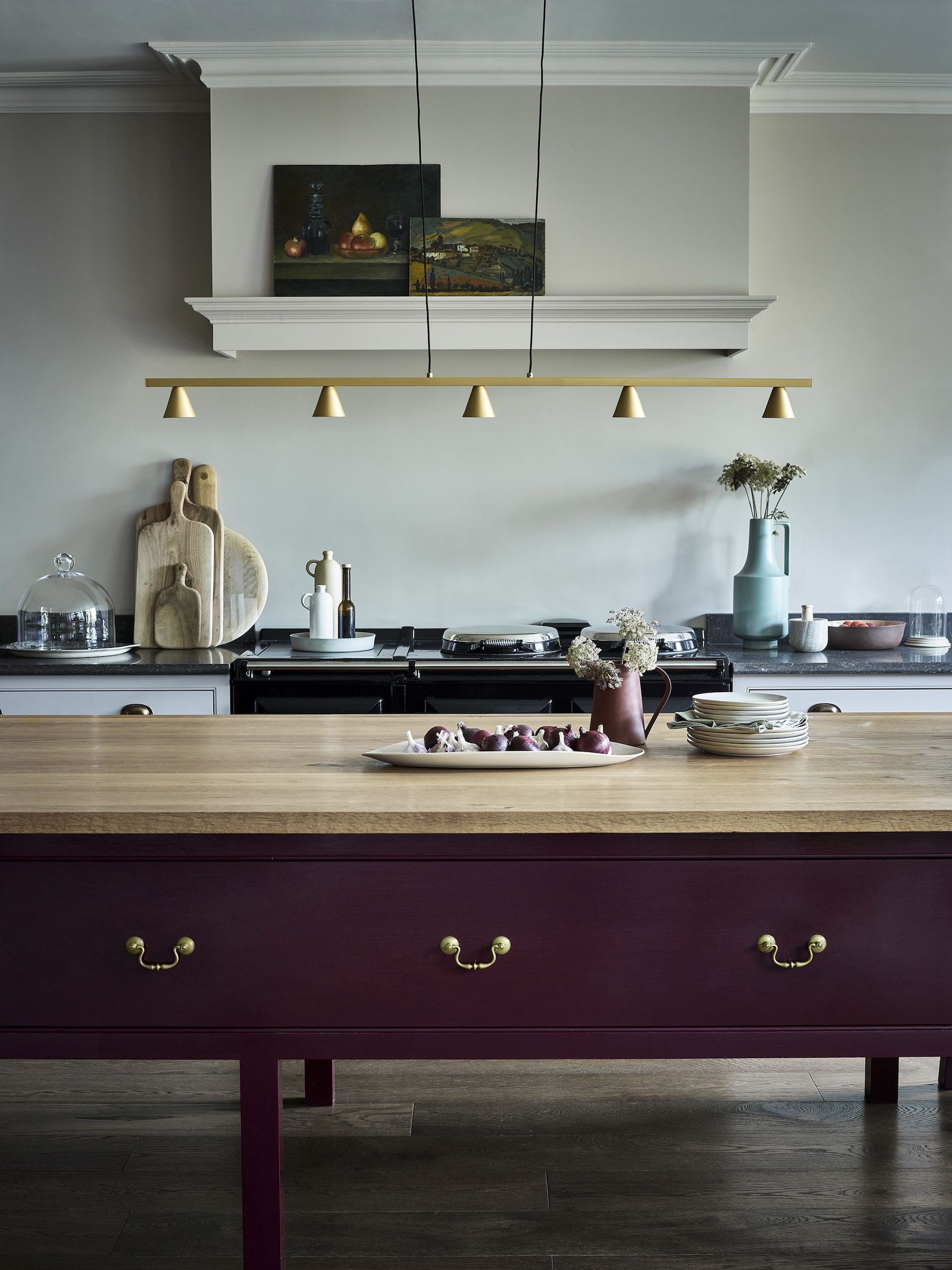 Lighting is an important element to any room design, and the kitchen is no exception.
'Farmhouse kitchen lighting ideas often lean on brass, matte black, and glass fixtures over an island, and barn lighting or glass shades for wall sconces,' says Teri Simone, Head of Design for Nieu Cabinet Doors. 'Barn-style or industrial lighting works well, whether it's pendant lighting or a rustic chandelier over the kitchen island.'
What is the difference between a farmhouse kitchen and a country kitchen?
The classic farmhouse style provides a welcoming aesthetic and rural, unpretentious charm. This design approach is rooted in the past, but it can easily be adapted to modern-day needs. A classic farmhouse style is known for evoking feelings of warmth and coziness. It has a classic, delicate vibe without being overly fussy or unapproachable. Modern farmhouse style embraces many of the same elements, though in a slightly more streamlined, pared-back way.
'Farmhouse kitchens are often compared to country kitchens. However, the country kitchen style tends to be more kitsch. Farmhouse kitchens are more charming, sophisticated and, most importantly, all about comfort,' says home improvements expert Stephany Smith from Fantastic Services. 'In its essence, a farmhouse kitchen is a space that can be anything from a wonderful gathering place for friends and family to a solitary cook's getaway. Modern farmhouse kitchens include beautiful clean lines, solid colors, and are very light and bright.'
Sign up to the Homes & Gardens newsletter
Decor Ideas. Project Inspiration. Expert Advice. Delivered to your inbox.
Andrea has been immersed in the world of homes, interiors and lifestyle since her first job in journalism, on Ideal Home. She went from women's magazine Options to Frank. From there it was on to the launch of Red magazine, where she stayed for 10 years and became Assistant Editor. She then shifted into freelancing, and spent 14 years writing for everyone from The Telegraph to The Sunday Times, Livingetc, Stylist and Woman & Home. She was then offered the job as Editor on Country Homes & Interiors, and now combines that role with writing for sister title homesandgardens.com.