Best pod coffee machine – the top capsule makers to display on your kitchen counter
These are the very best pod coffee machines, from Nespresso to Lavazza, Nescafé and more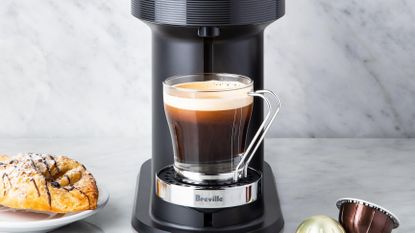 (Image credit: Nespresso)
Sign up to the Homes & Gardens newsletter
Decor Ideas. Project Inspiration. Expert Advice. Delivered to your inbox.
Thank you for signing up to Homes & Gardens. You will receive a verification email shortly.
There was a problem. Please refresh the page and try again.
Looking to buy the best pod coffee machine? Anyone who's ever tried (and failed) to use a classic espresso machine will instantly understand the appeal of pod coffee systems. There are no coffee grounds to spill, no beans to grind and the coffee comes out consistently every single time.
Each capsule contains exactly the right amount of ground coffee, all you need to do is pop it in the slot and press a button.
Pod machines tend to be smaller – and often more stylish – than traditional designs, taking very little space on the worktop, so they're a good option for small kitchens, and even the larger designs which offer milk steaming options for lattes and cappuccino are fairly petite.
Whether you've got your favourite pod brand already – be that Nespresso, Lavazza, Dolce Gusto or Tassimo – or are thinking of trying pods for convenience, we've got the best machines for every budget.
Not a fan of the pod machine? See our best coffee makers guide to find a machine to suits your coffee drinking needs.
Best pod coffee machines 2020
You can trust Homes & Gardens. Our expert reviewers spend hours testing and comparing the latest products, helping you choose the best for you. Find out more about how we test.
1. Nespresso Atelier
Best Nespresso pod coffee machine
Specifications
Tank size: 1 ltr / 33 fl oz
Pressure: 15bar
Dimensions: H27.9 x W11.9 x D43.4cm / 11 x 4.5 x 17in
Reasons to buy
+
Simple milk frothing
+
Iced options
+
Easy to clean
Reasons to avoid
-
Pods create waste
-
Small water tank
With 16 standard coffee blends and dozens of speciality recipes available, plus the countless third-party pods now available, Nespresso remains the best pod coffee brand, and this new slimline machine makes more drinks than most without taking up precious worktop space.
Unlike most Nespresso machines it has the coffee dispenser and milk heater/frother in the same space, which helps make the machine significantly slimmer than most older models. It has nine pre-programmed drinks including the standard Nespresso Lungo, Espresso, and smaller Ristretto, but also has Cappuccino, Latte Macchiato, Mocha, Iced Frappe and both hot and cold milk foam.
The steam wand is completely automatic, and features both a steam nozzle and whisk in one. As a result, it does a great job making iced drinks and milk shakes when the heat is turned off.
To make a milky coffee however, you simply fill your cup with milk, choose the drink – you can also adjust volume to suit – press the button and the steam want will heat and froth milk while the coffee is dispensed.
And cleaning couldn't be easier, just pull out the milk wand and rinse under the tap.
2. NESCAFÉ Dolce Gusto Genio S Plus
Best pod coffee machine for Dolce Gusto Pods
Specifications
Tank size: 0.8 ltr / 28fl oz
Pressure: 15bar
Dimensions: H27.3 x W12.1 x D27.6cm / 10.7 x 4.7 x 10.4in
Reasons to buy
+
Small
+
Temperature control
+
Affordable
Reasons to avoid
-
Plastic pod waste
-
Small water tank
Dolce Gusto pod machines are designed to be incredibly simple to use. There's no worrying about creating micro foam for lattes here, because milk (powdered, not fresh) comes in handy pods to be mixes with coffee to create cappuccinos, lattes, flat whites, mocha and hot chocolates.
The machine recognises the pod you insert and adjust the volume and temperature required (you can manually adjust too) to create the correct drink. It does a good job making an espresso, but it isn't a patch on Nespresso, and is better suited to longer drinks.
We think the milky selection of drinks from Dolce Gusto are quite sweet compared to a shop bought or Nespresso coffee. It's an acquired taste, and has many fans, but might not be appreciated by anyone who is fussy about the crema on their macchiato.
This machine boasts Temperature Control which is a new addition for Dolce Gusto and give you four heat options, we also like the Espresso Boost button which gives your chosen coffee an extra shot, to enhance the intensity of the flavour.
If you're short on room this machine is ideal, taking up very little space, but you will need to factor in storage for all the capsules, which are quite large. They're also plastic and you will need to save them up and send back to NESCAFÉ for recycling.
3. Lavazza A Modo Mio Deséa
Best Lavazza pod coffee machine
Specifications
Tank size: 1.1 ltr / 38.7fl oz
Pressure: 10bar
Dimensions: L19 x H35.2 x W50.3cm / 7.4 x 13.7 x 19.6in
Reasons to buy
+
Compact design
+
Variable volumes
+
Easy milk heating
Deséa is Lavazza's, their top-of-the-range pod machine, and offers three black coffee, and three milk-based, drink sizes, plus your chance to just heat and froth milk, or free-pour a black coffee.
Unusually the machine comes with a single glass mug that perfectly fits the milk heating wand and whisk and has handy volume markings for milk. Once attached to the machine it instantly recognises that you're making a milky drink and heats the milk before delivering a shot of coffee to the glass.
We'd have preferred at least two glass mugs included, but in truth, once you get used to how much milk is needed for each drink you can place most standard mugs underneath, as long as the wand goes under the surface.
The Deséa has more options than the most pod coffee machines and being able to make warm frothy milk for hot chocolate is nice for the kids.
It's also extremely quiet, with very little motor noise which, again, is unusual for a pressure-based coffee machine.
And finally, Lavazza has recently introduced compostable coffee pods which is a huge improvement, but please check with your council that they can be collected, as they won't degrade in your home's compost bin.
4. Dualit Espresso Auto
Best pod coffee machine for tea, too
Specifications
Tank size: 1.5 ltr / 50fl oz
Pressure: 15bar
Dimensions: 20.7 x 28 x 34cm / 8 x 11 x 13.5in
Reasons to buy
+
Brews tea and coffee
+
Compatible with Nespresso, Dualit NX tea and coffee pods and ground coffee
+
Consistent temperature
Reasons to avoid
-
Requires some skill
-
Not for tea snobs
Dualit was one of the first brands to develop NX their own great value Nespresso compatible coffee pods including a new compostable design. They've also launched their own range of fine tea pods, and this solid manual espresso machine is compatible with both, plus it can also work with standard coffee grounds and ESE coffee bags.
It's a hugely versatile design that will suit everyone's breakfast routine, and cleverly, when you switch from coffee to tea, the temperature of the water increases to get the best from the tea leaves.
But don't worry, this is a great quality, high pressure coffee machine that has the ability to extract a delicious crema on your espresso, and steam and texturize milk with ease.
With only one boiler you can't brew coffee while steaming milk, but that's typical of a machine at this price, but what you do get is a stylish, functional, well-made machine with traditional cup warming rack on the top, and just enough automated control to make brewing your chosen drink a pleasure in the morning.
5. Bosch My Way TAS6504GB
Best Tassimo pod coffee machine
Specifications
Tank size: 1.3 ltr / 45,7fl oz
Pressuree: 3.3bar
Dimensions: 29 x 23 x 32.5cm / 11.4 x 9 x 12.79in
Reasons to buy
+
Extensive drink options
+
Consistent results
Reasons to avoid
-
Powdered milk pods
-
Lots of waste
Tassimo, like Dolce gusto, combine coffee pods and powdered milk pods to create a whole range of drinks, but they have an impressive range of popular brands including Costa Coffee, Kenco, L'or Espresso, Baileys, Cadbury and Milka hot chocolate, even Twinning tea.
Each Tassimo pod features a bar code on the lid that is read by the machine, which then adjusts the volume of water needed. It's a neat system for people who want coffee drinks with minimum fuss, and unlike the other models, the Bosch My Way machine allows you to adjust the strength and volume of each pod.
While not as high pressure as a dedicated espresso machine this model does manage to create a good espresso, but it is better suited to longer black drinks and milky varieties.
It has dishwasher safe parts and impressively comes with an automatic cleaning cycle to keep everything fresh and ready to go.
6. Nespresso Creatista Pro SNE900BSS
Best luxury Nespresso pod coffee machine
Specifications
Tank size: 2 ltr / 70fl oz
Pressure: 19bar
Dimensions: H33 x W43 x D20 cm / 12.9 x 16.9 x 7.8in
Reasons to buy
+
Exceptional build quality
+
High quality milk steaming
+
Fully automatic
A wonderfully premium design for Nespresso fans that can dispenses nine different coffee styles and milk froth textures at the touch of its handy LCD interface.
Made by Sage – the same people who make Heston Blumenthal's excellent coffee machines - it is high quality, clad in brushed and polished steel, and screams quality and like the most expensive standard coffee makers it has the ability to make coffee and steam milk simultaneously. It's a beautiful appliance and one that takes all the hassle out of making coffee…which is quite a feat, given how simple it already is to use Nespresso machines.
There's a small colour touch screen that gives you a choice of nine black coffee drinks, just pop in a pod and press go. If you're selecting a milk-based coffee, you fill the aluminium jug, place it under the steaming wand choose from cappuccino, flat white, latte or latte macchiato, and machine will do the rest. When finished, simple pour over your coffee.
You can easily adjust the coffee volume and tweak the frothiness of the milk to suit your tastes and save in the machine's memory. If you have a big budget and love Nespresso you won't be disappointed.
7. Nespresso Vertuo Next
Best Nespresso Vertuo pod coffee machine
Specifications
Tank size: 1.1ltr / 38.7fl oz
Pressure: 19bar
Dimensions: H31.7 x W14.28 x D42.9 cm / 12.4 x 5.5 x 16.88in
Reasons to buy
+
Small footprint
+
High pressure
+
Made from recycled plastic
Reasons to avoid
-
Thick crema not for everyone
-
No milk steaming
Vertuo is Nespresso's alternative coffee pod system. It has three different aluminium pod sizes and can produce five mug volumes from 50ml espresso to a large 414ml Alto. Currently there are 28 coffee blends available, and this machine is by far the best value way to experience them.
Like Tassimo, Vertuo uses a barcode recognition system, and knows exactly which coffee pod you've placed in the machine. The machine adjusts the extraction process, including flow, volume and temperature of water to get the best results. It also uses 'Centrifusion' technology, where the pods are spun at 700prm to extract every drop of flavour and also create a larger than average crema head.
The machine takes just 40 seconds to heat up and we also love the fact the machine is made using 48 per cent recycled plastic, although please remember to recycle your Vertuo pods!
The only thing this machine lacks is the ability to steam milk, but we would recommend investing in the Nespresso Aeroccino to complete the great value coffee bundle.
How do I choose a pod coffee machine?
When it comes to pod coffee machines the most important factor isn't actually the machine, it's the type of coffee you enjoy drinking.
If you love a deep and complex shot of espresso, Nespresso's excellent choice of capsules – both traditional and Vertuo - will keep you caffeinated for years.
But if you prefer sweeter and milkier drinks, and even hot chocolates, systems such as Tassimo and Dolce Gusto have plenty of flavours to choose, and from brands such as Costa and Kenco.
Nespresso is the most established pod brand and has the largest choice of machines, from the very cheap, to the eye-wateringly expensive. Most only produce black coffee in various volumes, so you may need a separate milk heater/frother for cappuccino and lattes.
How much should I spend?
Pod coffee machines are generally quite affordable – from £50 to £250 – but this price is often kept low in order to get you buying specific branded pods, such as Nespresso. In fact, some brands offer free coffee machines if you buy a certain number of pods or subscribe to their coffee clubs.
You might also want to buy a coffee canister that matches your machine, to place beside it to hold your pods in style.
Why are pod coffee makers better than drip coffee makers or bean-to-cup?
Capsule, or pod machines, promise mess free coffee with the minimum of fuss, you just pop in a pre-measured coffee pod, press the button and wait. There's no tamping, grinding, temperature adjusting, just quick, delicious coffee.
But remember, the convenience comes at a price, and buying pods is significantly more expensive than buying beans or bags of ground coffee, and you have to factor in the waste the individual pods create. Each brand now offers to recycle their pods if you send them back, and some brands now offer compostable designs.
How easy is a pod coffee maker to clean?
Pod coffee machines are the easiest of all models to maintain, as the coffee grounds are trapped in their pods. Look for models that offer descaling and cleaning cycles, especially if you live in hard water areas, but on the whole, they take care of themselves.
Also read:
Sign up to the Homes & Gardens newsletter
Decor Ideas. Project Inspiration. Expert Advice. Delivered to your inbox.
Chris Haslam is an award-winning consumer technology journalist with over 15 years of experience. He lives in Walthamstow, East London - buying at least a decade before it became fashionable - and spends his days surrounded by boxes while researching, testing and writing about the latest in smart home and consumer technology. As well as writing for Homes & Gardens, he is a contributing editor for WIRED and writes for a host of leading design, lifestyle and technology titles.