The only gifts to put on your wedding registry, tested by kitchen, cleaning, and bedding experts
A wedding registry is a unique opportunity to get some of the best appliances and homes goods out there, but with so many options out there, it pays to know what's best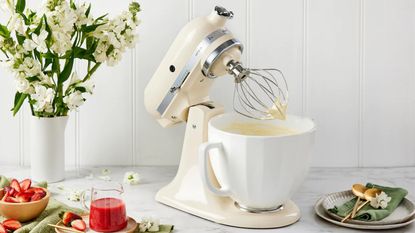 (Image credit: KitchenAid)
Sign up to the Homes & Gardens newsletter
Decor Ideas. Project Inspiration. Expert Advice. Delivered to your inbox.
Thank you for signing up to Homes & Gardens. You will receive a verification email shortly.
There was a problem. Please refresh the page and try again.
A good wedding registry is the most underrated part of wedding planning. Amongst all the stress of planning décor, guest lists, dresses and suits, a wedding registry stands out as a chance to make a big wishlist of things you want but might not be able to afford all at once.
Quick Menu
However, there are thousands of products you can put on wedding registries. Planning a wedding can be pretty time-consuming, and you don't want to add to that by wading through boring reviews of kitchen appliances to find the right one for your wishlist.
That's why I've assembled this rundown of our very best appliances and bedding. You can add them straight onto your registry knowing that these products are the best of the best, tested in our dedicated test centre and in our own homes.
There's everything from our favourite stand mixer to the best bed sheets, and we've tested it all first-hand. There's nothing in here that I wouldn't buy myself.
The Quick List
Best wedding registry gifts 2023
You can trust Homes & Gardens. Our expert reviewers spend hours testing and comparing the latest products, helping you choose the best for you. Find out more about how we test.
Best stand mixer
Best stand mixer overall
Specifications
Dimensions: 14.3" x 9.3" x 14"
Capacity: 5 qt.
Power: 325W
Colors: countless
Attachments: dough hook, flat beater, wire whisk
RRP: $449.99
Reasons to buy
+
Comes in an huge range of colors
+
Excels at all of many kitchen tasks
+
Buy more attachments to expand its capabilities
Reasons to avoid
-
Not the largest capacity
A good stand mixer is great gift for bakers, and this iconic, American-made stand mixer is the best in the world. After testing all of the best mixers on the market. It looks great, and with a little TLC it will last for generations.
On test, we found it makes faultless cake batter, bread dough, and whipped cream. The 5-quart capacity is enough for most families, letting you tackle two cakes at once, and the handy tilt-head makes it a joy to use, making it easy to add ingredients and switch out attachments.
We were particularly impressed by the flat beater, which creamed sugar and butter with minimal intervention before adding in eggs and flour to make easy loaf cakes. The dough hook needed a little supervision for larger loaves, but it's perfectly suitable for brioche or sourdough. There's other attachments available online, too - we found incredible results with the ice cream maker attachment. It's available in dozens of colors, and you can also have a name etched into it, which is perfect for commemorating a wedding.
There's more information in our full KitchenAid Artisan Stand Mixer review.
Best food processor
Best food processor overall
Specifications
Power: 500W
Capacity: 10 cups
Programs: Low, high, pulse
Cleaning: Dishwasher safe
RRP: $179.95
Reasons to buy
+
Sealed work bowl
+
Easy, neat storage
+
A range of colors available
+
Two sizes of pushers
+
Optional added attachments
Reasons to avoid
-
No way to tell if it's switched on
Food processors make it easy to chop, dice, slice, mince, mix and even spiralise food. There's almost no limit to what you can do with one of these, and the best is the Cuisinart Core Custom 10-Cup. On test, we found a lightweight but secure processor with a sealing bowl that stops messes when mixing liquid ingredients. Best of all, everything can be stored inside the main mixing bowl, hugely helping with storage.
The controls are on the simple side - you can either mix on low or high, or pulse. They're straightforward and unfussy, and this food processor powered through every food we tested. The removable parts are all dishwasher-safe, and you can even choose from a range of colors when you buy.
Our Cuisinart Core Custom 10-Cup Food Processor review has more details
Best vacuum overall
Best vacuum overall
Specifications
Dust bin capacity: 0.2gal
Weight: 6.8lb
Max dB: Not disclosed
Battery life: Up to 70 minutes
Warranty: 2 years
Reasons to buy
+
Green Laser dust detection on Fluffy brush roll illuminates dust particles invisible to the eye
+
Piezo sensor and LCD screen shows the size and number of dust particles collected in real-time
+
New anti-tangle hair screw keeps pet hair from getting stuck
+
Incredible suction
+
Versatile attachments
Reasons to avoid
-
Green laser only shows dust on hard floors, harder to see in bright daylight
-
Must hold trigger for continual operation
Vacuum cleaners aren't the most exciting wedding present, but a good vacuum will save you hours of cleaning over its lifetime.
The Dyson V15 Detect is the best vacuum cleaner in the world. It's not only ludicrously powerful but packed with tech. There's a green diode laser to light up dust you otherwise can't see, and a Piezo sensor which measures microscopic particles in real time. It sounds like a gimmick, but our tests found that these features actually help create a deeper clean. We've tested a lot of vacuums and we're still yet to see a vacuum as good as this.
A wedding registry is a good choice for nabbing one of these, because our biggest criticism of this vacuum and Dyson in general is price. Outside of sales periods this vacuum will set you back more than $700.
Our Dyson V15 Detect cordless vacuum review goes into more detail.
Best blender
Best blender overall
Specifications
Capacity: 64 oz.
Pitcher: Plastic
Dimensions: 11 x 8 x 17 inches
Power: 1500W
RRP: $649 / £699
Reasons to buy
+
Makes impeccable soups
+
Self-heating blades
+
Incredible power
+
Five presets
+
Ten+ speeds
If you need a powerful blender, this is it. This Vitamix left no trace of fruit skins, seeds, or stems. It's almost unbelivably powerful. The blades spins so fast that they not only blend but even cook soups and sauces. On test, we made a piping hot tomato soup completely from scratch using the soup mode. While it can't cook firmer ingredients like potato or carrot, it's still a good substitute for the best immersion blenders. The only issue is that the jug isn't dishwasher-safe, but there's a self-clean mode that can wash the jug in just 30 seconds.
Our full Vitamix A3500 Ascent Series Smart Blender review has more details
Best coffee maker
Best coffee maker
Specifications
Coffee type: Espresso, Coffee, Hot Water, Cappuccino, Latte and Americanox
Dimensions: 9.6"W x 17"D x 14.6"H
Pressure: 15 bar
Warranty: 2- years
RRP: $799.99
Reasons to buy
+
Easy to clean
+
Fully automatic
+
Good size
+
Brilliant milk frother
This is the bean-to-cup machine you need for fresh coffee at the touch of a button. It's our favorite coffee maker; on test, we particularly loved the LatteGo milk frothing system, which froths fresh milk for lattes and cappuccinos. While no bean-to-cup machine is compact, this one is easy enough to store - we found that it sits flush under most kitchen cabinets. It's a little expensive, but worth it for the coffee.
Our Philips 3200 Series Fully Automatic Espresso Machine review has more information.
Best air fryer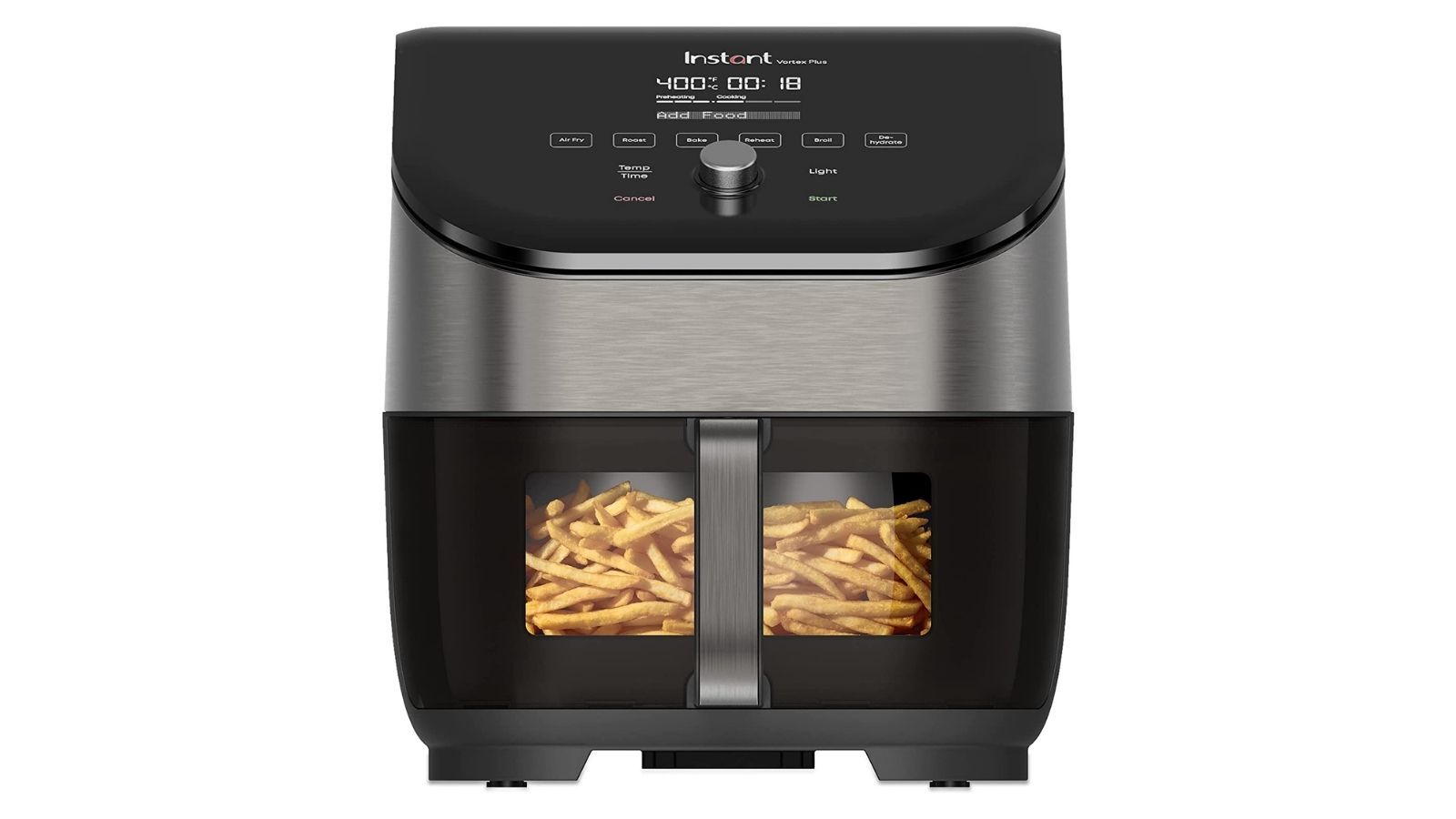 Best air fryer
Specifications
Dimensions: 17.1 x 15 x 13.9 inches
Capacity: 6-quart
Settings: Air fry, roast, broil, bake, reheat, and dehydrate
Cleaning: Nonstick tray and basket, dishwasher-safe insert
Temperature range: 95-400°F
RRP: $169.99/ £149.99
Reasons to buy
+
Quiet and odor-free
+
Even cooking at all temperatures
+
Innovative viewing panel in basket
+
Crisped up fries perfectly
+
Pre-heat and reminder to turn included
Reasons to avoid
-
Hand-clean basket
-
Only goes up to 400°F
Air fryers are fast becoming a kitchen essential, and we wouldn't be without the Instant Pot Vortex Plus 6-Quart 6-in-1 Air Fryer. It made the best homemade fries of any air fryer we've tested, and because there is a removable air fry insert, you can also reheat foods like rice and pasta, which are usually beyond an air fryer. We also loved the innovative OdorErase technology, which noticeably reduced unwanted smells in the kitchen, and despite all these features, it's his is also one of the quietest air fryers we've tried.
Our Instant Vortex Plus 6-in-1 Air Fryer with ClearCook and OdorErase review has more details.
Best juicer
Best juicer overall
Specifications
Juicer type: Masticating
Power: 240W
Capacity: 13.5 oz
Feeding tube size: 3.22in
RRP: $699.95
Reasons to buy
+
Excellent juice extraction
+
Sorbet and smoothie option
+
Extra-wide chute
+
Extremely powerful
+
Easy to use
Reasons to avoid
-
Requires hand-washing
-
Above-average price
There's nothing like fresh juice, and this juicer is still our favorite after years of tests.
It's powerful and has an extra-large chute - it doesn't sound like much but it means that this juicer is incredibly easy to use. Unlike others on the market, you don't need to prep your ingredients - you can just put them down the chute. Not only will it make short work of both hard and soft fruits and vegetables, this versatile machine can also make smoothies and sorbets, and all of the recipes we tested were perfect. As with others in this list, the only drawback is price, which is why it's a good item for a wedding registry.
Our full Kuvings EVO820 review has more details
Best grill
This is the best grill on the market. It's really simple - it made hands-down the best food on test, it's easy to set up and use, and it's a fair price. It has handy side tables with hooks for your utensils, and a responsive thermometer. It's easy to move around your backyard thanks to big, sturdy wheels, and the cooking area is huge for a grill of this size.
There's more information in our review of the Weber Spirit II E-310.
Best toaster oven
Best overall toaster oven
Specifications
Dimensions: 13.1 W x 5.0 H x 12.4 L inches
Power : 1800 W
Capacity: .8 cubic feet
Cooking functions: Air fry, convection bake, convection broil, bake, broil, warm, toast
Reasons to buy
+
Fancy design
+
Wi-Fi connect enabled for SmartHQ App
+
Remote enable feature
+
Lightweight
+
Cord wrap on rear of oven
+
Control lock feature
+
Adjustable alarm volume and brightness display
+
14 cooking modes
Reasons to avoid
-
Could be too small for large families
-
Price
This good-looking toaster oven has a good capacity, allowing for a 12-inch pizza, a 9 x 13 inch pan (with no handles), or up to 6 slices of toast. So far so good, but this oven has built-in WiFi, and the SmartHQ App means you can monitor and control the oven from your cell phone. The app makes it easy to adjust the oven temperature, change the cooking time, and stop the cooking cycle. You can even do this with voice command. More importantly, it made a delicious baked salmon and a homemade pizza with perfectly melted mozzarella. It broiled tender, juicy chicken and baked perfect chocolate chip cookies.
Our full Café Couture Oven with Air Fry review has more detail.
Best toaster
Cuisinart CPT-180 Classic Toaster
Best toaster overall
Specifications
Dimensions: 11.15 x 10.65 x 7.5 inches
Slots: 4
Settings: Bagel, Defrost, Reheat, Cancel
RRP: $69.95
Reasons to buy
+
Reasonably priced
+
Great bagel setting
+
Easy to clean
+
Comes in a selection of colors
This simple toaster has four slices to feed a growing family. On test, we loved the 12 different brownness settings for incredibly precise toast - it's almost overkill. It has a stainless steel exterior and sleek matching levers, and perhaps our favorite feature is the pull-out crumb trays independently to empty out the toaster and keep it clean in-between uses.
Best multicooker
Best Instant Pot
Specifications
Dimensions: 13.4 x 15.4 x 15.5 inches
Capacity: 6.5 qt
Presets: 13
Cooking modes: Pressure Cook, Sauté, Steam, Slow Cook, Sous Vide, Yogurt, Warm, Air Fry, Roast, Broil, Bake, Dehydrate, Proofing
Reasons to buy
+
Automatic pressure release
+
13 cooking functions
+
Instant Pot's top-of-the-range model
+
Simple settings
+
Easy one-pot cooking
Reasons to avoid
-
Cooking pot isn't non-stick
This is our favorite Instant Pot, because it improves on other models by only using a single lid, halving the amount of space you need for storage. These means ou can cook everything in one pot - for example, our tester made a mac and cheese by using the sauté function to create the sauce, pressure cooking to boil the pasta, and the broil function to crisp the top. A process that normally needs a couple of pans and whisks and spoons and a broiler to finish it off was cooked in a single pot with no effort. The only issue we found with this Instant Pot is that the stainless steel pot isn't non-stick, so some foods might stick and require a little more effort when cleaning.
Our full Instant Pot Duo Crisp with Ultimate Lid review has all the detail.
Best Dutch Oven
Le Creuset Signature Round Dutch Oven, 5.5 qt
Best Dutch Oven
Specifications
Material: Enameled cast iron
Capacity: 5.5 qt.
Dishwasher safe? : Yes
Oven safe? : Yes
Reasons to buy
+
5.5-qt size is the most popular size and feeds 4-6 people
+
Tons of color options
+
Excellent heat retention
Reasons to avoid
-
Light interior may stain
The 5.5-quart round size is one of Le Creuset's most popular sizes, and can comfortably feed 4-6, followed by the 6.75-quart oval that also feeds about 5-6 people. Round vs oval can come down to a personal preference, but the deeper round typically stores easier and fits on a burner better, but the oval will be wider and shallower and offers more cooking surface area when cooking long pieces of meat or even a whole chicken.
Whether you cook up a slow-cooking stew, roast a chicken or try your hand at homemade bread, Le Creuset's signature design offers even heat distribution and solid heat retention. The heavy-duty lids create a solid seal to retain heat and moisture and integrated cast iron handles ensure easy transport.
Each Dutch oven is sand-cast, polished and finished by hand, then sprayed with two coats of enamel and fired twice. The enamel is durable enamel resists dulling, chipping, and cracking. The light interior makes it easy to monitor the progress of your food, but note, it is subject to staining.
Best bed sheets
We've also tested lots of sheets over the years - these are our favorite bamboo, cotton, and linen sets for all seasons and sleepers.
Best bamboo bed sheets
Cozy Earth Bamboo Sheet Set
Sizes: Twin, twin XL, full, queen, king, California king
Material: 100% bamboo viscose
Colors: 7
OEKO-TEK certified: No
+ Impressive quality
+ Eco-friendly material and packaging
- Expensive
Our tester found that this bamboo viscose is super soft, and won't trap heat as you sleep. This fresh white bedding may be expensive, (there are other neutral color options too) but we found that it washes well and will last you for years. It also comes packaged in stylish bags, with handles for easy storage.
Best cotton bed sheets
Brooklinen Luxe Core Sheet Set
Sizes: Twin, Twin XL, Full, Queen, King, California King
Material: 100% long-staple cotton sateen
Colors: 13
OEKO-TEK certified: Yes
+ Luxurious 480 thread count
+ Beautiful limited-edition colors and patterns
- Prone to wrinkling
On test, this high-end quality bedding felt and looked luxurious. It slept relatively cool, and launders well, but we found a small downside in that it creases easily.
Best linen bed sheets
Piglet in Bed Luna Stripe Bed Sheets
Sizes: Twin, twin XL, full, queen, king, California king
Material: 100% linen
Colors: 33
OEKO-TEK certified: Yes
+ Breezy and breathable
+ Softens with every wash
- Expensive
Our tester still uses there linen sheets every summer. Breezy, cool to the touch, and breathable, this set starts off slightly scratchy but we're finding that it gets softer and softer with every wash. Just like some of the appliances above, it's nearly $400 for the full bundle, so it's a good option for a registry.
How we test
All of these products were subjected to our rigorous test processes. There's a different test for every kind of product, varying across our vacuum cleaner tests to our grills tests. They were tested in our dedicated test centre or in our homes, so we know both how they perform in ideal, fair test conditions, as well as more realistically in a real kitchen, garden, or bedroom. Each product was tested on multiple foodstuffs, messes, or different sleep scenarios, and we took notes on relevant warranties, and crucially, how easy it is to clean every one.
There's more information in our explainer of how we test.
Meet our testers
As Head of eCommerce, Alex oversees all our reviews content to make sure our readers find the right information to help them make the best purchase. After graduating from Cambridge University, Alex got his start in reviewing at the iconic Good Housekeeping Institute, testing a wide range of household products and appliances. He then moved to BBC Gardeners' World Magazine, assessing gardening tools, machinery, and wildlife products, so has experience of reviewing products across the entire home and garden.
Millie Fender is Head of Reviews for Future Homes. Formerly our head of everything cooking-related, she feels happiest when she is in the kitchen - she loves to bake and has tested dozens of stand mixers, air fryers, and other kitchen gadgets, including most of the products in this guide.
Louise is our dedicated Sleep Editor, covering mattresses, mattress toppers, pillows, bedding, and anything else you need for a good night's sleep. Louise previously covered mattress reviews and news for Real Homes, as well as a stint on the dark side as a PR representative for a mattress company.
Laura is our eCommerce editor. Before Homes & Gardens she studied English at Oxford University. Alongside her studies, she qualified as a barista and trained as a master perfumer. This makes her our certified expert for all things coffee, candles, and fragrance, as well as an expert reviewer of small appliances.
What's a wedding registry?
A wedding registry is just a list of gifts that fiancées want for their wedding. According to Zoe Burke, editor at Hitched, wedding registries 'were originally used to help couples starting their lives together. Traditionally they'd move into a new home together after getting married, so they'd need things like a dinner service, towels and the ubiquitous toaster'. Of course, most couples live together before marriage these days and have their own appliances, but it's a tradition that's stuck around.
Zoe Burke is the Editor of Hitched, and has worked in the wedding industry for more than a decade. A wedding expert, she's hugely passionate about weddings and firmly believes that there's no 'should' or 'have to' when it comes to planning the perfect wedding.
How does a wedding registry work?
These days, you can get online registries from dedicated wedding sites like Zola and The Knot, as well as big retailers like Amazon, Target, Williams Sonoma and Crate and Barrel. All you need to do is create the list of what you want and share it with your guests. As they buy items, they'll be struck off the list so there aren't any duplicates. Once bought, the items will arrive at your home like any other delivery service. It's an easy process, but with so many items out there it can quickly become a bit of a hassle.
What do I need on my wedding registry?
My advice is to get whatever you need. There's not much point buying replacements for items you already love. That said, a good stand mixer is always useful for baking, a top-end coffee maker is never a regret, and a premium vacuum is also a good call.
We often get by with mediocre appliances - if a vacuum breaks, we just buy a new one that's relatively cheap and does the job. However, a registry is an opportunity to receive luxury appliances that do a much better job and last much longer.
However, because registries are now separate from the traditional need to furnish new houses, you're free to put whatever you want. We've focused on what we've tested in this article, but it's not just for products. Brittny Dyre, founder and editor of Love Inc, argues that these days registries spouses can ask for gifts revolving around ' their hobbies, their pets, home goods, or even experiences.' Zoe Burke agrees - a registry is an chance 'to get those items that you'd never normally buy for yourself, as it's the perfect opportunity to experience some luxury and to be treated by your guests'.