Cottage kitchen ideas – 21 pretty ways to decorate homey spaces
Use these cottage kitchen ideas to create a rustic room full of character, including practical but pretty storage solutions and vintage textiles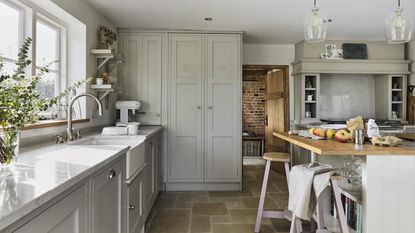 (Image credit: John Lewis of Hungerford)
Whether you live in a classic country cottage and are looking for cottage kitchen ideas to complement it, or simply love the cottage look, we've rounded up the key things to consider, as well as plenty of inspiration and expert advice from kitchen designers to help plan your interior.
From layout, storage and materials to lighting, wall colors and window treatments, there are plenty of kitchen ideas to consider when creating the perfect cozy and rustic space, but perhaps the best place to start is to consider what you have.
Cottage kitchen ideas
Cottage kitchens are prized for their original features. Whether stone flagstone floors, rustic ceiling beams or weathered inglenooks, it's these details that give cottage kitchens their unique charm and homey feel.
When thinking about cottage kitchen ideas, it's important to consider how best to make these features really shine while also creating a space that is practical and welcoming.
We've plenty of ideas to help you get the look in any size kitchen, but if you want definitive design tips for the rest of your home, our cottage decorating ideas will bring you plenty of advice for a characterful home.
1. Tick the 'cottage style' boxes
There are certain gorgeous elements that epitomise a cottage kitchen – think butler sinks, warm wood elements, stone flooring types, brushed gold and brass fixtures, a larder cupboard and vintage-style drawer pulls.
And then there's character and color…
This kitchen from John Lewis of Hungerford has it all, with the teal color interiors of the wall cabinets bringing personality to the space.
'Designing a cottage-style kitchen is all about selecting honest, natural materials and pairing them with simple finishes,' says Rebecca Noakes, Head of Design & Brand Creative, John Lewis of Hungerford. 'Color-wise, go for warming, natural palettes.'
2. Add a modern update
Classic cottage kitchen ideas can be given a contemporary update with unexpected additions. This stunning design by Santa Monica interior decorator Kim Gordon plays with repetition, scale, and contrasting materials – all within a cottage context.
Introducing metallic and marble elements alongside rustic wood and a pale palette keeps the look fresh.
3. Mix wood finishes
The use of wood in a cottage kitchen goes beyond the cabinetry. Wall paneling ideas, like the tongue-and-groove splashback in this kitchen, bring texture and a warmer look than tiles, while still being practical. A rustic wood table also showcases the natural beauty of wood grain.
'The harmonious combination of expert craftsmanship, functionality and traditional design make cottage kitchen ideas an obvious choice when renovating your kitchen,' says Rebecca Noakes from John Lewis of Hungerford .
'Cottage kitchens have always been fashionable, and their endless appeal lies in the warmth and character this aesthetic instantly gives to any home. To get that cottage kitchen feel the use of natural materials is really important, think wooden elements or beautiful stone flooring.'
4. Make the most of a small space
Cottage kitchens tend to be smaller in size, so you'll need to make the most of every inch of space to maximize its functionality.
One idea is to combine a built-in banquette with dining chairs, to allow more people to gather around the kitchen table. Creating a sense of separation, with color or a pendant light above the table, will bring a sense of occasion to even the smallest eating area.
And think about appliances, too.
'Multitasking appliances such as washer-dryers are definitely worth considering. While concealed appliances that are integrated into the cabinetry will open up the space visually and create cleaner lines,' says Sally Hinks, Kitchen Designer at Harvey Jones.
'Smaller appliances such as coffee machines and microwaves can be housed in cupboards to free up valuable countertop space.'
5. Introduce bold but natural color
Bold color is a great addition to Shaker kitchen ideas – but for a cottage look, the shade you choose will ideally be informed by your backyard planting or the land around you.
'This beautiful green kitchen design from John Lewis of Hungerford for @ferncottagemull, with its green painted panel walls and blue kitchen island idea is totally immersive, just like the landscape beyond the back door,' says Andréa Childs, Editor of Country Homes & Interiors magazine.
'The accessories really work to bring in the cottage look, too. Interesting and characterful, they add layers of interest that build on the base color for a unique look.'
6. Choose a natural floorcovering
While wood and stone flooring is a key component of classic cottage kitchen ideas, sometimes you want a softer look. Here, a sisal rug not only provides comfort underfoot, it also helps to define the dining area within the kitchen space.
A natural fiber such as seagrass, coir or sisal is a great cottage kitchen idea, but you'll want to choose one that can withstand any splashes and spills.
'Sisal is a hugely popular choice for flooring, even more so in recent years as we're all so much more environmentally conscious,' says Julian Downes, Managing Director of natural carpet and rug brand, Fibre. 'Our new Sisal EasyClean collection is just as hardwearing but with added protection for the inevitable spills which come with a busy family or entertaining home.'
7. Plan your layout carefully
When you're planning cottage kitchen layout ideas, keep practicality in mind – especially with long galley kitchen ideas like this one.
'Think carefully about which parts of the kitchen you're going to be using most for cooking and how easily you can move between them,' suggests Sally Hinks, Kitchen Designer at Harvey Jones, who make this Arbor kitchen.
'Use the kitchen triangle method to help you position the refrigerator, sink and cooker as the core elements when mapping out your space.'
8. Focus on storage solutions
Cottage kitchens can come with a number of storage challenges – uneven walls, low ceilings, quirky shapes, or simple lack of space, can all limit cupboard capacity.
'Built-in cabinetry and options that cleverly use every inch of space are your friend here,' says interiors stylist Sara Bird. 'Ideally, your kitchen storage ideas should incorporate floor-to-ceiling cupboards that maximize vertical space. You may need bespoke options, such as shelving or cubbies built around or into fireplaces, hearths and alcoves. Finally, options such as storage window seats, shelving and even under-plinth drawers will add to the conventional kitchen cabinetry.'
9. Keep it simple
Cottage kitchens can quickly become fussy and cluttered. If your look is more pared back than chintzy, keep things simple with slab-front cabinets, minimal handles, and a serene color palette.
Symmetry helps to keep a kitchen looking smart and put-together. Here, matching open shelves around a sink positioned in the center of the countertop bring a feeling of serenity.
10. Create a welcoming feel with a rustic timber table and chairs
Cottage kitchens are so much more than places to prepare food, they really are the heart of the home and a vintage kitchen table is essential to creating that perfect social hub and homely cottage feel, as Helen Parker, creative director at Devol explains.
'The charm of cottage kitchens is often their quirky and eclectic mix of old and new as this gives the feeling of a cozy and welcoming space. A vintage kitchen table and chairs is a must; all cottages need a spot for chatting and drinking tea and the ubiquitous jug of wild flowers.'
In contrast to the rustic furniture, this beautiful chandelier adds a surprising luxe element – one of many fantastic cottage lighting ideas to transform a space.
11. Maximize natural light with pale cabinets
Cottage kitchens often have low ceilings and small windows, so the key to a good design is taking every opportunity to optimise on natural light as Nerine Vacher, Kitchen Designer at Neptune, reveals.
'Making use of the natural light will go a long way in creating a harmonious flow in your kitchen. By including cabinetry in soft colors, like Neptune's Sage (pictured above) or Snow, you will see how light and airy the room feels, no matter how big or small.'
Our painted kitchen cabinet ideas will help you find the perfect color for your space.
12. Choose real wood Shaker-style cabinetry
As any cottage owner knows, there's rarely a straight line to be found within the property's four walls. With this in mind, bespoke cabinetry is often the best solution to getting the most out of awkward spaces. The simple, paired-back design of classic Shaker-style cabinetry will beautifully complement rustic architectural features.
13. Showcase rustic period features
Cottage kitchens are brimming with desirable period features, so make sure your design makes the most of them. Rather than conceal rustic exposed brick or stone walls with cabinets, try opting for simple wall shelves which will allow the history of your property to shine through.
Cabinets and a backsplash created from reclaimed timber enhance this vintage French look. While the checkerboard floor is a classic element of French country kitchen ideas.
14. Create a blank canvas for layering vintage finds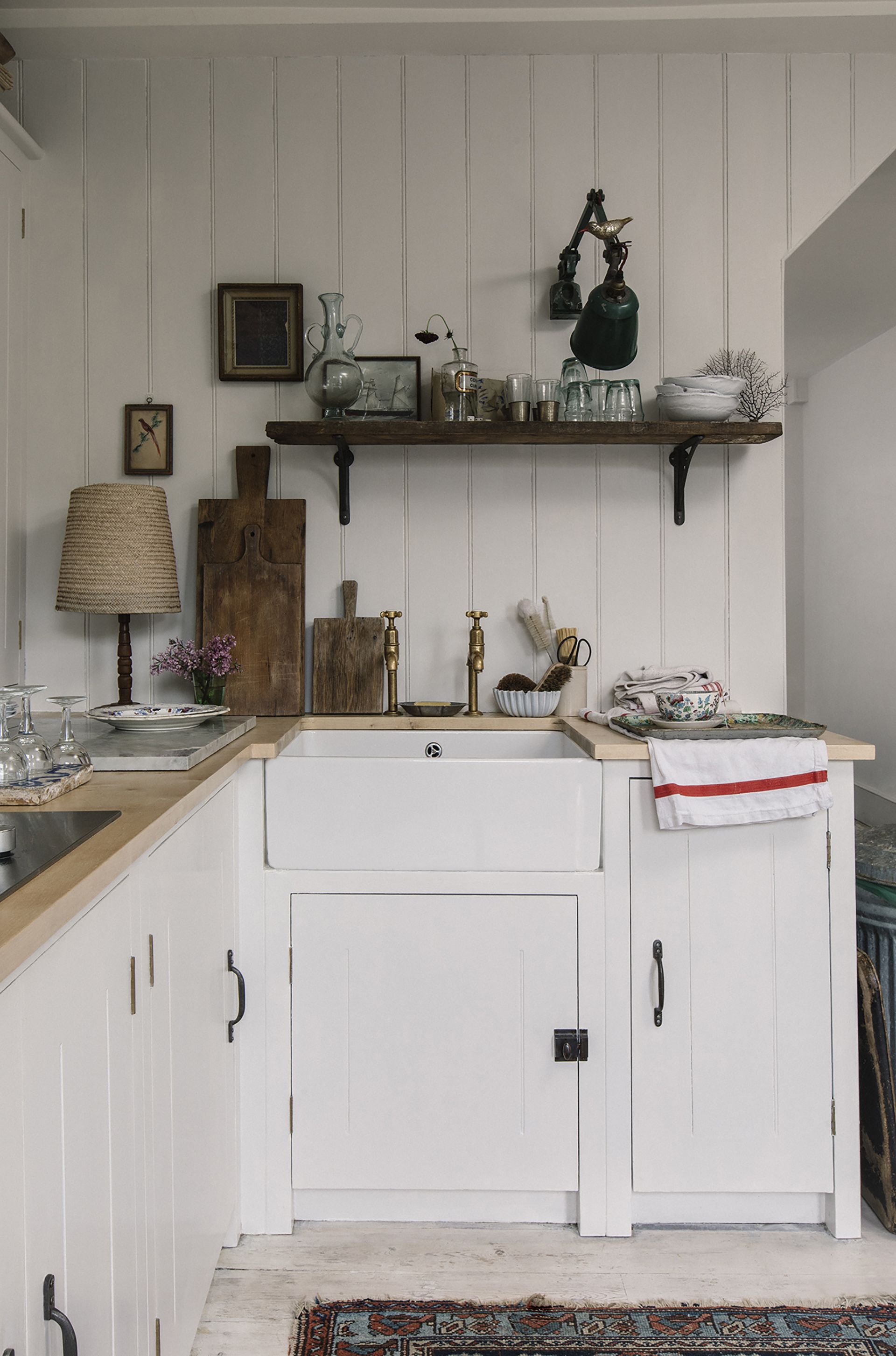 Keeping walls and cabinets white is a brilliant foundation for showcasing the vintage pieces which give cottage kitchens their unique charm, as Adrian Bergman, senior designer at British Standard by Plain English explains.
'With a clean and light palette you can create a layered interior with an eclectic mix of furniture – think pot board dressers, farmhouse tables, Windsor chairs, open shelves and pot racks. Finish with personal knick knacks and trinkets to add a lived-in charm.'
White kitchen ideas also have a timeless quality that work beautifully within a cottage-style kitchen.
15. Consider freestanding furniture
When space is at a premium, as it often is in cottage kitchens, it's a good idea to factor in some freestanding pieces to bring flexibility to your kitchen layout.
Try opting for a moveable kitchen island or butchers block, or small vintage table, as pictured above, which will create extra prep space but can also be easily moved to the side of the room if you need to make space for guests.
Other small kitchen ideas might include making the most of the vertical space with tall cabinets and open shelving, and using color to enhance the sense of spaciousness.
16. Factor in plenty of storage
'Effective small kitchen storage is another simple way to create a happy and homely kitchen.' explains Nerine Vacher, kitchen designer at Neptune. 'Including a single piece of furniture, such as a cabinet, or larder, you can completely transform your kitchen, by creating more surface space and keeping clutter out of sight.'
Organizing a kitchen begins with the unseen elements, such as the area under the sink or keeping utensils neatly on hooks, to bring order to your cottage kitchen ideas.
17. Add a vintage dresser to display collectibles
An iconic, practical piece which has furnished kitchens across the centuries, a classic wooden dresser is a mainstay of the cottage kitchen. It offers the perfect space for displaying those prized brocante finds and vintage ceramics, but also lends a homely feel. Its effectiveness is all down to how you style a display cabinet to put on a show in your cottage kitchen.
'Shelves with a higgledy-piggledy array of French porcelain bowls, books and vintage glassware is the best way to create a feeling of a home that is more than just stylish, but a sign of a happy well lived life,' reveals Helen Parker, creative director at Devol.
18. Focus on a traditional range cooker
At the heart of the home for centuries, the range cooker would not only have been used for cooking, but would have heated the entire house. With its constant radiant heat, a traditional cast iron Aga is hailed by many as the best oven for traditional home cooking, but it will create a cozy, warm welcome. In fact, there are lots of clever ways to use a range cooker that don't involve cooking.
It's the perfect spot to relax in a rocking chair with a good book, for dogs to snuggle, or to hang the laundry to dry above on a pulley dryer. Alternatively, there are plenty of modern electrical range cookers available with the good looks of the traditional Aga but with increased control and functionality.
19. Choose a real wood kitchen worktop
The beautiful, varying grain of real timber is the perfect complement to the weathered architectural features of a cottage kitchen and should be on your list when considering kitchen countertop ideas.
Revealing his key tips for creating a cottage kitchen, Adrian Bergman, senior designer at British Standard by Plain English, says:
'The beaded detail on our Stowupland doors sit perfectly in a cottage kitchen. We would suggest pairing the cupboards with a rustic wooden worktop to add warmth and texture. Choose one that weathers gracefully, Oak, or reclaimed Pitch Pine both work really well.' The wood will require periodic oiling, but the effect is beautiful and the worktop will stand the test of time.'
20. Introduce vintage textiles
Whether it's chintzy florals, classic ginghams or a hint of elegant French linen, vintage textiles are guaranteed to lend a homely feel to a cottage kitchen. Cottage curtain ideas are a great place to start when looking for inspiration for a pretty, cozy home.
Curtains in a pretty fabric are a brilliant way to hide white goods and a vintage floral tablecloth will certainly create that vintage country feel. A custom-made Roman blind at a window in a nature-inspired print to bring color and pattern to a space.
21. Create a cozy feel with a warm wall color
Cottage kitchens are all about capturing a cosy, homely atmosphere, and wall color can have a huge impact on the look, feel and atmosphere in a space. Kitchen color ideas can create a vibrant lift or promote a calming mood, or be used to brighten up a shady room.
With its subtle natural tones and soft mottled texture, this orange limewash from Ingilby Paints brings a warm cheery feel to this cottage kitchen without being harsh on the eye.
A natural, breathable formula, limewash is ideal for preserving original plasterwork in older cottages.
What is a cottage style kitchen?
Cottage kitchens are prized for their original features – whether stone flagstone floors, rustic ceiling beams or weathered inglenooks – it's these details that give cottage kitchens their unique charm and homely feel.
For more compact spaces, then our small cottage kitchen ideas will bring you more advice and ideas to help you create a characterful cottage kitchen.
What does cottage kitchen style mean?
Cottage style is a look that is warm, homely, compact and full of character. Of course, cottage kitchens' small proportions and irregular angles can present unique challenges, too, but there's no need to fret, as small can still be beautiful as Helen Parker, creative director at Devol explains.
'A cottage kitchen is small so everything you put in it should be very carefully chosen, there is no room for nasty appliances or ill-considered pots and pans,' she reveals. 'You don't have much space so make every vignette and surface look as beautiful as you can, spend money on choosing things that are absolutely perfect and beautiful. Never settle for "okay" in a cottage, it will end up looking mismatched and messy.'
Sign up to the Homes & Gardens newsletter
Decor Ideas. Project Inspiration. Expert Advice. Delivered to your inbox.
Pippa is Content Editor on Homes & Gardens online contributing to Period Living and Country Homes & Interiors print issues. A graduate of Art History and formerly Style Editor at Period Living, she is passionate about architecture, creating decorating content, interior styling and writing about craft and historic homes. She enjoys searching out beautiful images and the latest trends to share with the Homes & Gardens audience. A keen gardener, when she's not writing you'll find her growing flowers on her village allotment for styling projects.
With contributions from