How can I make my dining room feel cozy?
Discover expert advice on how to create the ultimate cozy dining space perfect for winter gatherings, plus beautiful looks to inspire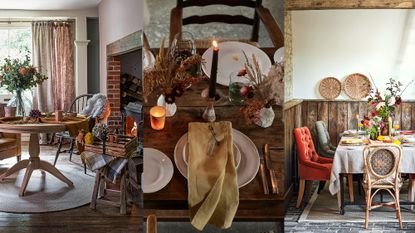 (Image credit: Future)
As the nights draw in and start to get colder, you may be wondering 'how can I make my dining room feel cozy?'
For many of us, one of the best things to do in the colder months is to enjoy hearty home-cooked meals with friends and family, so, as winter approaches, now's the time to start making preparations so that your dining room is as cozy and inviting as it can be.
To help you create the ultimate cozy entertaining space perfect for winter gatherings, we asked interior designers how they tune their dining room ideas for coziness.
How can I make my dining room feel cozy?
There are so many ways to make a dining room feel cozy, from warm dining room color ideas and ambient dining room lighting ideas to simple updates like dining table decor ideas.
'There many tricks of the trade that can be used to make a dining room cozy and warm. From architectural features, such as proportions, to material choices, to furniture selections, the options available to create a glamorous and warm environment are limitless,' says New York City-based interior designer Phillip Thomas. 'One of my favorite ways to create a cozy environment is through color.'
Interior designer Susan Sutter agrees explaining that, 'wall color is critical in setting the feel for the space. We prefer to use warmer paint tones like a dark slate gray or taupe,' she says.
However, for Amy Forshew of Proximity Interior Design, 'wallpaper is always the best option for making a dining room feel cozy. Texture and pattern can wrap a room around you,' she adds.
While dining room wall ideas such as paint and wallpaper undoubtedly set the mood for the space, it's important to note that a cozy room often starts with a well-thought-out layout. Too sparse and the room can feel cold and uninviting, and too cluttered and it can make guests feel uneasy, so it's important to think carefully about this if you are embarking on a new dining room design.
Whether you have a modern dining room or a traditional dining room, below we share a host of inspiration and adivce on creating the ultimate cozy dining space.
1. Decorate with rich, warm colors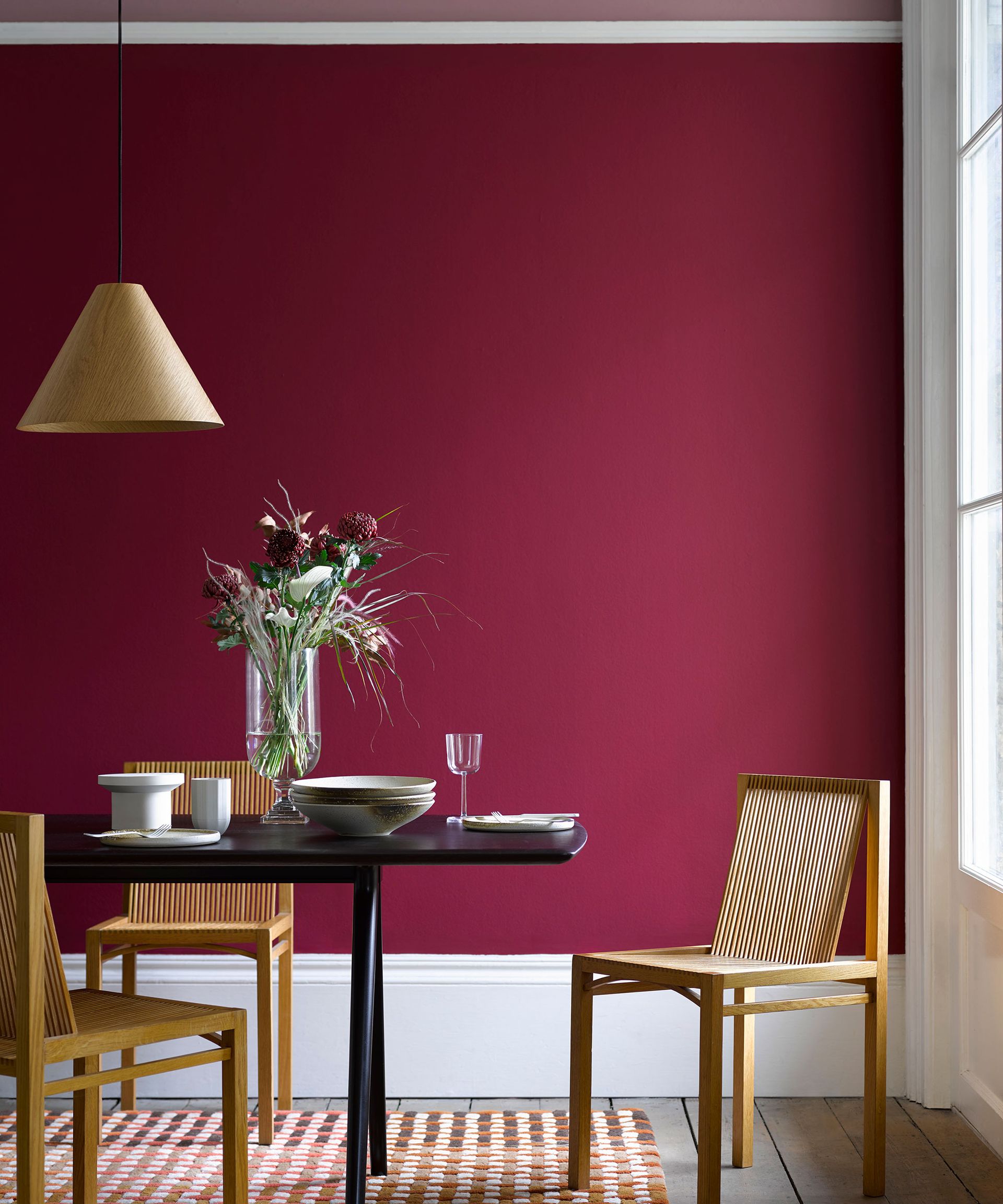 Color is a great mood enhancer and the dining room paint ideas you choose will have an instant impact on the feel of the space. For ultimate warmth and coziness go for rich, earthy tones say the experts.
'The darker the color the more light it absorbs – so reds, plums and terracottas will visually bring walls inwards making a room look warm and inviting,' explains Justyna Korczynska, senior designer at Crown.
Interior designer Phillip Thomas agrees, stating that, 'a saturated color, like a deep aubergine or raspberry can be like a warm embrace.'
'Orange tones are particularly effective at stimulating the appetite and conversation so consider terracotta, rust and burnt sienna with a complementary shade of teal, navy or aqua,' adds Simon Temprell, interior design manager of Neptune.
Or, for a traditional decorating idea, try a rich red dining room suggests Emma Deterding, founder of Kelling Designs. 'For me, red really suits dining rooms. It makes the perfect backdrop for beautiful feasts with loved ones, and looks fabulous at night time with candlelight. It will really set the atmosphere for meal times.'
2. Factor in plenty of lighting options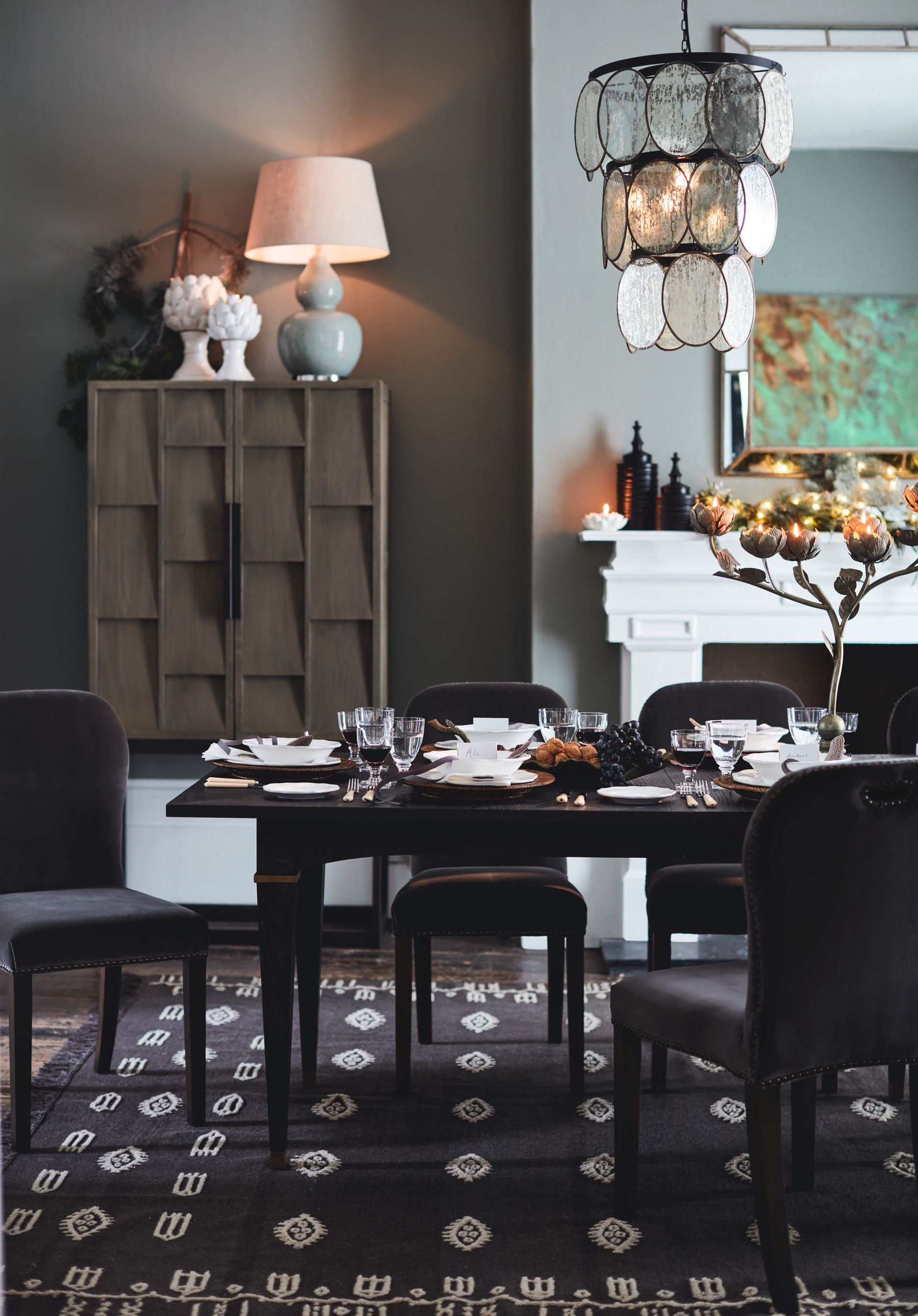 Dining room lighting is an important part of any dining room design but is even more so when it comes to coziness.
'I'd place a low-hanging pendant light above the dining table, and decorate the rest of the room with a couple of table lamps to add extra warmth to the space,' advises Sue Jones, co-founder of Oka. 'For the tabletop, nothing beats candles; they cast a lovely warm glow, and they're flattering too – everything, and everyone, looks better by candlelight.'
Louise Wicksteed, design director at Sims Hilditch agrees that a layered lighting scheme is the way to go and adds that, 'wall lights allow the ambiance in the room to be altered as required, creating a soft and inviting space throughout the day.'
3. Think carefully about layout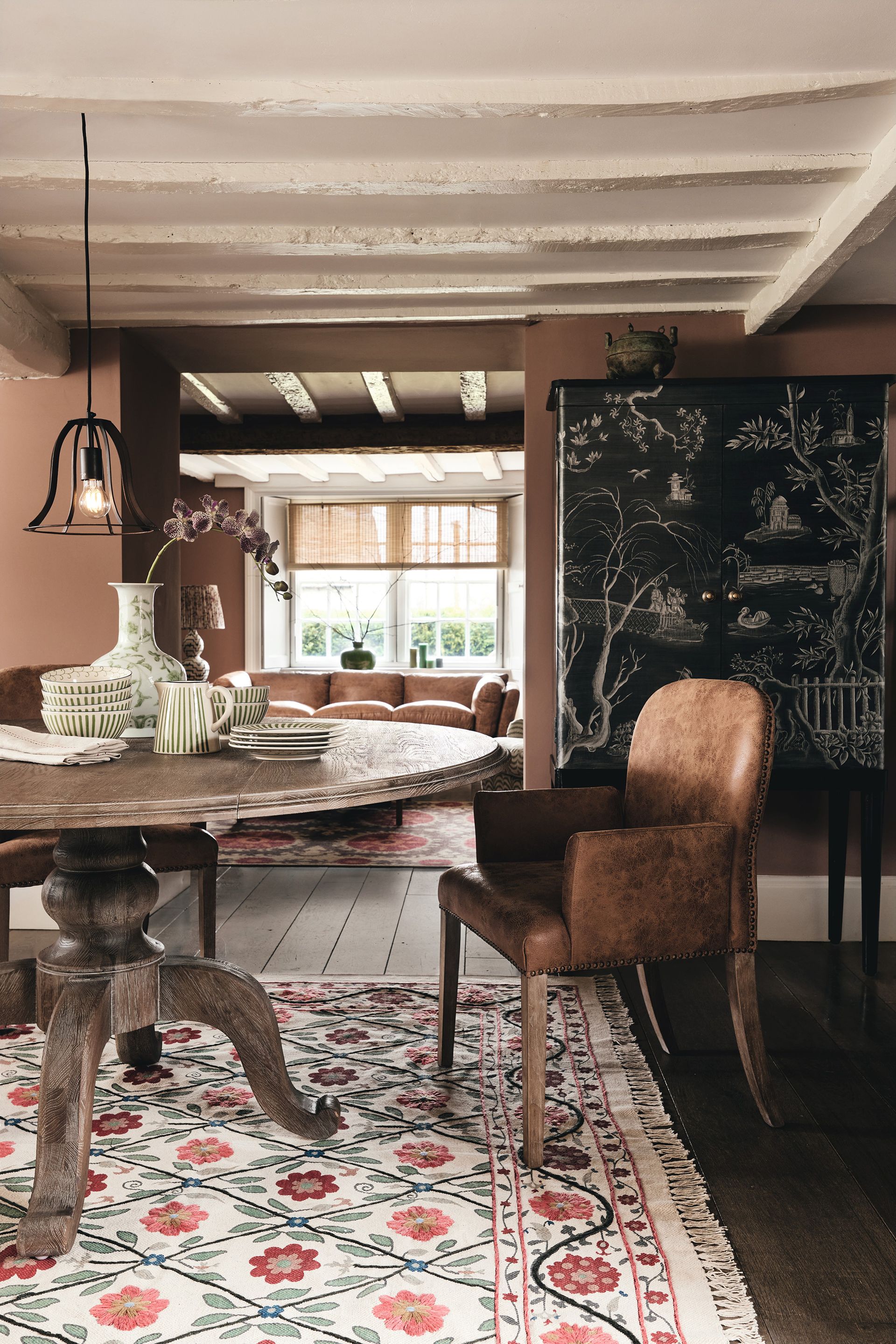 Whether you have a small dining room or a large dining room, when it comes to making a dining room feel cozy, Simon Temprell highlights how the layout and furniture you choose will have a big impact on the feel of the room.
'Don't leave your dining table stranded in the center of the room with too much space around it as this will feel uncomfortable for dinner guests. If the room is large, make sure you add consoles, sideboards or perhaps a bar to help make the room feel fuller and more friendly.'
To create the perfect layout be sure to familiarize yourself with what to put in a dining room besides a table and check out what the experts had to say when we asked them 'how big should a dining table be compared to a room?'
4. Decorate with natural materials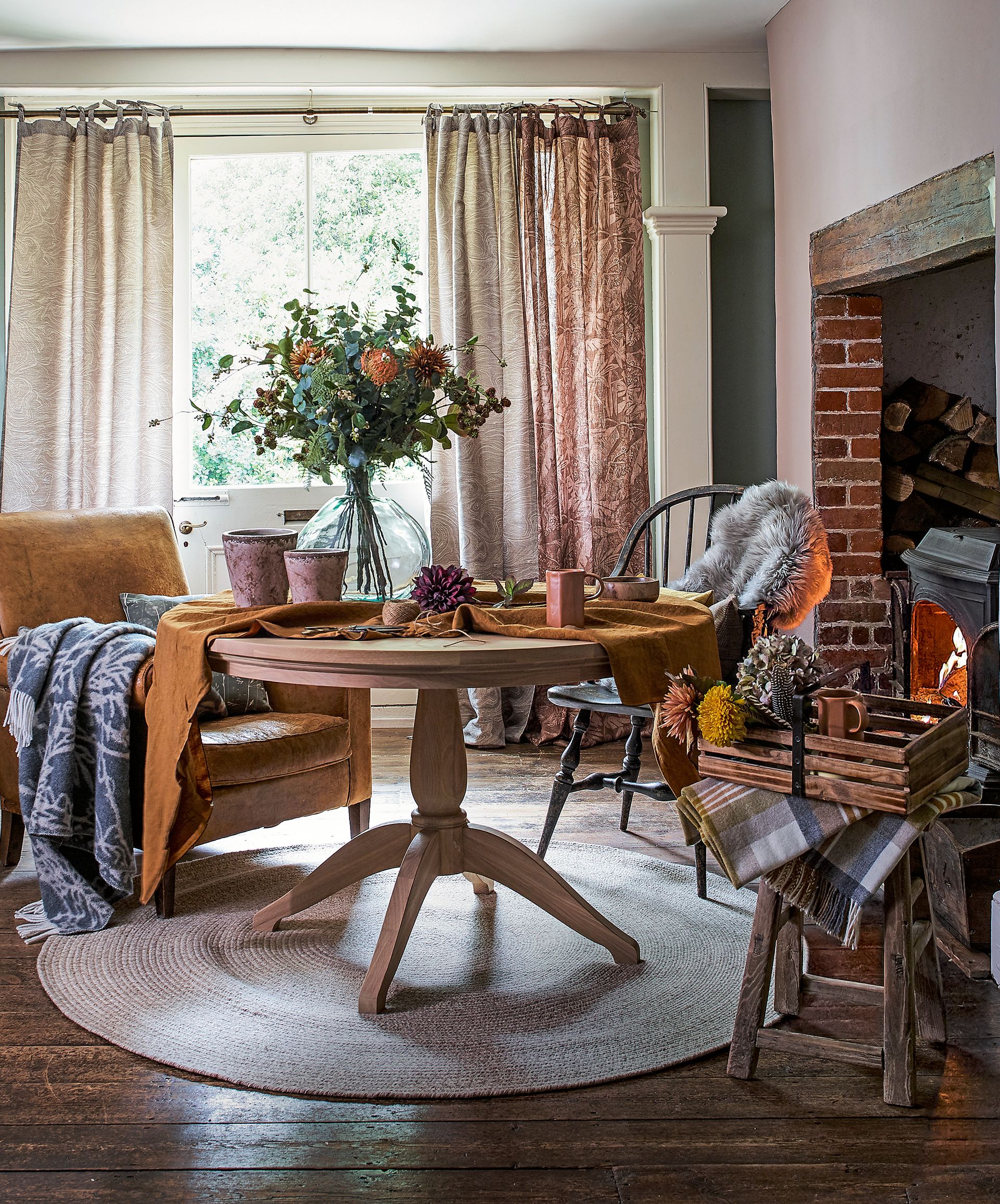 Decorating with natural materials such as warm, honeyed timber, soft, aged leather and relaxed linen is a wonderful way to bring warmth and texture to a dining space.
Keep this in mind when choosing dining room furniture, and when it comes to choosing that all-important dining table, 'stay away from stone and glass tops if you want a warm, cozy vibe. Go with a matte wood finish over polished, and consider a unique pattern like chevron or herringbone,' suggests Noelle Isbell, founder of Noelle Interiors.
'We like to use natural materials, textures, and colors to bring depth and warmth to dining rooms,' adds Susan Sutter. 'For texture, we often specify custom tables made from natural woods like walnut and reclaimed barn wood, use thick natural wool in dining room rugs and linen drapery to help tamper noise and to make the room feel warm and welcoming.'
Our selection of rustic dining room ideas will give you more inspiration.
5. Don't forget window treatments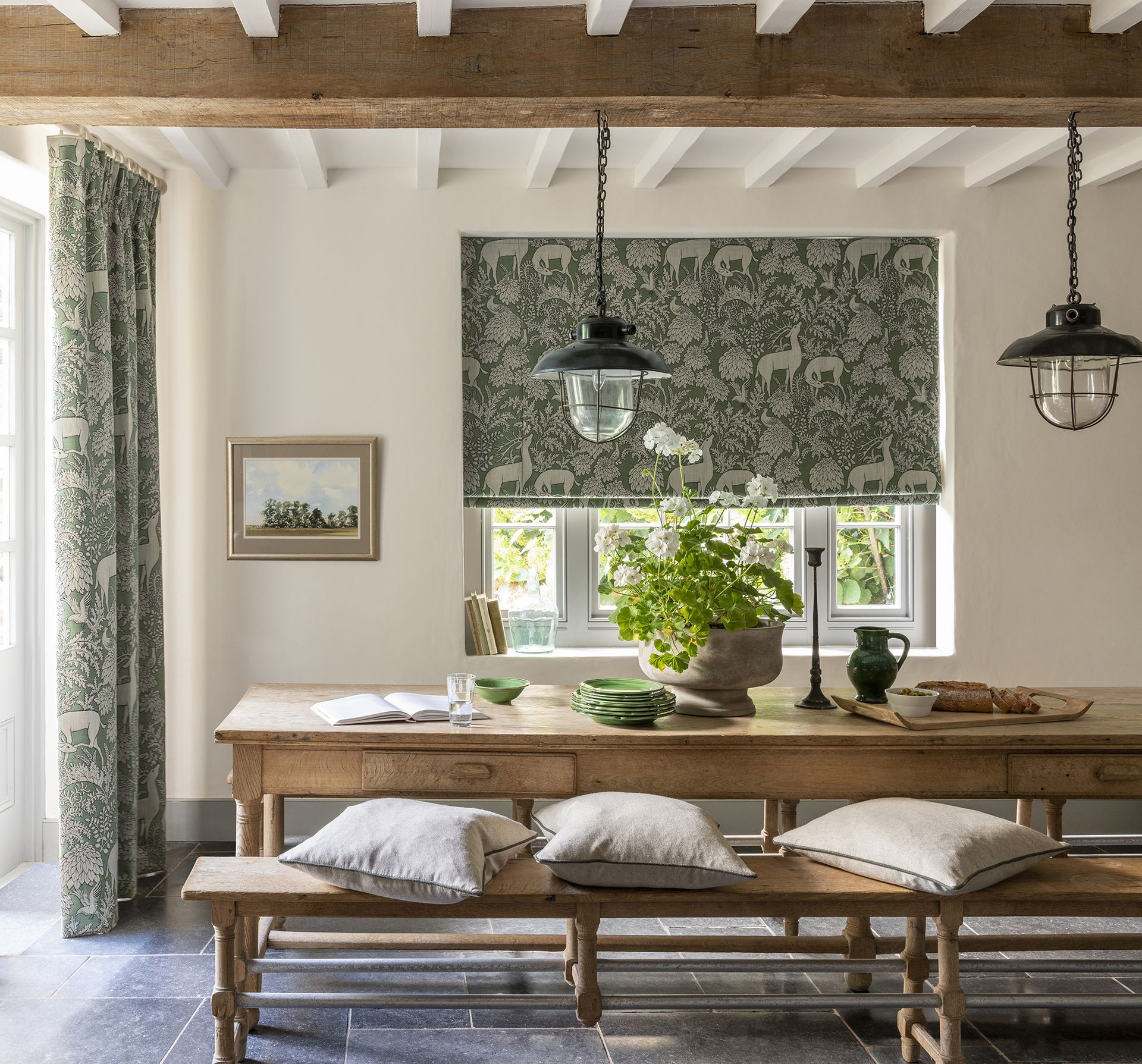 Having a cold, drafty dining room is no good if you want to make guests feel comfortable and relaxed. Investing in lined dining room curtain ideas or window blind ideas in thick fabrics will not only help insulate the room and make it feel warm and cozy, but it will also help to muffle sound and gives the opportunity to showcase beautiful fabrics.
'Heavy curtains can help to soften and warm a dining room, both physically and visually,' says Simon Temprell. 'For the ultimate in fall/winter coziness consider using velvet curtains as a way to cocoon yourself from the outside world,' he adds. Alternatively, why not try a lovely woodland design like this Balmoral fabric in Olive by Warner House?
6. Decorate with wallpaper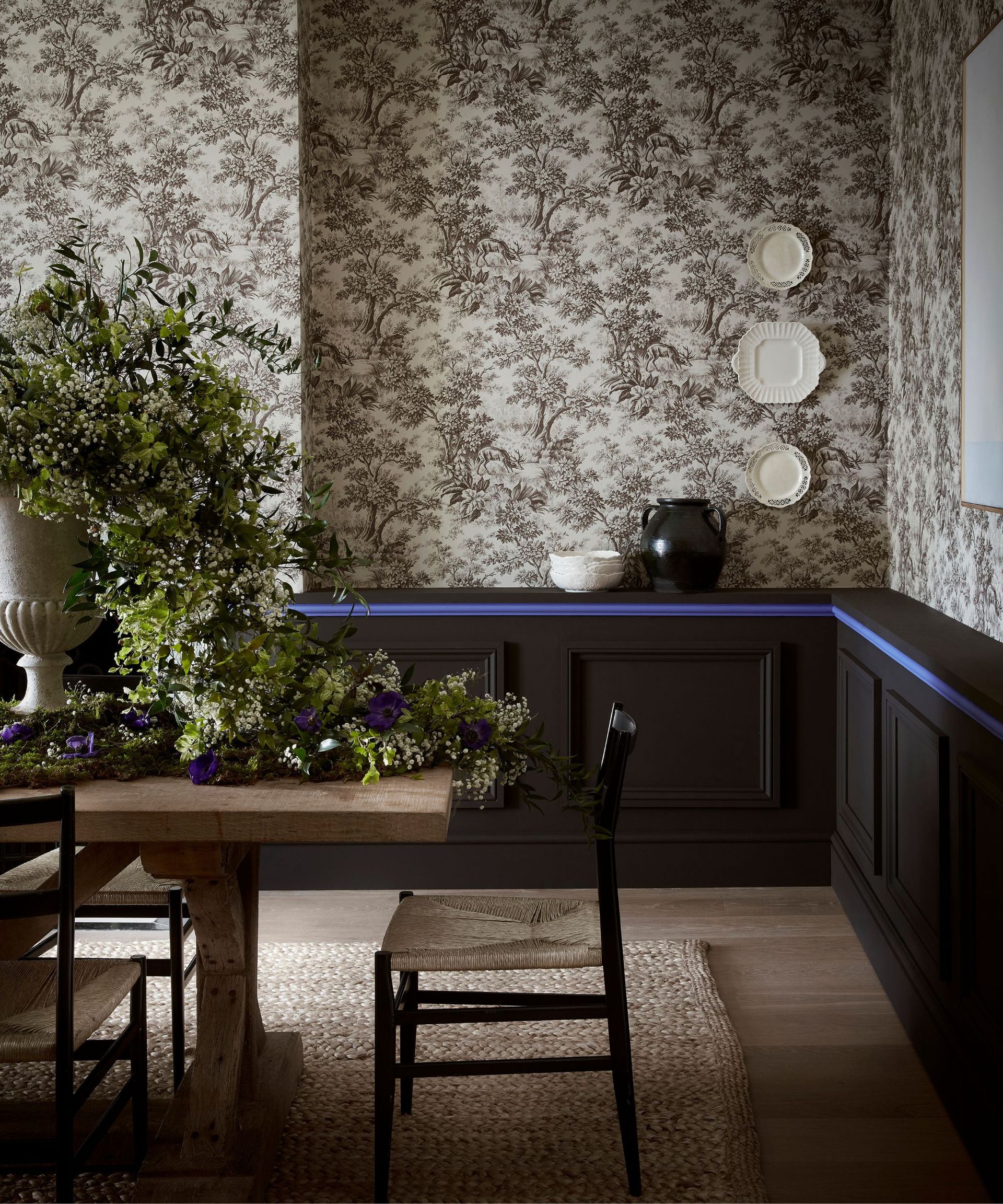 Dining room wallpaper ideas are a fabulous way to bring wow-factor and a sense of occasion to entertaining spaces, but they can also make dining rooms feel cozier say experts.
'Wallpaper is not typically used in a dining room, but it's a really unique and fun way to make the room cozy. Dining rooms are usually enclosed spaces, and wallpaper envelops the entire room even more,' says interior designer Anne Hepfer. 'Depending on which wallpaper you choose, you can change the entire mood of the room. For a cozy mood, I would go with a darker wallpaper.'
When choosing wallpaper for a dining room be sure to think about scale says Ruth Mottershead, creative director of Little Greene. 'Opt for a smaller scale where you have low ceilings and larger scale more dramatic designs where you have high ceilings or large expanses of wall. If you have paneling within the room, fill the panels with wallpaper and paint the woodwork in a contrasting hue for a cohesive and layered interior.'
7. Choose comfortable seating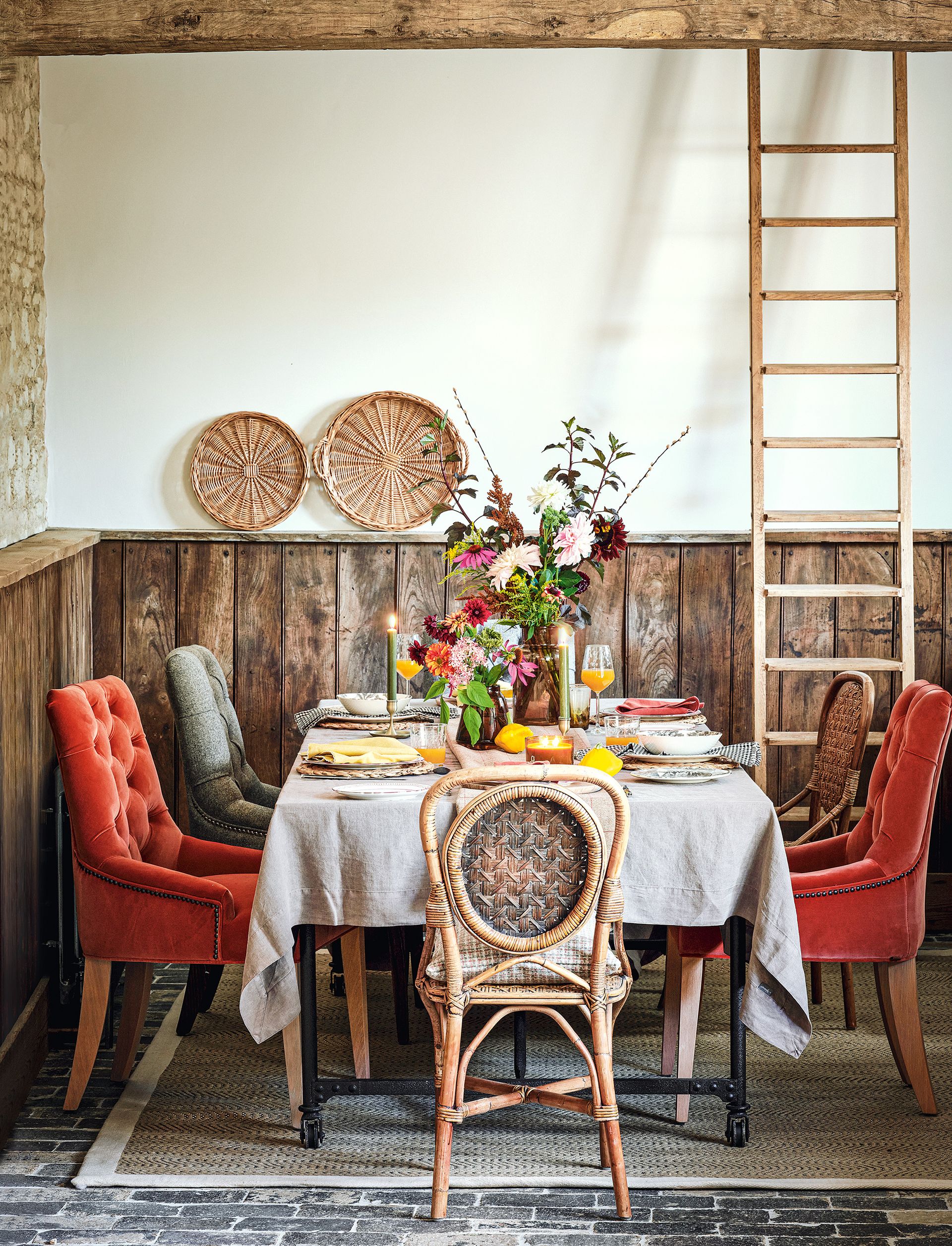 Seating is one of the most important decisions to make when designing a dining room. If comfort and coziness are priorities for you, and you're wondering 'what kind of seating is best for a dining room?' then you can't go wrong with upholstered dining chairs.
'Typically the best dining chairs are upholstered with a rounded shape. They will curve to your back and create comfort for your guests,' says Amy Forshew of Proximity Interior Design.
8. Layer luxurious textures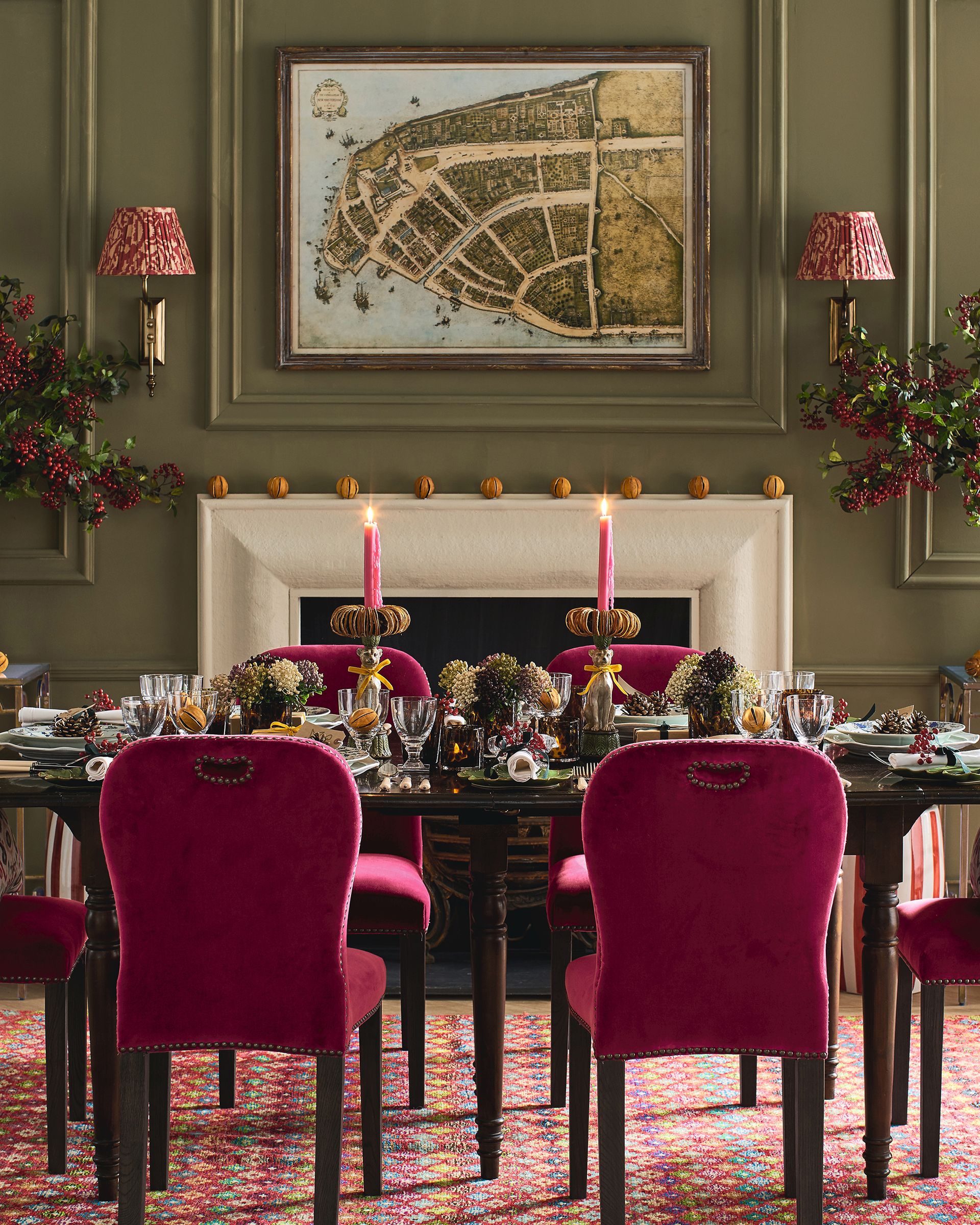 'I love to mix lots of different textures and warm colors together. Jewel-toned velvets, paired with rustic wood and jute, create a welcoming effect that feels perfect for the colder months,' says Sue Jones when asked for her cozy dining room tips. For her, velvet decor ideas are a particularly good way to add warmth and texture.
'You also get much more profound tones with velvet than you do with other materials, so they're perfect for a real depth of color. Velvet also has the ability to reflect nearby light, so it will add a warm and cozy glow to the room – perfect for the colder season.'
9. Style the table with a fall display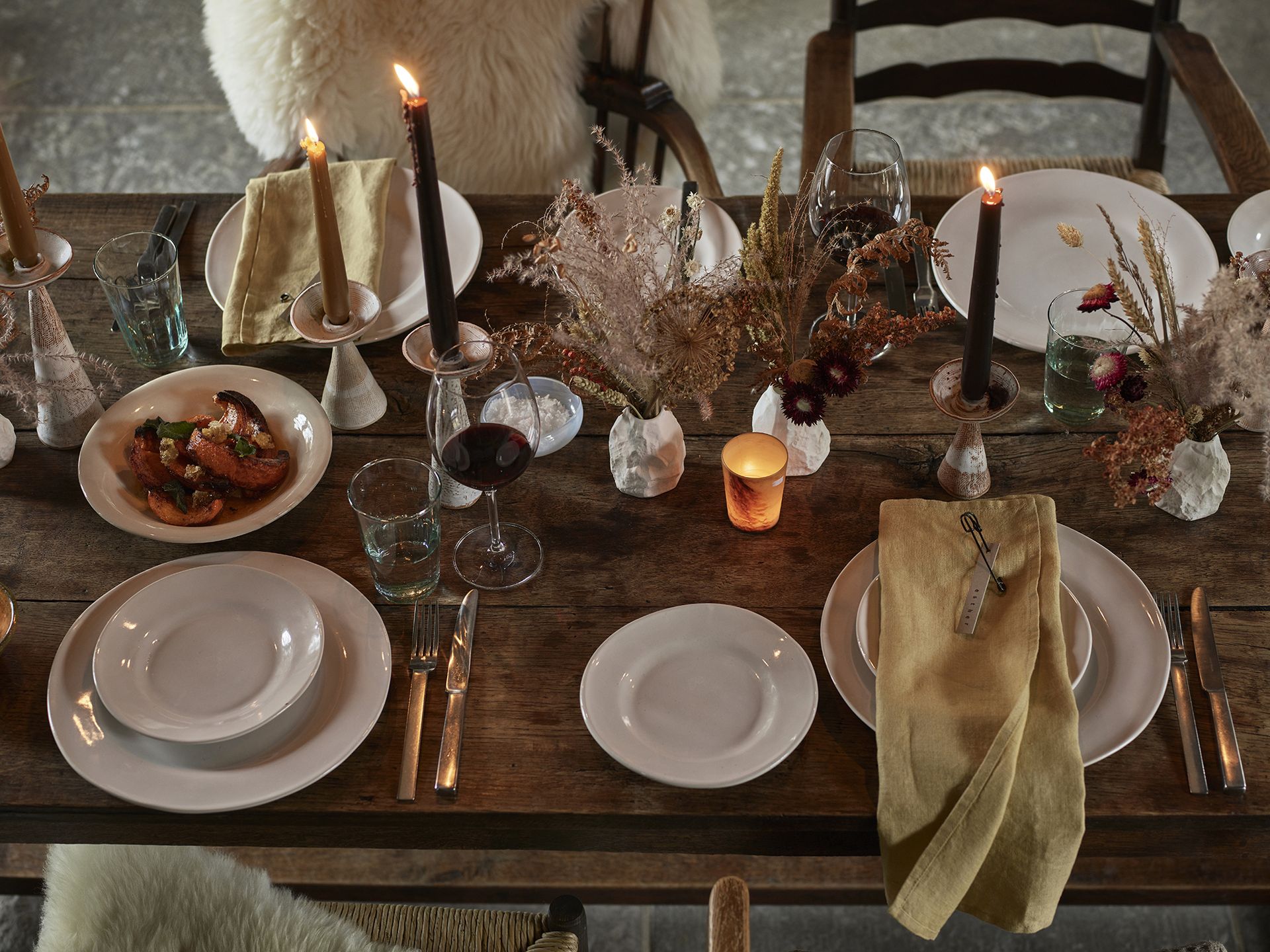 You don't need to redecorate your dining room to make it feel more inviting – simply introducing fall table decor ideas is a quick and easy way to bring a cozy, rustic feel.
For a simple yet stylish look, dot about plenty of warm-colored candles in ceramic candle holders and decorate with dried flowers in rustic vessels. Here linen napkins in a rich ocher shade also add to the cozy fall feeling.
How can I make my dining room cozy fast?
To make your dining room cozy quickly, simply lay a large area rug beneath the table. It needs to be big enough so that all chair legs are on it even when pulled back to allow diners in or out of their seat.
Sign up to the Homes & Gardens newsletter
Decor Ideas. Project Inspiration. Expert Advice. Delivered to your inbox.
Pippa is Content Editor on Homes & Gardens online contributing to Period Living and Country Homes & Interiors print issues. A graduate of Art History and formerly Style Editor at Period Living, she is passionate about architecture, creating decorating content, interior styling and writing about craft and historic homes. She enjoys searching out beautiful images and the latest trends to share with the Homes & Gardens audience. A keen gardener, when she's not writing you'll find her growing flowers on her village allotment for styling projects.