10 small bedroom layout rules designers use – for a flawlessly functional space that feels bigger, too
These simple rules aren't just practical, but ensure a stand-out space, too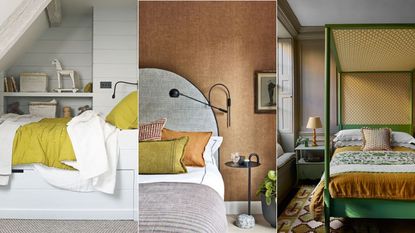 (Image credit: Carolyn Barber / Gunter & Co / Polly Wreford )
Working with a small floor plan can be a challenge if you don't have a designer's help, but these expert small bedroom layout rules are a great starting point for your space.
There are so many small bedroom layout ideas to choose from that it can be hard to know where to start. But getting the layout of small bedrooms right is essential, not only to create a space that is practical and ergonomic, but to maximize space, too.
Here are the 10 rules professional designers always follow when laying out smaller bedrooms.
Small bedroom layout rules
'When decorating a smaller bedroom, it's important to approach the space with a minimalist mindset. Prioritize functionality over form and focus on creating a sense of openness,' advises Artem Kropovinsky, interior designer and founder of Arsight, an interior design studio based in New York. 'It is also important to consider the natural light and how it can help to make a small bedroom look larger.'
1. Lay down a rug to define the floor space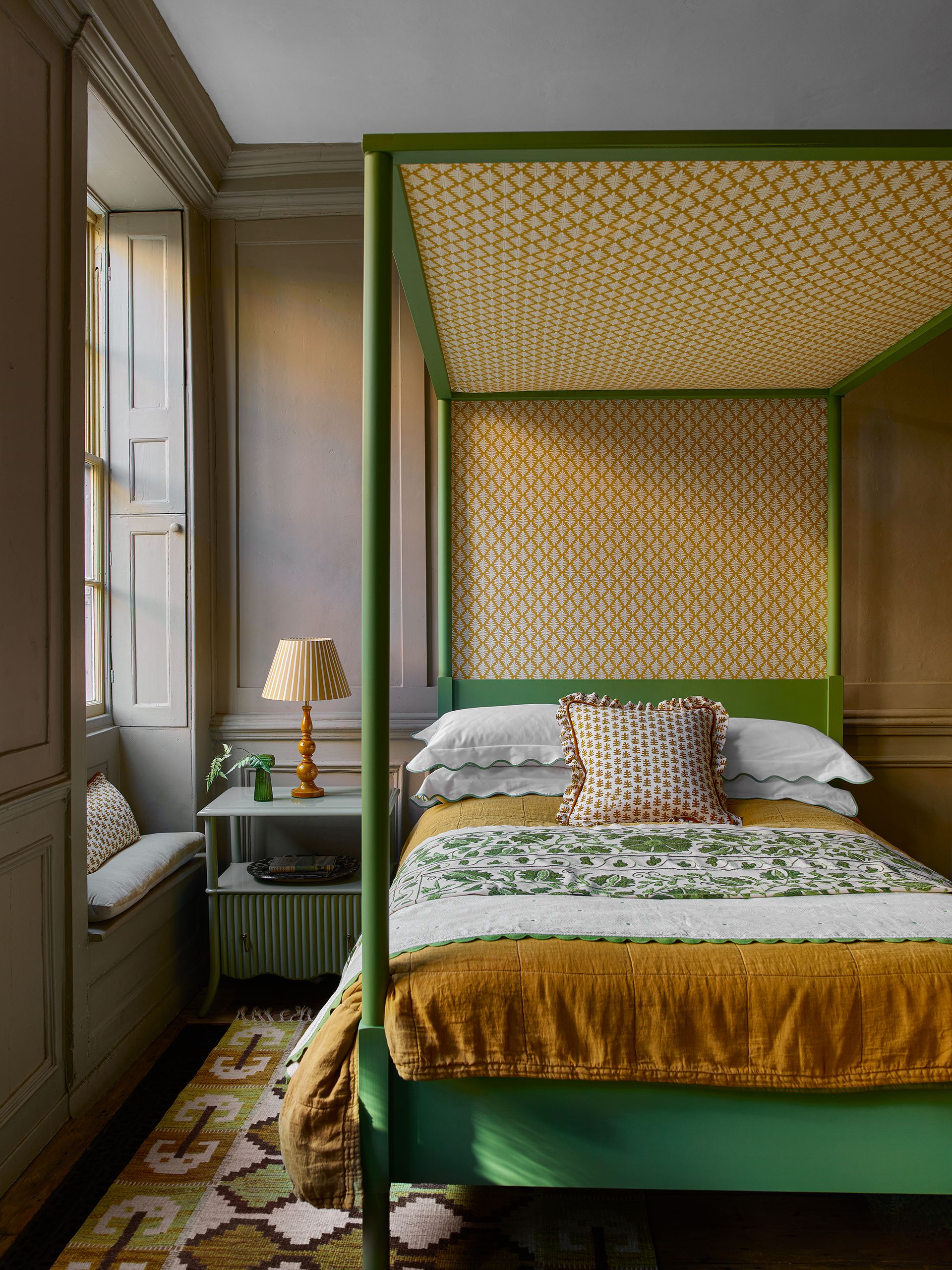 Adding a large area rug can help to make a smaller bedroom look more expansive, though choosing the right size area rug for a bedroom in this case is important.
'Think about proportion – make sure your rug is proportionate to the furniture and space. You don't want a very large rug with small furniture and vice versa – a good guide to follow is that you want your rug to be larger than the largest piece of furniture. The longest side of the rug should always be longer by at least 6 inches than the largest piece of furniture,' says Therese Germain, Vice President of Product, Ruggable.
'A rug is non-negotiable to me,' says Susie Atkinson, designer and founder of Studio Atkinson. 'I always consider having something soft underfoot when you get out of bed – either a rug or a carpet.'
A large bedroom rug that's a foot shorter all around than the bedroom's footprint, showing off the flooring beneath can trick the eye into making the space feel bigger.
Susie Atkinson is an experienced interior designer working in the US, UK and beyond. Not a fan of passing trends or fashion, Susie uses color, natural materials and textures bring to life the interiors she and her team works on.
2. Position the bed first but don't be ruled by convention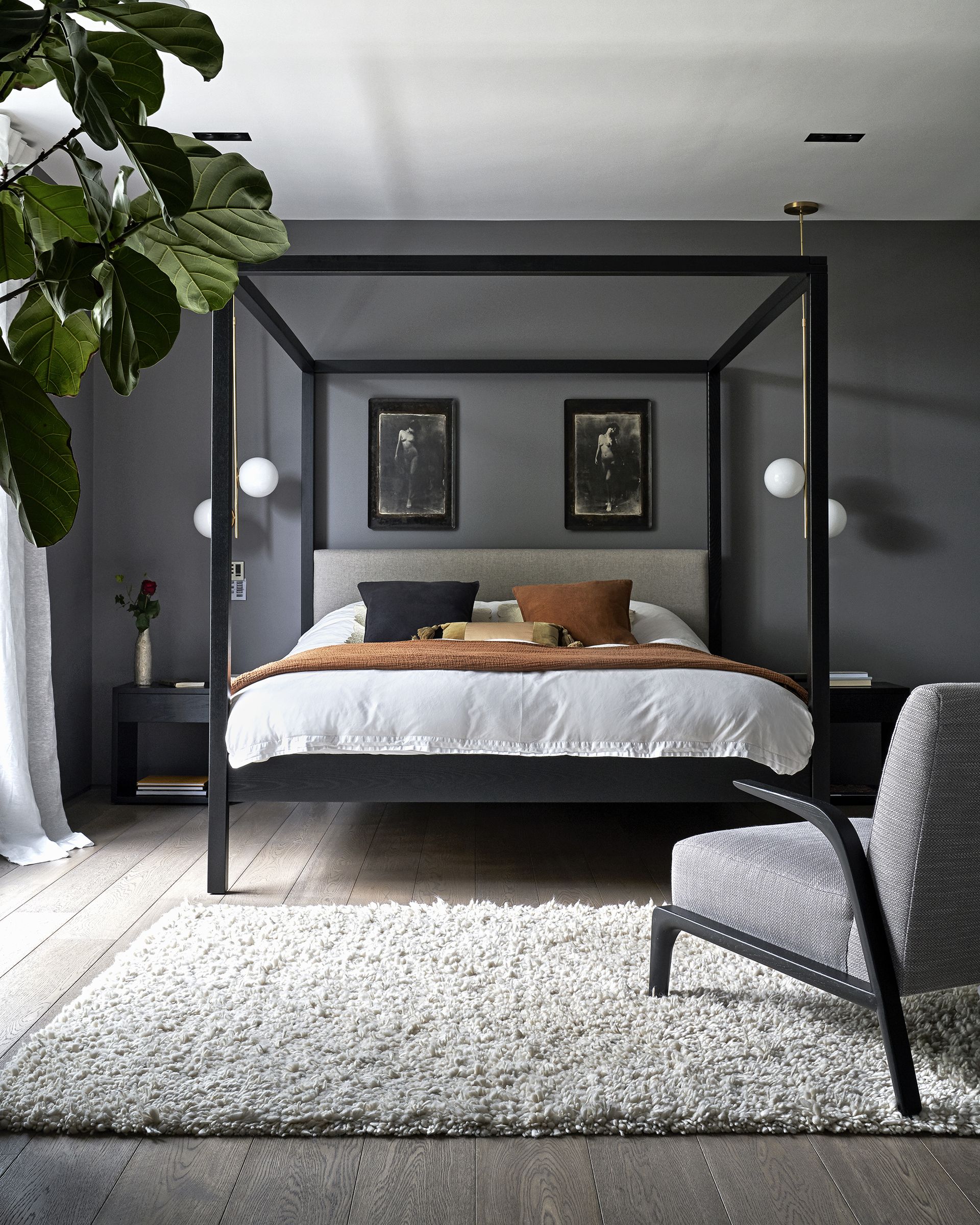 When arranging a small bedroom, 1stDibs50 designer Brigitta Spinocchia Freund always prioritizes the bed and bedhead when starting in the space. 'These key pieces are needed to create a warm and interesting environment,' she says.
But what's the best small bedroom layout rule to follow for bed placement? According to Feng Shui bedroom layout, 'A bed should always be placed behind the center line of the door to the room. It should be in the Command Position, which is the widest view from the door on a diagonal of the space,' explains Feng Shui expert Melissa Waite Stamps.
'It will be the furthest back left or back right area of the room. However, it can sometimes be in the back center of the room but you should never place a bed under a window because it makes Chi vulnerable to unlucky influences.'
However, sometimes putting a bed beneath a window can dramatically increase the circulation of a small bedroom. It's a device that Queer Eye's Bobby Berk uses regularly and successfully, though a low, solid headboard and good quality, thick bedroom curtains can both mitigate negative Feng Shui and give you the cozy feel a bedroom layout should promote.
'I also like to have a bed facing a window,' says Susie Atkinson, and indeed, if this allows for a wonderful view to wake up to, it can be a great solution, though in larger bedrooms, you may need to advance the bed position into center of the room, using an extra wide headboard, a half-wall or run of closets behind the head of the bed to make this feel purposeful.
Two beds in a guest bedroom, shared bedroom or twin bedroom, will often be best positioned where a double bed would naturally be placed, with a bedside table or wide chest of drawers between them. However, positioning them on either side of a central window instead will potentially make the space feel wider.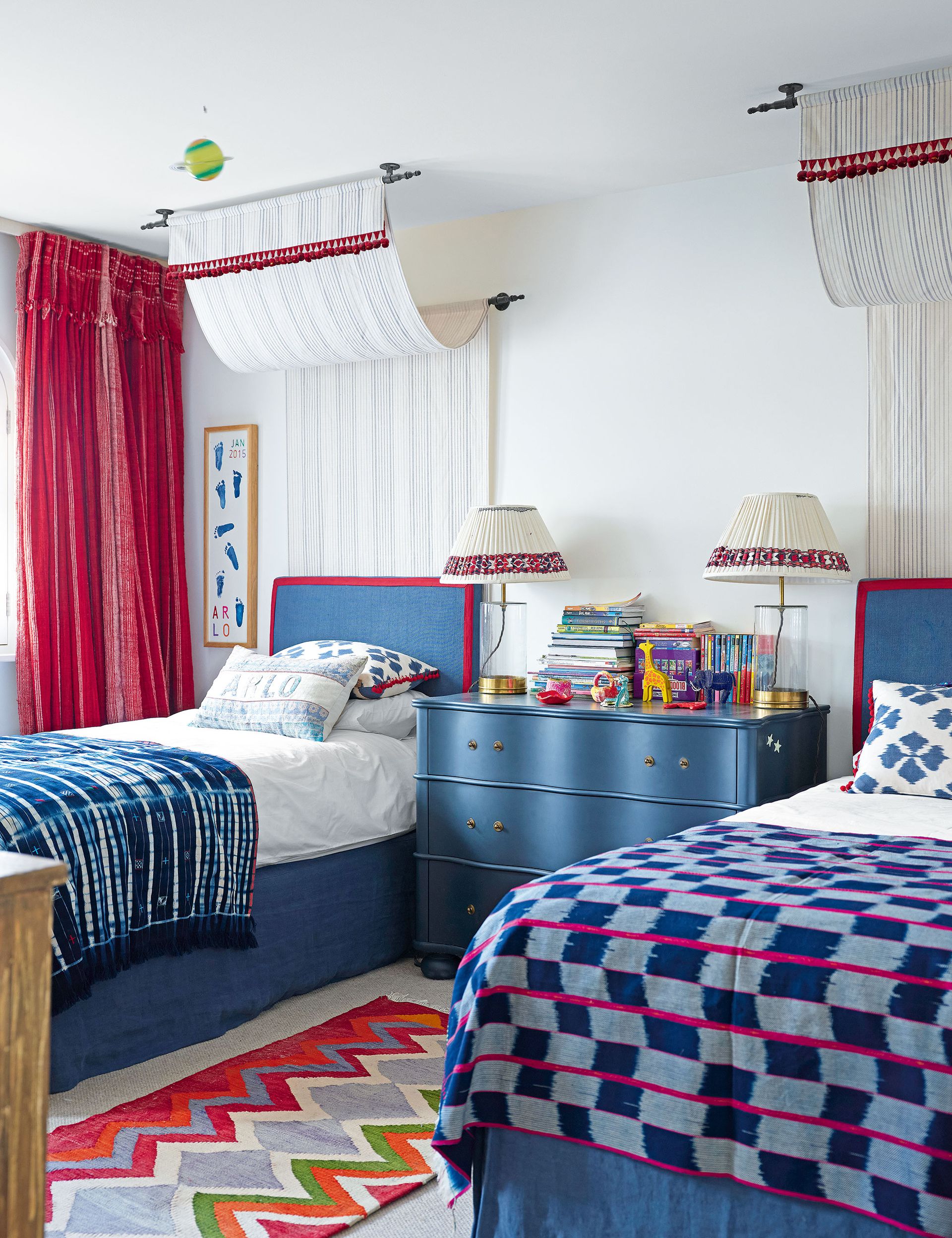 3. Don't over-furnish with heavy-looking pieces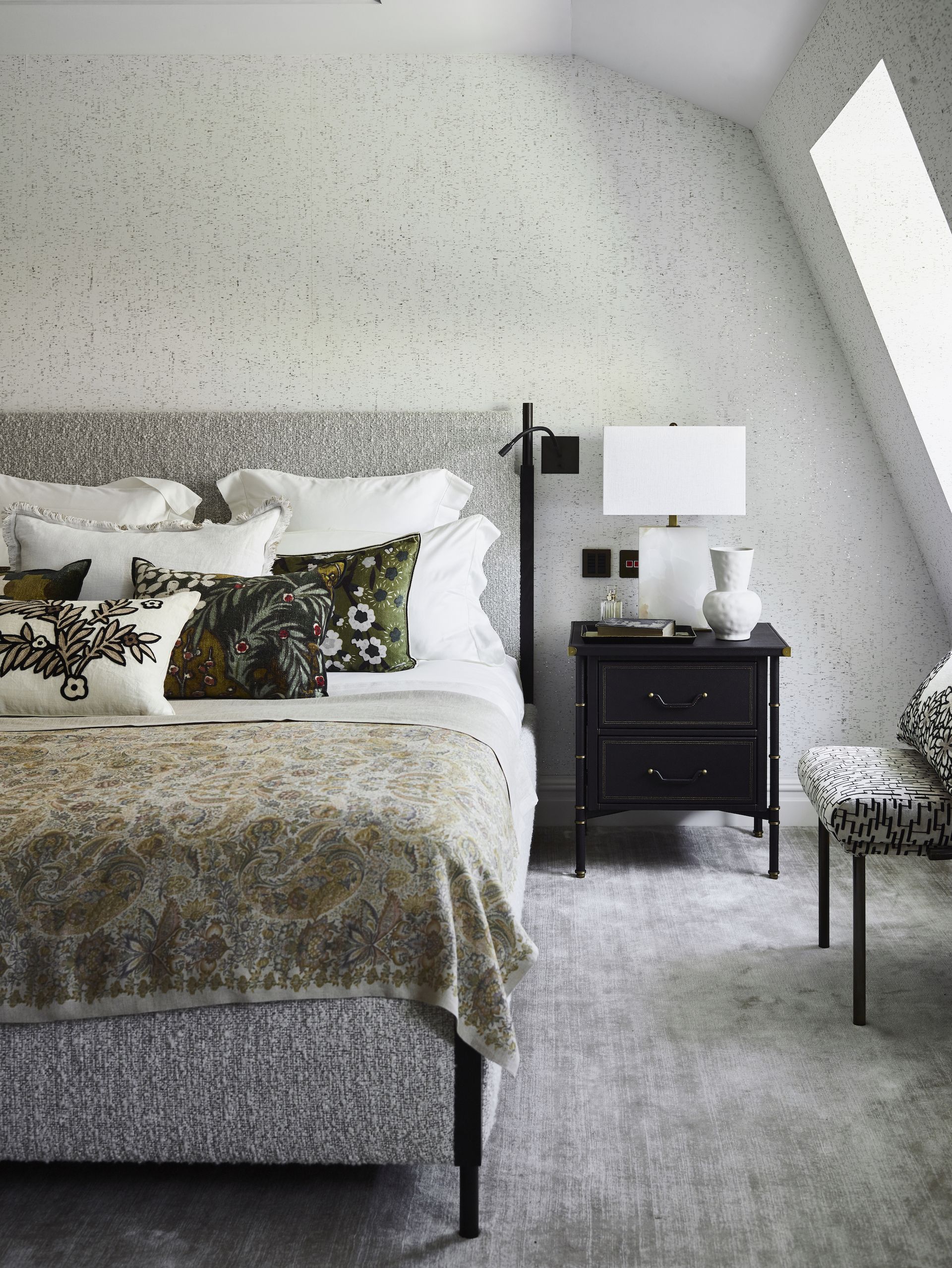 You may not have the luxury of buying brand new furniture to suit the proportions of your space, but know that proportion is everything. Small bedrooms do not shine when they are filled with bulky, large pieces that are too tall for their ceiling height, or too deep or wide for that floor space available.
The key word in the last paragraph? 'Filled'. So, if you do have quite visually heavy bedroom furniture (think: imposing, dark pieces), see if you can whittle it down to the absolute must-haves so that your space is at least minimally furnished rather than cluttered up with it.
'A common bedroom layout mistake that makes a bedroom feel smaller is overcrowding the space with too much furniture, choosing furniture that is too large for the space, and not leaving enough open floor space,' says Artem Kropovinsky of Arsight.
'Avoid bulky furniture and opt for pieces with clean lines and simple designs.'
4. Choose bedside tables that show off the baseboards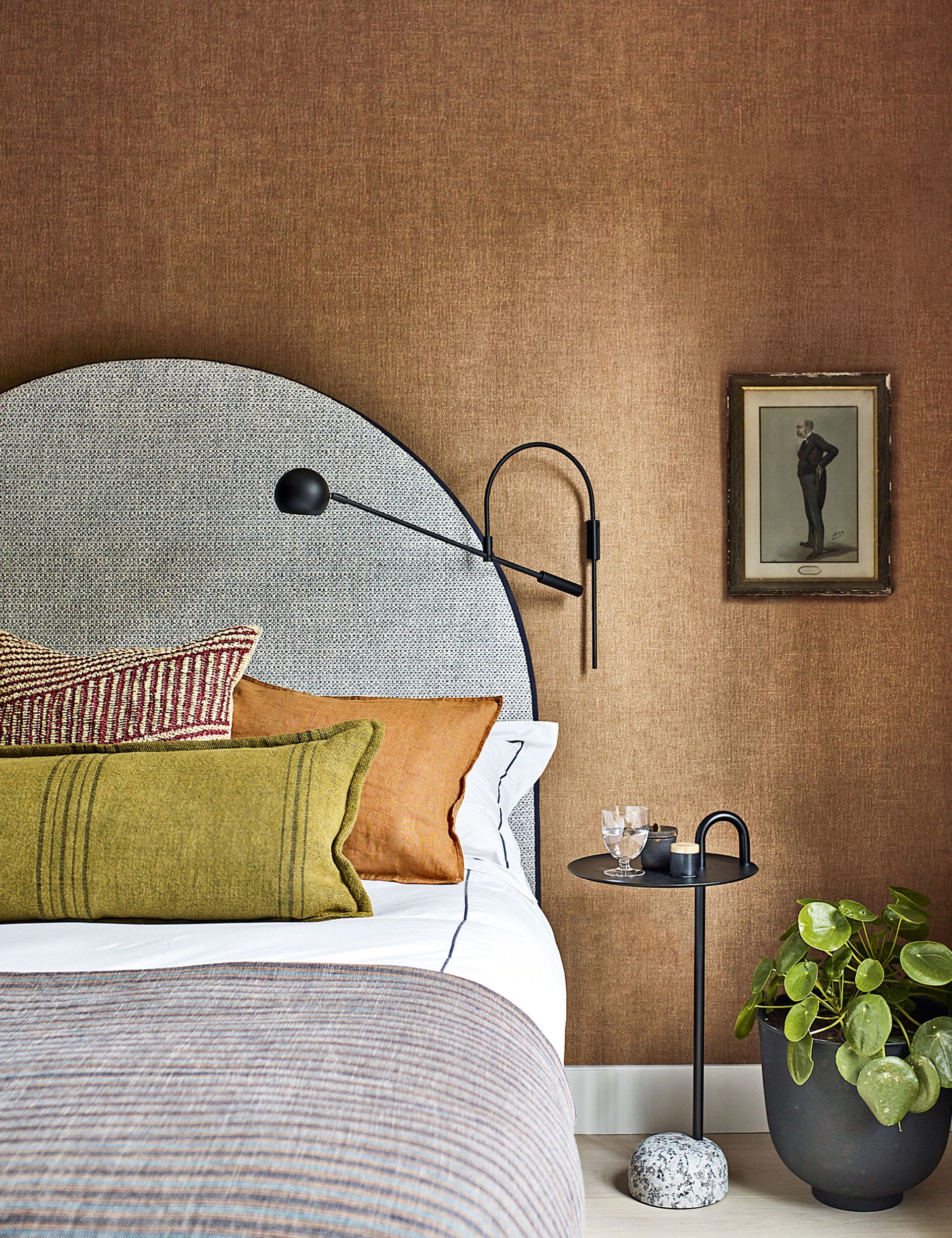 As well as whittling down furniture to the minimum, and picking pieces that are in proportion to the room, it's vital to use tricks that designers who are used to working with tight spaces, such as small bathrooms, regularly employ. These guys design with wall-hung sanitaryware so that you can see right to the edges of the bathroom, with the result that the space feels larger.
'In a small bedroom, you may consider using wall-mounted shelves instead of bedside tables,' advises Susie Atkinson. However, if you are looking to include bedside tables, think slim legs that show the wall behind.
'In a smaller bedroom this may be limited to a single table on one side of the bed, or two smaller pieces on either side that don't overwhelm the scheme,' says Katie Lion, senior interior designer at Kitesgrove.
5. Incorporate hidden storage solutions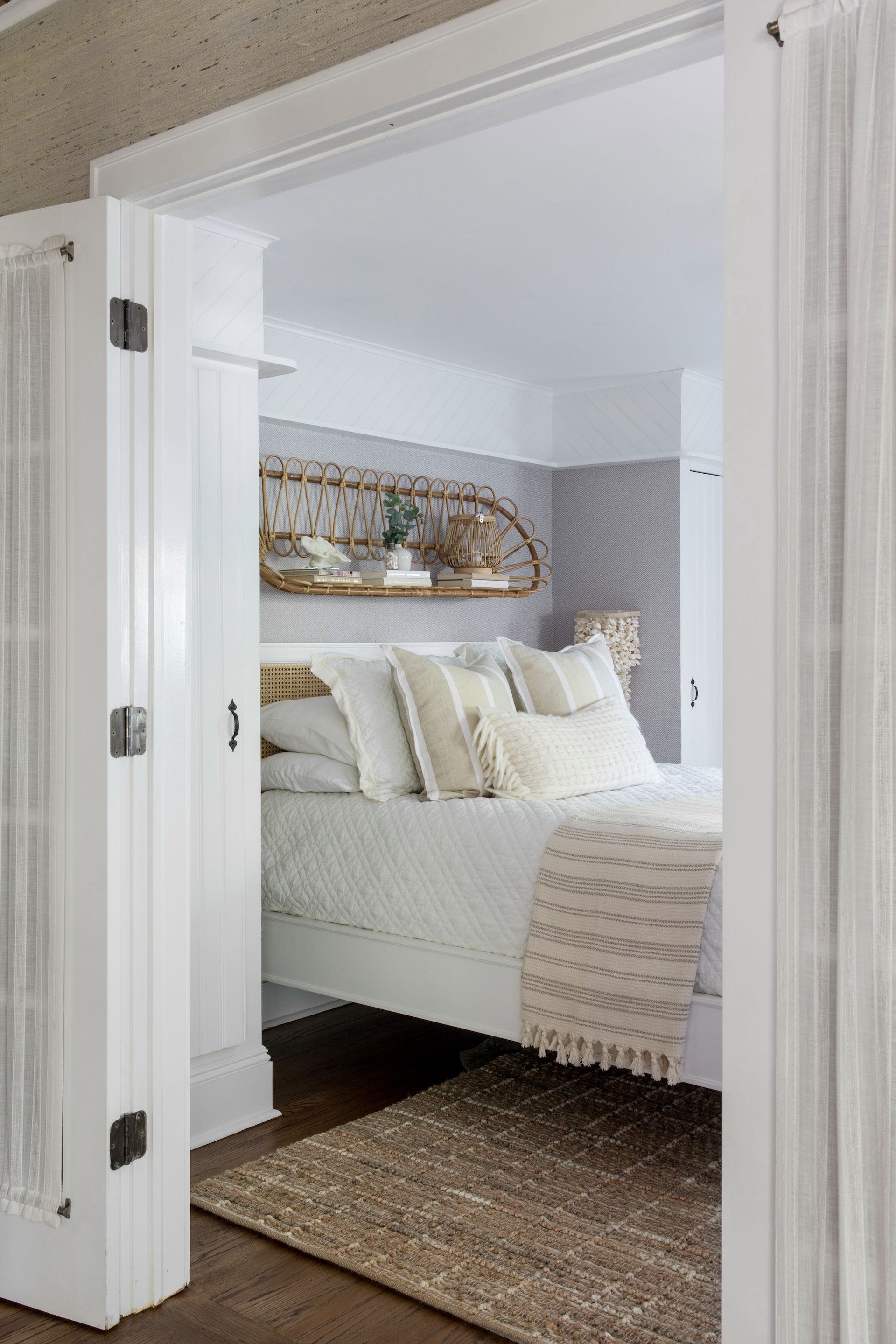 Well thought out small bedroom storage ideas are a must. Considering pieces for versatility and multi-functionality are two of the most important small bedroom layout rules. This will be largely dictated by your room's shape and layout.
'Hidden storage is key for small spaces,' reminds Katie Lion of Kitesgrove, 'whether that be a small walk-in closet instead of a freestanding unit, or under bed storage rather than an ottoman, to ensure there is plenty of space for storing your belongings without taking up what is already limited space.'
For really small spaces, overbed storage can hideaway out of season clothes, or take the place of bedside tables, as above. Or you can build an inverted U-shape storage system, with closets either side of the bed and storage cabinets over the top.
In awkward spaces, made-for-purpose storage is the best option. 'Consider building in a bed (as below) to maximize the space of the room, with drawers underneath,' Susie Atkinson suggests.
Ottoman ideas and window seat ideas are great options if you have a little more floor space, allowing for seating and storage hidden inside, plus the chance to introduce more pattern and color to the room. 'If you have space for an ottoman or sofa in the space, place this at the end of a bed or beneath a window and ensure that it is multifunctional,' adds Artem Kropovinsky. 'Invest in multifunctional furniture like a storage ottoman or a chest that could serve as a surface and storage space.'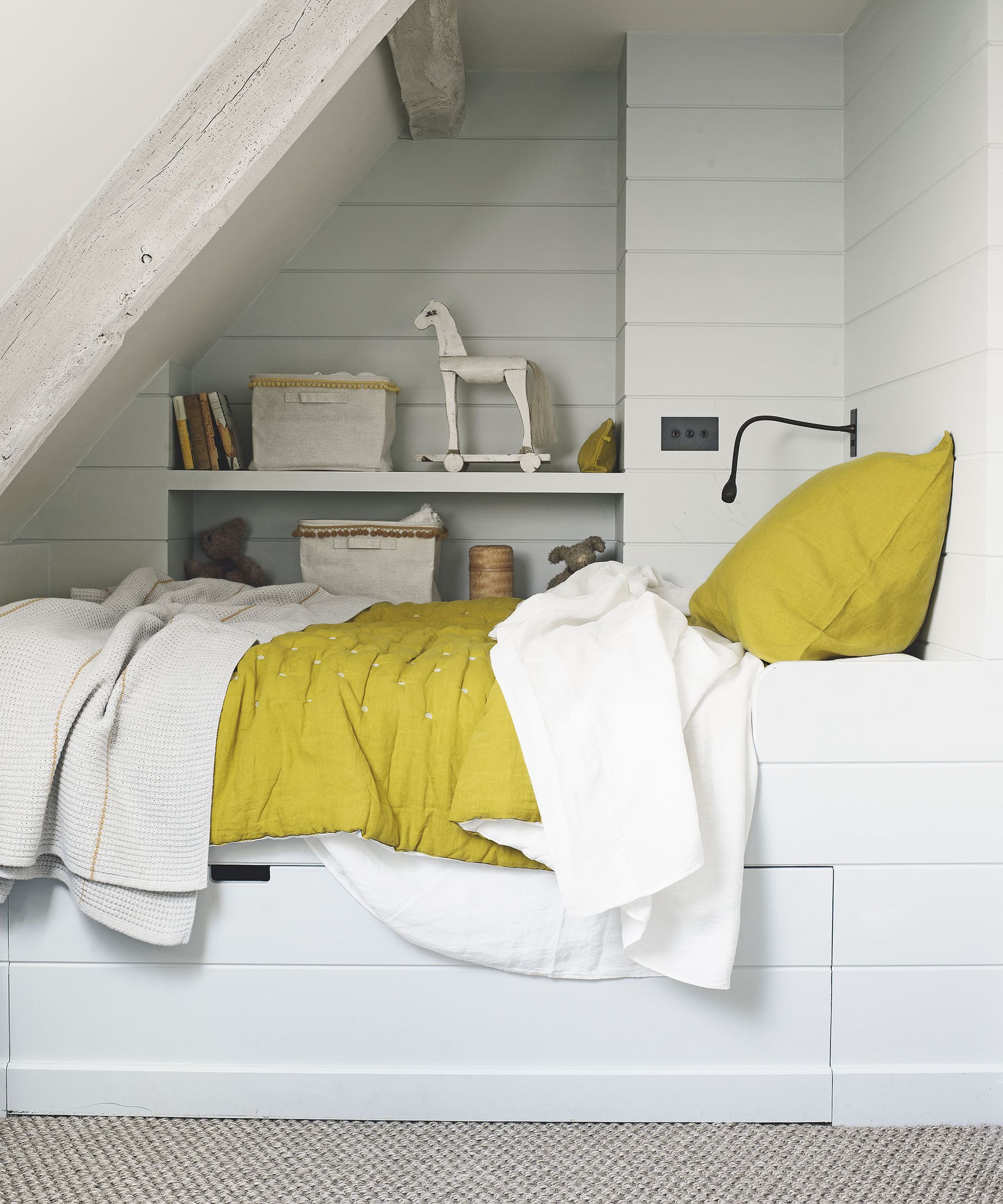 6. Work a desk or dressing table into the smallest space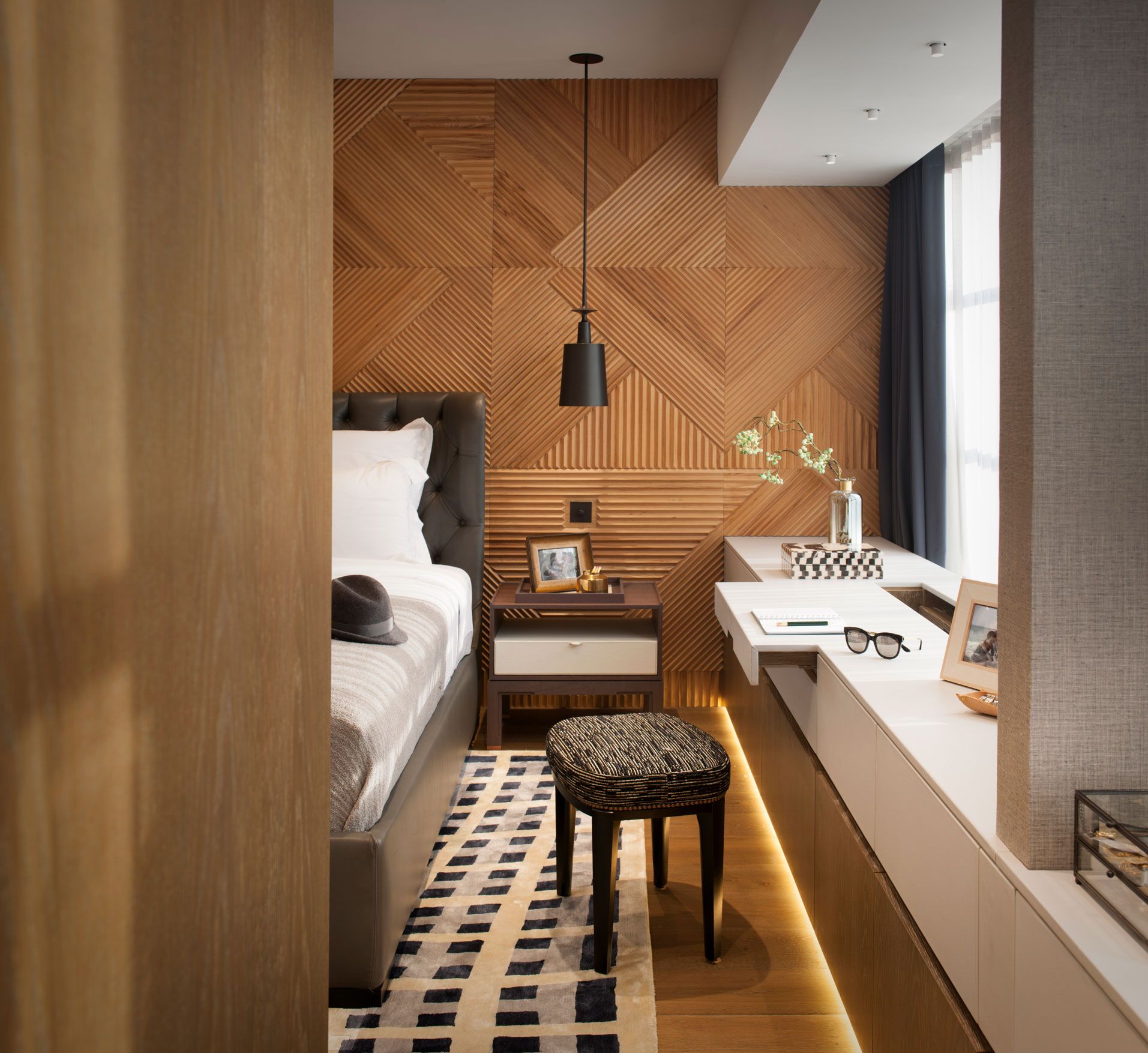 Looking for small bedroom office combo ideas? Or perhaps you want to squeeze in a dressing table? Or both? The key is, again, multi-functionality and clever design. This might mean looking for hidden desk ideas, like the one above, or it could be that you choose a dressing table that can easily double up as a desk.
'I like to position dressing tables and desks close to appropriate outlets for things like chargers and hair dryers,' says Susie Atkinson of Studio Atkinson. 'If space is tight, opt for a wall-mounted table with a mirror on the wall above to save surface space and avoid having legs taking up floor space for a small chair or stool to fit underneath.
'I also think it is nice to have this chair to pop clothes on or a bench that can be pulled out for extra seating,' she adds.
The best bedroom layout ideas with a desk often make use of an alcove, as below. The ideal is to place the desk/dressing table in the alcove nearest the window to maximize daylight for you, too.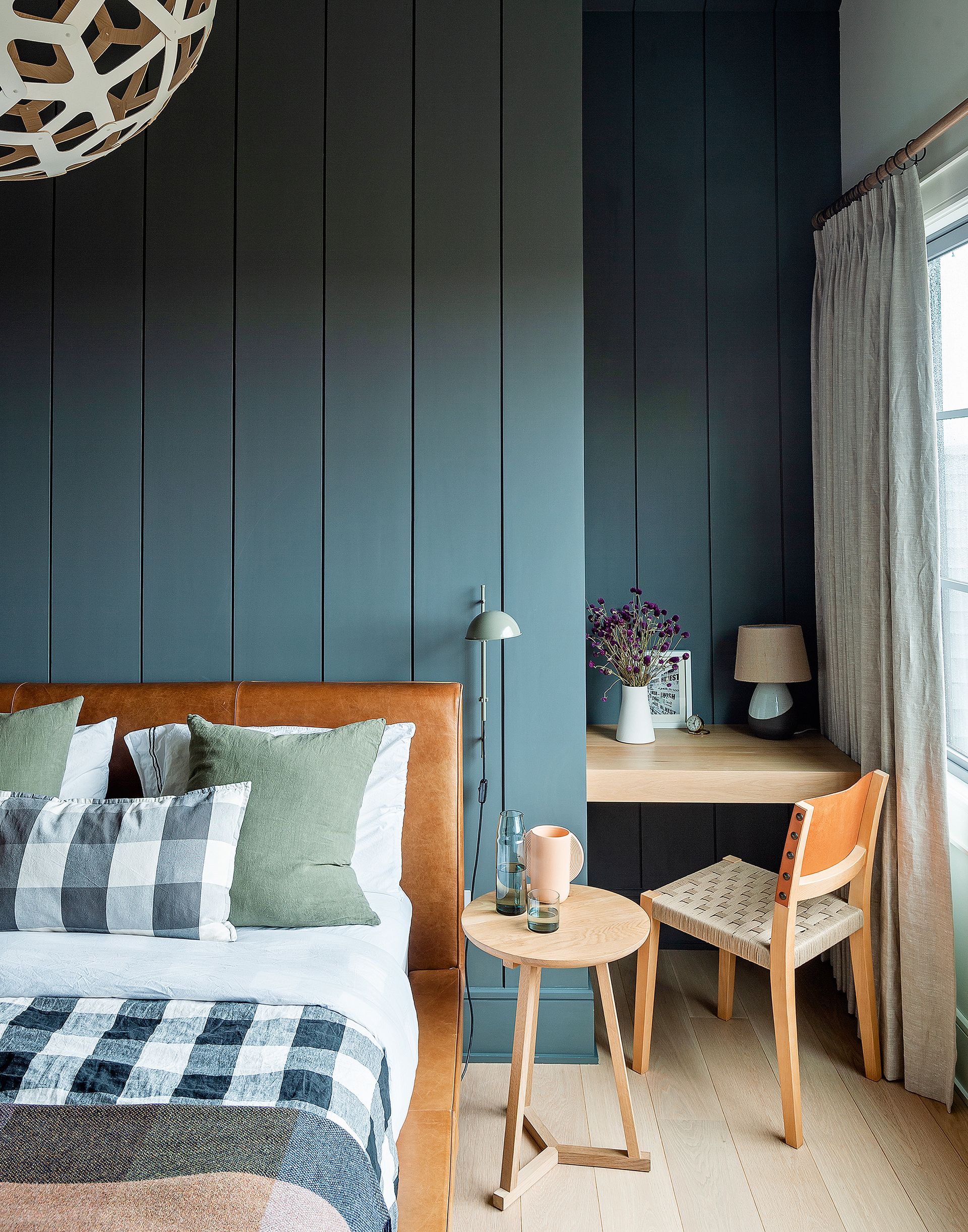 7. Use a dresser as a nightstand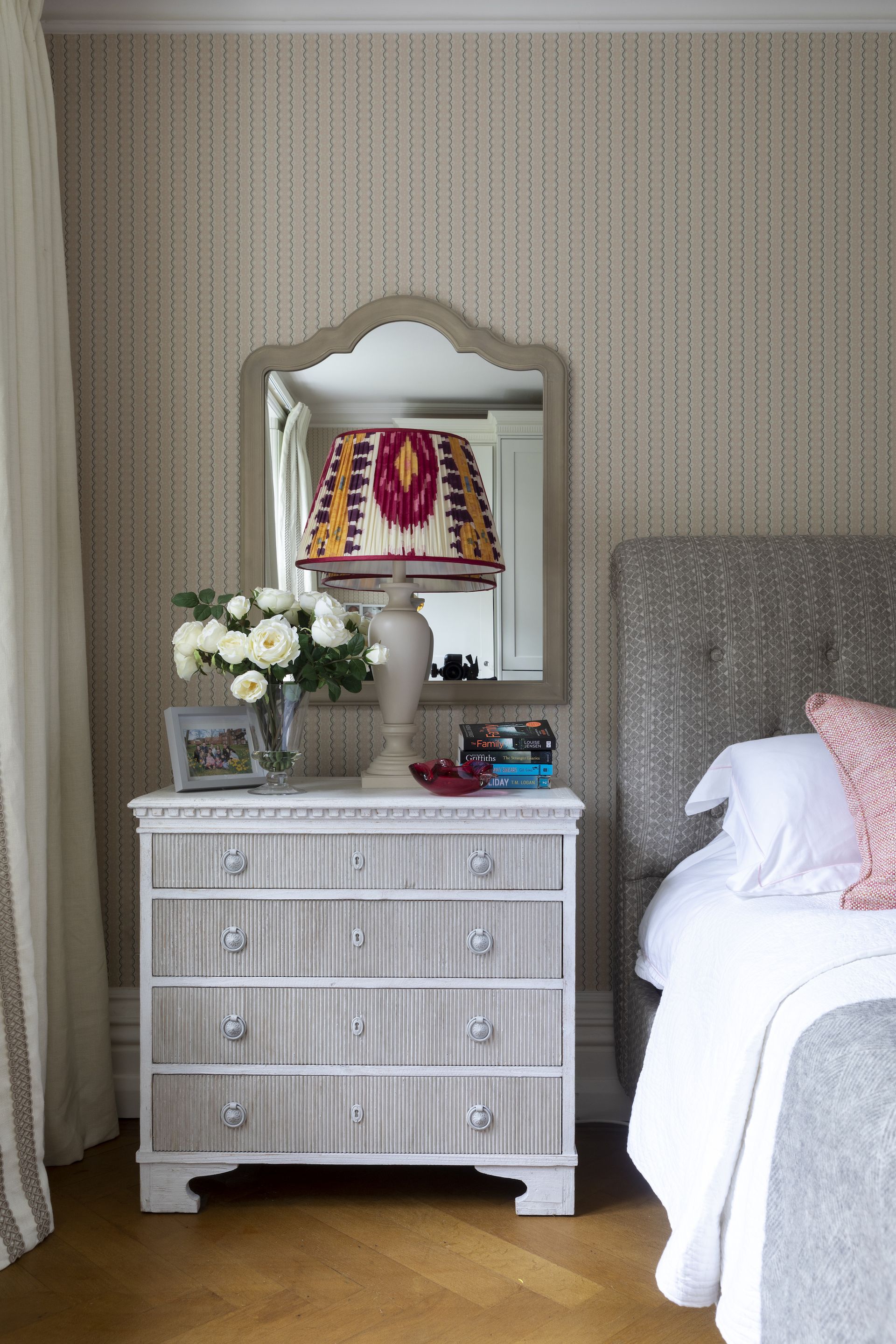 If you do not already have built-in closet space, or are trying to organize a bedroom with no closet space, then locating a dresser will be a top priority. A dresser can be a multifunctional piece used for both storage and display.
If there is room beside the bed(s), using the dresser as an oversized nightstand can kill two birds with one stone.
Placing the dresser opposite the foot of the bed to place a TV on is another option, though there are better layout rules specifically aimed at housing bedroom TVs. The top three? Hanging a TV that is designed to be disguised as art on the wall, such as the incredible Samsung Frame (below), which we have tried out; hanging a TV on the wall behind panels, and buying a bed with a TV embedded in the footboard.
If you are looking to incorporate a TV into the space subtly, then wall mounting a framed TV surrounded by a gallery wall could help disguise the device and free up space on a dresser or table.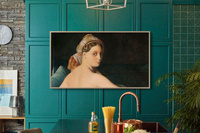 8. Utilize wall lighting to free up floor and table space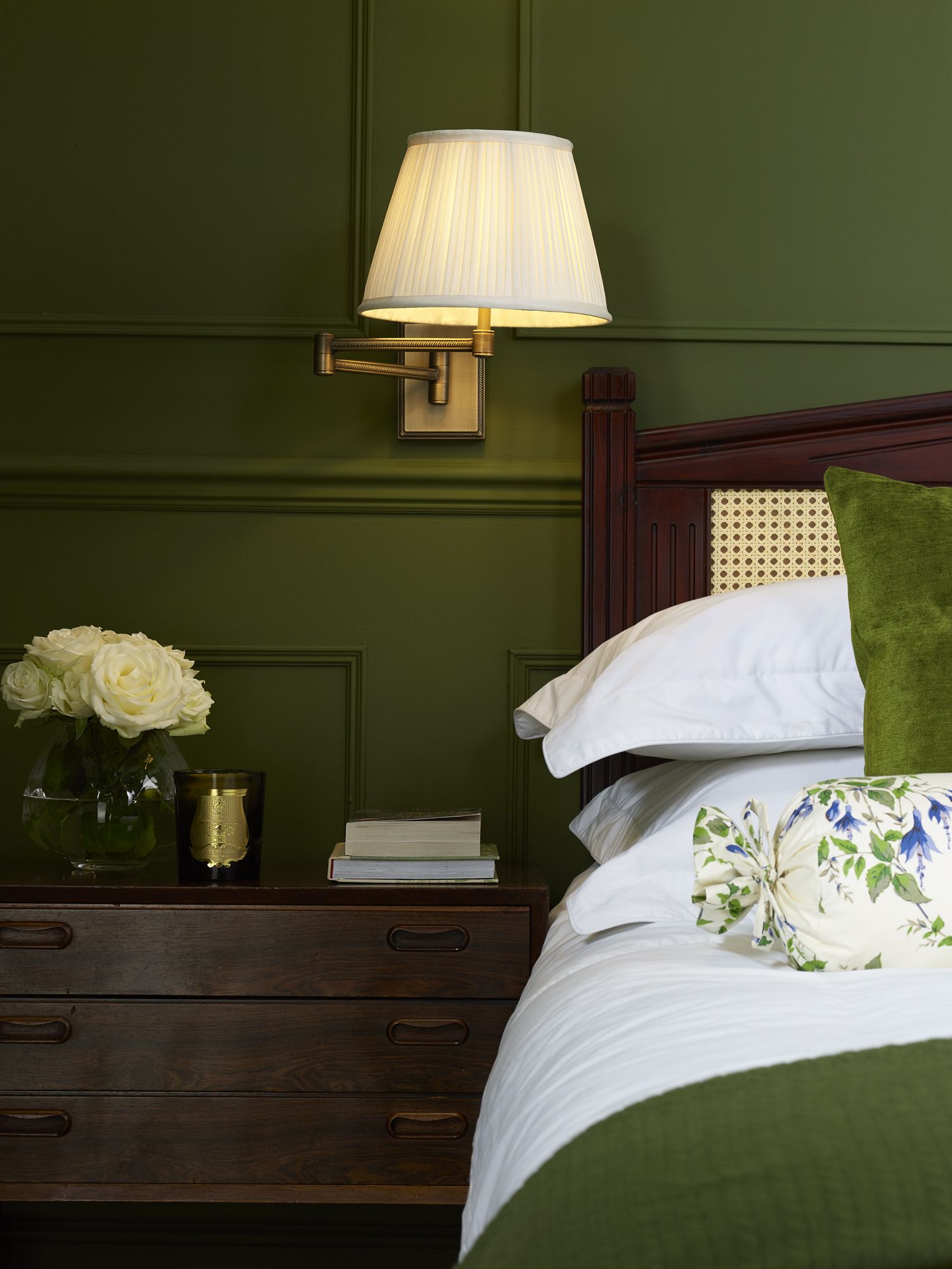 Smaller bedside tables leave little room for floor lamps. Given that bedroom lighting mistakes can ruin a room's design, incorporating bedroom wall lighting, whether hardwired or plug-in sconces can beautifully illuminate the space without taking up precious surface area.
'Rather than bedside lamps, we recommend installing fitted sconces on the wall next to the bed, freeing up space on your bedside tables for you to use as you wish,' explains Katie Lion of Kitesgrove.
9. Use walls for 'stolen' storage too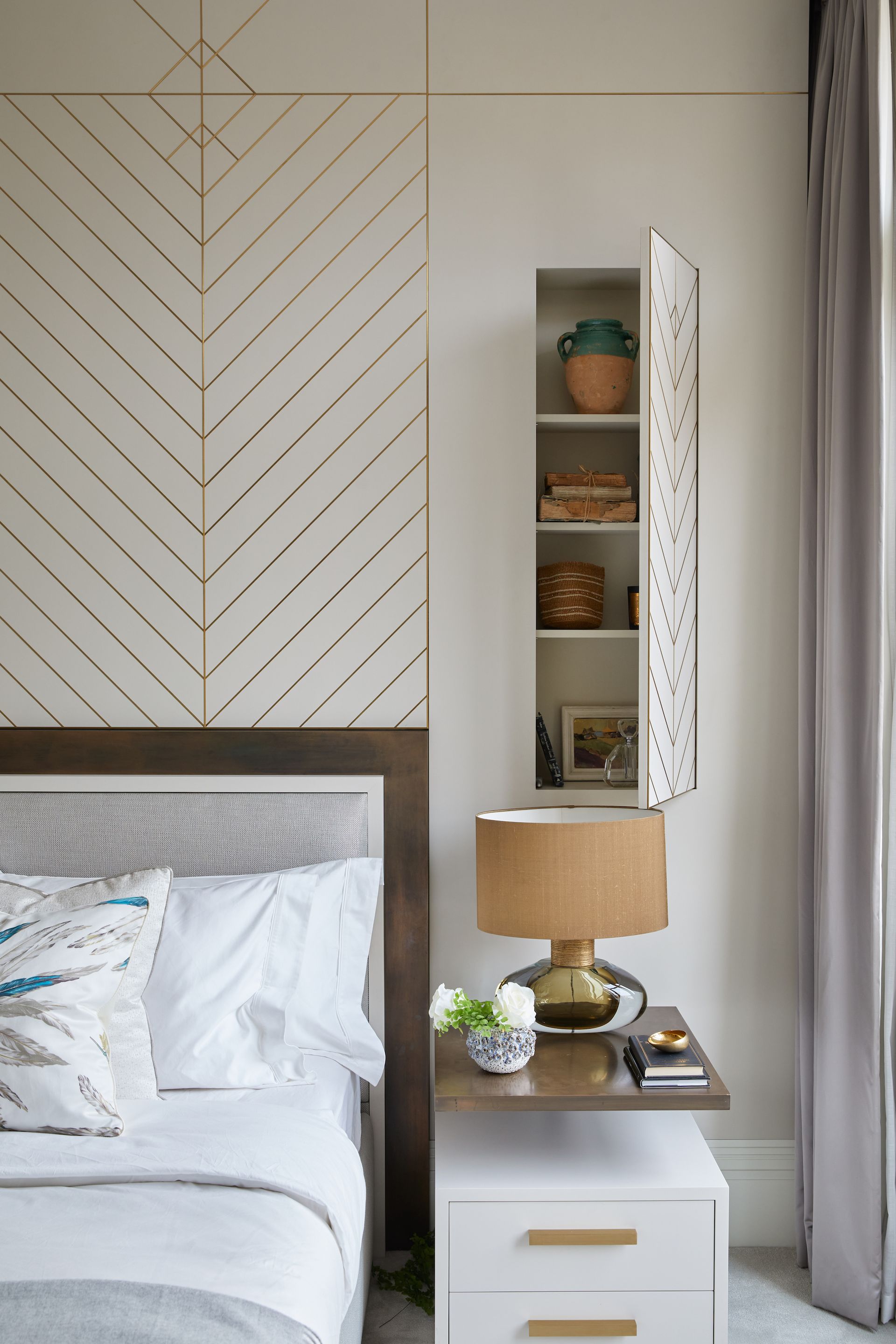 Walls are not only good for lighting and decor but for practical hidden storage too, points out Artem Kropovinsky, founder of Arsight. 'To maximize space in a small bedroom, use design and layout techniques such as vertical storage, floating shelves, and multi-functional furniture.'
You can also steal space from neighboring rooms. 'Have a deep closet in one bedroom and barely any storage space in the adjoining bedroom?' asks Lucy Searle, Editor in Chief, Homes & Gardens. 'You can borrow floor space by removing the partition and shifting it back.'
10. Swap out decorative clutter for bold statements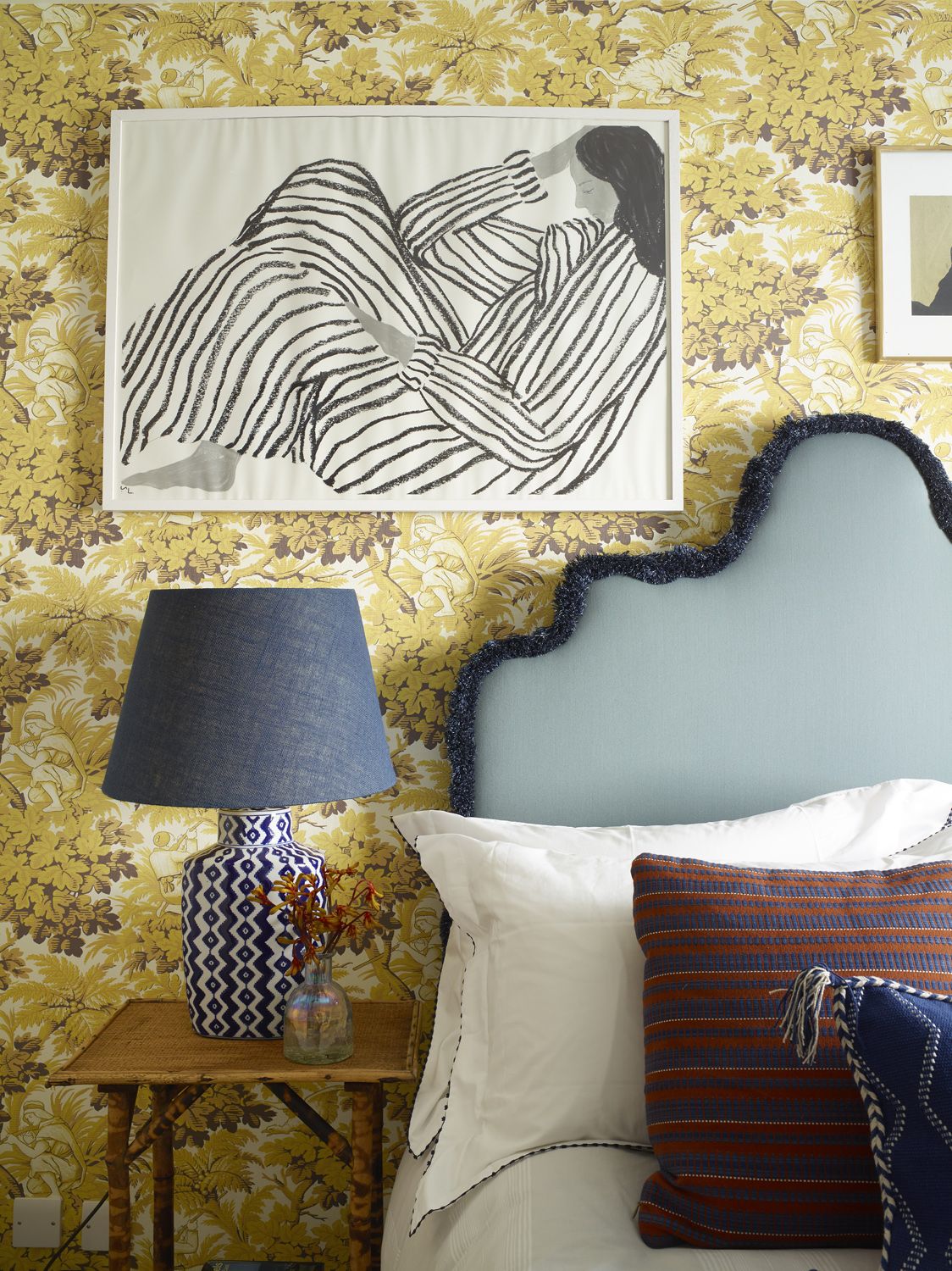 Just because a space is small, it does not mean it has to be purely practical, designers remind us.
'Avoid overcrowding the space with too many decorative items and use mirrors to create the illusion of more space,' Artem Kropovinsky warns, but go bold with decor.
'Small bedrooms can be the perfect space to go for something bold,' says interior designer Heidi Caillier. 'A monoprint (the same textile on walls, drapes, upholstery) can be quite lovely here, or a dramatic mix of patterns.'
'Be bold, be brave and create interest through color and decorative items rather than large furniture,' adds fellow 2022 1stDibs50 designer Brigitta Spinocchia Freund. 'In some cases, a more maximalist approach using wallpapers, fabrics, and rugs work to create a cozier, more opulent feel.'
Heidi Caillier Design is a full-service interior design firm, with clients from San Francisco, Los Angeles, and the Pacific Northwest to New England and beyond. Heidi's studio is experienced in everything from new build construction to simple room refreshes. The studio's design philosophy is based on the belief that homes should be comfortable and liveable while at the same time beautiful and curated.
How can you layout a small bedroom for couples?
When designing a small bedroom for a couple, try to keep the bed in the center of a wall to allow for space to maneuver on either side. Pushing a bed into a corner not only looks unbalanced but is impractical too when you have different sleep schedules or daytime routines.
From there, consider how you can maximize storage solutions. It may be that you have to compromise on a dream bed frame in order to have underbed storage, or that you both need to split your clothes between a closet and a dresser to ensure you can both keep most of your most worn garments in the room at the same time.
What can you do if a bed is in the way of a door?
If the only viable position for your bed is partially blocking the swing of a door, consider whether it is possible to convert the existing opening to a pocket door to mitigate the flow issue, or even revert the door to open outwards instead if this is not an option.
If changing the door is out of the question, then consider why it is the bed can't go anywhere else. If it is because you need to be near outlets consider if moving the outlets, or using extension cords could solve the problem. If it is because of existing built-ins, think about how much storage you really need and consider a room remodel. If it is because you are trying to fit a super king bed in a box room, think about downgrading to a king, or even a double, to help the space flow.
Sign up to the Homes & Gardens newsletter
Decor Ideas. Project Inspiration. Expert Advice. Delivered to your inbox.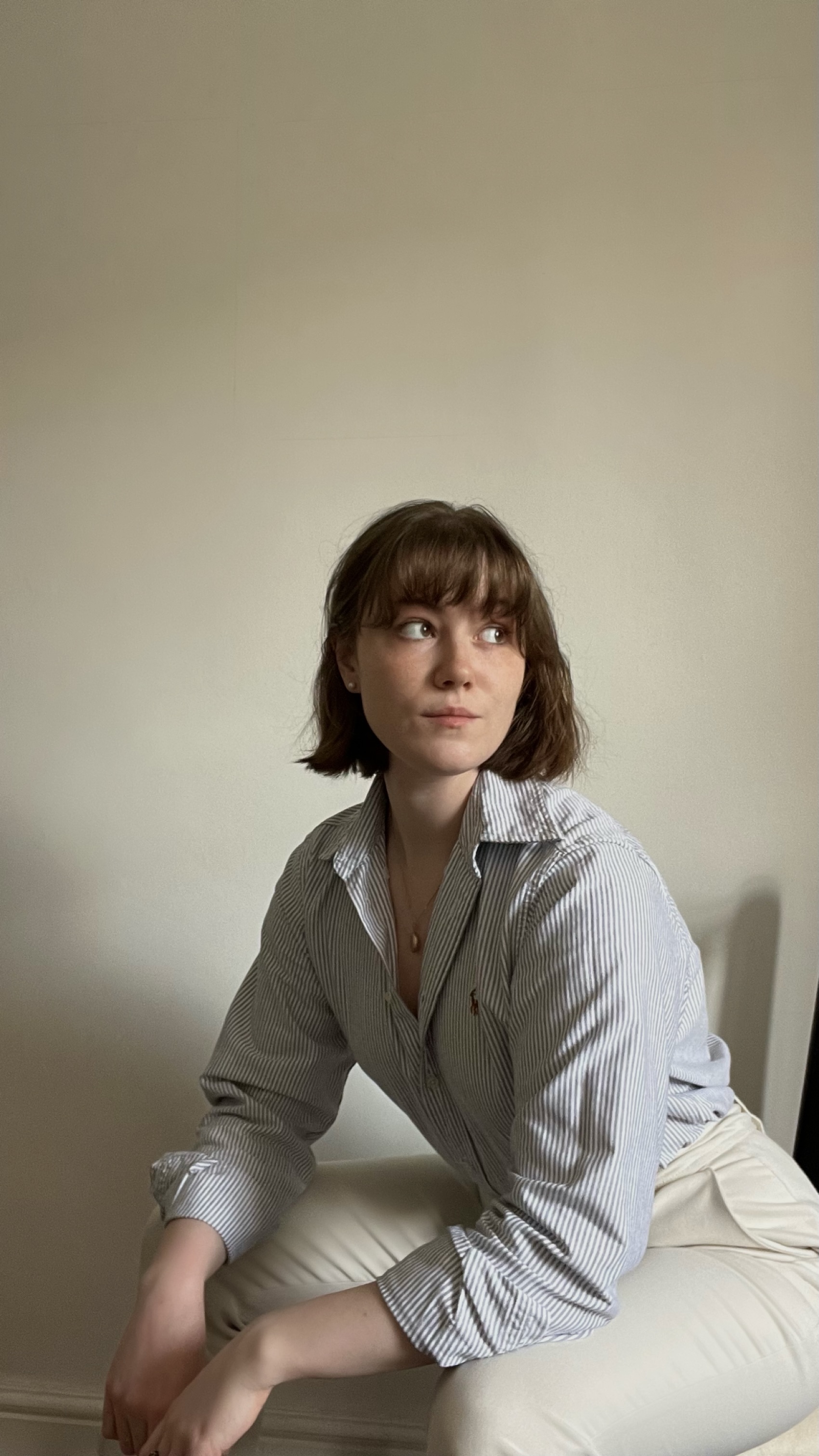 Chiana has been at Homes & Gardens for a year, having started her journey in interior journalism as part of the graduate program. She spends most of her time producing content for the Solved section of the website, helping readers get the most out of their homes through clever decluttering, cleaning, and tidying tips – many of which she tests and reviews herself in her home in Lancaster to ensure they will consistently deliver for her readers and dabbles in the latest design trends. She also has a first-class degree in Literature from Lancaster University.