How to choose a kitchen color scheme – even the smallest addition can make a difference
Pick a shade that will give your kitchen a vibrant lift and create a welcoming space for cooking and entertaining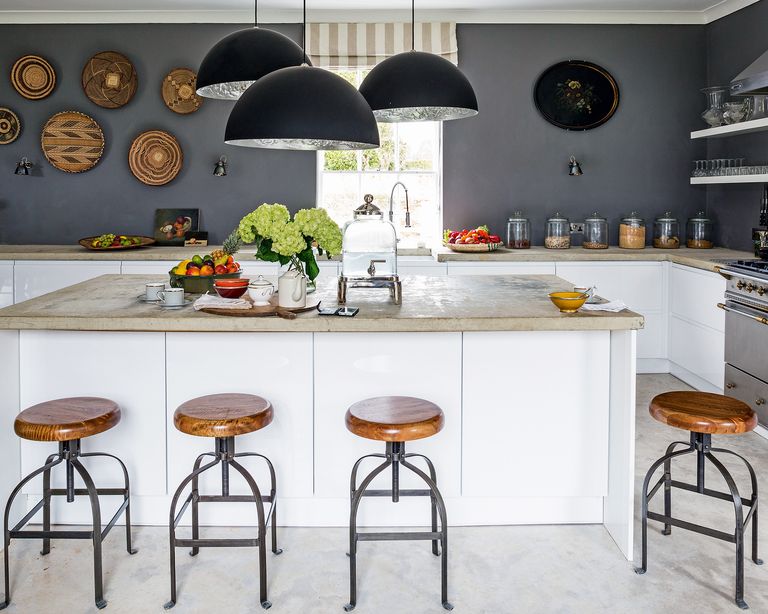 (Image credit: Future)
Color is important in all room schemes, and it's only too easy to forget about color in the kitchen, with the vast choice of timber and white schemes available. Learn how to choose a kitchen color scheme that you will love for years to come.
For a classic, timeless kitchen idea, we sometimes err on the side of safety and choose a completely neutral scheme, forgetting that a little lift of color can cheer up a room immensely. Painted finishes work well for timeless schemes, and of course, can be updated at a later stage if you're confident enough with a paintbrush. 
The main thing to remember is to thoroughly clean the surfaces, especially if they're textured. Remove handles and knobs, and use a matt or satin finish for the best results – acrylic eggshell is a good formulation to choose. 
'It's amazing how a change of paint color or some new tiles can give a kitchen a completely fresh look, picking up on different accents within the home,' adds Rob Whitaker, Creative Director, Fired Earth. 
How do I choose a color scheme for my kitchen? 
Choosing color is such a personal experience – in fact no one knows for sure whether we all even see the myriad shades in the same way. Mark Wilkinson, Founder of Mark Wilkinson Furniture, believed that the colors we choose automatically are naturally influenced by current fashions. 
'The color in a kitchen – be it on walls or fittings – should last for at least five years, minimum, so try to look beyond immediate trends and choose a color that  will keep you feeling good long term,' Mark advised. 
The real secret of using color well is to use it carefully. While trends help to inspire, it's best not to follow them too slavishly. Take time to think about how color might affect the mood of your room, for instance, warm 'advancing' colors, such as reds and yellows tend to be energising and stimulating, while cooler colors that 'recede' including blues and greens will feel more calming and soothing. 
Kitchens are rife with color opportunities, from appliances and flooring, to window treatments and cabinets. 
Start by deciding how much of a permanent commitment you are willing to make. One of easiest and least expensive options is to paint a wall that can be easily updated should you tire of it.   
A more permanent option is to opt for striking worktops. Solid surfaces such as Corian and Silestone are available in a wide palette. Glass backsplashes are another popular option, and can be supplied custom back painted in virtually any shade.
What is the most popular color for a kitchen?
White kitchens are still the biggest selling 'color' in the kitchen market place, and there's no denying that choosing white cabinets does make it considerably easier to adapt and tweak color schemes at a later date. Avoid the 'clinical' look by making sure that there are some elements of natural materials in the room – perhaps wooden flooring, or a timber table top and chairs. 
While cream and white are the most popular colors for painted kitchens, sales of grey and soft blues are rising. If you fancy something a bolder, though, then rich aubergines and graphites are a good choice. If you're not ready for a big hit of color, then limit it to key pieces such as an island and leave the rest of the room neutral.
For understated 'heritage' shades, look at colors from Fired Earth, Little Greene, and Farrow & Ball. Walls can be contrasting in white or muted tones from a similar palette. Equally, a 'splash of color' can be added by the choice of glass backsplashes in jewel-like colors – available from the leading DIY stores at very affordable prices, or concentrate on adding color with accessories such as bar stools or chairs.
What is the most popular color for a kitchen cabinet?
'A kitchen is a long-term investment, so go for a neutral palette that you will not tire of and add punch of color with accessories and artwork,' says Gail Taylor, th2 Designs. 'An oversized felt pinboard can add a pop of color and is super-useful for all those lists and stray post-it notes.'
However, neutrals aren't for everyone and the sizeable cost of a new kitchen shouldn't dictate that you play it safe. It's more a case of choosing how and where to introduce color, picking spots  that can be easily updated, and introducing shades that mirror the color palette in the rest of your home. 
For a fresh look, a coastal palette of gentle blues, off-whites and greys is a particularly versatile choice. It's also considerably more forgiving than a brilliant-white kitchen. Build up colors in layers, perhaps opting for cabinets in two or three shades and using tiles and paint to create a clean but warm and inviting scheme.
What colors make a kitchen look bigger? 
While light colors are generally recommended for compact kitchens, remember that a small space also has less opportunity to express its personality, so introduce a pop of color where you can, or try pretty pastels. They can prove a great compromise between bright primary colors and boring neutrals. Dusty oyster pinks and pale yellows are currently in vogue and will lift the spirits in a sun-filled kitchen. 
Hi-gloss finishes will also help to bounce the light around, helping to create a sense of openness. They'll need to be regularly wiped though to clear off finger marks so might not be best suited for family schemes. Matt finishes are popular right now, as are more textured ceramic-look doors. These will lend a little softness to the color and, best of all, require less cleaning.
Avoid cool colors in north facing kitchens as they tend to be too chilly for comfort. If your kitchen lacks natural daylight, consider going with the gloom by choosing dramatically dark colors. Jewel tones like deep emerald and rich garnet are on-trend and will lend character in the style of a private members club.
What are modern kitchen colors? 
In the past, there may have been an all or nothing approach to color in the kitchen – remember shades of lime green and orange being so popular in the 1970s? The new palette is a little more restrained and considered, with pale blues, shades of grey and darker, inky shades proving popular. 
'Hybrid greys – where the grey is mixed with another color – are on trend for 2021. For example, brown-grey or taupe will maintain grey's modern look but bring warmth to a scheme,' explains Kiran Noonan, Marketing Director at John Lewis of Hungerford.
Adding an accent color is as popular as ever and here, yellow comes into its own, particularly in play with darker shades of grey. 
'The rule of thumb is to use color sparingly and in clearly defined areas,' says Gordon Boyd of Nolte Küchen. 'Go for a basic color then use an accent shade to highlight certain areas. Alternatively, try corresponding pairs, such as shades of green or blue, or play with natural tones and add a more vibrant splash to certain elements, for example a shelf, sideboard or bench.' 
Painting your walls and also cabinets is an easy and modern way to transform a room, and when you inevitably get bored with your chosen color in years to come, it is an easy refresh job. 
Gathering together paint cards is a good place to start and, as many cards and brochures now feature 'complementary' shades, they'll also help you to find accent and toning colors, too. 
If you're planning to refresh an existing scheme or don't want to commit with your cabinetry then accessories are an effective way to add  a pop of color. Pick an accent shade and then visit the high street, speak to an interior designer or go online to look for fabrics, china, glassware and small appliances in your chosen shade. A feature wall in the same color will help to bring the whole look together.