10 most-wanted color schemes – the experts share their secrets for pure bathroom bliss
Color makes us happy, so why not embrace it in your bathroom?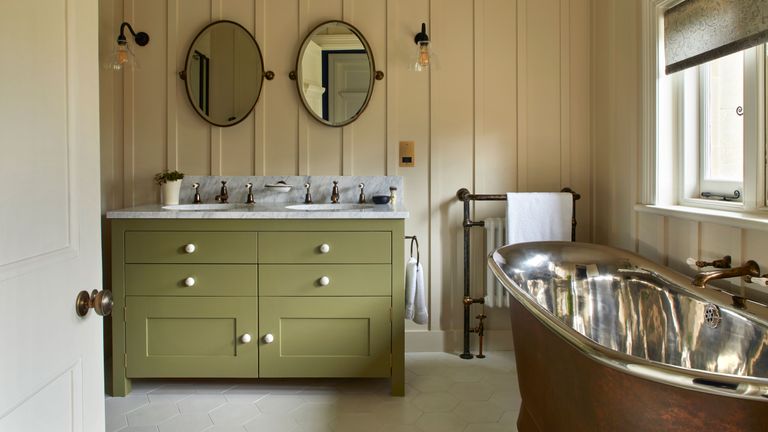 (Image credit: Bert & May)
The ideal bathroom color scheme will be light and bright in the morning – to give you that boost of energy after waking, yet also relaxing at the end of the day when you need to unwind. As with all interior design schemes, balance is the word to keep in the back of your mind, and if the thought of color scares you slightly, don't worry, it could be as simply as an accent wall of subtly patterned tiles or a painted bath in your favorite shade.
Read on for a plethora of bathroom color tips, as advised by the experts.
See: Bathroom ideas – stand-out decor ideas for washrooms, ensuites and more

1. As simple as choosing one shade
The starting point for your bathroom color scheme can be as simple as gathering bathroom paint ideas and applying your favorite color to one thing, in this case your bath, as the paint expert, Annie Sloan, explains below:
'What better way to bring unexpected color into your home than the often unloved bathtub? The bathroom can often be overlooked in a house scheme, with bright white tiles and ageing grouting considered 'normal'. But make this the year you makeover your bathroom with the same love and affection poured into other spaces. The bath is a great place to start – choose a bold chalk paint color on the outside – and seal with chalk paint lacquer for water resistance.'
2. Let tiles pave the way
If you don't fancy using paint, then add color (and pattern) with tiles instead. They are a very effective way to create a decorative effect and you can balance the scheme by keeping the walls white. It's also a great way to zone an area – like this shower, for example.
Using two simple bathroom color ideas in your scheme will work wonders and if you can find a beautiful antique piece that can be converted for basins then go for it – the warm wood and detailing add to the decorative feel of this bathroom.

3. Neutrals are still a color
One big misconception is that if you love neutrals you don't love color, but actually there are a myriad of stunning, neutral shades that work so well together to create a perfect bathroom scheme, like this sophisticated grey bathroom idea shown above.
Clara Ewart, Head of Design at Kitesgrove explains, 'An effective way to add character to a neutral bathroom space is to introduce a rich, warm finish such as brass within the sanitary ware and detailing. This helps to create visual interest as the brass complements pared back, neutral palettes particularly well, whilst further enhancing the natural beauty of the marble.'
4. ... And dark and moody is still a trend
Although some of us may prefer to use a bathroom that has an uplifting color scheme, it's not for us all. The drama of dark shades is appealing and certainly creates a cocoon like feel during the evenings and winter months. This bathroom features three shades, all of which work well together to create a warmth – mainly from the ochre, and the smoky grey woodwork invites in the light.
It's still worth introducing some brighter elements to create a visual balance – a marble topped pale wood washstand and cliched fluffy white towels will do the trick nicely.
5. Color can come from natural elements
This bathroom designed by Utah-based House of Jade Interiors provides the perfect combination of tranquility and on-trend design elements. It's light, airy and full of fabulous textures. The wood adds character and warmth whilst the vintage rug is the main source of color – which shows how subtle a color scheme can be.
The boucle stool is so inviting with its tactile quality and contrasts with the white marble countertops. As before, brass is used to soften visually and counts as another color.
6. Color can be bold and all encompassing
'If you don't own a bath you can paint, you can still create paint effects in the bathroom,' says Annie Sloan.
'Create a wall feature with a stencil, it'll make your bathroom stand out and be a place you actually want to spend time in – see how this humdrum bath is now a tub worth admiring.'
Stencils used to be a thing of the past, but now they are back and are being used in a more contemporary way – rather like a mural. This stunning bathroom has been created with Annie's Meadow Flowers stencil.
7. Be paint clever and ditch the conventional
Throw out the 'paint your skirtings in white or a pale shade' rule, and do the opposite for a thoroughly modern look even if your home is a period property.
We love this scheme, it's calming yet edgy due to the black bath and window frame, which is complemented by the antique mahogany console and rattan mirror – they provide a color bridge between the black and off white walls. And not forgetting the delightful third color – look up at the ceiling.
8. Team pretty shades with touch of print
Color can come from prints too – even if they're monochromatic linear designs. If you look carefully you can see a spot of pale pink in the floor tiles that's then matched to Farrow & Ball's Calamine No.230.
Creating a color scheme is about looking at the small details as much as the larger ones and pulling the look together so it's cohesive. However, you can throw in the odd curveball by painting a vintage cabinet – like the one shown, using Farrow & Ball's Blue Ground No.210, it adds the most perfect accent color that suits the era of this bathroom.
9. For the love of wallpaper
When we think of decorating our bathrooms, paint and tiles are usually at the forefront of our minds, and wallpaper tends to get neglected as an option. But it can work really well, and look how this Cavendish Stripe design from Little Greene has been hung – both vertically and horizontally – what a clever trick!
So how do you make it work if you don't want more color added to your scheme? You opt for metallics, as Phil Etherden, Managing Director of The Albion Bath Company explains:
'Our burnished and polished bath finishes are a popular option for anyone looking for a luxurious look. They're ideal for creating a focal point and adding structure and glamor to a bathroom scheme. Metallic touches in the bathroom are hugely fashionable at the moment, and bronze gives a real sense of luxury.
Incorporating a freestanding bath in a bold metallic finish really does change the feel of the whole room. We've seen customers match a brightly colored bath to a feature wall for a really strong look, while others make a statement by making a metallic bath the star of the show in a more pared back space.'
10. Choose a color pairing that's unusual
We tend to play it safe and opt for shades that are typical – pink and green, yellow and white, green and white, blue and grey etc. But how about mixing it up a little and thinking outside of the box?
Take this stone and olive bathroom as an example – not necessarily two shades you'd put together – but it works really well. And why? Because the two colors are the same tone, this means they have the same intensity of color, neither is brighter or darker than the other, and the white floor tiles act as a blank canvas that holds the look together.