'Entertainment kitchens' are 2021's next big thing – here's how to design yours
Once lockdown is over, dinner parties will rise again... and these are the must-know strategies for a room fit for special occasion dining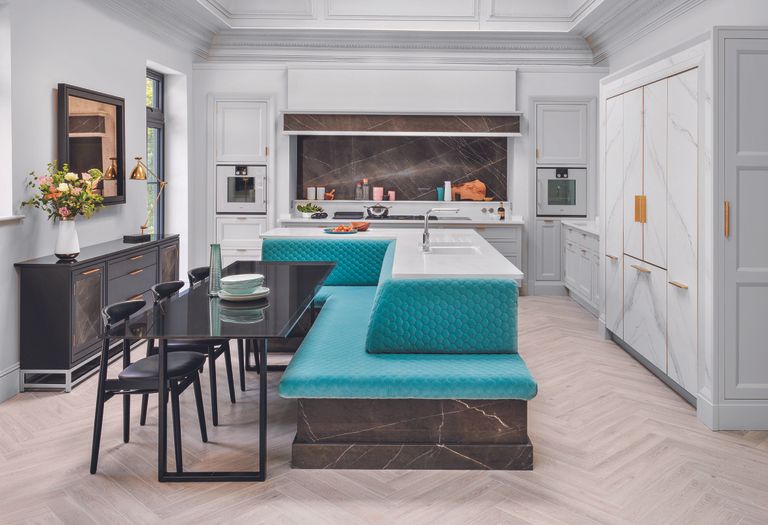 (Image credit: Martin Moore)
Designing kitchens for entertaining is something that first came about when open-plan layouts came into fashion. And while lockdown has resulted in many of us falling out of love with no-escape open-plan kitchen and living spaces, there's no doubt that the popularity of kitchen-diners will endure.
And that's where the skill of designing a so-called 'entertainment kitchen' becomes important. This type of kitchen is a space into which we can welcome guests as well as one we can enjoy ourselves day to day. In other words, the kitchen has become the venue for the special occasion meals we might normally go out for.
But what are the design tricks and kitchen ideas that will make it a space fit for entertaining as well as the everyday hub of the home? UK-based interior designer Benji Lewis of Zoom that Room shared with us the strategies that make a kitchen the perfect entertaining space.
Read on to find out how to get seating, lighting and the acoustics right for a room with a great ambience.
1. Think seating
When guests are going to be seated at the dining table for a long time, comfort is key. Upholstered chairs can provide the support that's required for several courses and a coffee.
Your dining chairs should still have the correct ergonomics, though. 'Upholstered seating doesn't mean "loungey" – look for chairs with a firm back and seat,' says Benji.
You might want to include dining chairs that have arms in the mix. 'If you have the space, dining in a chair with arms is so comfortable,' advises Benji. Even if your table doesn't have the dimensions to fit these along the sides, they're still worth considering for each end of the table.
For space efficiency, you could also consider built-in seating for the dining table. A banquette can create the same balance of support and comfort as an upholstered dining chair and can be positioned along one wall or linked to kitchen cabinetry. 
Like an upholstered dining chair, it offers the opportunity to bring in color and/or pattern to the scheme and enhance the decorative detail of the room.
2. Plan a lighting scheme
Well thought-out kitchen lighting ideas with ambient, task and accent or mood lighting is essential for a kitchen in which you can entertain. It will need to allow for a combination of effects and should be zoned according to the function of each area of the kitchen.
Benji recommends the following elements for a lighting scheme:
Overhead lighting for practical purposes. 
Directional lighting for tasks. 'Pendant lights over an island are effective because they look good and provide requisite light,' says Benji.
Lighting under wall units. It will cast a glow on worksurfaces.
Don't forget the need to light the cooker, Benji advises. 'I sometimes put a light on a circuit of its own just for this purpose – an AGA set into a chimney breast or recess with its own wash of light is fabulous.'
3. Consider a table lamp
A kitchen that's not just a preparation and cooking space can benefit from a table lamp as a decorative as well as practical feature. 'I love a table lamp on a sideboard or on the kitchen island if you have space,' says Benji.
4. Put the lighting on different circuits
Being able to create the right level of light for kitchen tasks and to evoke an atmosphere for entertaining is a must. To achieve this, Benji advises setting the lighting on different circuits. This way, 'you can play around with your lighting and adapt things according to mood and time of day', he explains. 
5. Add a dimmer for overhead lighting 
Ensuring you can adjust the level of the room's ambient lighting is a must. 'I always put overhead lighting on a dimmer,' says Benji. 'Whilst you might wish for full glare for practical purposes, when it comes to downtime you would wish to dim the light on your beautiful chandelier or on the spots.'
6. Take acoustics into account
Kitchens are necessarily full of hard surfaces, which will affect the acoustics of the room. 'Whilst limestone floors can look lovely, in conjunction with granite worksurfaces and a glass-topped kitchen table, things will get very rattly,' says Benji.
Bear in mind, too, that if you're entertaining, you're likely to have music on and lots of people talking. 
The remedy? 'Factor in some soft surfaces when you design your kitchen,' he says. These might be in the form of upholstered chairs and banquettes, window treatments, and even rugs although these should be positioned away from cooking and preparation areas.
And when you're looking for kitchen flooring ideas, consider a timber floor rather than tile as well, suggests Benji. It has a further advantage. 'Timber underfoot is softer to stand on for protracted periods of time than a tile,' he says.
Sarah is a freelance journalist and editor writing for websites, national newspapers, and magazines. She's spent most of her journalistic career specialising in homes – long enough to see fridges become smart,
decorating fashions embrace both minimalism and maximalism, and interiors that blur the indoor/outdoor link become a must-have. She loves testing the latest home appliances, revealing the trends in
furnishings and fittings for every room, and investigating the benefits, costs and practicalities of home improvement. It's no big surprise that she likes to put what she writes about into practice, and is a serial house revamper. For Realhomes.com, Sarah reviews coffee machines and vacuum cleaners, taking them through their paces at home to give us an honest, real life review and comparison of every model.