Fresh, cool green can create a relaxing atmosphere in any room. It is associated with nature, outdoors, growth and creativity and, as it is such an organic shade, it is very easy to live with. The important thing is to pair whatever hue you choose with the right accent colour to create a feeling of flow throughout a room.
Whether using it in a statement pattern, as bold block colour or a subtle accent, our gallery of ideas is bound to inspire.
Even on the murkiest of winter days spring won't feel far away with this pretty wildflower and butterfly wallpaper. The painted bench, bleached-wood stairs and tin used an umbrella stand add vintage chic, with a runner making a colourful contrast.
Get the look Flora wallpaper by Martha Armitage at Hamilton Western
Layer upon layer of the softest washed linens in soothing shades of anthracite, green tourmaline and steel blue are an inviting choice for the bedroom, with a delicate silk screen providing privacy.
Deep teal is a strong, versatile and warm shade that never overwhelms a space, so it makes a great backdrop for displays in a contemporary sitting room or bedroom. This decorative collection of vases and votives, with the Seventies-inspired table lamp, are beautifully accentuated against the deep green hue.
Take a colour card and scale up or down the range using neighbouring tones. In this kitchen by Little Greene, Aquamarine is used on the island and lower half of the wall, then the colour is taken up a notch on the door frame and island trim, then down again for the upper wall, resulting in a harmonious effect.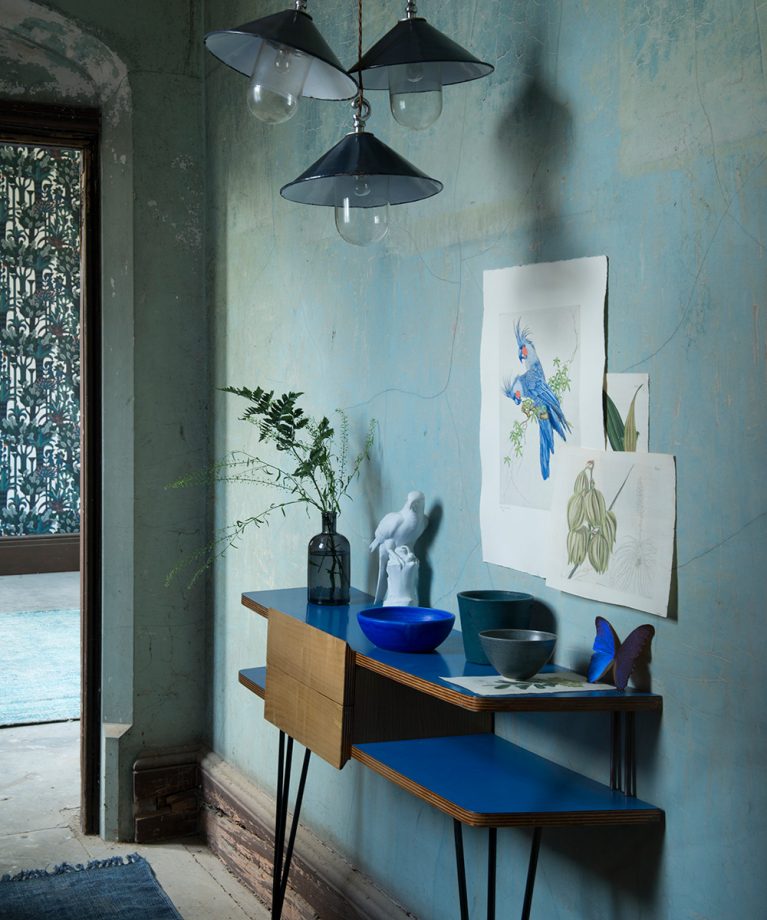 Saturated shades of cobalt, malachite and verdigris combine with botanical motifs to bring natural depth and earthiness to interiors. A cluster of deep blue industrial pendant lights create impact in a hallway when placed above a console.
This series of foliage prints set against a vibrant emerald-green wall offers a modern take on the botanical teem. Sparse accessories and the clean lines of the furniture add to the contemporary flavour of the space.
Get the look Wall in Mad King George, matt emulsion, £35.50 for 2.5 litres, Fired Earth
An over-sized canvas with an abstract pattern will immediately establish an arresting theme for a room. Here, the canvas design was taken from a 19th-century bookend paper from the Victoria and Albert Museum archive. The swirling blues and greens are playful and mesmerising, while the sharp green is echoed in the curtains, walls, headboard and rug. Accents of crisp white keep the room bright, with a shaped pelmet adding character.
Pale cane furniture provides a lighter note in a scheme featuring luxurious textures, such as velvet and silk, in rich moody shades.