Choose the best bedroom colors – these are the 10 steps designers take
Find out how to choose the best bedroom colors with our expert guide and practical, room-perfecting tips for choosing bedroom paint colors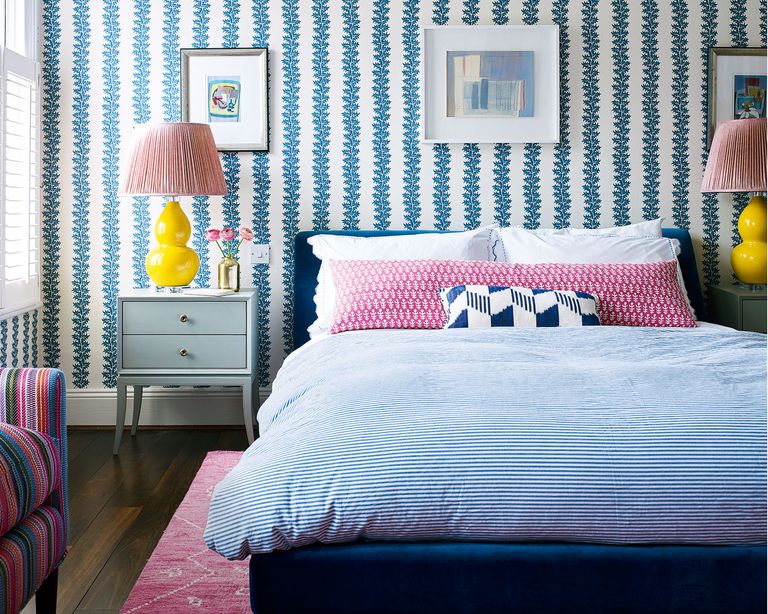 (Image credit: Future)
You may be wondering which are the best bedroom colors if you are about to redecorate your bedroom for the first time or want to update your scheme.
Whether you love full-on color, bold prints or a more muted palette, the importance of choosing the right color scheme shouldn't be under-estimated: the bedroom color ideas you choose can affect how you feel when you wake up and before you go to bed.
Like all bedroom ideas, your color choice needs to reflect your personality and fulfil your needs – but it needs to be soothing, too.
How to choose the best bedroom colors
Knowing where the light comes from is key, as it can change how a color looks from morning to afternoon – but it's not as simple as that.
We take you through the steps that interior designers take to choose the best bedroom colors, from making a moodboard to the finishing touches.
1. Start with a moodboard
'Choosing the right colors for a bedroom design scheme is important when deciding how you want your personal space to make you feel – this may reflect a love of bright colors and opulent tones, or be more neutral and natural,' explains Adam Black, co-founder of Button & Sprung.
'To help determine the most suitable color palette for your bedroom, we recommend creating a moodboard and ordering swatches and fabric samples; this will allow you to experiment with color and texture to see what works for you.'
If you are undecided, make more than one moodboard and monitor what works and what doesn't in different lights – and what each color scheme makes you feel.
2. Consider the orientation of your bedroom
The orientation of your room is an important aspect of how you choose bedroom paint colors. This is because the quality and temperature of light varies depending on whether your bedroom is north-, south-, east- or west-facing.
For example, a north-facing bedroom will have cooler light and therefore needs warming up with pinks, yellows and orange shades – or hints of them, like in this room above by Benjamin Moore.
A south-facing bedroom will have more of a glow and as such can take cooler blue or gray bedroom ideas. East-facing rooms get the sun early on and they work well with greens and blues; west-facing rooms get the sun in the afternoon so suit colors similar to east-facing spaces – their orientation is more balanced essentially.
If you prefer neutrals, then choose tones that will cool down or warm up the space, depending on its orientation – a warm pale pink for cool rooms, for example, or a barely there gray for sunny spaces.
3. Question: are you a morning or evening person?
'Bedrooms are deeply personal spaces and should be decorated accordingly,' explains Joa Studholme, Color Curator for Farrow & Ball.
'If you are a morning person who likes to jump out of bed and attack the day first thing, then you are probably more suited to having a clean, light energizing color on the walls. Evening people will more likely embrace the dark, womb-like shades or a sumptuous wallpaper.'
Smokey blues – as in this sophisticated blue bedroom by Gillian Segal Design – will suit evening people. You can add a spot of luxury with some velvet accessories and gold elements. Mahogany pieces create depth too.
4. Look to your bed's headboard for color inspiration
Bed and headboard ideas are the focal point of a bedroom, and are often the starting point around which center the rest of your scheme.
Choosing a bedroom color that takes an accent shade from your headboard's fabric – or indeed acts as a contrast – will add depth and detail to the scheme.
Mariana Ugarte, co-founder of London based design studio Interior Fox, explains: 'An upholstered headboard is an easy way of injecting color and texture into your bedroom, especially when designing within a smaller space.
'For a luxurious look, introduce plush velvets in rich earthy tones; these work well against a neutral backdrop while keeping the space light and airy. Add contemporary piping in a contrasting color to the edge of your headboard; this instantly adds a twist to any standard headboard and broadens the color scheme.'
For help with choosing the right shades, use our expert guide to the color wheel.
5. Choose primary, secondary and tertiary bedroom colors
Picking the primary color for a bedroom may not be inspired by a large feature, such as a bed – so if you are originating your bedroom color scheme from scratch, ensure you choose second and tertiary accent shades before you start to decorate.
'It's great to pick a color that you want to be the primary color in the room and then make sure it's in a prominent place, whether it's the headboard, wallpaper, rug or drapery,' says Corine Maggio, founder of California-based CM Natural Designs.
'Then you'll want to repeat that color somewhere else in the bedroom but in a smaller way, and blend in a secondary or tertiary color through your choice of pillows, art, accessories or, again, rugs or bedroom wallpaper ideas.
'The key is finding the right balance between the bedroom colors you're using, and don't be afraid to try something new. Find the big pieces you know will work and then take some chances with the smaller items. You can always replace those if need be.'
6. Cleverly combine bedroom paint colors with wallpaper
How fabulous is this bedroom by Paint & Paper Library? We often think of wallpaper being multi-colored, but it works really well in a monochromatic scheme if you pick the right design, plus you can use it as a great swathe of color if you don't want plain painted walls.
This all encompassing green bedroom color scheme will suit those who want to relax in a soothing and calming environment. The wallpaper is cleverly designed to fade as it gets to the top, and perfectly matches the ceiling color.
7. Choose patterns to complement bedroom colors
When you want to use a mixture of different scale patterns, the best way to start is with a single color – take the sage wall in this bedroom by Jane Churchill as an example.
Then, find a variety of patterns and prints you love that have this key color in them. It could be subtle – a leaf or a stripe – but it will be enough to tie it in with the main color that will then anchor the patterns. Then you can use them on the headboard, cushions, drapes and throws.
8. Consider your color under all light levels
We talked about choosing the best colors for a bedroom depending on your room's orientation, above. But don't forget to factor in your chosen bedroom lighting ideas.
Choosing the best bedroom colors should be done by lamplight, too, as colors change dramatically under artificial light: white bedrooms will look creamy, pale neutrals will look deeper and darker, and dark schemes like the one above will look near-black.
To make dark bedrooms work, balance is your best friend – keep the dark tones on the wall and accessories, and use pops of pale shades for contrast. Keep the ceiling light so it's not overpowering and use mid-toned wood flooring – parquet is great as it adds a subtle pattern to the scheme.
9. Add bold accent colors to neutral schemes
Accent colors are the perky color, the standout burst that complements and pushes the scheme to new heights. They are used for the accessories – throws, cushions, rugs, vases and, more commonly at the moment, lampshades.
Rohan Blacker, founder of Pooky explains: 'Bedrooms are the perfect room in the house to experiment with shade colors, using brighter hues to add accent tones to your scheme or to match a throw or a scatter cushion.
'We have seen an uplift in sales of our brighter, more vibrant shade varieties; customers are pairing them with more neutral pared back interior schemes, or perhaps just finding the confidence to go for a more adventurous design.'
Are you a morning person? The bright bolds will work for you.
10. Pick matching tones to create a calming scheme
We're not all fans of color and dramatics, and there's something so beautiful about a well chosen neutral color scheme – especially if you want your bedroom to feel restful. And if the rest of your house is of the same feel, then matching your bedroom to your neutral living room ideas, for example, will add cohesion.
Mary Graham, co-founder of Salvesen Graham shares her advice: 'We often start our bedroom schemes with a more muted palette in mind, particularly for master bedroom ideas, but still relate to the colors in the rest of the house.
'You want to create a room that is light and bright in the morning but cozy in the evenings. Think about how choices of fabric will affect how sounds and noise might come into the room. Fabric walling is a great choice, if budget allows, for acoustics.'