Amazon Prime Day 2021: 9 exceptional home décor and garden deals you can still shop
Amazon Prime Day 2021 has come and gone, but fortunately, we've found nine spectacular steals you can still shop for.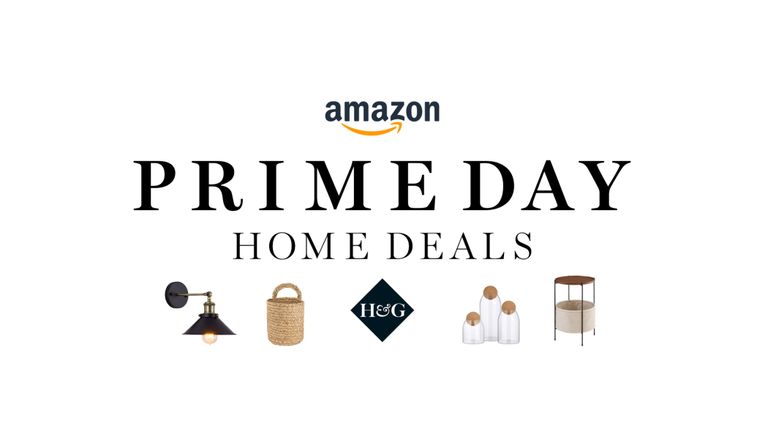 (Image credit: Future)
By Brittany Romano published
Are you looking to give your home a summer refresh? Well, unfortunately, Amazon Prime Day 2021 has come and gone, so if you were looking to score on the sensational steals and deals for your garden and home, the time is up.
But before you go ahead and get disappointed in missing out on the epic two-day sale, we have some good news: you still can get in on the action.
Right now, Amazon is offering shoppers a second chance to shop everything from the best coffee maker to our favorite bread machine, and the best part? These items are marked down too.
Now, to ensure you don't miss out on this second chance, our team has gone ahead and spotted all of the must-see leftover deals to shop.
From cookware to deck must-haves, these are our top nine can't-miss items.
Amazon Prime Day 2021: best home décor and outdoor living remaining deals
Be sure to keep an eye on what's left of the epic two-day sale below.
1. A must-have mattress to keep you cool all summer long
Classic Brands Mercer Cool Gel Memory Foam and Innerspring Hybrid Mattress l Was $499.72. Now starting at $244.85, at Amazon
Beautifully detailed quilted pillowtop knit covers with a corded edge and coordinating knit sides for breathability; this choice offers the newest technology in bedding, combining the traditional innerspring wrapped coils with the latest generation of gel memory foam for an optimal sleep experience.
2. Use a rack to showcase everything from photo frames to essentials
VASAGLE ALINRU Kitchen Rack l Was $100.93, Now $89.98, at Amazon
This rack offers shoppers 6 S-shaped hooks, which are perfect for hanging cooking spoons or kitchen towels. Plus, there's a practical, pull-out wire basket to store recipes or cutlery.
3. Allow this stylish selection to serve as a focal point
4. Elevate your home office station with this striking seat
5. Grill in style with this 20-piece Cuisinart grill set
Cuisinart Deluxe Grill Set, 20-piece stainless steel | Was $59.99, now $47.11, at Amazon
Carrying 20 essentials for grilling like the pros, this stainless steel set from Cuisinart is incredibly hard-wearing and easy to clean. Including the usuals like tongs, spatulas, grill brush, basting brush, and skewers also has a digital temperature fork to check you have cooked meats properly.
6. Accessorize kitchens with this colorful choice
7. Master meals with this perfect pair
8. Restock your candle collection with this signature scent
9. Stay shaded and protected from the sun with this versatile umbrella
When is Amazon Prime Day 2021?
First things first: Amazon Prime Day 2021 kicks off on June 21st, 2021, and runs until June 22nd, 2021, and it's important to dial in on the starting times.
If you are on the East Coast, the sale starts at 3 am, while for any of your West Coasters, it's midnight. If you are in the U.K, be sure to set your clocks for midnight BST, and for any of your Australians, your time to shine is midnight AEST.
What is Amazon Prime Day?
Amazon Prime Day is Amazon's largest sale event of the year. This sale sees Amazon slash the price of hundreds of buys on-site for just a few hours only.
Much like Black Friday, Amazon Prime Day 2021 is a 24 (or 48-hour) window, offering shoppers unbelievable savings. Here, you can score items such as smart or home appliances at a fraction of the cost.
Can I shop on Amazon without Prime?
Yes, you can shop Amazon Prime Day 2021 without Amazon Prime, but for the sake of getting more items without the high price of shipping, we highly recommend signing up for it ahead of time.
What is a Lightning Deal?
There are two main types of deals that apply on Prime Day.
The first are discounts that run for the duration of the event. These often apply to Amazon's own-brand products, such as its Echo Dot speakers and Kindle e-readers.
Then there are Lightning Deals. These are special offers that pop up over the course of Prime Day on specific items. They may be for a limited amount of time up to around four hours or on a limited amount of stock. The very best Lightning Deals are known to sell out in minutes.
Our tips for getting the best deals and discounts
1. Do not take the first deal you see
No matter what you are shopping for, the best course of action is to make a list of what you need. Start by researching prices carefully so you can compare the original price to the sale price, as well as what it's going for at other retailers.
We say that because we know how easy it is to get caught up in the moment and impulsively shop. Planning will help monopolize your purchases and make you a savvier shopper.
2. Shop around
If you have followed our first tip, you should be up-to-date on what other stores are charging for the items you want to buy. However, be aware that other retailers are also aware of Amazon Prime Day 2021 and will most likely be selling the same thing at a rival price — make sure you do some extra research to ensure you get the best price.
3. Use a price comparison app
A shopping price comparison app is a useful and powerful tool, particularly during a sales period. Enter the specific name and code of the product you want to buy, and it can serve up its price history over time.
Ultimately it allows you to identify the best time to buy. Plus, you can also set up price alerts to tell you when an item's price is at an all-time low.
'There are several reasons why prices can fluctuate all year round,' explains Idealo's Katy Phillips.
"Many retailers using artificial intelligence and algorithms to dynamically adjust prices according to consumer demand, competitor prices, and even the weather," says Phillips.
"Amazon Prime Day is undoubtedly a great time to snap up a deal. But shoppers do have to be a little bit savvy to really get the best bargains. I'd urge shoppers to remember to compare prices of products to make sure they are getting the best deal," she concludes.
4. Join the waiting list
We know: there is nothing more frustrating than identifying a stellar deal, set the alarm on your phone to make sure you do not miss it, and still, it sells out.
To alleviate that happening — see if there is a waiting list, and join it. Since shoppers have roughly 15-minutes to make a purchase, there is a possibility to snap that item up if time runs out.
Brittany Romano is Future's U.S. Shopping Editor, residing on the Upper East Side in New York City. Originally hailing from Connecticut and a graduate of New England College, Brittany started her career as a freelance fashion market assistant at Marie Claire. She later joined AMI, where she designed a highly profitable commerce vertical. Noted for her award-winning content, she's covered everything from celebrity beauty hacks to the most lavish home decor; Brittany has maintained her penchant for the finer things in life.
If a genie granted Brittany one wish, it would be for Kelly Wearstler to bring her vision to life and transform her living space, but until then? You'll find Brittany continuously evolving her chilled-out sophisticated style, shifting her attention to eclectic pieces (with a hint of retro), grounded by a rich understanding of history, focused on functionality, luxury, and quirkiness.
Find her on Instagram @ItsBrittanyRomano