Amazon Prime Day Kitchen Deals 2022: Early deals on KitchenAid and more
All the top Amazon Prime Day Kitchen Deals for 2022, with our Prime Day predictions and some early deals to buy in advance of the main event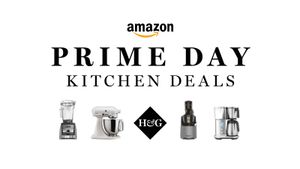 (Image credit: Future)
Amazon Prime Day kitchen deals are just around the corner, and we've even been cooking up a few early deals on everything from blenders to air fryers for those eager-eyed shoppers who can't wait to pick up their brand new kitchen gadget.
Amazon recently confirmed that Prime Day 2022 will take place on July 12th and 13th. That means that we are only days away from the long-awaited shopping event that will allow you to stock up your home with Amazon Prime Day kitchen deals.
As with previous years, Amazon Prime Day is a time when prices on the shopping giant website drop over a two-day period. You need to be a Prime member to take advantage of the available discounts, and if you've never signed up before, you can sign up for a free trial over the days, and still shop the excellent kitchen deals. One of Amazon Prime Day's most popular purchases is always the iconic KitchenAid Artisan, which we've been able to find on sale right now. Keep scrolling to find an impressive $80 discount.
We're zoning-in on Prime Day kitchen deals here on Homes & Gardens, meaning you can bookmark this page and come back for all the top savings on the best stand mixers, toaster ovens, and more. From cookware to deck must-haves, this is everything you need to know before the big day itself.
Amazon Prime Day 2022: early kitchen deals
Café Bellissimo Semi Automatic Espresso Machine: was $679, now $579 at Amazon (save $100) (opens in new tab)
The Café Bellissimo Semi Automatic Espresso Machine scored a rare five stars when we tested it hands-on. It has that classic barista-style espresso machine look, with a steam wand and two beautiful color options.
Le Creuset Enameled Cast Iron Signature Round Dutch Oven: was $399, now $307 at Amazon (save $92) (opens in new tab)
You truly cannot go wrong with the Le Creuset Enameled Cast Iron Signature Round Dutch Oven. It is available in a number of colors to suit any kitchen, and this 5.5 quart size is now nearly $100 off for Prime Day.
Vitamix A2300 Ascent Series Smart Blender: was $549.95, now $499.95 at Amazon (save $50) (opens in new tab)
The Vitamix A2300 Ascent Series Smart Blender is one of Vitamix's most popular blenders. At a premium price point, it's always a popular Prime Day purchase. This early deal will save you $50 and it's available in four colors.
When is Amazon Prime Day 2022?
The date for Amazon Prime Day 2022 has officially been announced as July 12th and 13th, 2022. Last year we saw a few deals dropping early, so we will be keeping this page in advance of the big day so you can find the best Prime Day kitchen deals before they sell out.
What is Amazon Prime Day?
Amazon Prime Day is Amazon's largest sale event of the year. This sale sees Amazon slash the price of hundreds of buys on-site for just a few hours only.
It may be called Prime Day, but much like Black Friday, Amazon Prime Day 2022 is often a 48-hour window of chance, offering shoppers unbelievable savings. Here, you can score items such as smart or home appliances at a fraction of the cost.
According to Adobe Analytics (opens in new tab), online retail sales in the US were in excess of $11 billion during last year's Prime Day period, so this is one major sales event that's not to be missed out on.
What to expect from Amazon Prime Day kitchen deals
If last year is anything to go by, Amazon Prime Day is going to offer Black Friday-level savings, but in the height of summer. That means it's certainly worth checking to see if you can pick up any great savings on the day itself, or even putting together a Prime Day wish-list to get an idea of what you're shopping for ahead of time.
Last year's most popular deals spanned a range of brands, from KitchenAid and Le Creuset to Amazon's own products such as the Kindle and Echo smart speakers. Because we're zoning in on all the to Amazon Prime Day kitchen deals, we'll be bringing you savings on coffee makers, air fryers, stand mixers, blenders, Instant Pots, and a whole lot more.
Keep in mind that a lot of retailers set out to match any Prime Day savings that may be up for grabs on the big day, in an effort to persuade sale-shoppers to opt for rival deals. We will be keeping tabs on the top kitchen deals at Best Buy, Walmart, Kohl's and more to make sure that you're getting the very best savings on the big day.
Can I shop on Amazon without Prime?
Yes, you can shop Prime Day kitchen deals without Amazon Prime, but for the sake of getting more items without the high price of shipping, we highly recommend signing up for it ahead of time.
Sign up to Amazon Prime (opens in new tab)
In order to reap all of the Amazon Prime Day benefits, you need to be a member. So sign up to redeem your 30 day trial for free in the run-up if you aren't already a member.
What is a Lightning Deal?
There are two main types of deals that apply on Prime Day.
The first are discounts that run for the duration of the event. These often apply to Amazon's own-brand products, such as its Echo Dot speakers and Kindle e-readers.
Then there are Lightning Deals. These are special offers that pop up over the course of Prime Day on specific items. They may be for a limited amount of time up to around four hours or on a limited amount of stock. The very best Lightning Deals are known to sell out in minutes.
Our tips for getting the best Prime Day kitchen deals
1. Do not take the first deal you see
No matter what you are shopping for, the best course of action is to make a list of what you need. Start by researching prices carefully so you can compare the original price to the sale price, as well as what it's going for at other retailers.
We say that because we know how easy it is to get caught up in the moment and impulsively shop. Planning will help monopolize your purchases and make you a savvier shopper.
2. Shop around
If you have followed our first tip, you should be up-to-date on what other stores are charging for the items you want to buy. However, be aware that other retailers are also aware of Amazon Prime Day 2022 and will most likely be selling the same thing at a rival price — make sure you do some extra research to ensure you get the best price.
3. Use a price comparison app
A shopping price comparison app is a useful and powerful tool, particularly during a sales period. Enter the specific name and code of the product you want to buy, and it can serve up its price history over time.
Ultimately it allows you to identify the best time to buy. Plus, you can also set up price alerts to tell you when an item's price is at an all-time low.
'There are several reasons why prices can fluctuate all year round,' explains Idealo's Katy Phillips.
"Many retailers using artificial intelligence and algorithms to dynamically adjust prices according to consumer demand, competitor prices, and even the weather," says Phillips.
"Amazon Prime Day is undoubtedly a great time to snap up a deal. But shoppers do have to be a little bit savvy to really get the best bargains. I'd urge shoppers to remember to compare prices of products to make sure they are getting the best deal," she concludes.
4. Join the waiting list
We know: there is nothing more frustrating than identifying a stellar deal, set the alarm on your phone to make sure you do not miss it, and still, it sells out.
To alleviate that happening — see if there is a waiting list, and join it. Since shoppers have roughly 15-minutes to make a purchase, there is a possibility to snap that item up if time runs out.
Millie Fender is the Small Appliance and Cooking Editor on the Homes and Gardens Ecommerce team. She specializes in cooking appliances and also reviews outdoor grills and pizza ovens. Millie loves to bake, so she will take any excuse to review stand mixers and other baking essentials. All of Millie's reviews are conducted at home, meaning she uses these products in her own kitchen, the way they're designed to be used. Millie is from Bath, England, and she grew up surrounded by classic Georgian architecture and interiors. She dreams of buying her own house and filling it with antiques, but for now, she lives in a sunny London flat with a very busy kitchen.