Black Friday 2022 editors' picks – unmissable deals we'll be shopping
From appliances to blankets, from our wish lists to yours
(Image credit: Future/ Solo Stove/ Gravity/ Staub/ Dyson)
Over the last few weeks, the Homes & Gardens team has been very busy preparing for Black Friday, getting ready to serve you the best savings on the products that we can't stop talking about.
With our Black Friday Home Deals Live blog being updated constantly, we've had eyes on all the best buys, the lowest prices and the most astounding of deals.
And we're sharing our top picks with you.
From items on our own wish lists to tried and true, this is what the team is shopping for themselves, family members, and friends this holiday season.
Black Friday H&G Editors' Picks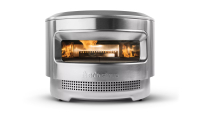 (opens in new tab)
Solo Stove Pi Pizza Oven | Was $624.99, Now $399.99 at Solo Stove (opens in new tab)
After our executive editor, Kait tried the Solo Stove Pi pizza oven (opens in new tab), it is now officially on my radar, and I can see what makes it one of the best pizza ovens (opens in new tab). It heats up super fast, can use wood or gas, and can make two 12-inch pizzas in just two to four minutes! My family loves pizza night and I can't wait to surprise them with wood-fired pizzas to take our family nights to the next level.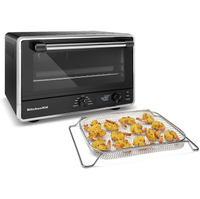 (opens in new tab)
KitchenAid Digital Countertop Oven with AirFry | Was $219.99, Now $189.99 at Amazon (save $40) (opens in new tab)
This Black Friday Day I'm going to buy not one but two KitchenAid digital countertop ovens with AirFry – one for home and one for my daughter, who is a student at university. Why? My friend has just bought herself one and is raving about how it's not only so quick to heat up and much more efficient to run than the family's oven but produces fantastic results, too. Our Ecommerce Editor Jaclyn also tested and wrote a glowing review of the KitchenAid digital countertop oven (opens in new tab), awarding it a Homes & Gardens Gold badge, plus it's the top buy in our best toaster oven (opens in new tab) guide. And the price is great. I'm sold!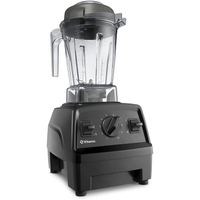 (opens in new tab)
Vitamix VM0197 Explorian Blender, Professional-Grade, 48 oz. | Was $349.95, Now $289.95 at Amazon (opens in new tab)
It's difficult to overstate the quality of Vitamix blenders (opens in new tab), which is why I will be adding the Vitamix Explorian to my kitchen arsenal this Black Friday. I expect this smart yet simple appliance will be a lifeline for me; a busy woman on the go. Suitable for making a wide array of dishes, from dips to desserts, this model has a more durable construction than you'd expect from your average blender. What's not to love?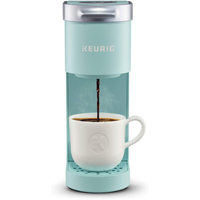 (opens in new tab)
Keurig K-Mini Coffee Maker | Was $99.99, Now $49.99 at Amazon (save $50) (opens in new tab)
If you're after a slimline coffee maker that is not only sleek and streamlined but is also functional and efficient, then the Keurig K-Mini coffee maker will be your lifeline. There's no denying the convenience that comes with a single-cup coffee maker (opens in new tab), and this Keurig kitchen appliance is one of the best out there. Whether you are after a quick caffeine fix in the morning or an after-dinner pick-me-up, you'll only wish you owned one sooner.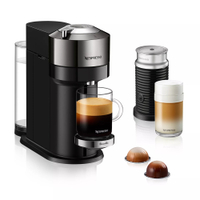 (opens in new tab)
Nespresso Vertuo Next Deluxe Coffee and Espresso Machine with Aeroccino Milk Frother | Was $179, Now $125.30 at Bloomingdale's (opens in new tab)
I didn't even have to think about this one - my pick instantly goes to the Nespresso Vertuo Next Deluxe Coffee and Espresso Machine. There's no end to its accolades: it's one of the best drip coffee machines (opens in new tab); the best pod coffee machines (opens in new tab) and best coffee machines of 2022 (opens in new tab). Our Ecommerce Writer, Louise gave the Vertuo a five-star review (opens in new tab) and an H&G gold award – it's easy to see why. The machine is incredibly simple to use and pours delicious barista-quality coffee. The pods are always stocked up thanks to an efficient subscription service, and once you've used them, there's even a service that picks them up from your front door to be recycled. These pods come in a wide range of flavors with limited edition variations (shout out to the festive gingerbread capsules (opens in new tab)). The included Aeroccino frother is exceptional. It's one of the best milk frothers (opens in new tab) and is remarkably effective with coconut, oat, and almond milk too. This thing is single-handedly getting me through Black Friday, so while I'd recommend it at any price, saving $100 is an unbelievable value.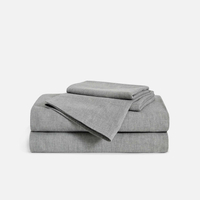 (opens in new tab)
Brooklinen Heathered Cashmere Sheets in Queen | Was $309, Now $247.20 at Brooklinen (opens in new tab)
Brooklinen regularly tops our list of the best bed sheets (opens in new tab) and these Heathered Cashmere Sheets are fabulous. This winter, I'm in pursuit of all things cozy, and as the temperatures have started to drop, I look forward to crawling into bed at night with these luxurious sheets. That's right, ultra-soft cashmere blended with breathable cotton and coupled with Brooklinen's 20% sitewide Black Friday discount, is the perfect combination.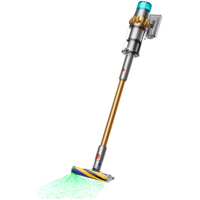 (opens in new tab)
V15 Detect Absolute | Was $799.99, Now $649.99 at Dyson (opens in new tab)
I can't stop gushing about how much I love the Dyson V15 Detect (opens in new tab) thanks to its unique dust-hunting laser and it how it helps ensure my home stays clean. This best cordless vac (opens in new tab) pretty much never goes on sale, so the $150 savings is a welcome discount.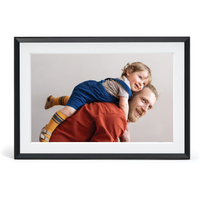 (opens in new tab)
Aura Carver Frame | Was $179, Now $129 at Amazon (opens in new tab)
This week marks my parent's 30th wedding anniversary, and perhaps their favorite thing – besides time with me – is looking at photos of all of us together. Rather than letting them keep every surface covered in photo frames, we can streamline them with a smart photo frame, and easily add more photos via an easy-to-use app along the way. The 10.1-inch size makes a nice visual impact and knowing that it can handle unlimited photo storage is a nice touch for a family with 30 years of photos to archive and display.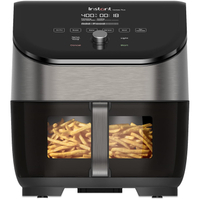 (opens in new tab)
Instant Vortex Plus 6-Quart Air Fryer Oven | Was $169.99, Now $99.95 at Amazon
(opens in new tab)I've tried quite a few of the best air fryers (opens in new tab), and well, the Instant Vortex Plus has earned its way to a permanent position on my crowded countertop. The see-through cooking window is a feature usually found on toaster oven designs, but it's so nice to be able to watch my food cook in action, while the LCD displays are easy to use and clearly shows my food's cooking progress. The most under-utilized part, however? The Odor Erase technology neutralizes cooking odors so the memory of my air-fried salmon dinner is just that, a memory, with no unwanted lingering, smells after the meal.