Choose the best colors for a living room – 10 tips from interior designers
Discover how to choose the best colors for a living room with this expert advice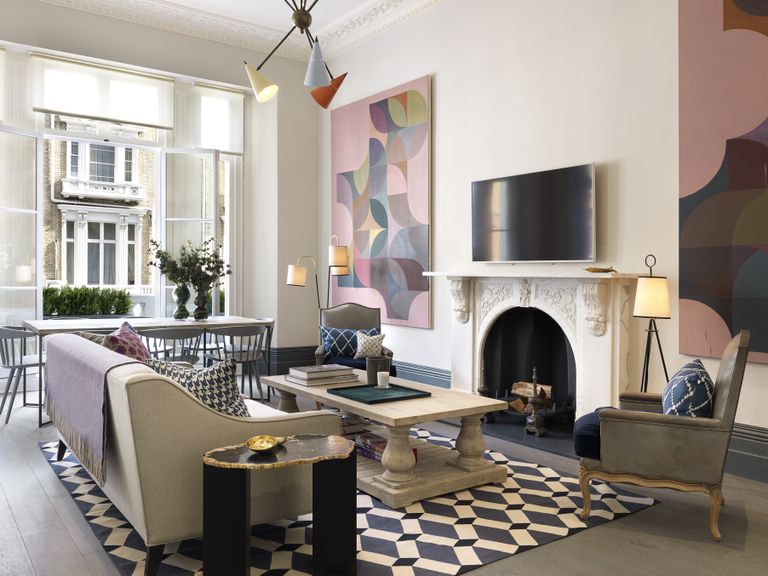 (Image credit: Kitesgrove)
Choosing the best colors for a living room can be overwhelming when you're about to embark on a revamp – with so many decisions to make and styles to be inspired by, it can be difficult to know where to start.
So let us help you with a little bit of science: we've created a guide with 10 key starting points that interior design experts use to create a living scheme that will look great, suit the room – and you – and have longevity.
See: Living room ideas – clever ways to decorate living spaces
1. Start with a moodboard
Sometimes the hardest thing to do when wanting to create a living scheme is to actually get started. We asked Patrick O'Donnell, Brand Ambassador at Farrow & Ball for his invaluable advice and the most important part? Get moodboarding:
'Remember that any room is a sum of various parts so try and create a moodboard with as many elements as you can get your hands on. When choosing paint colors, think about the aspect of your room (north, east, south, west) – a color you have seen in a magazine or friend's house may not respond in your room so sampling is essential, try and paint large swatches that you can move around the walls at different times of day to see how the color transitions in all natural light conditions.'
For more living room color schemes, go to our ideas page for more lovely rooms to browse and be inspired by.
2. Paint all the surfaces in one single color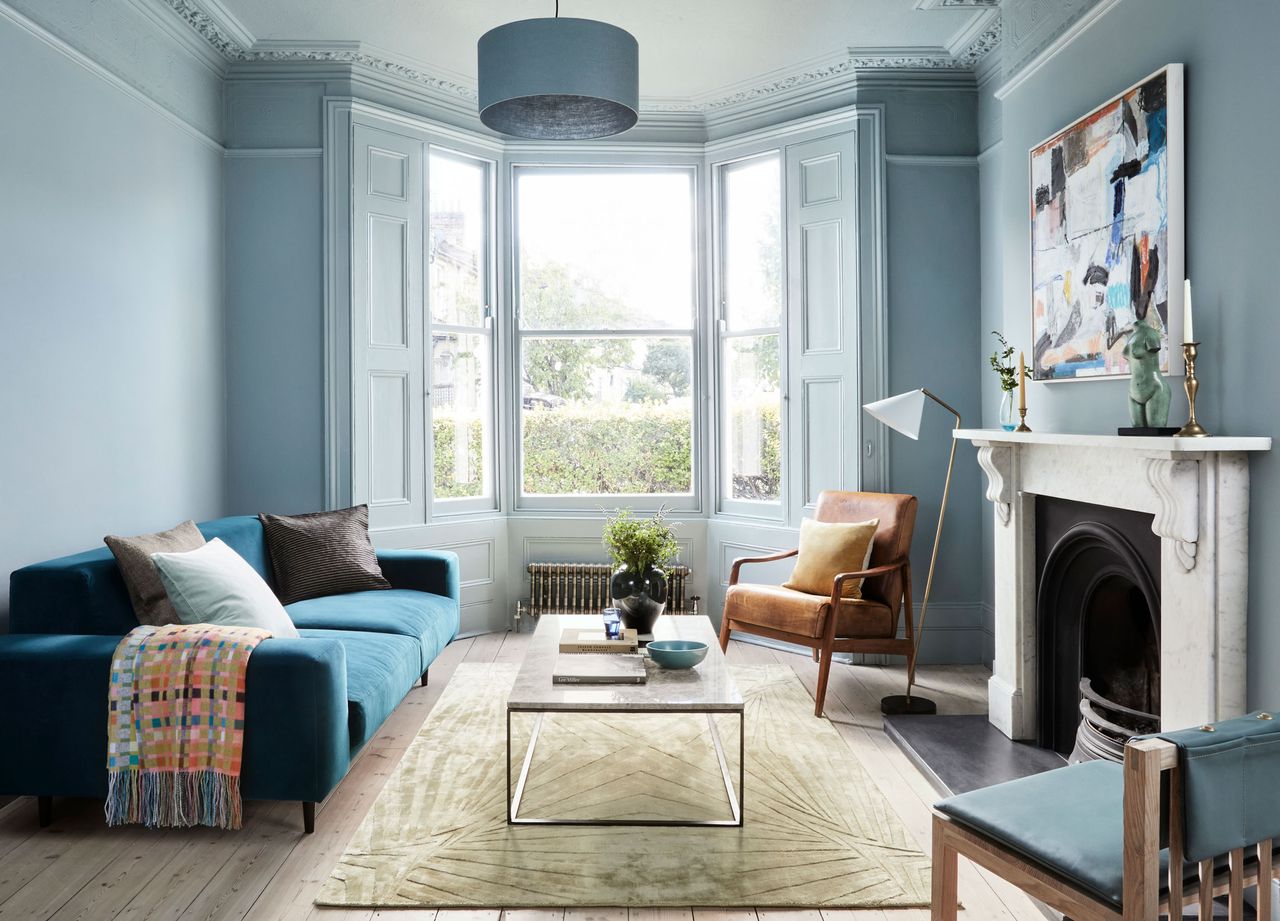 'We have found that as we've all been spending more time in our homes, there has been a really exciting shift in how experimental we're being with paint and our customers are increasingly focusing their living room scheme on a tone that they want to immerse themselves in,' says Dominic Myland, CEO of Mylands.
'One such trend is head to toe color – painting the walls, woodwork and even the ceiling one color for a welcoming, immersive room with a modern edge. We'd always recommend really thinking about how that color will interplay with the light in your room and trying samples first to make sure you love it.
'A full immersion of color, with one stunning shade such as our Long Acre No.102 for all walls and woodwork, can bring interest into the room without overwhelming the eye; mid-tone colors work particularly well for this. The style also complements strong architectural features in a fresh and modern way.'
3. Match walls to furniture
Another fabulous idea that we're starting to see appearing is to match your walls to your furniture.
'We all strive for cohesive interiors when planning our décor and color choices are core to creating the mood and theme for your home,' says Patricia Gibbons, Design Team at Sofa.com. 'When looking to match your walls to your furniture or vice versa, the question is to match or to contrast as each will produce a different style.
'If you love a color and are wedded to the idea of mirroring it throughout the space, whether it be a dusty rose sofa on pink walls or green wallpaper to match an olive sofa – matching color on color is a fun, considered way to stamp your personality and style into the space.
'We recommend breaking up the upholstery and wall color with textural touches via accent pieces and accessories: think woods, brass, woven finishes and greenery, to keep the end-look balanced and welcoming.'
4. Choose two or more shades of the same color
For a thoroughly modern feel – in a period property – choose a couple of shades of the same color and use them in various spots in the living room. Consider painting the ceiling too, it's been a big trend recently that we feel will carry on for a good year or so. Here, you can see how well it works with the new Masquerade shade, and the patterned rug pulls the tones together.
Little Greene are launching two new color cards, the first is 'Color Scales' and the second is a refined and refreshed 'Colors of England', both available in June and featuring collections of beautiful graduated shades that all work together.
5. Perfect positioning is invaluable
Once you've got your key ingredient – the color scheme – in place you can start considering furniture and where to put it. Placement is invaluable and can make or break a scheme.
For the formal living room in this Park Ave apartment in NYC, BarlisWedlick removed one of the cabinets that flanked the fireplace and incorporated a custom settee with rounded edges and fur trim in its place.
Colorful, jewel-toned throw pillows add a liveliness to the room, which features subtle pale gray-green walls and neutral fabrics. Artwork placed directly across a tinted yellow mirror balances out the opposite side of the room and allows the artwork to be seen from those sitting directly under the sofa.
6. Consider an accent color if your walls are neutral
If you've decided to keep your walls neutral or white, but still fancy a splash of color then consider choosing one to use as an accent. It's a fabulous way to incorporate a shade you love and you can go all out with patterns too – it needn't be all about plains.
This refreshing grass green shade turns this white painted living room into a modern space full of contemporary prints teamed with natural wood and woven touches to soften the overall look.
7. Rethink the colors you choose for woodwork
Sometimes it's good to think 'out of the box' when it comes to designing a new scheme, we're so often ruled by the 'paint your skirtings and woodwork' white that we forget that we can do something different.
We love this look by Andrew Dominic Furniture – the sash windows and panelling painted in this inky blue shade creates a stunning focal point that acts as a perfect backdrop for the hand-made furniture placed in front of it.
8. Don't be afraid to mix different eras
'We aim to create spaces that are inviting and timeless and we love to create a balanced mix of older antique pieces juxtaposed with vintage items and contemporary designs,' says Susie Atkinson, Founder of London-based Interior Design Studio Susie Atkinson.
'Sometimes we might incorporate antiques that our clients have had forever as a starting point for a living room scheme, or we will source some characterful pieces for them. Mixing the old and the new ensures that a room won't be overly influenced by current trends and date quickly, while statement pops of color and pattern combined with natural materials will really bring it to life with a tone of modernity.
'For this room, we sourced a beautiful antique bobbin chair and updated it with a lovely slubby antique linen which we had dyed in this sunny yellow color, and the sleek lines and mirror finish of our cube steel side table contrasts it beautifully.'
9. Use rugs to tie living room colors together
Rugs aren't used as much as they should be – but they can add so much to a scheme, including color and pattern. We asked Clara Ewart, Head of Design at Kitesgrove for her thoughts on how important they can be to a scheme.
'A strong rug can be transformational, bringing personality, texture and warmth to a living room. Sometimes they are a subtle design that anchors the overall scheme but sometimes it's a stronger statement piece that dictates the tone of the whole room. We love to work with our clients to source something special and then use this as the starting point for the wider scheme.
'Whether you have a dramatically patterned rug that will be complemented by softened tones in the rest of the room, or a more neutral rug that will work with bolder colors and patterns, it's likely to be an investment piece that will stand the test of time. As a guide, we always recommend making sure your living room rug is as large as possible – anything too small will look pinched and uncomfortable.'
10. Let artworks inspire the best color for a living room
More often than not, we choose our artwork at the end of the design process, but actually, a favorite painting can be used as your starting point, as Cath Beckett, Co-Founder of British Interior Design Studio, Yellow London explains:
'We often start with artwork our clients choose or already love and extrapolate a wider scheme from there, drawing out striking paint colors to create harmony within the room. Art is so personal but if it is a piece that really speaks to us, it is a great place to start a scheme as it will say a lot about a client's general style and color preferences.
See: Living room paint ideas – stylish ways with paint, and expert decor tips
'Once we have those details decided, complementary upholstery and the softer details will flow more naturally to create a cohesive and beautiful scheme.'